These teams traded their future Hall of Famers
Dealt away, but they still rep their clubs in Cooperstown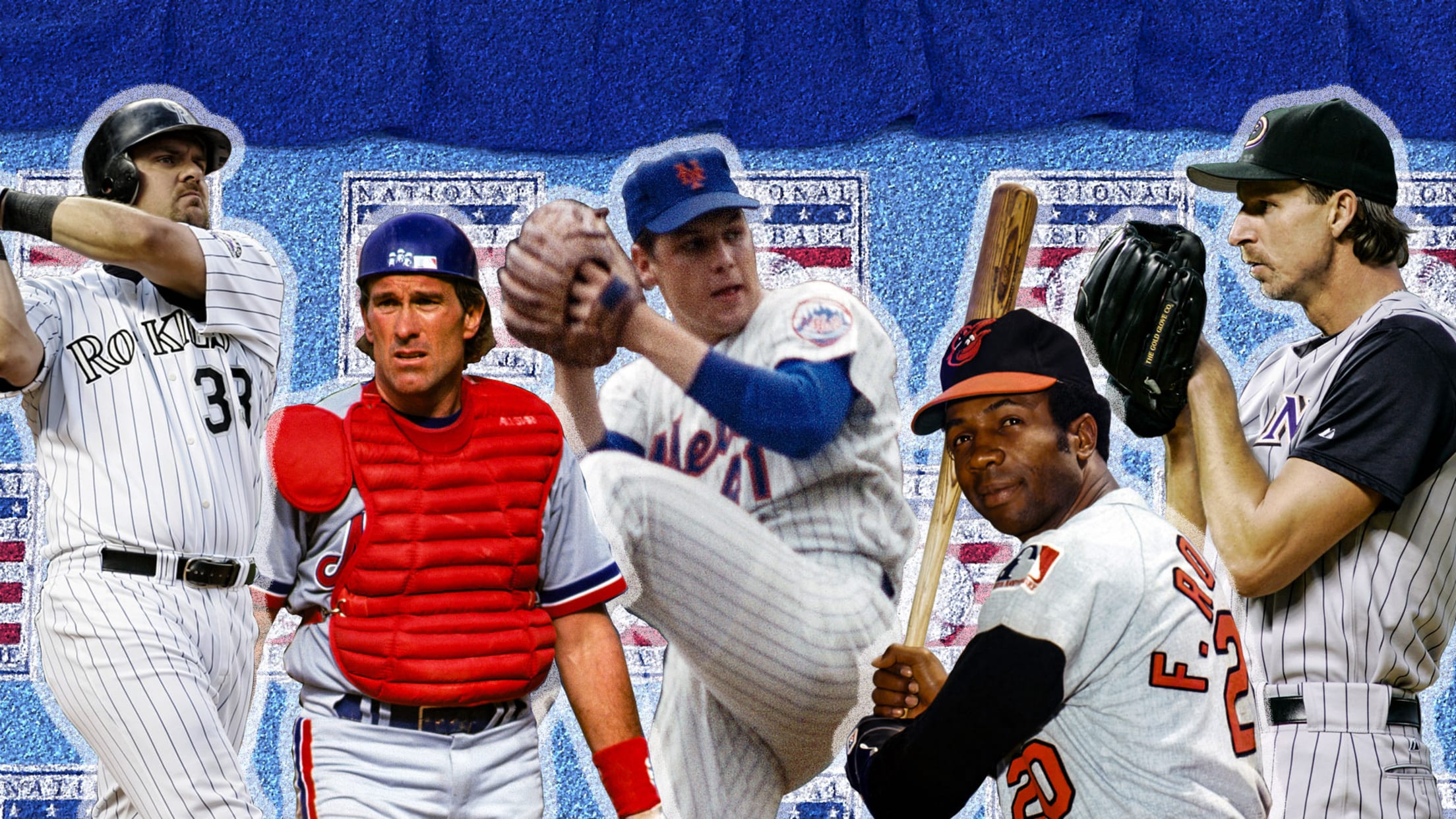 Monday marks the 43rd anniversary of a truly painful event for Mets fans. Not only did the club trade Tom Seaver to the Reds, but slugger Dave Kingman was dealt to the Padres. By June 15, 1977, Seaver was on his way to his 10th All-Star selection. The man literally
Monday marks the 43rd anniversary of a truly painful event for Mets fans. Not only did the club trade Tom Seaver to the Reds, but slugger Dave Kingman was dealt to the Padres.
By June 15, 1977, Seaver was on his way to his 10th All-Star selection. The man literally dubbed "The Franchise" had won nearly 200 games with the club, plus two more in the 1969 postseason -- helping the Miracle Mets win their first championship -- and another to clinch the '73 NL pennant.
In 1977, Seaver was 32 years old and perhaps just exiting his prime. But he was still an excellent pitcher, and a fan favorite. Problem was, Seaver also had gone through, as The New York Times put it, "14 months of public feuding with the chairman of the team's board of directors, M. Donald Grant." The root cause was contract negotiations, and a column from the New York Daily News' Dick Young that brought Seaver's family into the dispute, "was the straw that broke the back," Seaver later reflected to the Daily News' Bill Madden.
Seaver was traded to the Reds for four players, none of whom was nearly the star Seaver was, and the club went on to finish no better than fifth in the six-team NL East in seven straight seasons.
Seaver and the Mets would patch things up, however. With Grant out of the picture, the Mets reacquired Seaver for the 1983 season, and when the righty cruised into the Hall of Fame on the first ballot in '92, he did so with a Mets cap on his plaque. These days, Citi Field's address is 41 Seaver Way.
In retrospect, it's hard to believe the Mets would trade a star so closely linked with the franchise. But, of course, these things happen. In fact, New York is one of 21 franchises to have dealt a player who would go on to wear its cap into Cooperstown.
Here is a look at some other notable names in that category -- one for each of the 20 other franchises. (This is based on the cap each player wears on his plaque and does not include those with no logo, such as Roy Halladay or Rogers Hornsby).
Athletics: Rickey Henderson
Traded to Yankees (1984) and Blue Jays (1993)
Rickey's remarkable career featured four different stints with the A's, two of which ended in trades. Henderson re-signed with Oakland in the offseason immediately following the second of those deals, which set him up to win a championship ring in Toronto.
Others: Al Simmons (White Sox, 1932), Dennis Eckersley (Cardinals, 1996)
Braves: Hank Aaron
Traded to Brewers (1974)
Aaron was leaving the only franchise he had known in 21 big league seasons, but for the first 12 of those seasons, the Braves had played in Milwaukee. "All I know is that I'm happy to be going back home," Aaron said, per The New York Times. The move to the AL also allowed Aaron to be a DH for his final two seasons and add 22 homers to reach 755 for his career.
Others: Rabbit Maranville (Pirates, 1921), Warren Spahn (Mets, 1964), Eddie Mathews (Astros, 1966)
Cardinals: Ted Simmons
Traded to Brewers (1980)
After the 1980 season, the Cardinals signed catcher Darrell Porter, and quickly turned around and traded Simmons -- then a six-time All-Star backstop -- to Milwaukee. The deal, which also included Rollie Fingers and Pete Vuckovich, was an enormous boon for the Brewers, who made their first postseason appearance in '81 and took none other than the Cardinals to the seventh game of the '82 World Series.
Others: Dizzy Dean (Cubs, 1938); Enos Slaughter (Yankees, 1954), Red Schoendienst (Giants, 1956)
Cubs: Fergie Jenkins
Traded to Rangers (1973)
The Cubs made one of their all-time best trades for Jenkins in 1966, acquiring the young right-hander from Philadelphia just eight relief appearances into his big league career. But this deal didn't work out poorly for Chicago, either. While Jenkins won 25 games with a 2.82 ERA in his first season in Texas, he netted the Cubs 22-year-old third baseman Bill Madlock, who claimed NL batting titles with the club in 1975 and '76.
Others: Hack Wilson (Cardinals, 1931), Billy Herman (Dodgers, 1941), Ron Santo (1973), Billy Williams (1974), Lee Smith (Red Sox, 1987)
D-backs: Randy Johnson
Traded to Yankees (2005)
A response to the Yankees' disappointing result in the 2004 postseason, Johnson arrived in the Bronx at age 41. But the Big Unit never seemed like an ideal fit with the Yankees and after struggling in two AL Division Series defeats (6.92 ERA over 13 innings), he was traded back to Arizona.
Dodgers: Jackie Robinson
Traded to Giants (1956)
Wait, what? Yes, the Dodgers really did make a deal to send Robinson to the Giants, of all teams, in December 1956, as both franchises prepared for their final season in New York before heading west. Instead, Robinson retired, and the deal was voided. The popular narrative is that Robinson simply couldn't bear to play for the Dodgers' rival. But that isn't the truth.
Others: Burleigh Grimes (Giants, 1927), Dazzy Vance (Cardinals, 1933), Duke Snider (Mets, 1963)
Expos/Nationals: Gary Carter
Traded to Mets (1984)
Carter was beloved in Montreal, but the Expos fell to five games below .500 in 1984, and the 30-year-old catcher was dealt for four young players. He had the right to veto a trade but cited the, "fine nucleus of young talent on the Mets," in approving it. Carter joined that nucleus and won a World Series in '86. He returned to Montreal for his final season in '92.
Others: Tim Raines (White Sox, 1990)
Giants: Orlando Cepeda
Traded to Cardinals (1966)
Cepeda was a terrific hitter in San Francisco and still only 28 years old. But he also had battled a knee injury that held him out for nearly all of 1965, and the Giants had an able first base replacement in Willie McCovey. So early in the '66 season, Cepeda went to St. Louis for young left-hander Ray Sadecki. In '67, Cepeda's MVP campaign helped the Cardinals win the NL by 10 games over the Giants before taking down the Red Sox in the World Series.
Others: Christy Mathewson (Reds, 1916), High Pockets Kelly (Reds, 1927), Freddie Lindstrom (Pirates, 1932), Hoyt Wilhelm (Cardinals, 1957), Gaylord Perry (Indians, 1971), Willie Mays (Mets, 1972), McCovey (Padres, 1973), Juan Marichal (Red Sox, 1973)
Indians: Nap Lajoie
Traded to A's (1915)
Cleveland had adopted the name "Naps," in honor of its star infielder in 1903, but by the end of '14, Lajoie was 40, declining, and clashing with the club's manager amidst a last-place finish. He requested to be sold back to his previous team, the Philadelphia A's. With Nap gone, "Naps" was out, too. And so the Cleveland club became the Indians.
Others: Stan Coveleski (Senators, 1924), Earl Averill (Tigers, 1939), Larry Doby (White Sox, 1955), Early Wynn (White Sox, 1957)
Mariners: Ken Griffey Jr.
Traded to Reds (2000)
The star of the 1990s had one year left on his contract when he demanded a trade. Griffey vetoed an agreed-upon deal to the Mets before being sent home to Cincinnati, where his father had played. The deal actually worked out pretty well for Seattle, as Griffey battled injuries in his 30s, while Mike Cameron flourished as his replacement in center field. Junior eventually returned to his original team in 2009-10.
Orioles: Frank Robinson
Traded to Dodgers (1971)
In 1966, Robinson was the World Series MVP as the Orioles swept the Dodgers in the Fall Classic. By the end of the '71 campaign, he had eclipsed 500 home runs and led four pennant-winning Baltimore clubs, but the 36-year-old was dealt to the Dodgers, who flipped him to the Angels just a year later.
Others: Eddie Murray (Dodgers, 1988)
Phillies: Richie Ashburn
Traded to Cubs (1960)
In 1959, a 32-year-old Ashburn endured easily his worst season, and the Phillies lost 90 games. He was sent to Chicago, where he enjoyed a brief resurgence in '60. The trade hardly severed Ashburn's Philly ties, as after his playing career he became a longtime, beloved Phillies broadcaster -- now memorialized by "Ashburn Alley" behind center field at Citizens Bank Park.
Others: Chuck Klein (Cubs, 1932), Robin Roberts (Yankees, 1961), Jim Bunning (Pirates, 1967)
Pirates: Ralph Kiner
Traded to Cubs (1953)
After arriving in Pittsburgh in 1946, Kiner won seven straight NL home run titles. But it was a miserable time for the franchise, which had only one winning season during that stretch and went 42-112 in '52. The Pirates' legendary GM Branch Rickey was far from a Kiner fan, cut his star's salary and reportedly told him: "We can finish last without you." That's exactly what they did after the June 1953 trade -- and for the following two seasons.
Others: Lloyd Waner (Braves, 1941), Arky Vaughn (Dodgers, 1941)
Red Sox: Rick Ferrell
Traded to Senators (1937)
The Red Sox traded multiple Ferrells at once. In June 1937, Boston sent Rick (a catcher) and his brother Wes (a right-handed pitcher), along with one other player, to Washington for outfielder Ben Chapman and pitcher Bobo Newsom. The two had formed a battery for three-plus years with the Sox and got about another year together in Washington before the Senators released Wes in August 1938.
Reds: Tony Pérez
Traded to Expos (1976)
The corner infielder made each of his seven All-Star teams in Cincinnati, while the Big Red Machine won five NL West titles, four NL pennants and two championships. By that point, Pérez was heading into his age-35 season, and the Reds wanted to give young Dan Driessen a full opportunity. Pérez was shipped to Montreal, but he returned for three final seasons as a part-time player from 1984-86.
Others: Edd Roush (Giants, 1927), Ernie Lombardi (Braves, 1942)
Rockies: Larry Walker
Traded to Cardinals (2004)
Walker had been with the franchise for 10 of its 12 seasons, winning three batting titles, five Gold Gloves and an MVP Award. But with a little over a year to go on his contract and Colorado headed toward a ninth straight season without a playoff berth, the Rockies got his approval for an August waiver deal to St. Louis. That opened space for rookie Matt Holliday and gave Walker a shot at a ring. Unfazed by leaving the mile-high altitude, Walker posted a .908 OPS in 144 games with the Cardinals over the rest of 2004 and '05, making two deep postseason runs.
Twins/Senators: Rod Carew
Traded to Angels (1979)
Carew signed a three-year contract with the Twins before the 1977 season and proceeded to win his sixth and seventh batting titles. But Minnesota still hadn't made the postseason since 1970, and Carew's relationship with owner Calvin Griffith was strained. Carew wanted a trade and a new contract and got both with the Angels before the '79 season. He made six more All-Star teams over seven seasons in Southern California and batted .314.
Others: Goose Goslin (Browns, 1930; Tigers, 1933), Bert Blyleven (Rangers, 1976; Angels, 1988)
Tigers: Hank Greenberg
Traded to Pirates (1947)
The two-time AL MVP missed almost four and a half seasons serving in World War II, but when he returned in July 1945, he was still a dangerous hitter. Despite leading the AL with 44 homers and 127 RBIs in '46, he also was starting to feel his age (35). Before the '47 season, Detroit sold Greenberg to Pittsburgh. Between a $100,000 salary (baseball's first) and the team's decision to move in the left-field fence at Forbes Field, Greenberg put off retirement for one more year.
Others: Heinie Manush (Browns, 1927), Harry Heilmann (Reds, 1929), George Kell (Red Sox, 1952)
White Sox: Harold Baines
Traded to Rangers (1989) and Orioles (1997)
Baines had as many trades (six) as All-Star selections in a career that would eventually lead him to Cooperstown. All but one of those deals came in July or August, and in fact the Sox shipped Baines off exactly eight years apart, on July 29. The first trade, which sent a young Sammy Sosa to the South Side of Chicago, showed Baines the game's business side. "Everybody's not as fortunate as Cal Ripken to stay in one city his whole career," he said.
Others: Nellie Fox (Astros, 1963), Luis Aparicio (Orioles, 1963; Red Sox, 1970)
Yankees: Joe Gordon
Traded to Indians (1946)
Gordon missed 1944-45 to serve in World War II, and when he returned in '46, his numbers fell precipitously. After the season, he was traded to Cleveland for pitcher Allie Reynolds, who would go on to be a five-time All-Star in New York. Gordon did bounce back, however, putting together four productive seasons in Cleveland before his playing days were over. But his most notable trade would come after that point; in 1960, the Indians sent him to the Tigers for Jimmy Dykes in a swap of managers.
Others: Waite Hoyt (Tigers, 1930), Lefty Gomez (Braves, 1943)