Texas Tech sends No. 1 Florida home from CWS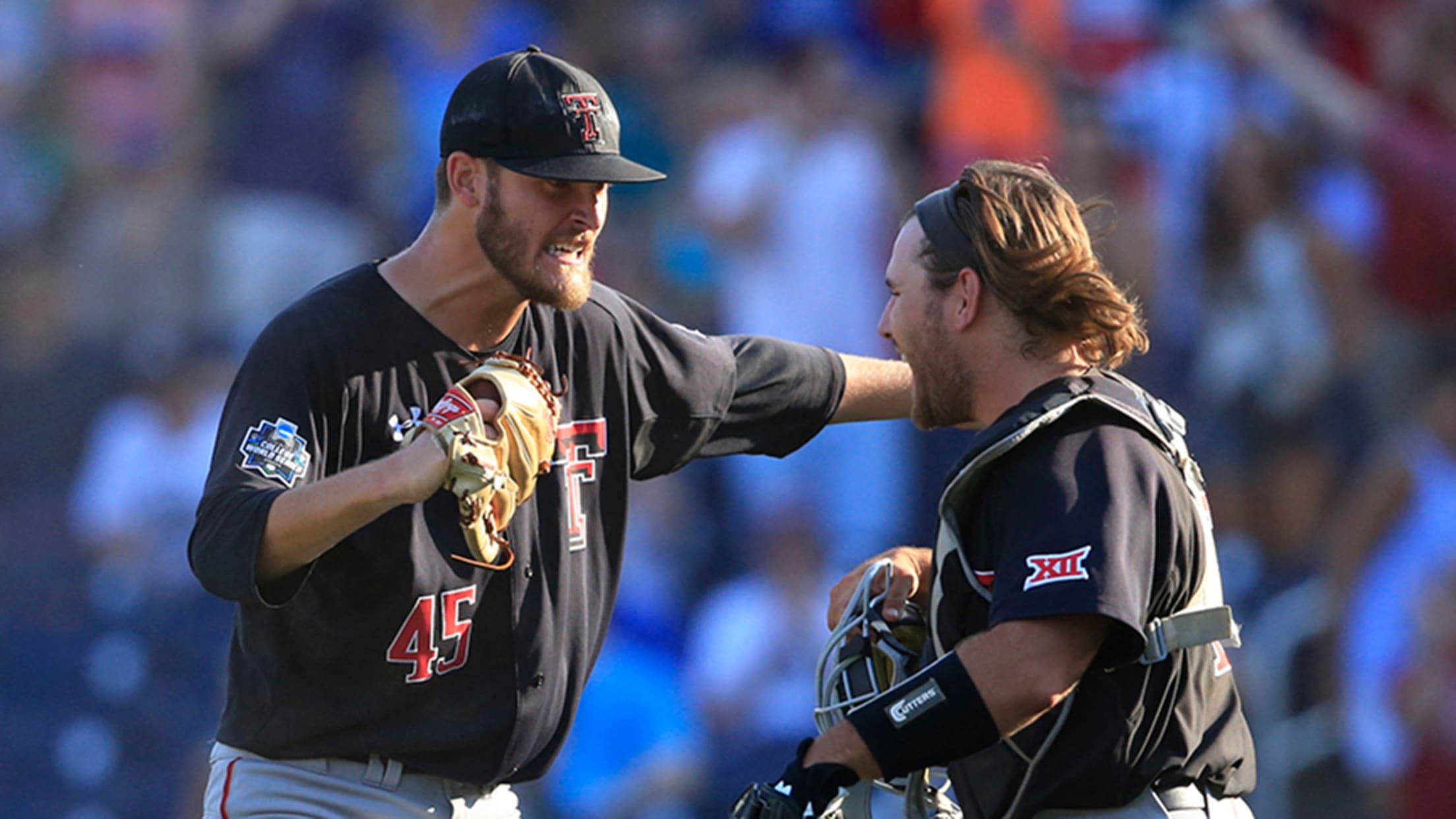 Hayden Howard and Tyler Floyd celebrate after Texas Tech advanced past Florida. (Nati Harnik/AP) (Nati Harnik/AP)
The College World Series continued with drama on Tuesday with a pair of matchups and one team's elimination. Here's a look at how some of the country's top Division I teams -- and how some of the top picks in the 2016 MLB Draft -- fared on college baseball's biggest
The College World Series continued with drama on Tuesday with a pair of matchups and one team's elimination. Here's a look at how some of the country's top Division I teams -- and how some of the top picks in the 2016 MLB Draft -- fared on college baseball's biggest stage in Omaha, Neb.
Game 1: Texas Tech 3, Florida 2
Texas Tech reliever Hayden Howard fought off a furious ninth-inning rally from Florida to advance the Red Raiders past the top-seeded Gators, 3-2, in an elimination game on Tuesday. After Texas Tech received seven scoreless innings from starter Davis Martin, Howard allowed a two-run homer in the ninth to Mets second-round pick Peter Alonso and a single to third baseman Jonathan India with two outs. India, representing the tying run, was thrown out trying to stretch his single into a double to end the game.
• 2016 MLB Draft Tracker
It was the first College World Series win for the Red Raiders in school history. Texas Tech lost a 5-3 heartbreaker to TCU on Sunday.
The Red Raiders are the lone national seed remaining in the tournament.
Florida was trying to become the first top-seeded team since 1999 to capture the College World Series title.
Gators starter Alex Faedo struck out nine and allowed two earned runs over 7 2/3 innings, his only blemish being Eric Gutierrez's two-run homer in the fourth. Gutierrez, a 20th-round selection of the Marlins, had two of Texas Tech's eight hits.
Texas Tech scored an insurance run in the top of the ninth after a pair of errors by India and Alonso allowed Tyler Neslony, a ninth-round selection by the Braves, to score from first on a fielder's choice. Neslony's run proved to be the difference in extending the Red Raiders' season.
Nine 2016 Draft selections appeared in the game, including Gators outfielder and Padres second-round choice Buddy Reed (1-for-3), Florida right-hander and Nationals first-round pick Dane Dunning (one run in one inning of relief) and Red Raiders outfielder and D-backs 10th-rounder Stephen Smith (1-for-4).
Game 2: Texas Christian 6, Coastal Carolina 1
TCU slugger Luken Baker continued his impressive tournament showing with a solo home run as part of a three-hit game to help lead the Horned Frogs past the Chanticleers, 6-1. Baker blasted his solo shot in the second inning, and TCU never trailed in the game. Baker scored two runs to pace a balanced Horned Frogs offense, which saw four different players contribute RBIs.
Baker had homered in the ninth inning Sunday in a comeback win over Texas Tech. The Horned Frogs are unbeaten in Omaha despite fielding a roster without a 2016 Draft pick. TCU improved to 36-2 this year when scoring at least six runs.
Brian Howard started for TCU and scattered six hits over 5 2/3 innings of one-run ball to pick up his 10th win of the season. Howard struck out seven and walked three. Ryan Burnett followed with 3 1/3 scoreless innings to earn the save.
Coastal Carolina couldn't find the magic again after upsetting Florida in the opening round of play in Omaha. Shortstop Michael Paez went 2-for-4 with a double and scored the only run for the Chanticleers. Paez was a fourth-round pick by the Mets. Third baseman Zach Remillard, a 10th-round pick by the White Sox, went 1-for-4.
Coastal Carolina starter Alex Cunningham was charged with three runs (one earned) on four hits in 4 1/3 innings.
What's next
Wednesday
UC Santa Barbara will meet Arizona in the elimination bracket on Wednesday at 7 p.m. ET. The winner will take on Oklahoma State on Friday at 3 p.m. ET.
Thursday
Texas Tech will face Coastal Carolina in an elimination game on Thursday at 8 p.m. ET, with the winner advancing to play TCU on Friday at 8 p.m ET.