Picking sleeper teams that might make '20 playoffs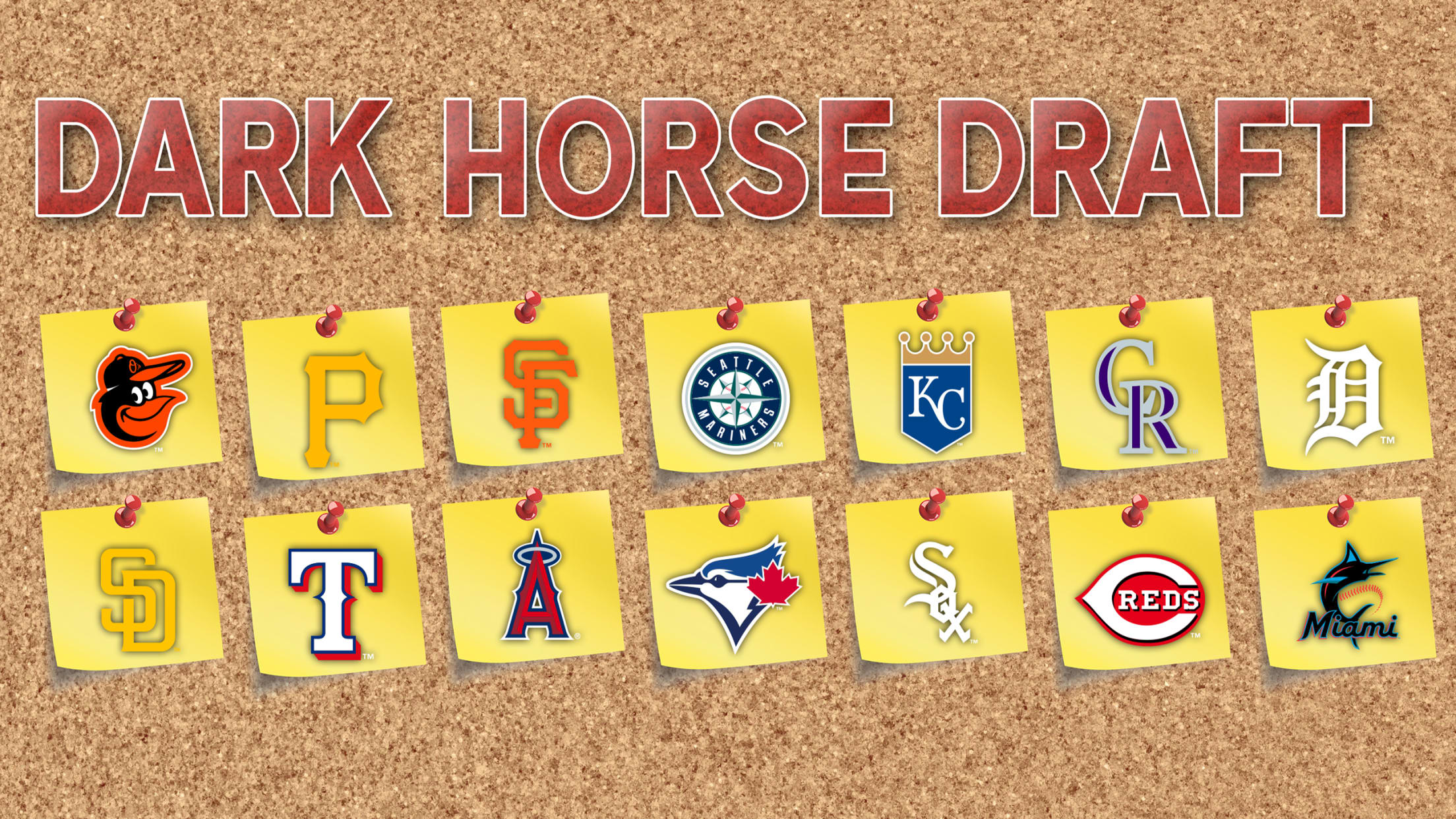 Sixteen teams went .500 or better in 2019, which means 14 clubs did not. It's not that unreasonable to expect one of those underwater teams to turn around and make it into the playoffs this year; in fact, given the randomness of a short 60-game season, you might almost expect
Sixteen teams went .500 or better in 2019, which means 14 clubs did not. It's not that unreasonable to expect one of those underwater teams to turn around and make it into the playoffs this year; in fact, given the randomness of a short 60-game season, you might almost expect it. It's not like that doesn't happen now and then anyway, after all -- the 2018 Twins were 78-84, then won 101 games and the AL Central in 2019. The 2017 A's were a last-place 75-87, then went 97-65 to make it into the 2018 Wild Card Game. It happens all the time.
So ... who will it be? MLB.com's Will Leitch and Mike Petriello took those 14 under-.500 clubs from last year and drafted them based on their likelihood of making the postseason, knowing that A) some of these teams made some serious moves over the winter, and B) given the COVID-19 pandemic and a short season, no one can predict anything. Knowing that our vantage point could change at any moment, here's how our draft shook out.
1. Cincinnati Reds
2019 record: 75-87
Leitch: Everybody is happy that baseball is back, but is there any team happier that it's back, in this specific way, than the Reds? They are stacked with advantages they didn't have before. First off, they have a DH, which allows them another slot to put in one of their 47 1B/3B/DH types. They also don't have to fill nearly as many bullpen innings over 60 games as they would have had to with 162. They have the sort of intriguing but risky rotation that feels less perilous running at this pace. Oh, and now they're playing an amusingly high percentage of their games against Detroit and Kansas City. The rest of the division sat pretty idle as the Reds concentrated on maximizing their 2020 chances. So yeah: When you concentrate so much on 2020, you're pretty happy when 2020 actually happens.
2. Chicago White Sox
2019 record: 72-89
Petriello: Ten million years ago, back in the long-ago winter of 2019-20, there was a Central team that really thought it could win, and it spent the winter trying to improve its roster in order to do so. That team was the Cincinnati Reds, but Will already took them, so I'll go with the other big mover of the winter, the White Sox. It's easy to forget now, but the Sox added Dallas Keuchel, Yasmani Grandal, Edwin Encarnación, Nomar Mazara and Steve Cishek, in addition to bringing back the popular José Abreu. Is that enough? Grandal is a real difference-maker, maybe the best signing of the winter. Keuchel's more of a back-of-the-rotation guy at this point, three years for Abreu was confusing and Mazara has never actually been that productive. But Lucas Giolito is for real, and so is Yoán Moncada, and you'll see a lot more Eloy Jiménez, Luis Robert and Nick Madrigal.
The White Sox went 72-89 last year, and the moves they made make them feel like a slightly above-average team. (Indeed, FanGraphs projects them with a .522 winning percentage.) They're not as good as the Twins, and probably aren't really close. But they might overtake Cleveland, and that's enough to get them into the Wild Card race.
3. Toronto Blue Jays
2019 record: 67-95
Leitch: This is probably a schooch or two early -- that's a sabermetrically approved term, "schooch" -- for the Blue Jays, particularly in that division, with the Yankees and Rays looking as good as they are. But. If you were looking for a team that's full of fatal flaws for a 162-game season but maybe optimized for a 60-game one, maybe the Blue Jays? They are absolutely stocked with talented young hitters, the sort of raw talent that probably gets figured out by pitchers over the long haul but can hammer them around until they do. Their big offseason addition is a pitcher who is dominant when he pitches but unreliable over a long season … which he now doesn't have to deal with. And they have a superstar in the middle of their lineup who had a slightly disappointing rookie year, but he's busting out at the seams with skill and charm and everything you want in a baseball player. He might even have a little Trout Year 2 in him.
That division is a tough hill to climb. But there's serious fluke potential here.
4. Los Angeles Angels
2019 record: 72-90
Petriello: At the moment we're writing this, we're assuming Mike Trout will choose to participate, which he hasn't yet fully committed to doing. But assuming he does, then this club probably doesn't have much worse odds than the White Sox do. They did sign Anthony Rendon, after all, and they'll have Shohei Ohtani (presumably) fully healthy as a two-way threat, and maybe we'll see top prospect Jo Adell in the outfield! This could be a really fun lineup. It'd better be! They still haven't really solved their rotation issues, and the bullpen is thin. They're projected to be a .509 team, and that sounds about right. It'd be a step forward from 2019.
5. Texas Rangers
2019 record: 78-84
Leitch: This is predicated on three things:
1) Mike Minor and Lance Lynn -- no question the two most underappreciated pitchers in the sport in 2019 -- can do that again.
2) Corey Kluber is both healthy and, you know, Corey Kluber.
3) The new stadium plays like a normal baseball stadium and not, like, baseball on the moon or something. Hey, you never know!
But yeah, if the Astros are wobbly after a, uh, tumultuous offseason, the A's don't have it all together the way they think they do and/or Trout ends up electing not to play after all … it's certainly within the realm of possibility.
6. San Diego Padres
2019 record: 70-92
Petriello: Here's a thing I did not realize until literally right this very second: The Padres are projected as a .515 team, which is basically the same as the Cardinals and better than the Phillies. That's the eighth-best in the National League and the second-best in the NL West behind the Dodgers, a team they have zero chance of catching. But they don't have to, do they? Despite something of an oddly-fitting roster -- Wil Myers and Eric Hosmer are each below-average players, despite their big names and contracts -- the Padres have this fascinating combination of right-now stars (Manny Machado, Fernando Tatís Jr., Chris Paddack, Kirby Yates), newly imported quality veterans (Tommy Pham, Emilio Pagán and Drew Pomeranz, a signing we loved) and an absolutely elite farm system.
They won't catch the Dodgers. It's not all that hard to see them participating in the Wild Card Game. And wouldn't that be fun?
7. Miami Marlins
2019 record: 57-105
Leitch: It's probably a year early, but it has not escaped notice that the Marlins are, quietly, starting to compile a nice little assortment of young talent. A lot of the lineup talent isn't quite here yet -- though it's close, and some of these guys may be here in September -- but the rotation is young, talented and a little bit more proven than you might think. This idea is predicated on the idea that the Phillies and Mets are underachievers (never a bad bet!) and that it comes together more quickly than even Derek Jeter would imagine. But it's 60 games: Weird things happen! One prediction I'll definitely make: This team won't finish last in the NL East this year.
8. Detroit Tigers
2019 record: 47-114
Petriello: OK, let's do this this way. The Tigers lost 114 games last year. They are projected to be on a 96-loss pace over a full season. It's likely to be another long season in Michigan, except that even a long season in these circumstances is a short season. Now, all that being said:
What if the Tigers started the 2020 season with a rotation fronted by Matthew Boyd, Matt Manning, Casey Mize, Tarik Skubal and Michael Fulmer? What if they did that with Spencer Turnbull and Ivan Nova and Daniel Norris and Jordan Zimmermann in reserve? Manning, Mize and Skubal are three of MLB Pipeline's Top 50 prospects right now, and while you wouldn't ask those three to shoulder a full 32 starts apiece over a regular-length season, what if you got 10-12 starts apiece over a 60-game season? What if you did that, and they're as good as advertised? Would that make this team a contender?
Well, no. Probably not. C.J. Cron is probably their best hitter. The bullpen is a mess. They probably won't have those three prospects in their New Opening Day rotation. But if they did? Something to dream on, anyway.
9. Colorado Rockies
2019 record: 71-91
Leitch: I think we need to get together and agree not to tell all the rest of these teams that someone picked the Tigers ahead of them.
Let's see, the Rockies' argument: Nolan Arenado has an MVP season (he hasn't won one yet), Trevor Story is a terrific complement, Daniel Murphy rebounds, Ryan McMahon and Brendan Rodgers bring a little youth, Kyle Freeland (still responsible for arguably the best-pitched season in Rockies history) rises a bit out of the muck, Wade Davis makes it 2015 again by science or magic and the Padres and D-backs both fall apart at once. I know this sounds ridiculous, but … well, this is what Rockies brass seemed to be counting on all happening this year, and I suppose it's more likely it'll happen in 60 games than 162.
10. Kansas City Royals
2019 record: 59-103
Petriello: Did you know new manager Mike Matheny has never had a losing season? Despite being fired midway through 2018 by the Cardinals, that's technically true; St. Louis was 47-46 when he was dismissed.
I'm going to kick this one over to Whit Merrifield, since he's got all the optimism anyone could need.
"I think we felt pretty good about our team going into the regular Spring Training," Merrifield told MLB.com. "Knock on wood, the guys stay healthy, we navigate this [COVID-19] thing and keep guys on the field, I think we got a really good chance to do something cool."
Optimism! Look around the world. Who couldn't use more positivity? The Royals have a 6.4% chance of making the playoffs. That is, indeed, the optimistic view.
11. Seattle Mariners
2019 record: 68-94
Leitch: First off, the main reason this would happen: The Mariners ending their playoff drought -- the longest in major North American professional sports, to remind you -- during this year, of all years, would be quite the thing. (I suspect fans would still get a pretty big kick out of it.) But considering a large portion of this Mariners' season was going to be trying to build up people before the Trade Deadline -- particularly now that there's a DH in the National League for Our Boy Daniel Vogelbach -- maybe the first month just goes so well that they decide to keep hanging around? I don't know: We're at No. 11. Maybe they hang around for a month and Jarred Kelenic shows up and goes nuts in September. Dunno! We're through the looking glass here.
12. San Francisco Giants
2019 record: 77-85
Petriello: Set aside depth. Set aside aging curves. Set aside the competition both in the NL West and the league as a whole. Just look at the San Francisco roster, and these are definitely names of players who know how to win baseball games, and they have done so quite successfully in the not-too-distant past -- Brandon Belt. Brandon Crawford. Evan Longoria. Jeff Samardzija. Johnny Cueto, who I definitely did not forget was on this team until right now. Kevin Gausman. Tony Watson. Hunter Pence. (Not Buster Posey, who has elected not to play.) Throw in interesting 2019 breakouts (Alex Dickerson, Mike Yastrzemski) and capable veteran additions (Wilmer Flores, Yolmer Sánchez) and ready-now prospect Mauricio Dubon, and … that is certainly a list of names, isn't it?
They probably won't make the playoffs, but they'll be watchable, a lot more so than a year ago. If you can name the 2019 Giants Opening Day starting outfield, you don't deserve a prize. You should start asking yourself serious questions. The '20 version will be better.
13. Pittsburgh Pirates
2019 record: 69-93
Leitch: The advantage to having four good teams in the NL Central to go against is that none of them are great teams. It's not that hard to see all four of those teams falling off. The Cardinals' hitting never comes around, the Cubs underachieve like last year, the Brewers have no pitching and the Reds never figure out where everyone's going to play. They all have more questions than the Yankees or Dodgers is what I'm saying. So maybe everything goes wrong for all four, and the Pirates are left picking up the pieces. Sure. Sure? Sure!
14. Baltimore Orioles
2019 record: 54-108
Petriello: The Orioles lost 108 games last year, and they're now without their two best players (Jonathan Villar, traded to Miami; Trey Mancini, recovering from colon cancer). I can confirm that they will not lose 108 games again this year.