The pitches we can't wait to see in 2020
After flashes last summer, these weapons could come up big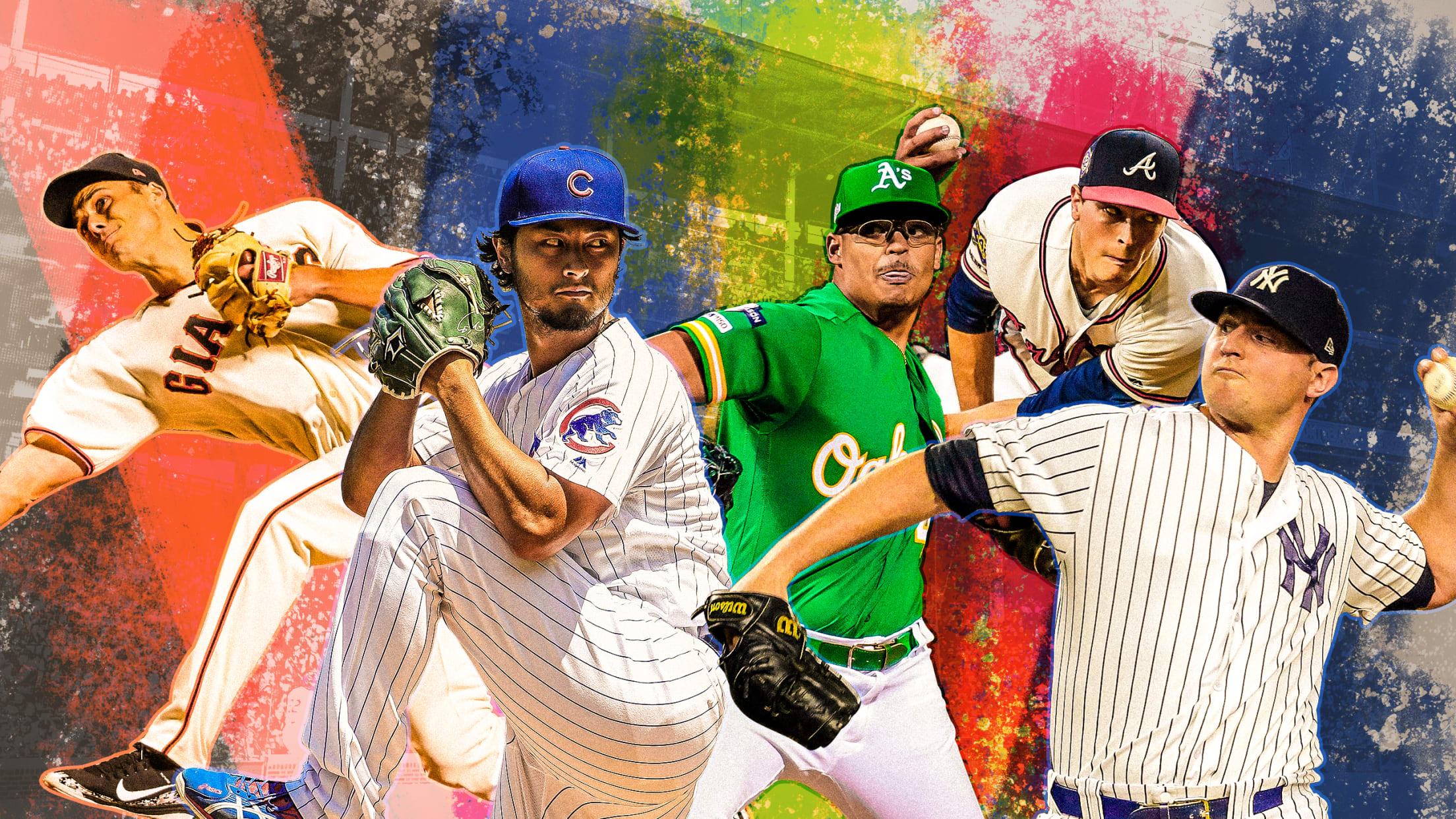 "[Pitcher X] is experimenting with [pitch type X]" is a Spring Training story as familiar as "he's in the best shape of his life" or "this veteran wants one more shot." But not every pitcher's secret weapon is crafted in February. Sometimes, amid the dog days of August and September,
"[Pitcher X] is experimenting with [pitch type X]" is a Spring Training story as familiar as "he's in the best shape of his life" or "this veteran wants one more shot."
But not every pitcher's secret weapon is crafted in February. Sometimes, amid the dog days of August and September, a veteran tinkers with a pitch that clicks, or a prospect crashes the party with something completely fresh.
This list is devoted to those pitches, the ones that crept to the surface last summer, and, with more repetition, look primed to get big results in 2020. We're counting down the days until we see these offerings thrown in live action.
Yu Darvish, Cubs
Pitch type: Knuckle curve
Craig Kimbrel's North Side debut wasn't great, but it might have had one unintended benefit.
Inspired by the Cubs' midseason signing, Darvish decided to teach himself the knuckle curveball that Kimbrel had thrived with in Boston.
"He walked up to me the other day and he was like, 'Hey, I've been working on that,'" Kimbrel told MLB.com in August. "I was like, 'Cool.' I didn't know he was going to go out and throw it. He's amazing. He can do anything he wants."
Darvish already had two other curveballs -- a slow hook that clocked in under 70 mph, and a more standard model that sat around 75 mph. Then, he added this 80-mph spike curve, a weapon he hadn't had since he underwent Tommy John surgery in 2015. Darvish messed around with a handful of knuckle curves against the Giants on Aug. 21, and then unleashed them in full force when he took the mound Sept. 7 in Milwaukee.
Chicago's ace was already on a historic tear, pairing 78 strikeouts with just three walks across July and August. But the knuckle curve turned Darvish back into a master of whiffs, as he racked up 39 strikeouts across his last three starts of the year -- 14 of them with his new hook. Darvish's overall numbers with the knuckle curve were elite (47.2% whiff rate, 66.7% strikeout rate, .086 BA, zero walks), and it's the new weapon to watch in 2020.
Max Fried, Braves
Pitch type: Slider
A talented southpaw with a mid-90s fastball and a jaw-dropping, waterfall curve added a slider as a potent third pitch. Yes, that's Clayton Kershaw's famous career arc. But it could be Fried's, too.
Obviously that's way too much pressure to put on Atlanta's young lefty, but it's hard not to watch his biting, back-foot slider and not think of the Dodgers legend. Fried trusted that slider more and more as the season progressed, spiking its usage to a season-high 22% by September. It carried about 10 mph of separation from his four-seamer and cutter, and more important, moved a ton. More than 330 pitchers qualified for the Statcast movement leaderboard on sliders, and Fried tied for 14th in movement going east-west (horizontal) and 34th going north-south (vertical).
Fried's slider was his best offering by wOBA, finishing at .240, and he struck out 46 hitters with it while surrendering just three home runs. He was one of MLB's hardest starters to barrel up in 2019, and this tantalizing third pitch could elevate Fried to the top of the Braves' staff.
Jesus Luzardo and A.J. Puk, Athletics
Pitch type: Fastballs
Boasting a lefty starter with upper-90s heat is like striking gold if you're an MLB team. But possessing two in the same year, with each of them just beginning their big league careers? That's nearly unheard of, unless you're the 2020 A's.
The A's dusted off their top two pitching prospects down the stretch, and each of them came blazing out of the bullpen. Puk averaged 97.1 mph on his four-seam fastball, while Luzardo (who also throws a sinker) finished just behind him at 96.8 mph. Each of them notched strikeouts on 98-plus mph heaters last September. Both pitchers could break camp in Oakland's rotation, and while that means they could lose a tick or two on their fastballs, the duo could still become baseball's hardest-throwing southpaw starters.
Highest avg. four-seam fastball velocity, L-H starters, 2019
Min. 25 four-seamers thrown as a SP
1. Adrian Morejon (SD): 96.3 mph
2. Genesis Cabrera (STL): 95.8 mph
3. Blake Snell (TB): 95.5 mph
4. James Paxton (NYY): 95.4 mph
5. Julio Urias (LAD): 94.9 mph
*Puk (97.1 mph) and Luzardo (96.8 mph) pitched out of OAK bullpen in '19
Puk showed an impressive ability to miss bats, even at the bottom of the zone, while Luzardo's tailing sinker -- thrown at nearly the same speed as his straight heater -- makes for an uncomfortable plate appearance. Opponents combined for 45 at-bats against Puk and Luzardo's fastballs last year, and they came away with just eight hits (.178 BA). They also made hard contact (95-plus-mph exit velocity) on just 28.1% of their balls in play, well below the league average hard-hit rate of 40.5% against fastballs.
Tyler Rogers, Giants
Pitch type: Curveball
The Elevator. The Dispy-Doodle. Casper the Friendly Curve. It's a working list, but this pitch should have a nickname, because there's nothing else like it right now. Rogers, the twin brother of Twins relief ace Taylor Rogers, might be MLB's first true submariner in a while; his release point is nearly half a foot lower than any other pitcher measured by Statcast since 2015. That means Rogers looks different than anyone else a hitter will face -- a helpful tool, since his sinker averages about 82 mph. And it also makes his curveball completely unique.
My new favorite pitch entering 2020: Tyler Rogers' "rising" curveball.

Here's some fun with #Statcast 3D. One of these pitches is a curveball. (Hint: It's not the one you might expect.) #SFGiants pic.twitter.com/bhMuXXjGgj

— Matt Kelly (@mattkellyMLB) February 13, 2020
While gravity prevents a pitch from truly "rising," Rogers gives that impression. On the first pitch of this clip to Francisco Cervelli, Rogers released his curve just 1.1 feet above the pitcher's mound. It wound up 3.06 feet off the ground once it hit the catcher's mitt, leaving Cervelli to ponder what in the world he just saw.
Think Gerrit Cole's high-spin fastball that "rises" through the top of the strike zone -- except Rogers' curve climbs up there 25-30 mph slower. It's an offering straight from Bugs Bunny's arsenal, floating so slowly that it almost sits on a platter, waiting for hitters to swing right through it: Batters got just two singles in 24 at-bats against this riseball, and they struck out 13 times.
Rogers is projected to make the Giants' Opening Day bullpen, and we can't wait to see this marvel early and often.
Zack Britton, Yankees
Pitch type: Slider
Britton has been as synonymous with his sinker as any pitcher with a single pitch type -- and for good reason, since that sinker made him the king of ground balls and an elite Major League reliever. As recently as 2018, Britton allocated a career-high 91.9% of his deliveries to that wrecking-ball sinker. He is perhaps the closest one-pitch guy MLB has had since Mariano Rivera retired.
But something changed in Britton's pitch mix last season; suddenly there was a second pitch that reached a double-digit percentage. That would be his slider, a pitch he more than doubled up on compared to 2018, and it was pretty much unhittable.
Britton's slider ranks among all pitch types, 2019
wOBA: .051 (1st)
BA: .033 (1st)
Strikeout rate (K%): 80.6% (2nd)
Whiff-per-swing rate: 61% (7th)
Pitch types: Four-seam fastball, two-seam/sinker, cutter, slider, curveball, splitter, changeup
*Min. 30 PA/AB; min. 40 swings
This could mostly be a case of a) small sample size and b) hitters being wholly unprepared for something other than a sinker out of Britton's hand. But his slider also covers some ground: it averaged 7.8 more inches of vertical movement than average sliders thrown with similar velocity and release points, placing Britton in the top 10 on the Statcast leaderboard.
Britton might have had a second elite pitch this whole time (more exposure will be the test), and lo and behold it dives straight down, just like his sinker. For a pitcher whose bread-and-butter pitch is beginning to lose velocity, Britton's slider could be his new best friend.