What will SF's Opening Day roster look like?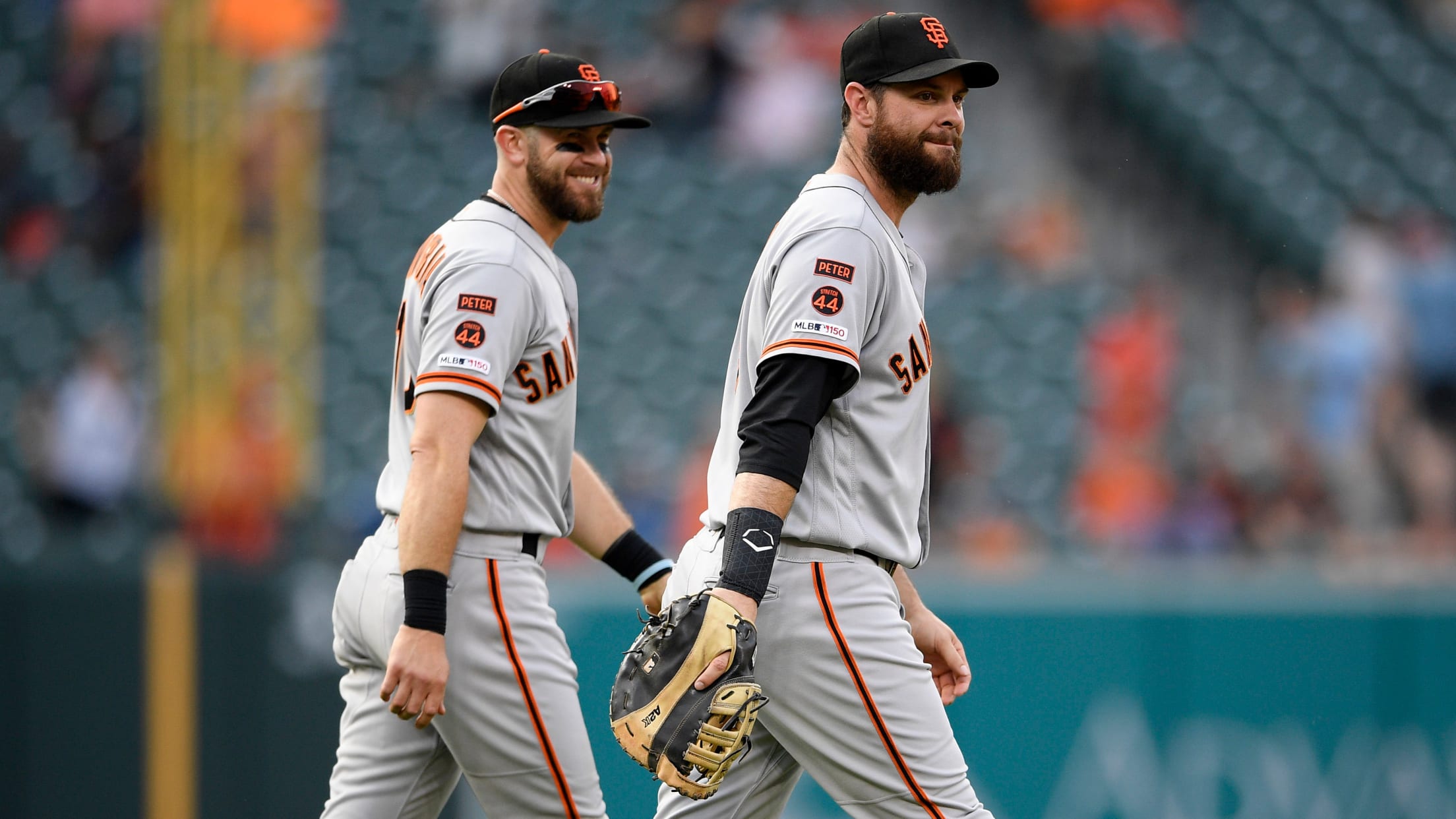 SCOTTSDALE, Ariz. -- Competition is expected to be a hallmark of new manager Gabe Kapler's first Spring Training with the Giants. With 72 players in big league camp, Kapler and his coaching staff will spend the next six weeks evaluating how best to construct their team ahead of the 2020
SCOTTSDALE, Ariz. -- Competition is expected to be a hallmark of new manager Gabe Kapler's first Spring Training with the Giants.
With 72 players in big league camp, Kapler and his coaching staff will spend the next six weeks evaluating how best to construct their team ahead of the 2020 season. Plenty of spots will be up for grabs, setting the stage for an intriguing spring at Scottsdale Stadium.
Here's an updated look at what the Giants' roster could look like come Opening Day, keeping in mind that rosters will expand from 25 to 26 players this year.
• Forecasting all 30 teams: Lineups, rotations, closers
Catcher
Locks: Buster Posey
Possibilities: Tyler Heineman, Rob Brantly, Chadwick Tromp, free agent or trade
The Giants were dealt a blow last week when Aramis García underwent surgery to repair a torn labrum in his right hip. García had been the favorite to back up Posey this season, but he is expected to miss six to eight months, putting his 2020 season in jeopardy. Heineman and Brantly, who joined the Giants on Minor League deals this offseason, are now considered the frontrunners for the backup job, though the Giants could also try to recoup their catching depth by signing another free-agent veteran catcher, such as Jonathan Lucroy or Russell Martin. Top prospect Joey Bart is also in camp as a non-roster invitee, but he isn't viewed as a candidate for the Opening Day roster, as he'll likely open the season at Triple-A Sacramento to gain more catching experience before he's ready to debut in San Francisco.
First Base
Locks: Brandon Belt, Wilmer Flores
Possibilities: Austin Slater, Darin Ruf, Zach Green
Flores, who signed a two-year, $6.25 million deal with the Giants, can play all over the infield, but he is expected to make the majority of his starts on the right side of the diamond against left-handed pitching. He could form a platoon at first base with the left-handed-hitting Belt, who hit only .211 with a .664 OPS against southpaws last year.
Second Base
Locks: Flores
Possibilities: Mauricio Dubón, Yolmer Sánchez, Donovan Solano, Kean Wong
The Giants have a crowd at second base, which should feature one of the most compelling position battles of the spring. Dubón finished last season as the club's everyday second baseman, but the Giants are open to using him in center field and could develop him into a super-utility player this year. Sánchez won the American League Gold Glove Award at second base last season and is working with the club's new hitting coaches on a few adjustments to his swing, but he isn't on the current 40-man roster, which could put him at a disadvantage. Solano emerged as a solid backup middle infielder for the Giants last year and will be fighting for playing time as well. Wong, who was claimed off waivers from the Angels, will also be an intriguing player to evaluate, as he is only 24 years old and could give the Giants a left-handed-hitting option at second base.
Shortstop
Locks: Brandon Crawford
Possibilities: Dubón, Solano, Abiatal Avelino
The Giants are expecting to use more platoons this year, which means Crawford could end up sitting against more tough lefties this year. That could create openings for right-handed-hitters like Dubón and Solano to earn starts at shortstop.
Third base
Locks: Evan Longoria
Possibilities: Flores, Solano, Wong, Avelino
Longoria remains the incumbent at third base, though the Giants will need a backup to fill in while Pablo Sandoval completes his rehab from Tommy John surgery. Sandoval is expected to open the season on the injured list and might not be ready to return to the Majors until May.
Outfield
Locks: Hunter Pence, Mike Yastrzemski, Alex Dickerson
Possibilities: Billy Hamilton, Steven Duggar, Jaylin Davis, Chris Shaw, Dubón, Slater
Center field remains a question mark following the departure of Kevin Pillar, but the Giants could fill the void with Yastrzemski, Duggar, Dubón or Hamilton, who is in camp as a non-roster invitee. Pence is back after signing a one-year, $3 million deal earlier this month and will provide a big right-handed bat off the bench and a potential platoon partner for the left-handed-hitting Dickerson in left field. The Giants would like to leave ample opportunities for their younger outfielders, so expect to see plenty of Duggar, Davis, Shaw and Slater this spring as well.
Starting pitchers
Locks: Johnny Cueto, Jeff Samardzija, Kevin Gausman, Drew Smyly
Possibilities: Tyler Beede, Logan Webb, Tyler Anderson, Dereck Rodríguez, Shaun Anderson, Tyson Ross
With the additions of Gausman and Smyly, the Giants seem to have only the fifth spot open in their rotation, which will likely come down to Beede or Webb. The 23-year-old Webb is expected to be on an innings limit and could be protected early in the season, so the Giants could opt to start him at Triple-A Sacramento and conserve some of his bullets for later in the year.
Relievers
Locks: Tony Watson, Trevor Gott
Possibilities: Jerry Blevins, Trevor Cahill, Nick Vincent, Jarlin García, Shaun Anderson, Wandy Peralta, Sam Coonrod, Tyler Rogers, Jandel Gustave, Dany Jimenez, Andrew Suárez, Conner Menez
The bullpen competition will be wide open for the Giants this spring. Watson and Gott will likely be the only major holdovers from last season and should anchor the back end of the bullpen now that All-Star closer Will Smith is with the Braves. Blevins, Cahill and Vincent are in camp as non-roster invitees, but they are seasoned veterans who could also help stabilize a young, inexperienced group. García, who was claimed off waivers from the Marlins, is out of options and posted even splits last season, a skill that will have increased value in the age of the three-batter minimum for relievers. He could have a leg up over the competition, as could Jiménez, a Rule 5 Draft pick who will have to be returned to the Blue Jays if he doesn't make the Opening Day roster.
Maria Guardado covers the Giants for MLB.com. She previously covered the Angels from 2017-18. Follow her on Twitter.