ADVISORY
We have been closely monitoring the evolving coronavirus (COVID-19) situation in San Francisco. The safety of you, our fans and our employees is of the utmost importance to us.
Effective Monday, March 9, Public Tours of Oracle Park will be put on hold indefinitely.
Please check back periodically for updates. We are sorry for the inconvenience and we thank you for your understanding.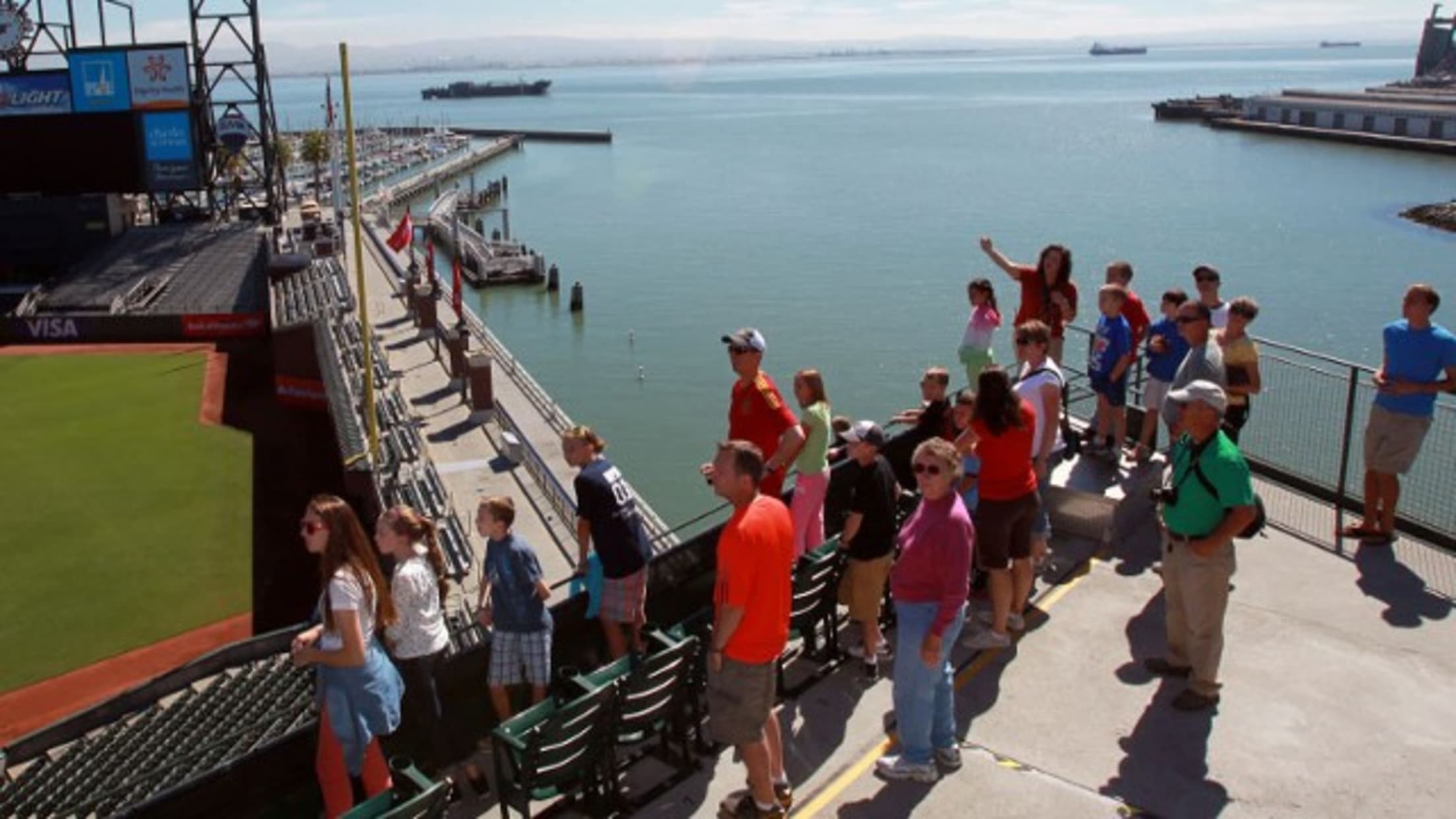 Daily Tours
Oracle Park is widely regarded as one of the premier ballparks in all of baseball. On your 90 minute Behind-the-Scenes Tour of the home of the three-time World Series champion, San Francisco Giants, you will step foot on the Field, sit in a Major League Dugout, take a peek inside the Visitors' Clubhouse and experience a brand-new museum space detailing the rich and storied history of the franchise, called The Giant Vault.
On your Behind-the-Scenes Ballpark Tour of Oracle Park you will get to go places only the players and staff go including:
The Field Warning Track
A Major League Dugout
Visitors' Indoor Batting Cage
The Visitors' Clubhouse
The Press Box
A Luxury Suite
All tour stops are subject to change depending upon team schedule and area availability.
Tour Prices
Adults: $22.00
Seniors (55 & over): $17.00
Kids (12 & under): $12.00
Active US Military (with valid ID): FREE
2 and Under: FREE
2019 Blackout Dates:
2020 Blackout Dates:
January: 1st
February: 8th
March: N/A
April: 3rd, 4th, 5th, 9th, 23rd, 26th, 29th
May: 10th, 17th, 20th, 31st
June: 4th, 11th, 14th, 20th, 25th, 28th
July: 12th, 26th, 30th
August: 13th, 16th, 30th
September: 7th, 9th, 13th, 27th
October: N/A
November: 26th
December: 25th
Tickets can also be purchased in advance at any Giants Dugout Store or Tickets.com outlet or on your desktop at sfgiants.com. Tickets designated for will call can be redeemed on the second level of the Giants Dugout Store at Oracle Park.
Active Military tickets must be reserved ahead of time by calling 415.972.2400. They are not available at Giants Dugout Stores or at sfgiants.com. Free active military tickets are for the active military member only. Friends and family must purchase tickets.
Private Behind the Scenes Tour
It's the ballpark where home runs can be "splash hits." The breathtaking Bay views rival the action on the field. Where one of baseball's most hallowed franchises plays inside an architectural landmark. On your 90 minute Private Behind-the-Scenes Ballpark Tour of sensational Oracle Park, home of the San Francisco Giants, you'll go places only the players and coaches go: the Giants' dugout, the Visitors' Clubhouse, the Giant Vault, even the Field.
$500.00 per tour guide (1 guide: 30 guests maximum)
For more information about our Tours, please call our Tours hotline at 415-972-2400 or email [email protected]
Register for the Ballpark Tours Newsletter
Be the first to know when we have new information to share about our Ballpark Tours. Fill out the form below and join our FREE newsletter!