TRAFFIC ALERT
Due to construction projects in and around the Mission Bay neighborhood (just south of Oracle Park), please allow extra time to travel to Lot A & Pier 48. Affected areas include the Lefty O'Doul Bridge/3rd Street, Terry A. Francois Boulevard, and other streets immediately around the future arena in Mission Bay.
The Giants are working closely with City agencies to minimize disruptions, and we will work to alert fans to major changes in traffic conditions throughout the season. Please view the Waze live map above for real-time traffic conditions.
We recommend that, if possible, fans consider taking other modes or parking in Pier 30/32.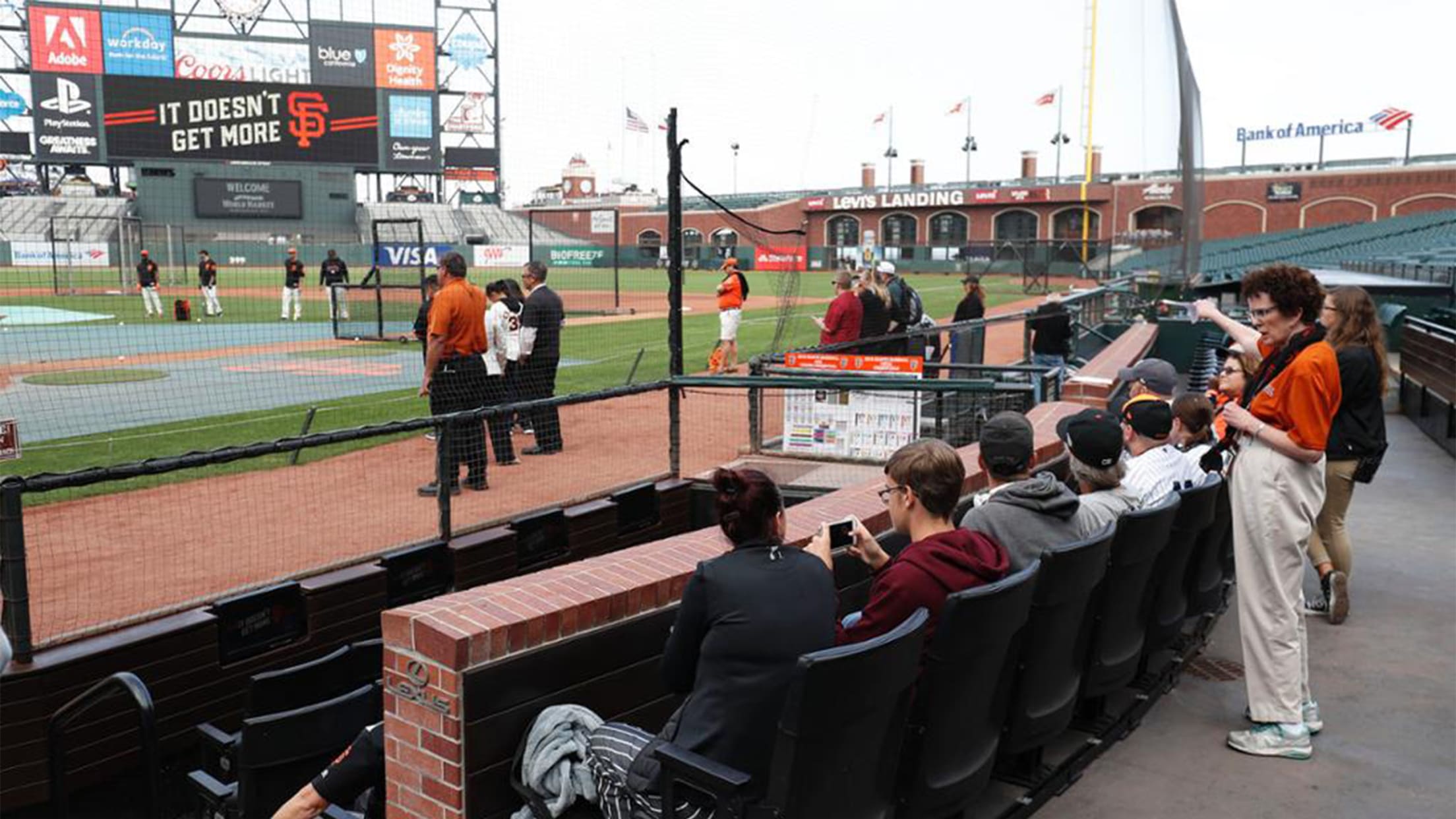 Pre-Game Tour
Now is your chance to take an exclusive look at Oracle Park just hours before first pitch is thrown! Before gates are open to the public, tour guests will have the chance to watch warmups on the Field from the first three rows directly behind home plate. Guests will also receive private access to our new museum space, the Giant Vault, and take a peek at our newly-designed Club Level display cases. Don't miss out on this exciting new opportunity to be up close and personal during pre-game warmups. 1 hour.
$35.00 per guest
To purchase Pre-Game Tour tickets, please see below.
Batting Practice Tour
This special pre-game tour will allow your group to walk through the public areas of the stadium, including the Giant Vault, before the gates are opened to the public on the day of a Giants game. During your guided tour you learn about the history of the team and their beautiful waterfront wonder of a ballpark. You may also have a chance to sit and watch the Giants begin on-field batting practice. All guests must have a ticket to the game. 90 minutes.
$500.00 per tour guide (1 guide: 30 person maximum)
For more information and to book your private Batting Practice Tour today, please call our tour hotline at **415-972-2400** or email **[email protected]**.
VIP Tour
With small group sizes and exclusive Tour stops, the pre-game VIP Tour is the ultimate Oracle Park fan experience. Go on the Field, into the Press Box and more in this truly unique game day opportunity.
$175.00 per guest
For more information and to book your VIP Tour today, please call our tour hotline at 415-972-2400 or email **[email protected]**.
Purchase Pre-Game Tour Tickets
Register for the Ballpark Tours Newsletter
Be the first to know when we have new information to share about our Ballpark Tours. Fill out the form below and join our FREE newsletter!