Tigers' relief woes at Fenway all too familiar
A. Wilson gives up 3 runs in 8th, including game-winning HR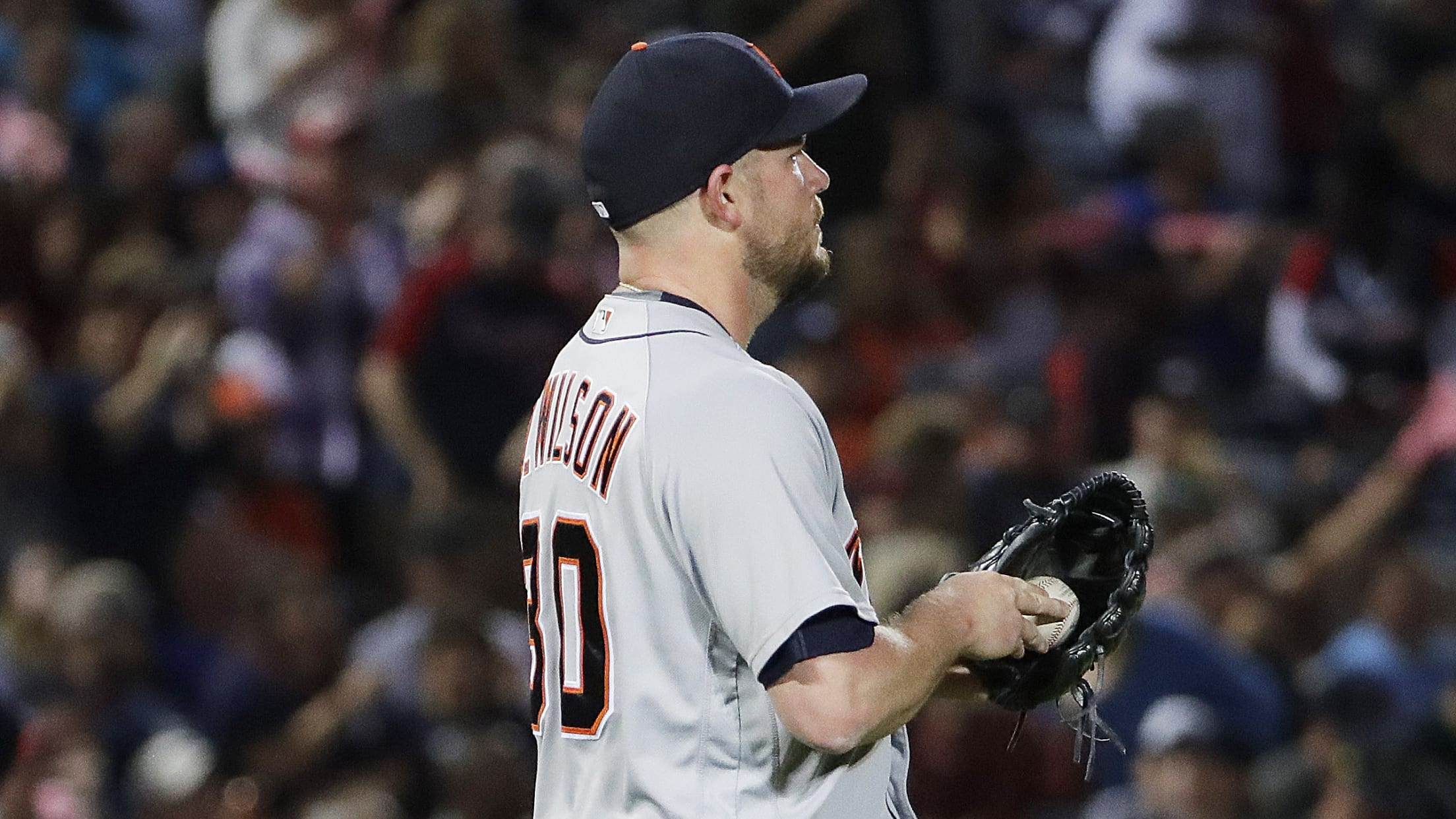 "With Jackie Bradley, I just didn't get a ball where it needed to go," Alex Wilson said. (AP) (David Goldman/AP)
BOSTON -- Walk through the catacombs of Fenway Park, and you'll find an area noting the various movies filmed there. The climactic heist and shootout in "The Town" were filmed along the concourse underneath the seats, while "Moneyball" and "Fever Pitch" both had scenes at the park.The 2013 American League
BOSTON -- Walk through the catacombs of Fenway Park, and you'll find an area noting the various movies filmed there. The climactic heist and shootout in "The Town" were filmed along the concourse underneath the seats, while "Moneyball" and "Fever Pitch" both had scenes at the park.
The 2013 American League Championship Series is not among the dramatic works listed, but for Tigers fans, it remains a timeless tragedy. The cast has changed -- just five Tigers are left from that team, and the coaching staff is largely different -- but every big Red Sox comeback off Detroit's bullpen feels like a sequel. Friday's 5-3 Tigers loss, a game they led by three runs early, was a painful script for them to play out.
J.D. Martinez was still an Astro when Torii Hunter went tumbling into the bullpen trying to chase down David Ortiz's game-tying homer in Game 2 of that ALCS. But Martinez's near-somersault leaning over the fence trying for Mitch Moreland's fourth-inning solo homer Friday looked familiar.
Alex Wilson was a rookie reliever for the Red Sox in 2013, inactive for the postseason. But as he sat by himself in the visiting clubhouse Friday, pondering Jackie Bradley Jr.'s go-ahead two-run homer to left, he got the feeling of what it was like on the other side.
"With Jackie Bradley, I just didn't get a ball where it needed to go," Wilson said. "And he took care of it."
Friday's implications were nowhere near what they were for the Tigers that October, of course. But with the Tigers two games under .500 again and decisions looming for team officials ahead of the July 31 non-waiver Trade Deadline, the urgency is building. If the Tigers become sellers this July, some will view the 2013 team that lost here as the last, best chance Detroit had at a World Series.
If the 2017 team's fate is a midsummer selloff, a bullpen demise will be a painfully familiar script, like Jeremy Renner's character in "The Town" instinctively turning when Jon Hamm's FBI agent calls his name amidst his attempted escape.
Wilson became Detroit's setup man on the strength of his stinginess in different situations, including his ability to hold down left-handed hitters, something Ausmus noted before Friday's game.
"He's as close to a lefty specialist as we have," Ausmus said. "We've had left-handed pitchers, but he might be more effective than left-handed pitchers at getting lefties out at times. That's where I think his value is."
Lefties entered Friday just 6-for-43 with no extra-base hits and seven strikeouts against Wilson, which made him a logical candidate for the eighth with Moreland and Andrew Benintendi due up and Bradley looming further down the order.
Xander Bogaerts, a right-handed hitter, led off with a blooper that fell in front of J.D. Martinez, whose charge in from right might have been faster if not for the lisfranc ligament sprain in his right foot that he suffered in Spring Training. But the real damage came from lefties (3-for-4), if you include switch-hitting Sandy Leon's single.
Wilson's 0-1 slider to Moreland was inside, and Moreland turned on it to deliver a game-tying line-drive single with a 102.9 mph exit velocity, according to Statcast™.
Bradley fouled off a 1-0 fastball up and in. Wilson tried to go back to it, but left it over the plate.
"It leaked back over the plate," Wilson said. "It's pretty obvious what I try to do a lot of the times is pitch in, and when you don't get it there to a big league hitter, they hurt it."