Inbox: Who will start at 2B for the Tigers?
Beat reporter Jason Beck answers fan questions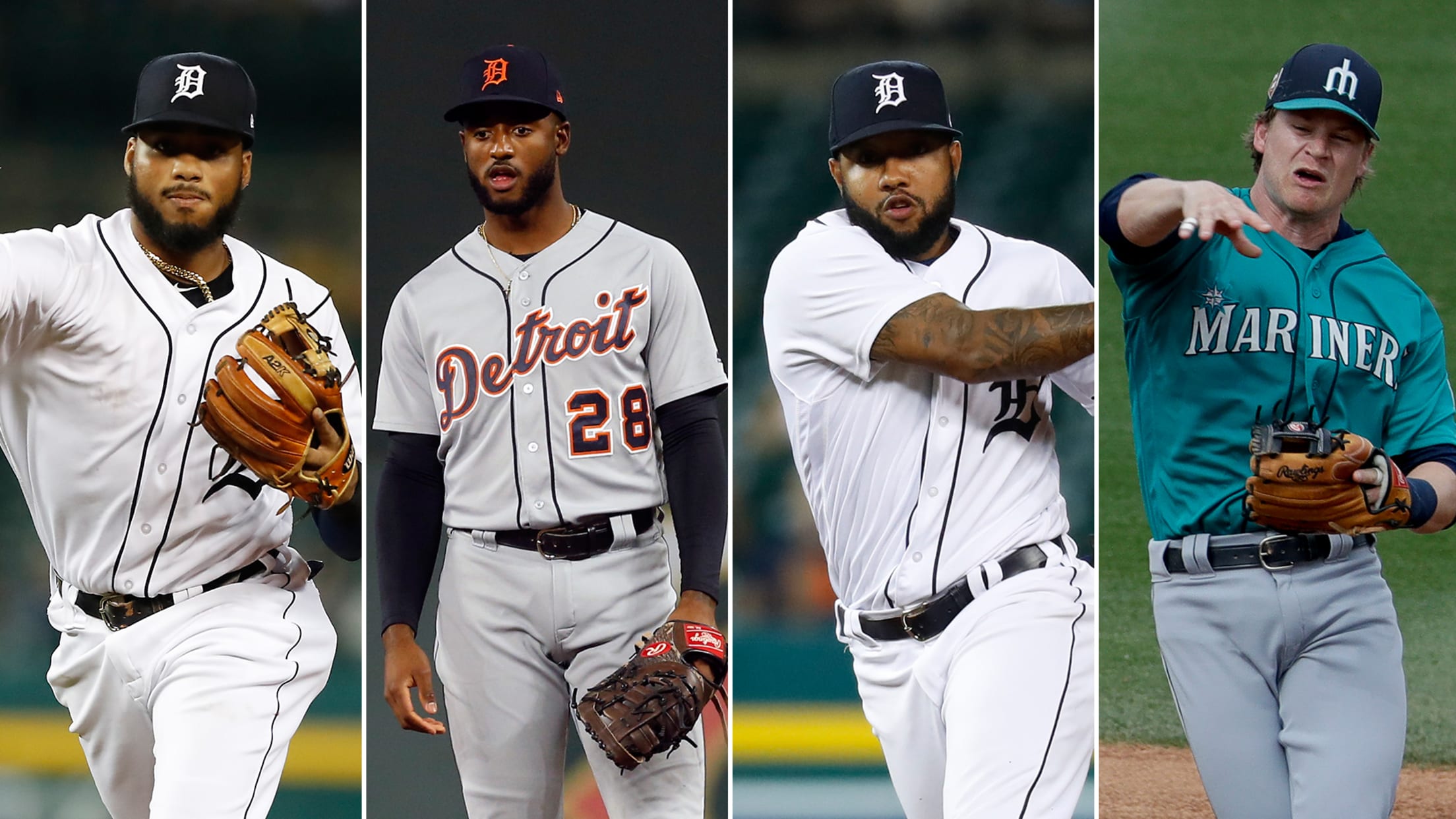 DETROIT -- Checking what's in the Tigers Inbox again as Spring Training draws a little bit closer.Questions ranged from roster decisions to June's Draft.
DETROIT -- Checking what's in the Tigers Inbox again as Spring Training draws a little bit closer.
Questions ranged from roster decisions to June's Draft.
Who will be our starting 2B?

— Thayer Muallem (@TMuallem) January 23, 2019
Well, at this point, the Tigers will have Dawel Lugo, Niko Goodrum, Ronny Rodriguez and James Beckham in Spring Training to compete for a starting job. The Tigers have said they'd like to get Lugo some more work at Triple-A Toledo to hone his plate discipline, but the Tigers also like Goodrum's versatility, which would be greatly reduced if he's starting at second base every day. Then there's Beckham, the former White Sox second baseman whom the Tigers just signed to a Minor League deal as a non-roster invite. Beckham is a few years removed from his days as an everyday player in the Majors, but he's also just 32 years old. Don't be surprised if the Tigers come up with a stopgap plan to hold down the job until Lugo is considered ready.
had the team not announced it, how long would gordon beckham have gone in spring training undetected

— Matt 🥌 Sussman (@suss2hyphens) January 23, 2019
This reminds me of the time in Spring Training a couple years ago when the Tigers ran Don Kelly onto the field with the team for a workout to see how quickly anybody noticed and tweeted about it. It didn't take long, at which point the Tigers announced Kelly was joining the organization as a scout and instructor, not as a player.
:: Submit a question to the Tigers Inbox ::
Especially this offseason, when every signing -- big or small -- seems to break ahead of time on Twitter, it's kind of surprising when a team gets to break a signing like the Tigers did when they snuck Beckham onto their list of non-roster invites on Tuesday. But supposedly his was a recent signing, within the last few days.
Of the recent listed invitees to spring training, who do you think has the best opportunity to make the opening day roster?

— Rick Morris (@firerick22) January 23, 2019
Beckham might have a decent chance for reasons mentioned above, but the best shot probably belongs to Louis Coleman. The Tigers know him from his work out of their bullpen last year, and manager Ron Gardenhire likes relievers who present hitters with different looks. The Tigers could use some experience in the bullpen with Alex Wilson gone.
If Michael Fulmer (returns to form) or Daniel Norris have a great 1st half of season, would the Tigers trade both or one or both of them at the trading deadline for prospects due to the up and coming pitching in the minors that may replace them in the rotation?

— Matt Clark (@reilly07) January 23, 2019
General manager Al Avila notably said at the Winter Meetings that pretty much no player would be totally off limits in trade talks if the offer is right. Considering the Tigers were willing to listen on Michael Fulmer previously, they'll probably listen again if he regains his old form, though I'd expect the price tag to remain high. Teams will need some sort of confidence that he can stay healthy, though, and I don't know if a half season will be enough for some evaluators to answer that.
Daniel Norris' situation is different because the Tigers haven't seen his best pitching for an extended stretch yet. He's still relatively young at 25, he hasn't held a rotation spot for a full season and none of his injuries have involved his arm. If 2019 ends up being a breakout year for Norris, the Tigers could conceivably try to deal him ahead of their wave of pitching prospects, or they could see if he can build off success like Matthew Boyd did last year. But like Fulmer, scouts have to believe Norris can stay healthy.
In the upcoming draft, will the Tigers go with "best available player" approach again?, or draft accordingly to what they need like 1B Andrew Vaughn, or an OF like Riley Greene?

— Charles Auten (@CharlesAuten) January 23, 2019
The Tigers have taken a best-player-available approach to the Draft for as long as I've been covering them. If there's a pitcher who falls to their slot with the fifth pick who is clearly better than any hitter available at that spot, I'd expect them to take the pitcher despite their need for offense in the system. If the Tigers end up with a surplus of pitching, they can try to trade from that in order to acquire a hitter or two. That being said, the Tigers would love to get an impact hitter at that spot, and if all things are equal or close to it, I expect they'll take a hitter.
Will Cabera be the DH or play 1st base this year? #TigersMailBag

— Trev Cherry (@TCherry151) January 23, 2019
As long as Jose Cabrera is healthy, he'll be the primary first baseman, but he will also get some starts at designated hitter to ease the wear and tear.
Why are they scouting Adrian Gonzalez?

— panicstreak (@panicstreak) January 23, 2019
The Tigers usually send a scout or special assistant to a lot of showcase events when they can. Even if they're not seriously considering signing a player, they like to have an evaluation for future purposes just in case. For example, though the Tigers didn't see Troy Tulowitzki as a realistic option at shortstop, they sent special assistant Alan Trammell to his workout to get a look. In Adrian Gonzalez's situation, there are a couple of reasons why the Tigers would take a look.
First, the Tigers would like to have veteran insurance at first base in case Cabrera is sidelined or limited to DH. They had that a couple of years ago with Efren Navarro, but they didn't have that last year and ended up moving John Hicks over there. Now that the Tigers will likely need more starts at catcher from Hicks, they could use some insurance again. Second, Gonzalez is a left-handed bat, and the Tigers don't have many of those on the roster. Christin Stewart is one, while Jeimer Candelario and Goodrum are switch-hitters.
are the Tigers going to sign a C who can play regularly in the majors this year, or will they go with Greiner, Hicks, and the Triple-A combo platter?

— Haircut Police (@GoddTill) January 23, 2019
The Tigers want to see what Grayson Greiner can do. Now is the time to find out about him, while Jake Rogers works on his offense in the farm system.
Is there any more alumni heading to Tigerfest?

— Brendan Molnar (@BrendanMolnar) January 23, 2019
Phil Coke is the surprise former Tiger on this year's TigerFest list, but Nate Robertson and Andy Dirks are also returning.
What is your Tigers' W-L prediction for '19?

— Gregg Parini (@greggparini) January 23, 2019
Way too early for that. Maybe later in Spring Training, or whenever Ben Lindbergh asks me for one on his Baseball Prospectus podcast, where I somehow correctly predicted (or guessed) the Tigers would go 64-98 last year.