Back from hand issue, Wood sprains left knee
Tigers' bullpen candidate will undergo further testing to determine severity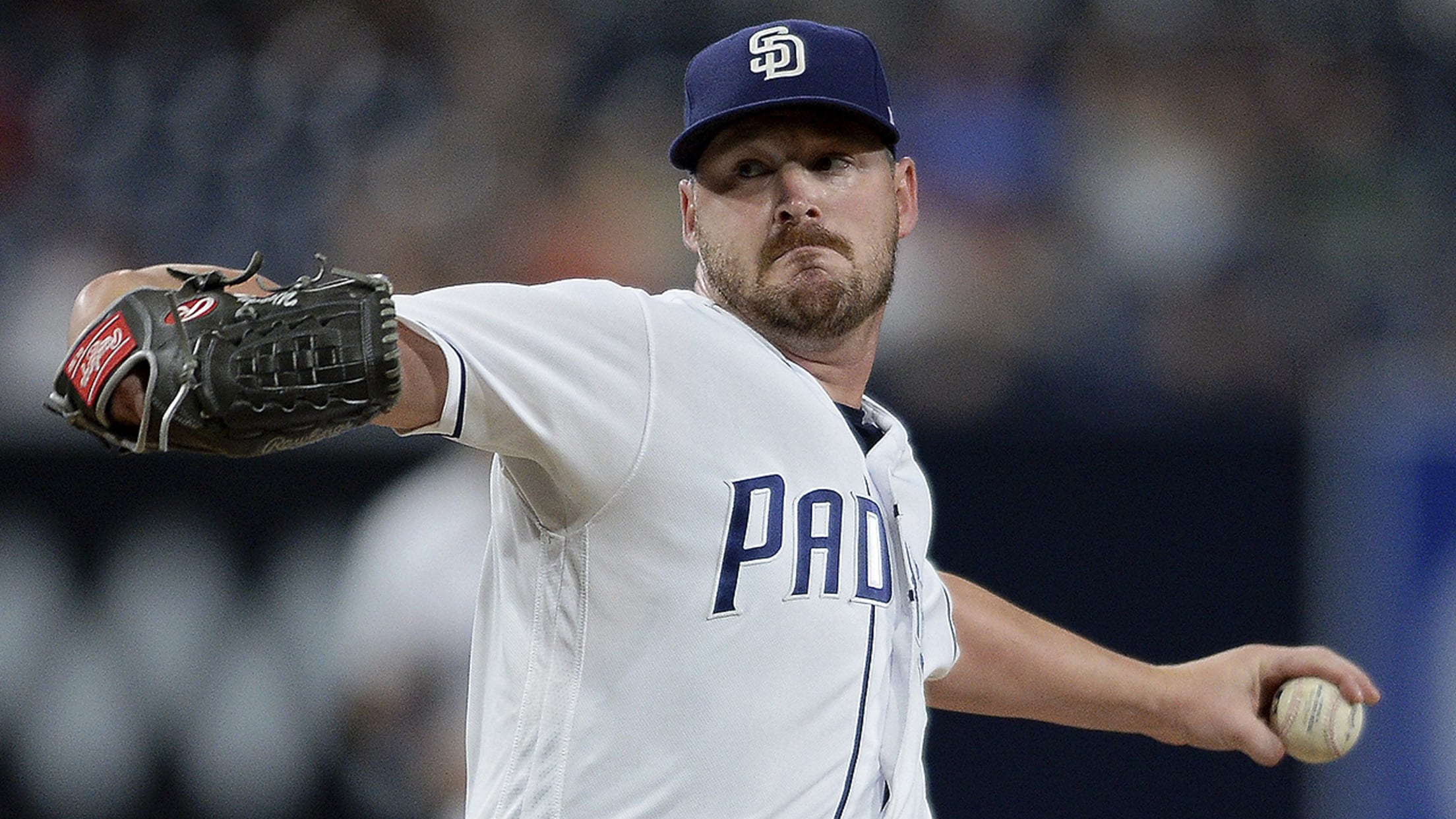 San Diego Padres starting pitcher Travis Wood throws to a Arizona Diamondbacks batter during the first inning of a baseball game Tuesday, Sept. 19, 2017, in San Diego. (AP Photo/Orlando Ramirez) (Orlando Ramirez/AP)
LAKELAND, Fla. -- Tigers left-hander Travis Wood had to wait a week for his Spring Training debut thanks to an injury on his non-throwing hand. His first outing ended abruptly Thursday when he injured his left knee on a rundown play.The Tigers initially labeled the injury as a left knee
LAKELAND, Fla. -- Tigers left-hander Travis Wood had to wait a week for his Spring Training debut thanks to an injury on his non-throwing hand. His first outing ended abruptly Thursday when he injured his left knee on a rundown play.
The Tigers initially labeled the injury as a left knee sprain. Manager Ron Gardenhire said after the game that Wood was undergoing further tests to determine the extent of the injury.
• Spring Training:Info | Tickets | Schedule
"It's a sprain, so we'll see where it goes from there," Gardenhire said. "It didn't look very good."
Wood, the former Cubs, Royals and Padres swingman, signed a Minor League deal with a non-roster invite to compete for a spot in Detroit's bullpen. After scattering two singles in a scoreless third inning, he returned for the fourth and gave up a leadoff baserunner before snaring a Carlos Franco line drive back up the middle.
:: Spring Training coverage presented by Camping World ::
Wood caught Preston Tucker stranded off second and began running toward him to start a rundown. After throwing to shortstop Jose Iglesias, Wood made an awkward cut and collapsed on the infield grass, writhing in pain. He picked himself up, but immediately headed toward the clubhouse in the right-field corner, helped by trainers down the line. He left the clubhouse on crutches, according to reports.
The catch of the line drive was a test of his previous injury. He had sliced open his right index finger in a crossbow accident in January. He was able to throw when he reported to camp last month, but couldn't catch the ball until he had a pin and stitches removed from his finger last week.
"I like that young man," Gardenhire said. "I watched him last year against us [with the D-backs] carve us up. It's unfortunate."