Moya optioned to Triple-A after loss to Royals
Upton set to return from bereavement list on Sunday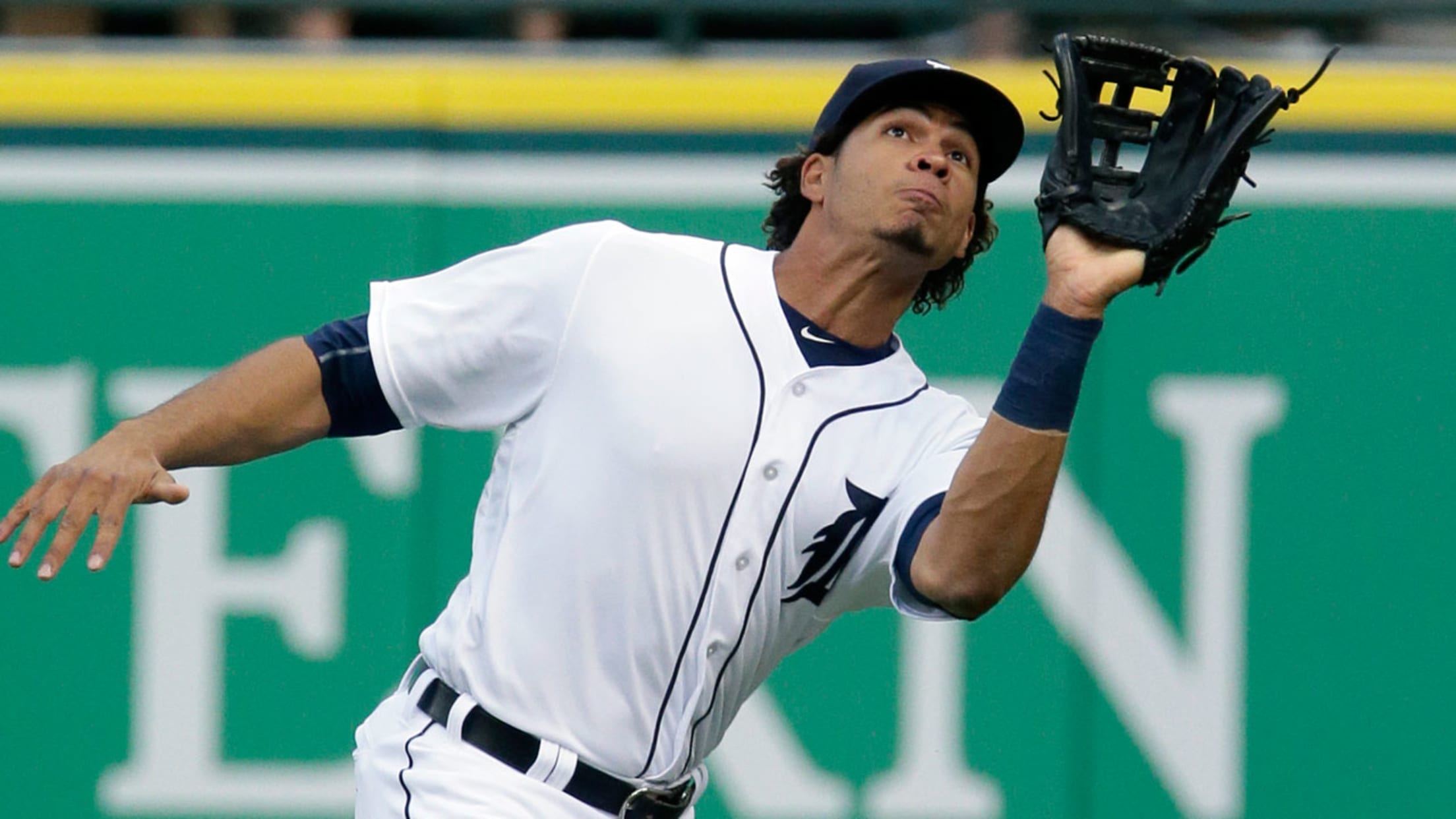 Steven Moya's recent struggles in right field have extended to the plate. (Getty)
DETROIT -- Tigers outfielder Steven Moya wasn't making excuses after his game in right field on Friday night."It's not about being comfortable or not," he said. "It's about catching the ball."Any outfield experience Moya gets in the near future will be in Toledo. The Tigers optioned Moya to Triple-A following
DETROIT -- Tigers outfielder Steven Moya wasn't making excuses after his game in right field on Friday night.
"It's not about being comfortable or not," he said. "It's about catching the ball."
Any outfield experience Moya gets in the near future will be in Toledo. The Tigers optioned Moya to Triple-A following Saturday night's 8-4 loss to the Royals to make room for Justin Upton's return from the bereavement list on Sunday.
With Upton out, manager Brad Ausmus had to start a left-handed bat against Royals lefty Danny Duffy, who held left-handed hitters to 11-for-60 (.183) this year and 20-for-116 (.172) since last year's All-Star break. Ausmus went with Tyler Collins, called up on Friday to fill in for Upton. Collins, who had an RBI single in the loss, will stay in Detroit with Moya optioned.
"You never want to struggle at the Major League level. There's a lot more eyes on you," Ausmus said of Moya. "It's not the development level, we're here to win. And that can be tough for a young player. But he works his tail off. He's a good kid. He will get better."
On Friday, Moya did not catch Salvador Perez's RBI double, a fly ball to right that fell between Moya and the wall as he reached out, unsure how much room he had to go before colliding with the padding. Moya didn't see the opposite-field loft well off the bat, he said, then thought he heard somebody warning him he was about to run into the wall as he headed back and the ball carried.
"I just stopped," Moya said, "because I thought the wall was right there."
It was an awkward play in a stretch that saw a few of them from Moya in right field. Though Moya has been an outfielder since joining the Tigers' farm system in 2009, he still has times of tentativeness -- sometimes due to his 6-foot-7 frame, sometimes due to what Ausmus has noted can be a lack of confidence out there.
"He's still learning. There's no question," Ausmus said. "You could've said the same thing about Nick Castellanos [at third base] a few years ago. It's a process. He's still learning how to play the outfield at the big league level, and he'll get better. ...
"Unfortunately, a lot of times, it's in-game reps. You can take as many fly balls off the bat as you want in batting practice, or even fly balls off the fungo, but it's just not the same. So you have to experience it in-game, and there's a big difference experiencing it in Toledo than in Detroit."
Moya's struggles extended to the plate, where his 0-for-3, two-strikeout game on Friday was his third in a row dating to last weekend. Moya went 3-for-26 with 15 strikeouts over eight games since the end of the Tigers' last homestand on June 30.