Ricketts intent on Cubs joining ranks of elite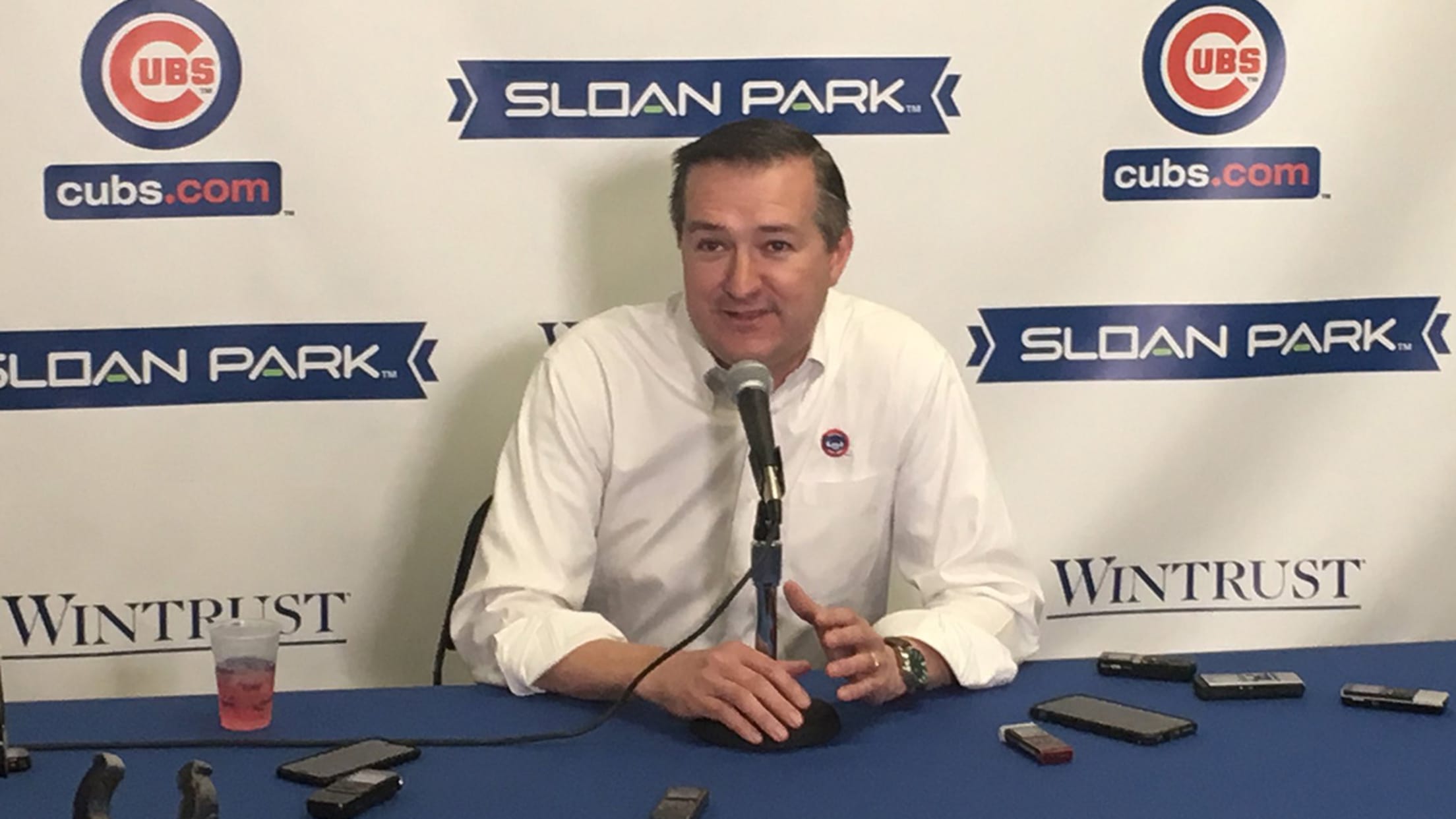 Chairman Tom Ricketts hopes that consistency will make the Cubs' logo synonymous with winning. (Cubs)
MESA, Ariz. -- Cubs chairman Tom Ricketts thanked players and staff on Saturday for the team's 2016 season, which was capped by the franchise's first World Series championship since 1908. Next, Ricketts said, is to win again and have the Cubs join the elite group of organizations that are among
MESA, Ariz. -- Cubs chairman Tom Ricketts thanked players and staff on Saturday for the team's 2016 season, which was capped by the franchise's first World Series championship since 1908. Next, Ricketts said, is to win again and have the Cubs join the elite group of organizations that are among the best in the world.
"What separates a really good team from a really great team is the consistency of results," Ricketts said. "We've won one World Series, and hopefully, we'll be in the mix again for many years to come. That's what you associate success with. If you look at the Yankees 15 years ago, the Patriots of today, they're right in the mix.
"I'd like to think that one day, if we're consistent enough and if we win, that Cubs logo will mean something to people around the world, not just a team that didn't win for a long time."
Spring Training:Info | Schedule | Tickets | Gear
The Cubs' championship ended the longest drought in professional sports, and Ricketts said what's nice is that the team logo no longer represents the lovable losers image.
"There's no more history we have to worry about, no more goats, none of that stuff," Ricketts said. "It's all looking forward. With continued success, we'll make that 'C' into a symbol of winning and not a symbol of not winning, like it was."
Starting the journey again as only this team can. #ThatsCub pic.twitter.com/OzfVzFPdTG

— Chicago Cubs (@Cubs) February 18, 2017
Cubs fans who want to preserve the feeling can take a photo of themselves with the World Series trophy, which will be on display at the new plaza on the west side of Wrigley Field once construction is complete. The trophy will be in Mesa as part of a Cubs rally on Friday at Sloan Park before Cactus League play begins.
"The trophy has an effect on people," Ricketts said. "It's really special. Once again, whether it's downtown Chicago or Des Moines, Iowa, there's lines to see the trophy. It just means so much to so many people. It's probably the most photographed trophy in the history of baseball."
Ricketts wouldn't reveal any details regarding the World Series ring design. Players and staff will receive their rings on April 12, the Cubs' second home game of the season.
#ThatsCub pic.twitter.com/jwbjeGYAIP

— Chicago Cubs (@Cubs) February 18, 2017
The only downside to the Cubs' extended season is that it delayed the renovation work at Wrigley Field. Whether the team has done enough to host an All-Star Game has not been determined, according to Ricketts.
"It'd be great for the game and it'd be great for Chicago to have it at Wrigley Field," Ricketts said.
For now, Ricketts continues to receive thank you's from Cubs fans.
"It's incredible the number of people who have reached out the last few months," Ricketts said. "People who had sick kids watching the games [said it] helped them get through their illnesses. People whose parents had recently passed away were watching Game 7 together. It's been really touching.
"You kind of think you know what it would mean to people, but you really can't know how much it means to so many people until you get there. It's really been overwhelming. I don't know how else to put it. It's something that meant so much to so many people. I'm glad we could be here for it and be a little part of it."