Here are the Top 10 Draft prospects at NHSI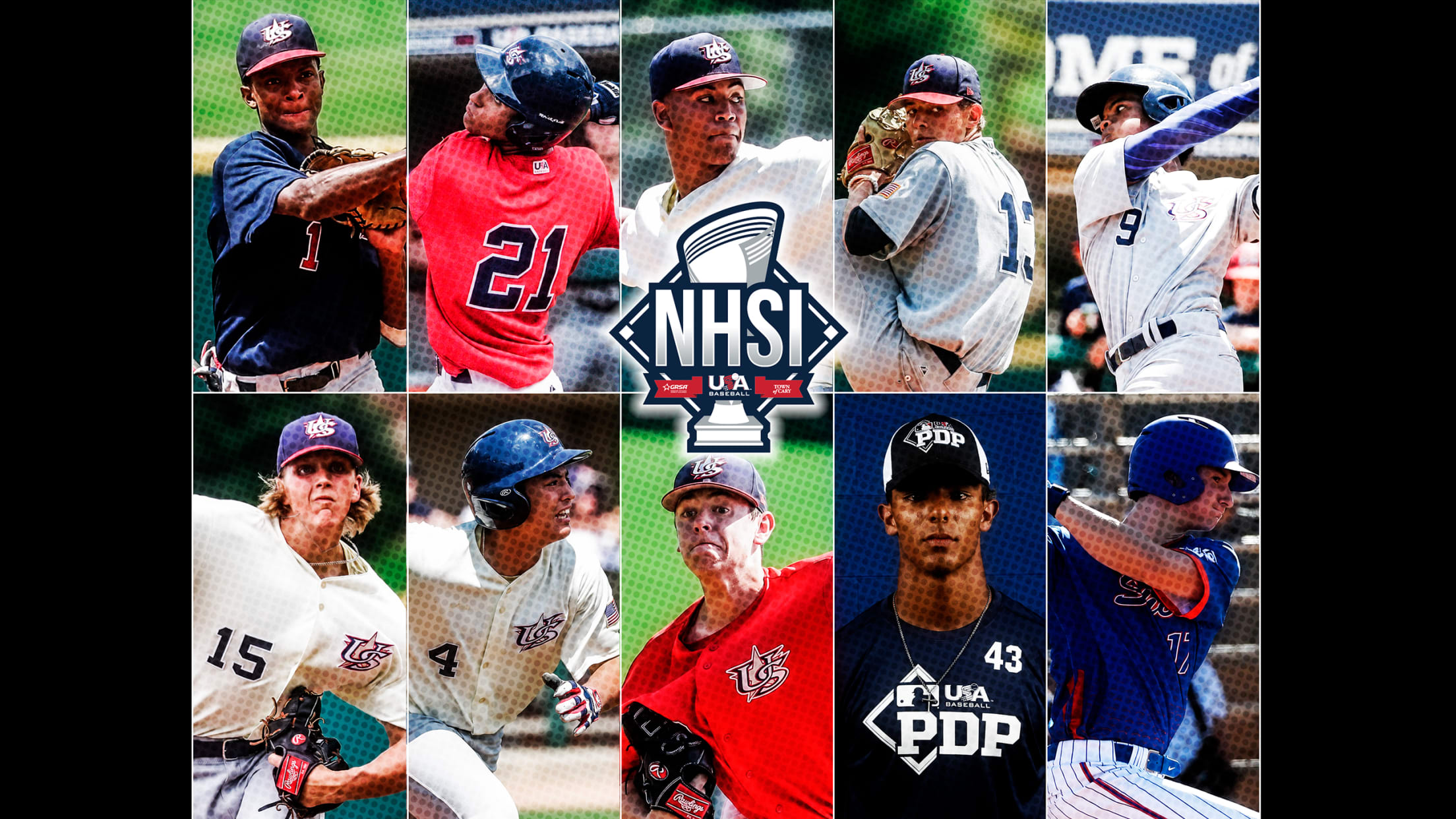 In what has become a rite of spring, scouts will flock to the USA Baseball National Training Complex in Cary, N.C., for the National High School Invitational. The eighth annual event, scheduled for April 3-6, once again will feature 16 of the nation's best high school teams and several of
In what has become a rite of spring, scouts will flock to the USA Baseball National Training Complex in Cary, N.C., for the National High School Invitational. The eighth annual event, scheduled for April 3-6, once again will feature 16 of the nation's best high school teams and several of the Draft's top prep prospects.
Twenty-four NHSI participants have been selected in the first round, including 2014 No. 1 overall pick Brady Aiken and six players from the 2018 class. Last year's contingent included the best left-hander (Matthew Liberatore, Rays) and best power hitter (Nolan Gorman, Cardinals) in the entire Draft, as well as four additional first-rounders in Cole Winn (Rangers), Jordyn Adams (Angels), Brice Turang (Brewers) and Triston Casas (Red Sox). Adams was the breakout performer at last year's tournament, improving his stock from a raw athlete who might not command a large enough bonus to divert him from playing wide receiver in college at North Carolina to a lock first-rounder.
• Previewing the NHSI | Top NHSI participants in history
The 2019 NHSI field is similarly loaded, with five players who ranked in the top half of MLB Pipeline's preseason Draft Top 50 Prospects list as well as four potential future first-rounders for later years. Outfielder Pete Crow-Armstrong (Harvard-Westlake School, Studio City, Calif.) and right-handers Jared Jones (La Mirada, Calif., HS) and Victor Mederos (Monsignor Pace HS, Miami Gardens, Fla) are all juniors eligible for the 2020 Draft. Righty Christian Little (Christian Brothers College HS, St. Louis) is a sophomore who will have to wait until 2021.
Here's how MLB Pipeline ranks the 10 best 2019 Draft prospects at the NHSI:
1. CJ Abrams, SS, Blessed Trinity Catholic HS (Roswell, Ga.)
No. 5 on MLB Pipeline preseason Top 50 | Alabama recruit
Abrams not only is one of the fastest players and best athletes in this Draft, but he's also one of the better prep hitters available. The left-handed hitter has drawn comparisons to a more powerful Dee Gordon, and there's some debate as to whether he winds up at shortstop, second base or center field.
2. Riley Greene, OF, Hagerty HS (Oviedo, Fla.)
No. 8 on MLB Pipeline preseason Top 50 | Florida recruit
The best all-around hitter in this year's high school class, Greene led the U.S. 18-and-under national team in homers (three) and RBIs (20) as the squad won a gold medal at the COPABE Pan American Championships last November. He has a smooth left-handed stroke, an advanced approach and power to all fields.
3. Brennan Malone, RHP, IMG Academy (Bradenton, Fla.)
No. 10 on MLB Pipeline preseason Top 50 | North Carolina recruit
One of four IMG Academy players on this Top 10, Malone is in the running to be the first high school pitcher drafted in June. He already touches 97 mph with his fastball, has the athleticism and projectability to eventually reach triple digits and also has power to his developing curveball and slider.
4. Jack Leiter, RHP, Delbarton School (Morristown, N.J.)
No. 20 on MLB Pipeline preseason Top 50 | Vanderbilt recruit
The son of two-time All-Star and World Series champion Al Leiter, Jack topped Team USA with a 0.00 ERA and 20 strikeouts in eight innings at the COPABE Pan American Championships. His polish and his curveball both might be the best among the 2019 prep class, and his 91-95 mph fastball stands out for its sink and command.
5. Rece Hinds, 3B, IMG Academy (Bradenton, Fla.)
No. 23 on MLB Pipeline preseason Top 50 | Louisiana State recruit
Thanks to his size (6-foot-4, 210 pounds), strength and bat speed, Hinds has arguably the most raw power of any player in the 2019 Draft -- in high school or college. If the right-handed hitter can prove he can make consistent contact against quality pitching and find a defensive home, he probably won't last past the middle of the first round.
6. Kendall Williams, RHP, IMG Academy (Bradenton, Fla.)
Vanderbilt recruit
One of the more projectable pitchers in the 2019 Draft, Williams uses his 6-foot-6, 190-pound frame and high-three-quarters delivery to create unusual downhill plane. He already works in the low 90s with the promise of more velocity to come, and he also has good shape to his curveball.
7. Anthony Volpe, SS, Delbarton School (Morristown, N.J.)
Vanderbilt recruit
Though scouts are quick to praise Volpe's makeup and baseball IQ, don't sell his physical tools short. He has a quick right-handed stroke and good feel for hitting, along with solid speed and arm strength that make him an asset on the bases and at shortstop.
8. Hayden Mullins, LHP, Hendersonville (Tenn.) HS
Auburn recruit
Mullins gives hitters a tough look with a high leg kick and impressive spin rates on his fastball and curveball. He has impressive feel for pitching, runs his heater up to 94 mph with riding life and shows the potential for a plus curve while also spinning a harder slider.
9. Josh Rivera, 3B, IMG Academy (Bradenton, Fla.)
Florida recruit
The co-MVP of the World Wood Bat Association World Championship in October, Rivera combines a mature approach at the plate with obvious right-handed power potential. He has a strong arm and gets the job done at shortstop, though he profiles better as a third baseman in pro ball.
10. Garrett Frechette, OF, Orange (Calif.) Lutheran HS
San Diego State recruit
The best 2019 prospect on the two-time defending NHSI champions, Frechette joins the Lancers as a transfer from Cathedral Catholic HS (San Diego). He has a sweet left-handed stroke and a 6-foot-3 frame with the room to add muscle, giving him a chance to hit for both average and power.
Top 2020 Prospects
1. Pete Crow-Armstrong, OF, Harvard-Westlake School (Studio City, Calif.)
2. Jared Jones, RHP, La Mirada (Calif.) HS
3. Victor Mederos, RHP, Monsignor Pace HS (Miami Gardens, Fla.)
4. Drew Bowser, SS, Harvard-Westlake School (Studio City, Calif.)
5. Max Rajcic, SS, Orange (Calif.) Lutheran HS