These are the top all-time Futures Game players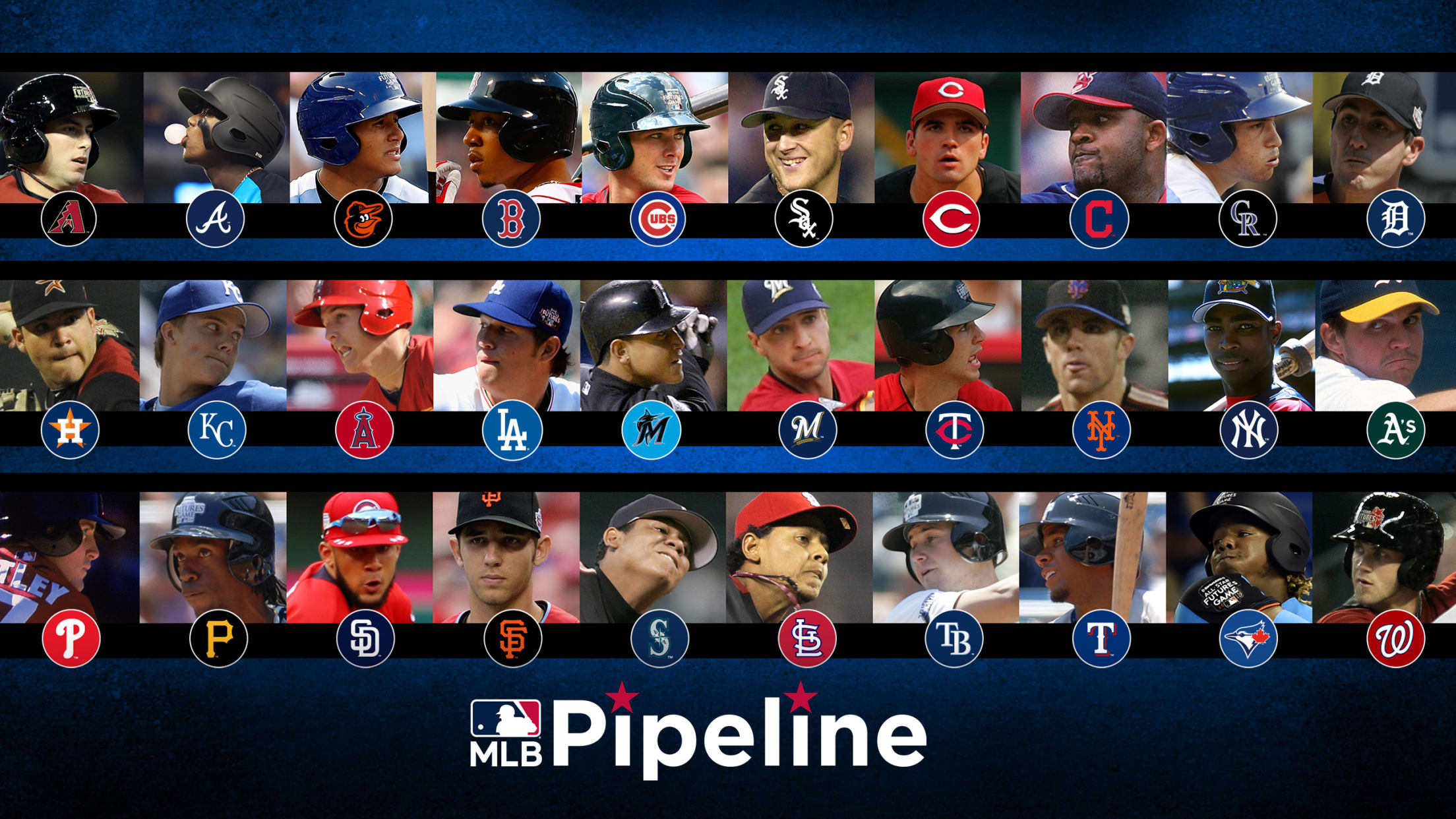 The SiriusXM All-Star Futures Game is an exciting time for prospect fans. It's a chance to see many of the best prospects in baseball on the same field, and this year's crop is again loaded with talent. • Futures Game: Tonight at 7 p.m. ET on MLB Network and MLB.com
The SiriusXM All-Star Futures Game is an exciting time for prospect fans. It's a chance to see many of the best prospects in baseball on the same field, and this year's crop is again loaded with talent.
• Futures Game: Tonight at 7 p.m. ET on MLB Network and MLB.com
There are 37 Top 100 Prospects on the rosters, and we've also prepared scouting reports for all 50 players selected. If you want to watch a bunch of top prospects compete, it really doesn't get any better than the Futures Game.
However, before we get too excited about this year's game (that ship may have already sailed), let's take a step back and look at some of the best players that previously played in the showcase event. Given that the game is a collection of the best talent in the Minors, it is expected that several of the players will go on to become Major League stars.
Past Futures Game participants include All-Stars and MVP and Cy Young Award winners, so let's look at the best player to have represented each organization.
AMERICAN LEAGUE EAST
Blue Jays: Vladimir Guerrero Jr., 3B
No prospect in recent memory has come up to the big leagues with as much hype as Guerrero, who raked his way through the Minors at a .331/.414/.531 clip en route to his big league debut this year on April 26. Originally signed by Toronto for $3.9 million in July 2015, Guerrero appeared in the Futures Game in 2017 at age 18 after a torrid start to his first full-season campaign in the Midwest League.
Orioles: Manny Machado, SS/3B
The Orioles took Machado with the No. 3 overall pick in the 2010 Draft, and he represented the organization in the Futures Game in each of the next two years. He fared better in his second trip to the event, delivering an RBI double and scoring a run in three trips to the plate. He made his big league debut later in 2012, and was selected to his first of four All-Star Games the following year, while also taking home his first of two Gold Glove Awards. The Orioles dealt Machado to the Dodgers at last year's non-waiver Trade Deadline, and the Padres inked him to a historic 10-year, $300 million contract this past offseason.
Rays: Evan Longoria, 3B
The Rays' first-round pick in the 2006 Draft appeared in the Futures Game the following year, having already reached the Double-A level in the Minors. He made his big league debut in April 2008, at age 22, and garnered AL Rookie of the Year honors after slashing .272/.343/.531 with 27 homers to help carry the Rays to a World Series appearance. He was an All-Star in his first three seasons and has finished among the top 20 in MVP Award voting six times in his 12-year career to date.
Red Sox: Mookie Betts, OF
Betts was selected to the United States team in 2014, but he didn't play because he was called up to the Red Sox. Betts was having a tremendous season in the Minors at the time of his callup, hitting .345 with eight homers, 48 RBIs and 29 stolen bases in 77 games. After he was brought to Boston, Betts went on to great things, becoming one of the best players in baseball. The 26-year-old is the reigning AL MVP Award winner, a four-time All Star and a three-time Gold Glove Award winner.
Yankees: Alfonso Soriano, SS
Soriano stole the show in the first edition of the Futures Game in 1999, hitting a pair of homers and winning MVP honors. He made his Major League debut later that season, playing nine games for the Yankees. However, it was in 2001 that he became a full-time Major Leaguer, and in 2002, he was named to his first of seven consecutive All-Star teams. Soriano played for four teams over 16 seasons and ended his career with 412 homers and 289 stolen bases.
AMERICAN LEAGUE CENTRAL
Indians: CC Sabathia, LHP
The Indians drafted Sabathia in the first round of the 1998 Draft, and he represented the organization two years later as a member of the U.S. team in the 2000 Futures Game. The 2000 season was Sabathia's last in the Minors, as he pitched to a 3.57 ERA with 159 strikeouts over 146 1/3 innings. Sabathia went on to spend eight seasons with the Indians, winning an AL Cy Young Award and becoming a three-time All-Star. He's since gone on to make three more All-Star teams as a member of the Yankees.
Royals: Zack Greinke, RHP
A first-round pick of the Royals (No. 6 overall) in 2002, Greinke pitched in the 2003 Futures Game in the middle of a year that saw him pitch his way to Double-A and go a combined 15-4 with a 1.93 ERA in his first full season of pro ball. He was in the big leagues the next year, finishing fourth in AL Rookie of the Year voting, won a Cy Young Award in 2009 and was named to his sixth All-Star team this season.
Tigers: Justin Verlander, RHP
Verlander had already made his Major League debut prior to the 2005 Futures Game, but he got sent back down to the Minors and made his Comerica Park debut on All-Star Sunday. The 2004 first-round pick (No. 2 overall) started and tossed a scoreless frame for the U.S. team, won Rookie of the Year honors the following season and has gone on to win both a Cy Young and MVP Award (2011) while becoming an eight-time All-Star.
Twins: Joe Mauer, C
Mauer was the No. 1 pick in the 2001 Draft, going to his hometown team, and he represented the Twins at the 2003 Futures Game. He made his big league debut in 2004 and won his first of three batting titles in '06. He has an MVP Award, three Gold Glove Awards, five Silver Slugger Awards and six All-Star nods on his resume. Mauer retired after the 2018 season with a career .306 average.
White Sox: Mark Buehrle, LHP
Then pitching for Double-A Birmingham, Buehrle earned the win for the U.S. squad in 2000. The lefty, a 38th-round pick in the 1998 Draft, went 8-4 with a 2.28 ERA over 16 starts in the Minors in 2000, going on to make his Major League debut in July of that season. Buehrle had a quick rise through the Minors, as he made only 36 appearances before his Major League debut. Once he was called up to Chicago, he spent 12 years with the White Sox before finishing his career with the Blue Jays and Marlins. He was a five-time All-Star and a four-time Gold Glove Award winner.
AMERICAN LEAGUE WEST
A's: Barry Zito, LHP
The A's took Zito out of USC in the first round of the 1999 Draft. He pitched in the Futures Game in 2000, and made his big league debut not long after (July 22, 2000). While his career waned, he was one of the best lefties in the game right out of the gate, finishing sixth in AL Rookie of the Year Award voting in 2000 (despite making only 14 starts), winning a Cy Young Award in '02 and being named to three All-Star teams.
Angels: Mike Trout, OF
Trout reached base four times in the 2010 Futures Game and got his soon-to-be home crowd going at Angel Stadium with his speed. He was then selected to play in the game again in Arizona in 2011, but he couldn't play because he was too busy making his big league debut at age 19. The rest is history, as he's gone on to win a Rookie of the Year Award, two MVP Awards and make eight straight All-Star appearances in what is very much looking like a Hall of Fame career.
Astros: Jose Altuve, 2B
Altuve, who signed with the Astros for $15,000 in 2007, went 2-for-3 with a double as a member of the World Team in the 2011 Futures Game. Of course, it should be no surprise that Altuve collected a pair of hits on the Minors' brightest stage as hitting is all he's ever done. The 5-foot-6 second baseman hit over .300 in four of his five season in the Minors (he hit .284 in 2008) and picked up hits in each of his first seven Major League games. Altuve has gone on to be an AL MVP Award winner and six-time All-Star while also collecting 200 or more hits in four straight seasons from 2014-17.
Mariners: Felix Hernandez, RHP
King Felix was 18 when he pitched in the 2004 Futures Game, and he made his big league debut with the Mariners a year later, in August 2005. He came into his own in '09, the first of six All-Star seasons for the right-hander. Hernandez won the AL Cy Young Award in 2010, and he's finished second on two other occasions.
Rangers: Elvis Andrus, SS
Andrus is a two-time All-Star and a two-time Futures Game participant. The shortstop, who signed with the Braves as a 16-year-old, represented Atlanta in the 2007 Futures Game, before he was traded to the Rangers later that month. During his first season with the Rangers' organization, Andrus reached the Double-A level for the first time, hitting .295/.350/.367, and found himself back in the 2008 Futures Game. That turned out to be his last season in the Minors as Andrus, at 20 years old, was the Rangers' starting shortstop on Opening Day 2009.
NATIONAL LEAGUE EAST
Braves: Ronald Acuna Jr., OF
Being a bit predictive here, considering Acuna is only 21 years old and played in the Futures Game two years ago. But given his NL Rookie of the Year Award season in 2018 and him making his first All-Star team in '19, it's easy to envision him being one of the better Futures Game players in history, period, let alone from the Braves' organization.
Marlins: Miguel Cabrera, 3B
Cabrera represented the Marlins in a pair of Futures Games. The Venezuelan, whom the Marlins signed in 1999, went 0-for-2 in the 2001 Futures Game, but he collected a pair of hits in the 2002 edition of the game. Cabrera finished the '02 season at the Class A Advanced level and played only 69 games at the Double-A level before making his MLB debut in 2003. At 20 years old, Cabrera was the second-youngest player in Marlins history to make his Major League debut (Edgar Renteria debuted at 19).
Mets: David Wright, 3B
Wright was already soaring through the Minors when he went 1-for-3 as the Mets' representative in the 2004 Futures Game, and it wasn't long after that the former first-round pick (2001) made his big league debut, which he did later that month on July 21. He quickly became a cornerstone of the Mets' franchise, becoming a seven-time All-Star before injuries derailed his career and eventually led to his retirement in 2018.
Nationals: Bryce Harper, OF
The 2010 No. 1 overall Draft pick played left field for all nine innings in the 2011 Futures Game, but he went 0-for-4. One year later, Harper, at age 19, played for the NL in the All-Star Game, one of many highlights in an impressive season that netted him Rookie of the Year honors. He was the NL MVP as a 22-year-old in 2015, and earned six All-Star selections in a seven-year span for the Nationals before signing a 13-year, $330 million pact with the Phillies ahead of the 2019 season.
Phillies: Chase Utley, 2B
At the 2001 Futures Game, Utley hit one of three homers smashed by the U.S. squad. It might have taken him a bit longer than many Futures Game participants to establish himself, getting called up in 2004 and not playing a full season in '05, but he ended up being a six-time All-Star and four-time Silver Slugger Award winner while hitting 259 homers in a 16-year career that wrapped up in 2018.
NATIONAL LEAGUE CENTRAL
Brewers: Ryan Braun, 3B
Selected by Milwaukee with the No. 5 overall pick in the 2005 Draft, Braun appeared in the Futures Game the following year before reaching the Major Leagues in 2007, when he took home NL Rookie of the Year honors after batting .324 with 34 homers and a league-best .634 slugging percentage. He was an All-Star for the Brewers in each of the next five years, won the MVP Award in 2011 and finished second in the voting in '12, while totaling 74 homers and 223 RBIs between the two seasons.
Cardinals: Carlos Martinez, RHP
Martinez was a 19-year-old who had yet to reach the Double-A level when he tossed a scoreless inning with a strikeout for the World Team in the 2011 Futures Game at Chase Field. He made his Major League debut two years later, making 21 appearances for the Cardinals in 2013, then logged 57 games the following year before moving into the team's starting rotation in '15, when he earned his first of two All-Star selections.
Cubs: Kris Bryant, 3B
Bryant, along with teammate Javier Baez, represented the Cubs in the 2014 Futures Game. Bryant went 0-for-3, but he was highly regarded as one of the top prospects in baseball and entered the game with 31 homers on the season. The No. 2 overall pick from the 2013 Draft made his Major League debut the next season and has gone on to become an NL MVP Award winner and three-time All-Star, while also helping the Cubs end their World Series drought in 2016.
Pirates: Andrew McCutchen, OF
The 2005 Pirates first-rounder was a 2008 Futures Game participant, then finished fourth in NL Rookie of the Year Award voting in '09. McCutchen made five straight All-Star teams from 2011-15, earning Silver Slugger Awards in all of those years except '11. He won the NL MVP Award in 2013, and finished in the top five in voting in 2012, '14 and '15.
Reds: Joey Votto, 1B
Votto spent two years as the World Team's first baseman, in 2006 and '07, and he homered in the 2007 game. He also made his big league debut that September and finished second in NL Rookie of the Year Award voting the following season. Since then, he's made six All-Star teams, won an MVP Award in 2010 and finished second in '17.
NATIONAL LEAGUE WEST
D-backs: Paul Goldschmidt, 1B
Goldschmidt and Tyler Skaggs were Arizona's Futures Game representatives in 2011, playing in front of a hometown crowd at Chase Field. Goldschmidt, Arizona's eighth-round pick from the 2008 Draft, made his big league debut a few weeks after his Futures Game appearance, launching a career that includes six All-Star selections and 223 home runs over nine seasons to date.
Dodgers: Clayton Kershaw, LHP
Before Kershaw was carving up Major League lineups on his way to a career that has included eight All-Star nods, an NL MVP Award and a trio of NL Cy Young Awards, he was just as dominant in the Minors. Kershaw, a 2006 first-round pick, represented the U.S. in the 2007 Futures Game. The lefty pitched two-thirds of an inning, striking out one and giving up one run. Kershaw was pitching for Class A Great Lakes at the time of his selection and was 7-3 with a 2.12 ERA and 103 strikeouts over 76 1/3 innings.
Giants: Madison Bumgarner, LHP
Bumgarner, a 2007 first-round Draft pick, cruised through the Minors and represented the Giants in the 2011 Futures Game. After going 15-3 with a 1.46 ERA in his 2008 professional debut, Bumgarner pitched across two levels in '09, posting a 1.85 ERA with a 12-2 record over 131 1/3 innings. The lefty made his Major League debut in September 2009, but he didn't become a mainstay in the Giants' rotation until midway through the 2010 season. Bumgarner helped lead the Giants to the World Series championship that season and has become a legend within the organization because of his postseason heroics. The 29-year-old has helped lead the Giants to three titles and has pitched to a 2.11 ERA in 102 1/3 postseason innings.
Padres: Fernando Tatis Jr., SS
Tatis had already established himself as one of the elite prospects in baseball when he suited up for the World Team in the 2018 Futures Game. He played all nine innings, going 2-for-5 while manning both shortstop and third base. This season, the 20-year-old has taken the Major Leagues by storm after making the Padres' Opening Day roster at age 20. A true five-tool talent, he's been worth 3.1 Wins Above Replacement over his first 51 pro games.
Rockies: Nolan Arenado, 3B
Arenado played in back-to-back Futures Games in 2011 and '12 before making the Rockies in 2013 and getting some NL Rookie of the Year Award votes as well. He also picked up the first of six straight Gold Glove Awards at third base during that rookie campaign. He was just named to his fifth consecutive All-Star team and has four Silver Slugger Awards on his shelf.