Sunday's top prospect performers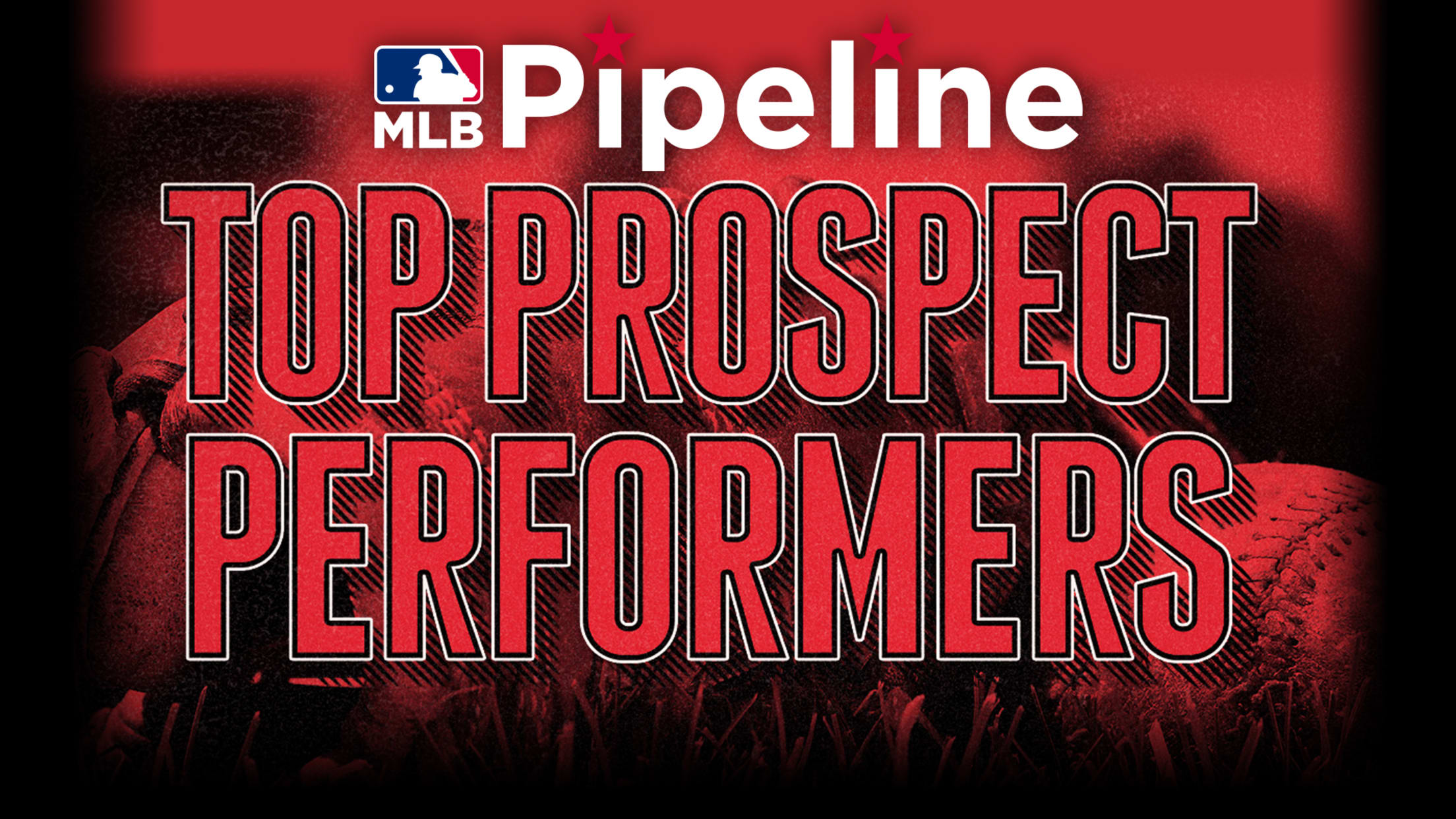 Here's a look at Sunday's top Minor League performers from each team's Top 30 Prospects list: AMERICAN LEAGUE EAST Blue Jays: Eric Pardinho, RHP (No. 4, No. 98 in MLB) -- 5 IP, 3 H, 0 R, 1 BB, 4 K (Class A Lansing) The young Pardinho was shut down
Here's a look at Sunday's top Minor League performers from each team's Top 30 Prospects list:
AMERICAN LEAGUE EAST
Blue Jays: Eric Pardinho, RHP (No. 4, No. 98 in MLB) -- 5 IP, 3 H, 0 R, 1 BB, 4 K (Class A Lansing)
The young Pardinho was shut down to begin the season with right elbow concerns, but since his return to the bump, he's been strong for the Lugnuts. The 18-year-old hurler dropped his ERA to a crisp 1.93 after five innings of scoreless work against the Kernels. His four strikeouts Sunday bring his season total to 18 in 18 innings. The Brazil native has been especially good at run prevention to begin his pro carer, allowing three or fewer runs in 13 of his 15 MiLB starts. Despite his youth, Pardinho already has a strong four-pitch mix, with plus fastball and changeup offerings. Blue Jays prospects stats »
Orioles: Brenan Hanifee, RHP (No. 11) -- 9 IP, 5 H, 0 R, 0 BB, 4 K (Class A Advanced Frederick)
Hanifee threw his first career nine-inning complete game, and he induced a game-ending double play to secure a shutout. A fourth-round pick in the 2016 Draft, the Virginia prep product didn't allow a free pass to Salem's lineup, as he threw 65 of his 91 pitches for strikes and notched four strikeouts. The 21-year-old entered Sunday's outing having allowed 18 runs in his past four starts, though he's been fairly efficient for the Keys (he's pitched into the sixth inning in nine of his 16 starts) over the bulk of the season. Orioles prospects stats »
#Orioles No. 11 prospect Brenan Hanifee went the distance for the first time in his career. Oh, and he did it in shutout fashion for @FrederickKeys:

9 IP 👀
5 H
0 R
0 BB
4 K@Orioles Top 30: https://t.co/G3vROjTVl4 pic.twitter.com/YDz0gH9C2T

— MLB Pipeline (@MLBPipeline) July 14, 2019
Rays: Lucius Fox, SS (No. 10) -- 2-for-3, 2 RBI (Double-A Montgomery)
Fox came through with a two-run single in Montgomery's win over Pensacola and finished with his first multihit effort since June 16. The 2019 season hasn't been kind to Fox, a 22-year-old whom the Rays acquired in a 2016 trade with the Giants. Fox is hitting .225 through 82 games after hitting .268 over two levels last year. Rays prospects stats »
Red Sox: No Red Sox prospects had noteworthy performances in the Minor Leagues on Sunday.
Yankees: No Yankees prospects had noteworthy performances in the Minor Leagues on Sunday.
AMERICAN LEAGUE CENTRAL
Indians: George Valera, OF (No. 5) -- 2-for-4, 2B, RBI (Class A Short Season Mahoning Valley)
After hitting his fifth homer of the year on Saturday, Valera stayed hot and began play Sunday with an RBI double in the first inning. The 18-year-old later picked up another hit, giving him his first multihit performance since July 1. Valera, whom the Indians signed for $1.3 million in 2017, is hitting .280 through 29 games with the Scrappers. Valera, who has a mature approach at the plate, has one of the best swings in the Indians' farm system and has a chance to develop average or better tools across the board. Indians prospects stats »
Royals: Daniel Tillo, LHP (No. 23) -- 6 IP, 3 H, 1 R, 3 BB, 4 K (Class A Adv Wilmington)
One of the best ground-ball inducers in the Royals' system, Tillo tied his season-low mark in hits allowed as he continued a stretch of good outings for the Blue Rocks. In a 101-pitch start (tied for his most thrown this year), the 23-year-old Iowa native worked around three hits and three walks to lower his ERA to 4.23 after it sat at 5.55 on June 11. Tillo's control issues have continued to crop up this year -- he's allowed a walk in each of his 18 starts and three or more in his past three turns. But as long as he continues to avoid the long ball (12 homers allowed in 265 2/3 career innings), the walks shouldn't set back his progress. Royals prospects stats »
Tigers: Jose Azocar, OF (No. 29) -- 3-for-4, HR, 2 RBI (Double-A Erie)
Lately, the hits have come in clusters for Azocar, who posted his seventh three-hit game for Erie this season Sunday. Four of the 23-year-old's past six games have been multihit performances, and he hit his second homer in that span (sixth of the year) with a two-run, game-winning blast in the eighth inning. The Venezuelan-born outfielder's .293 batting average and .333 on-base percentage attest to an improved approach at the plate after he struggled with swing and miss in Class A and Class A Advanced from 2016-17. If he can continue to add even average offensive output to go with his plus fielding abilities, Azocar could see Toledo in the near future. Tigers prospects stats »
Twins: Jose Miranda, 2B/3B (No. 15) -- 3-for-4, 2B, RBI (Class A Advanced Fort Myers)
Miranda has hits in each of the past three games, lifting his average up to .238 through 81 games. The 21-year-old, a second-round pick from the 2016 Draft, hasn't produced a ton early in his career and is a .255 hitter through 321 games, but he does have a pure swing and outstanding bat-to-ball skills. Miranda is very difficult to strike out and is adept at using the whole field. Twins prospects stats »
White Sox: Jonathan Stiever, RHP (No. 25) -- 6 IP, 6 H, 3 R, 2 BB, 9 K (Class A Adv Winston-Salem)
Stiever struggled to produce a solid ERA in Kannapolis (4.74), but the White Sox promoted him in mid-June, and he hasn't looked back yet. The 22-year-old righty tallied nine strikeouts against Delmarva, tied for the most in his professional career. His three runs allowed raised his ERA with Winston-Salem, but only to a trim 2.53 mark (nine earned runs in 32 innings). After being held on tight pitch counts in his debut season, Stiever regularly works in the 90-pitch range, including Sunday's 91-pitch outing. White Sox prospects stats »
AMERICAN LEAGUE WEST
A's: Alfonso Rivas, 1B (No. 24) -- 2-for-4, 2B, R (Class A Adv Stockton)
Rivas hit his 19th double of the season to help record his second multihit performance in two games with the Ports. The University of Arizona product built on his 3-for-4 day on Saturday with two more hits on Sunday against the Quakes, which set him up to score one of Stockton's six runs. The 2018 fourth-round Draft pick has slashed .286/.395/.414 in 78 games at Class A Advanced, and he'll need to continue to show his polished hit tool to keep moving up the Athletics' Minor League ranks. A's prospects stats »
Angels: Jordyn Adams, OF (No. 5) -- 3-for-4, HR, BB (Class A Burlington)
Adams has put up multihit performances in back-to-back games after snapping an 0-for-11 skid over four games. The N.C. prep product, whom the Angels picked in the first round of the 2018 Draft, hit his fifth homer of '19 in the fourth inning of Burlington's 5-2 loss to Lake County. Though he's hitting just .240 this season, he's drawn 42 walks in 82 games to help keep his on-base percentage at a decent .337, including nine free passes in his past seven games. Angels prospects stats »
Astros: Seth Beer, OF (No. 8) -- 3-for-5, HR, RBI, 3 R (Double-A Corpus Christi); J.J. Matijevic, 1B (No. 18) -- 3-for-5, 2B, 3B, 3 RBI, 2 R (Double-A Corpus Christi)
Beer is besting his dominant debut season as he continues to rake his way up the Astros' farm system. The former Clemson Tiger hit his 21st homer in the Hooks' 13-1 rout of Midland. The 2018 first-rounder has now racked up three or more hits in eight of his 50 Double-A games to help power a .324/.421/.574 slash line with 36 extra-base hits in 85 games this year. Matijevic followed Beer with three hits of his own, coming up a home run shy of the cycle. The University of Arizona product has turned up his game at the plate in July, during which he's hit six doubles, a triple and two homers in 12 games. Astros prospects stats »
Happy 21st, Seth Beer 🍻

The #Astros' No. 8 prospect hit his 21st homer of the year, a solo blast, for @cchooks.

Live stats for all the @Astros' top prospects: https://t.co/LAtWNSxSS6 pic.twitter.com/Hkp9nA2Eox

— MLB Pipeline (@MLBPipeline) July 14, 2019
Mariners: Jake Fraley, OF (No. 14) -- 3-for-4, 2B, HR, 2 BB, 2 R, 2 RBI (Triple-A Tacoma)
Both the beard and the bat have followed Fraley from Double-A to Triple-A, and he snapped a 3-for-20 stretch with three hits for Tacoma on Sunday. It was the sixth multihit game for the alum of Louisiana State University in only 17 games played with the Rainiers. With the Mariners' fluid roster situation, Fraley's batting prowess may warrant him a look from the Major League club in the coming season or two, especially if he shows his hit tool in tandem with his plus speed that gives rise to above-average fielding potential. Mariners prospects stats »
Rangers: Cole Winn, RHP (No. 2, No. 65 in MLB) -- 5 IP, 3 H, 1 R, 1 BB, 4 K (Class A Hickory)
After a rough start to the season Winn has found his rhythm and is starting to carve up opposing lineups. The 19-year-old, whom the Rangers grabbed with a first-round pick in last year's Draft, has surrendered one run or fewer in three of his past four starts. The California prep product threw 41 of his 72 pitches for strikes and retired each of the first five batters he faced. The lone blemish was a solo homer in the fourth inning. Winn, who is making his professional debut this season, already has a plus fastball and curveball and is still working on both his slider and changeup. Rangers prospects stats »
#Rangers No. 2 prospect Cole Winn was 💵 for @HickoryCrawdads:

5 IP
3 H
1 R
1 BB
4 K

Live stats for all the @Rangers' top prospects: https://t.co/9oaHjkJZ38 pic.twitter.com/GSmeBxF1YV

— MLB Pipeline (@MLBPipeline) July 15, 2019
NATIONAL LEAGUE EAST
Braves: Joey Wentz, LHP (No. 9) -- 5.2 IP, 3 H, 1 R, 2 BB, 8 K (Double-A Mississippi)
Wentz just keeps spinning gems for Mississippi. The 40th overall pick from the 2016 Draft has now yielded one run or fewer in four straight starts after a bit of a rough go early in the season. Wentz has also struck out at least eight batters in each of his past four starts, bringing his season total to 91 over 91 1/3 innings. Braves prospects stats »
Marlins: Tristan Pompey, OF (No. 17) -- 3-for-4, 2B, 3B, 4 RBI, 2 R, SB (Class A Adv Jupiter)
The transition to Class A Advanced hasn't been necessarily easy for Pompey, but he's begun to show flashes of his above-average hit tool. The University of Kentucky prospect posted his second multhit effort in his past three games, as he fell a homer shy of the cycle. The 22-year-old also showed off his plus speed with his second stolen base of the year. Pompey didn't arrive in Jupiter until June 25, in large part since he spent the first two months of the season at extended Spring Training. Marlins prospects stats »
#Marlins No. 17 prospect Tristan Pompey raking for @GoHammerheads today - 3-for-4 with a triple, 4 RBIs and a stolen base. @Marlins' prospect stats: https://t.co/eY4fYCelVt pic.twitter.com/37qskYWzBg

— MLB Pipeline (@MLBPipeline) July 14, 2019
Mets: Ronny Mauricio, SS (No. 2, No. 82 in MLB) -- 2-for-3, 2B (Class A Columbia)
Mauricio put together his first multihit performance since July 3 in Columbia's 2-1 win over Charleston. The 18-year-old, whom the Mets signed out of the Dominican Republic in 2017, hit .273 over 57 games last season in his professional debut and is hitting .279 through 80 games this season. The switch-hitter has the ability to hit for both average and power, and although he projects to be a better left-handed hitter, he had more success from the right side of the plate last year. Mets prospects stats »
Phillies: Spencer Howard, RHP (No. 5) -- 5 IP, 0 H, 0 R, 1 BB, 7 K (Class A Adv Clearwater)
Howard has spent much of 2019 on the injured list with shoulder issues, but when he's on the field, he's been dominant. The 22-year-old righty held the opposition hitless, the first time he'd done that all season. But the San Luis Obispo product, who was selected in the second round of the 2017 Draft, is no stranger to shutouts. Of his six starts for Clearwater, four have been scoreless. However, with his injury concern, Howard hasn't been stretched out much -- his five-inning start Sunday was just his third start of five or more innings this season. Phillies prospects stats »
Nationals: Joan Adon, RHP (No. 20) -- 5 IP, 4 H, 1 R, 0 BB, 4 K (Class A Hagerstown)
Adon seemed to be hitting a setback in his development at Hagerstown, allowing 14 runs in five innings over his first two July starts. But Sunday's start put to rest most of those concerns. The Dominican Republic native worked efficiently, requiring 70 pitches to complete five innings of one-run ball. He allowed four hits, but he didn't allow a walk for the first time this season. Adon hasn't been as whiff-heavy as he was in his 2018 campaign, dropping below a strikeout per inning after putting up 40 strikeouts in 30 1/3 innings last season. But the Nationals may take that tradeoff if he can continue to clean up his command. Nationals prospects stats »
NATIONAL LEAGUE CENTRAL
Brewers: Trent Grisham, OF (No. 30) -- 4-for-5, 2 HR, 4 RBI (Triple-A San Antonio)
Make that back-to-back multihit performances for Grishman, who connected on two homers. The 22-year-old, a 2015 first-round pick, hit .254 with 13 homers over 63 games with Double-A Biloxi before he was bumped up to San Antonio, where he is hitting .282 with seven home runs through 20 games. Grisham hit .309 in his professional debut, but has struggled with consistency since. However, Grisham does draw a lot of walks and once he's on-base he's an average runner, but a saavy basestealer. Brewers prospects stats »
Trent Grisham had 19 homers in 354 @MiLB games entering the season. He has 20 in 83 games between the @BiloxiShuckers & @missionsmilb this year after the first multi-HR game of his career tonight.

Here's the 2015 1st-rounder on the #Brewers' Top 30 list: https://t.co/gTln5KDIsv pic.twitter.com/bzN45LXhgU

— MLB Pipeline (@MLBPipeline) July 15, 2019
Cubs: Zack Short, SS (No. 11) -- 2-for-5, HR, 3 RBI (Triple-A Iowa)
Short's first homer of the year was a three-run blast that extended his on-base streak to 10 games. Short, a 17th-round pick from the 2016 Draft, has played in just 25 games this season, but is coming off a 2018 campaign during which he hit a career-high 17 homers. Short has a pull-heavy approach and more power than most players his size, but, as a result, he doesn't hit for much average. However, he is able to work counts and draw enough walks to keep his on-base percentage up. Cubs prospects stats »
Cardinals: Nolan Gorman, 3B (No. 1, No. 30 overall) -- 2-for-4 (Class A Adv Palm Beach)
Gorman recorded two hits for his second consecutive game in Palm Beach's 11-6 loss to Jupiter. With the pair of singles, the Cardinals' 2018 first-round Draft pick, who is also the No. 1 third base prospect in baseball, has upped his line in Class A Advanced ball to .247/.291/.423 in 21 games. The 19-year-old has also hit a homer in two of his past four games. Cardinals prospects stats »
Pirates: Ke'Bryan Hayes, 3B (No. 2, No. 37 overall) -- 3-for-5, 2B, HR, RBI (Triple-A Indianapolis)
Hayes jump-started the Indians' offense with a solo homer, his sixth, in the first inning of the club's win over Columbus. The 19-year-old, a 2015 first-round pick, has a contact-first approach, but he has showed some pop with homers in each of the past two games. After a slow start to the season, the hits have started to come in bunches for Hayes, who is hitting .259, but has hits in eight of his past nine games and is hitting .371 through nine games in July. Pirates prospects stats »
Ke'Bryan Hayes is heating up. The #Pirates' No. 2 prospect has hits in eight of his past nine games and just went yard for the second time in as many days with @indyindians.

Live stats for all the @Pirates' top prospects: https://t.co/3Uc9Qz7t4z pic.twitter.com/Az03UMe9xU

— MLB Pipeline (@MLBPipeline) July 14, 2019
Reds: Michael Siani, OF (No. 6) -- 3-for-5, RBI (Class A Dayton)
Siani now has hits in five of his past six games after his latest multihit effort. The 19-year-old, a fourth-round pick from last year's Draft, is hitting just .236 over 79 games this season, but that's is largely a result of his slow start. Siani hit .289 over 24 games in June and is hitting .297 through 10 games in July. Reds prospects stats »
NATIONAL LEAGUE WEST
D-backs: Jackson Goddard, RHP (No. 28) -- 6 IP, 6 H,1 R, 0 ER, 1 BB, 5 K (Class A Kane County)
Goddard lowered his ERA to 2.76 as he spun another quality start for the Cougars. The 22-year-old fired 62 of his 77 pitches for strikes and despite allowing a hit in five of his six frames, still managed to limit the damage to just one unearned run. Goddard, a 2018 draftee (third round), has a trio of potential plus pitches -- fastball, slider and changeup -- but has struggled with command and consistency at times. Goddard is pitching at the Class A level for the first time after pitching to a 4.03 ERA over 29 innings last season in his professional debut.
D-backs prospects stats »
#Dbacks No. 28 prospect Jackson Goddard is spinning a 💎 for @KCCougars:

5 IP
5 H
0 R
1 BB
4 K

Live stats for all the @Dbacks' top prospects: https://t.co/SyltjfCnic pic.twitter.com/9PlMYCqCYl

— MLB Pipeline (@MLBPipeline) July 14, 2019
Dodgers: Leonel Valera, SS (No. 21) -- 3-for-3, HR, BB, 2 RBI, 2 R, 2 SB (Class A Great Lakes)
Valera's 2019 campaign has been an uphill battle, but he broke through at the plate Sunday with the Loons. The 20-year-old Venezuelan native hit just his second homer of the season in the fourth inning against Peoria, and strung together two more base hits for his third three-hit game this year. The shortstop prospect showed off his plus speed with his 16th and 17th stolen bases with the Loons, but he'll need to build up his .230 batting average to complement his fielding and baserunning skills. Dodgers prospects stats »
Giants: Franklin Labour, OF (No. 22) -- 1-for-4, HR (Class A Short Season Salem-Kaizer)
Labour kept his power surge going in the first inning of the Volcanoes' game against the Hops. The 21-year-old outfield prospect launched his 12th blast of 2019 with a two-run solo shot, marking his seventh homer in July. The Dominican Republic native has now hit safely in each of his 12 games played this month, and in the process, he's raised his slugging percentage beyond .700 -- the only player in the Northwest League to do so. Giants prospects stats »
Padres: Buddy Reed, OF (No. 11) -- 2-for-4, 2 HR, 4 RBI (Double-A Amarillo)
Double-A has provided the biggest test for Reed, who was one of the Arizona Fall League All-Stars in 2018. He hit his 10th and 11th homers at the level in Amarillo's game against Frisco on Sunday, but that success only translated to a slight bump to his .231 batting average in 127 Double-A games. The former Florida Gator's sub-.300 on-base percentage has not allowed him to dazzle with his 70-grade speed on the basepaths, as he's only swiped one bag in his past 22 games. Padres prospects stats »
2 homers, 4 RBIs on the night for @sodpoodles's Buddy Reed. The #Padres' No. 11 prospect was slashing .213/.300/.349 on July 3 but has gone 12-for-33 with 3 homers & 13 RBIs in the 11 games since to raise that to .231/.305/.399.@Padres prospect stats: https://t.co/qhxUsyE11e pic.twitter.com/xTRJXSWpYf

— MLB Pipeline (@MLBPipeline) July 15, 2019
Rockies: Terrin Vavra, SS (No. 13) -- 3-for-4, 2B, 2 R (Class A Asheville)
Make that five multihit games in Vavra's past six contests after his three-hit night for the Tourists. The former Golden Gopher has been a hit machine at Class A this season, using consistent contact to fuel a stellar .328 batting average, which leads all South Atlantic League.batters, as well as his 27 doubles. The 22-year-old has also shown great plate discipline, drawing 47 walks to counteract 54 strikeouts and boost his on-base percentage to a league-leading .409 mark. Rockies prospects stats »