Thursday's top prospect performers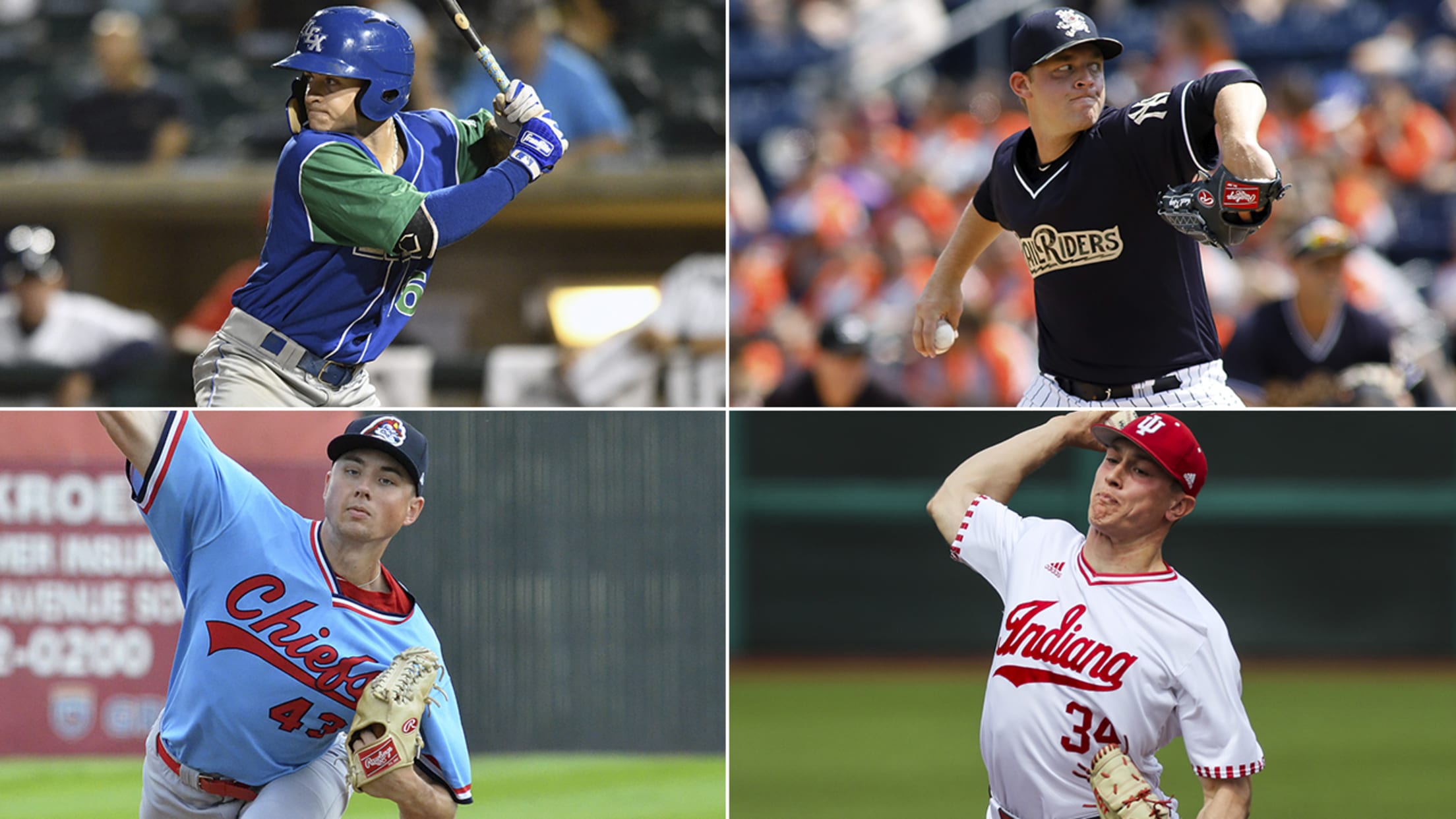 Here's MLB Pipeline's roundup of the four Minor League playoff games on Thursday.South Atlantic League (Class A)Lexington 6, Lakewood 3Lexington's deep lineup of impressive young hitters stayed hot, scoring five runs in the first three innings and then adding a late insurance run to take Game 3 of the South
Here's MLB Pipeline's roundup of the four Minor League playoff games on Thursday.
South Atlantic League (Class A)
Lexington 6, Lakewood 3
Lexington's deep lineup of impressive young hitters stayed hot, scoring five runs in the first three innings and then adding a late insurance run to take Game 3 of the South Atlantic League finals, 6-3. They lead the best-of-5 series, 2-1.
Royals No. 14 prospect Kyle Isbel paced the Legends out of the leadoff spot by going 2-for-5 with an RBI and run scored, and three-hole hitter Nick Pratto (No. 6) reached base in four of his five plate appearances, finishing 2-for-3 with two walks. They're hitting .400 and .464 in the series, respectively.
MILB Video - Title: Isbel's RBI single - Url: http://www.milb.com/r/video?content_id=2486621383
Designated hitter Jeison Guzman (No. 22) put Lexington on the board with an RBI double in the second inning before finishing 2-for-4. Brewer Hicklen (No. 21) also plated a run in the contest, while catcher MJ Melendez (No. 5) reached base twice via a walk and scored a run in a 1-for-3 performance.
:: Complete prospect coverage ::
Daniel Lynch (No. 8) paced the Legends on the mound for the second time in as many starts this postseason. The 21-year-old left-hander allowed five hits and a pair of unearned runs over four innings, striking out four. He tossed four innings of one-run ball in his playoff debut on Sept. 7 against Rome in the SAL semifinals. The No. 34 overall pick in this year's Draft finished his pro debut with a 1.58 ERA and 61-to-8 strikeout-to-walk ratio in 51 1/3 innings (12 starts) across two levels.
Governors' Cup (Triple-A International League)
Durham 3, Scranton/Wilkes-Barre 0
The Bulls scored all three runs in the first two innings, anchored by Brandon Snyder's two-run homer in the second, en route to a 3-0 win and 2-1 series lead over Scranton in the best-of-5 Governors' Cup. Rays No. 18 prospect Joe McCarthy was 1-for-4 with a double, while Kean Wong, the younger brother of Cardinals' second baseman Kolten Wong, finished 1-for-3 with a walk and run scored out of the leadoff spot. Starter Chih-Wei Hu was dominant on the mound, tossing seven scoreless innings during which he scattered six hits and struck out six.
MILB Video - Title: Hu's sixth strikeout - Url: http://www.milb.com/r/video?content_id=2486575383
While Scranton starter Michael King struggled early and ultimately took the loss for Scranton, the Yankees' No. 24 prospect still turned in a quality start, allowing three earned runs on seven hits in 6 2/3 innings. He issued two walks, struck out four and recorded 12 ground-ball outs in the outing. The 23-year-old right-hander had one of the better seasons by any Minor League hurler in 2018, finishing among the MiLB regular-season leaders with a 1.79 ERA (second) and. 0.91 WHIP (tied, fourth) while ascending fro Class A Advanced Tampa to Triple-A. King also held hitters to a .202 average while compiling 152 strikeouts and 29 unintentional walks over 161 1/3 innings pitched, sixth most in the Minors.
Midwest League (Class A)
Peoria 2, Bowling Green 1
Cardinals No. 2 prospect Nolan Gorman (No. 98 overall) scored one of the Chiefs' two runs as Peoria evened the best-of-five series at 1-1. He and Luken Baker (Cardinals' No. 16) both reached base twice and finished 1-for-3. The Cardinals selected the two sluggers on Day 1 of the 2018 Draft, taking Gorman, an 18-year-old third baseman, with the No. 19 overall pick, followed by the 21-year-old Baker at No. 75.
Peoria starting pitcher Zach Prendergast was nearly untouchable as he allowed just two hits and a walk over 6 2/3 scoreless frames. The 23-year-old righty struck out seven in the performance and has racked up 18 strikeouts -- second most in franchise history -- in two postseason starts.
Pioneer League (Rookie)
Great Falls 6, Grand Junction 4
Great Falls jumped out to an early lead and survived a comeback for a second straight game to complete its sweep of the best-of-three Pioneer League finals with a 6-4 win over Grand Junction. White Sox No. 29 prospect Jonathan Stiever was sharp in his final start of the year for the Voyagers, tossing three scoreless frames during which he allowed three hits, walked one and struck out a pair. Travis Moniot, Lenyn Sosa and Romy Gonzalez, the first three hitters in the Voyagers' lineup, respectively, combined for seven hits and four RBIs. Gonzalez went 3-for-3 to finish the series with a .667 average.