These top prospects got 40-man roster spots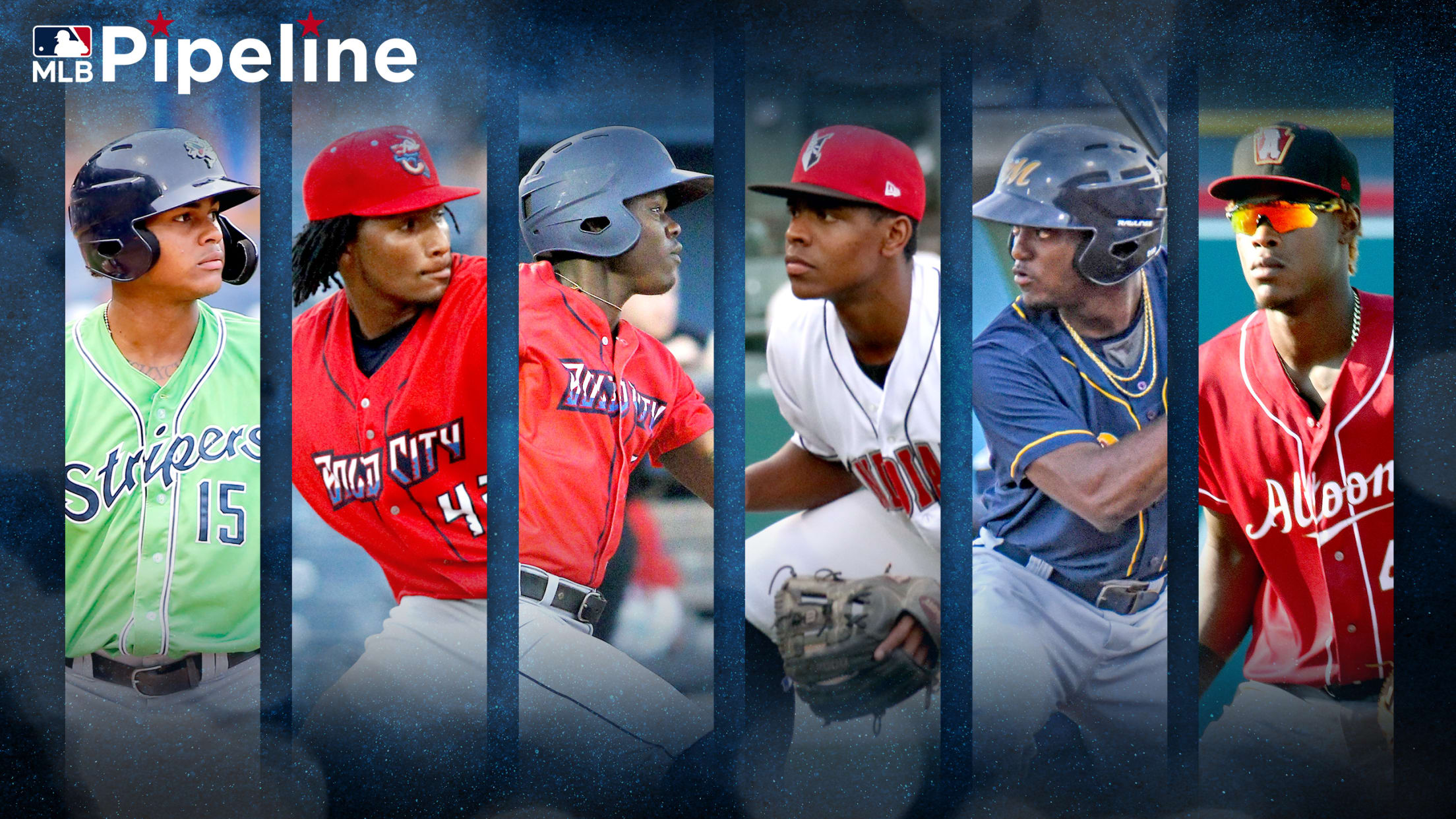 The decisions have been made and the rosters are set. All clubs had until Wednesday night to finalize their 40-man rosters, either adding prospects or leaving them exposed to the Rule 5 Draft. The majority of players on Top 30 lists were protected, but those that weren't will be eligible
The decisions have been made and the rosters are set. All clubs had until Wednesday night to finalize their 40-man rosters, either adding prospects or leaving them exposed to the Rule 5 Draft.
The majority of players on Top 30 lists were protected, but those that weren't will be eligible to be selected by the 29 other teams in the Rule 5 Draft at the Winter Meetings in San Diego on Thursday, Dec. 12.
Players first signed at age 18 must be added to 40-man rosters within five seasons or they become eligible to be drafted by other organizations through the Rule 5 process. Players signed at 19 years or older have to be protected within four seasons. Clubs pay $100,000 to select a player in the Major League phase of the Rule 5 Draft. If that player doesn't stay on the 25-man roster for the full season, he must be offered back to his former team for $50,000.
For this year, that means an international or high school Draft pick signed in 2015 -- assuming he was 18 or younger as of June 8 of that year -- had to be protected. A college player taken in the 2016 Draft was in the same position.
There were 13 players on MLB Pipeline's Top 100 Prospects list who needed to be added to their club's 40-man rosters to be protected.
+ 11) Cristian Pache, OF, Braves
+ 22) Sixto Sanchez, RHP, Marlins
+ 36) Ke'Bryan Hayes, 3B, Pirates
+ 39) Vidal Brujan, 2B, Rays
+ 54) Jazz Chisholm, SS, Marlins
+ 57) Oneil Cruz, SS, Pirates
+ 62) Deivi Garcia, RHP, Yankees
+ 64) Ryan Mountcastle, 1B, Orioles
+ 79) Triston McKenzie, RHP, Indians
+ 82) Estevan Florial, OF, Yankees
+ 90) Miguel Amaya, C, Cubs
+ 92) Andres Gimenez, SS, Mets
+ 99) Edward Cabrera, RHP, Marlins
+ Indicates that a player has been added to his team's 40-man roster
As expected, all of them ended up on 40-man rosters. Over the past five seasons, all 52 Top 100 prospects who were eligible got roster spots (2018: 8; 2017: 8; 2016: 12; 2015: 11). Obviously, there were more than 13 Minor Leaguers up for roster spots. There were more than 1,700 players who were Rule 5 eligible this year; 149 of them are on organizational Top 30 lists. Of those 149 prospects, 87 (58.3 percent) were protected.
A year ago, there were 149 Top 30 prospects who needed to be protected, and 71 (47.6 percent) received a roster spot. That was a dip from 2017, when 85 of 153 eligible Top 30 prospects (55.6 percent) were protected. In 2016, there were 144 total, and 58 percent of them (84) were protected. In 2015, 75 of 156 (48 percent) Top 30 prospects landed on rosters.
Here's a list of all 30 teams' Top 30 prospects who needed to be protected to avoid being exposed to the Rule 5 Draft:
Arizona D-backs (2)
+ 13) Taylor Widener, RHP
+ 23) Andy Young, INF
-- Non-Top 30 Prospects added --
+ Wyatt Mathisen, INF
+ Riley Smith, RHP
More »
Atlanta Braves (5)
+ 1) Cristian Pache, OF
+ 8) William Contreras, C
+ 13) Tucker Davidson, LHP
+ 14) Jasseel De La Cruz, RHP
16) Thomas Burrows, LHP
-- Non-Top 30 Prospects added --
+ Phil Pfeifer, LHP
More »
Baltimore Orioles (7)
+ 4) Ryan Mountcastle, 1B
+ 8) Dean Kremer, RHP
+ 11) Keegan Akin, LHP
+ 13) Ryan McKenna, OF
17) Cody Sedlock, RHP
29) Brett Cumberland, C
30) Gray Fenter, RHP
More »
Boston Red Sox (6)
+ 2) Bobby Dalbec, 3B/1B
+ 9) C.J. Chatham, SS
+ 17) Marcus Wilson, OF
25) Eduard Bazardo, RHP
+ 27) Kyle Hart, LHP
+ 29) Yoan Aybar, LHP
More »
Chicago Cubs (5)
+ 2) Miguel Amaya, C
+ 9) Zack Short, SS
+ 12) Tyson Miller, RHP
22) Oscar De La Cruz, RHP
28) Trent Giambrone, INF/OF
-- Non-Top 30 Prospects added --
+ Manuel Rodriguez, RHP
More »
Chicago White Sox (6)
+ 5) Dane Dunning, RHP
+ 9) Blake Rutherford, OF
+ 18) Jimmy Lambert, RHP
+ 23) Zack Burdi, RHP
27) Alec Hansen, RHP
+ 28) Bernardo Flores, LHP
-- Non-Top 30 Prospects added --
+ Matt Foster, RHP
+ Yermin Mercedes, C
More »
Cincinnati Reds (9)
+ 4) Tony Santillan, RHP
+ 7) Tyler Stephenson, C
18) Alfredo Rodriguez, SS
19) Andy Sugilio, OF
20) TJ Friedl, OF
21) Michael Beltre, OF
24) Mariel Bautista, OF
+ 28) Ryan Hendrix, RHP
+ 30) Tejay Antone, RHP
More »
Cleveland Indians (4)
+ 2) Triston McKenzie, RHP
14) Luis Oviedo, RHP
+ 16) Daniel Johnson, OF
+ 17) Scott Moss, LHP
More »
Colorado Rockies (6)
+ 8) Ben Bowden, LHP
+ 11) Tyler Nevin, 1B/3B
17) Robert Tyler, RHP
19) Reid Humphreys, RHP
24) Daniel Montano, OF
27) Roberto Ramos, 1B
-- Non-Top 30 Prospects added --
+ Ashton Goudeau, RHP
+ Antonio Santos, RHP
More »
Detroit Tigers (8)
+ 5) Isaac Paredes, INF
+ 8) Daz Cameron, OF
+ 14) Beau Burrows, RHP
+ 18) Kyle Funkhouser, RHP
+ 20) Anthony Castro, RHP
22) Elvin Rodriguez, RHP
27) Jake Robson, OF
+ 28) Derek Hill, OF
More »
Houston Astros (6)
+ 9) Cristian Javier, RHP
+ 13) Enoli Paredes, RHP
16) Ronnie Dawson, OF
25) Jonathan Arauz, SS/3B
+ 26) Nivaldo Rodriguez, RHP
+ 28) Taylor Jones, 1B/OF
More »
Kansas City Royals (4)
11) Seuly Matias, OF
+ 13) Carlos Hernandez, RHP
19) Emmanuel Rivera, 3B
29) Gabriel Cancel, 2B
-- Non-Top 30 Prospects added --
+ Foster Griffin, LHP
+ Jeison Guzman, SS
+ Nick Heath, OF
More »
Los Angeles Angels (3)
+ 6) Jahmai Jones, 2B
+ 17) Hector Yan, LHP
25) Leonardo Rivas, SS/2B
More »
Los Angeles Dodgers (4)
+ 9) Mitchell White, RHP
+ 12) DJ Peters, OF
23) Cristian Santana, 3B/1B
26) Jordan Sheffield, RHP
-- Non-Top 30 Prospects added --
+ Zach McKinstry, INF/OF
More »
Miami Marlins (7)
+ 1) Sixto Sanchez, RHP
+ 4) Jazz Chisholm, SS
+ 6) Edward Cabrera, RHP
+ 11) Nick Neidert, RHP
+ 12) Lewin Diaz, 1B
26) Will Stewart, LHP
+ 29) Humberto Mejia, RHP
More »
Milwaukee Brewers (4)
3) Zack Brown, RHP
+ 4) Corey Ray, OF
14) Lucas Erceg, 3B/1B
18) Braden Webb, RHP
-- Non-Top 30 Prospects added --
+ J.P. Feyereisen, RHP
+ Mark Mathias, 2B
More »
Minnesota Twins (5)
7) Wander Javier, SS
+ 9) Jhoan Duran, RHP
+ 20) Gilberto Celestino, OF
21) Griffin Jax, RHP
+ 23) Travis Blankenhorn, 2B/3B/OF
-- Non-Top 30 Prospects added --
+ Dakota Chalmers, RHP
+ Luke Raley, RF
More »
New York Mets (8)
+ 3) Andres Gimenez, SS
8) Shervyen Newton, INF
+ 12) Thomas Szapucki, LHP
+ 17) Ali Sanchez, C
+ 22) Jordan Humphreys, RHP
27) Patrick Mazeika, C
28) Desmond Lindsay, OF
29) Luis Carpio, 2B/SS
More »
New York Yankees (6)
+ 1) Deivi Garcia, RHP
+ 3) Estevan Florial, OF
+ 4) Luis Gil, RHP
+ 14) Nick Nelson, RHP
+ 20) Luis Medina, RHP
+ 26) Miguel Yajure, RHP
-- Non-Top 30 prospects added --
+ Brooks Kriske, RHP
More »
Oakland A's (1)
+ 12) Daulton Jefferies, RHP
More »
Philadelphia Phillies (7)
+ 10) JoJo Romero, LHP
12) Jhailyn Ortiz, OF
13) Rafael Marchan, C
+ 15) Mauricio Llovera, RHP
17) Rodolfo Duran, C
23) Daniel Brito, 2B/SS
28) Cornelius Randolph, OF
-- Non-Top 30 prospects added --
+ Garrett Cleavinger, LHP
+ Cristopher Sanchez, LHP
More »
Pittsburgh Pirates (5)
+ 2) Ke'Bryan Hayes, 3B
+ 3) Oneil Cruz, SS
+ 10) Will Craig, 1B
15) Lolo Sanchez, OF
+ 28) Blake Cederlind, RHP
-- Non-Top 30 prospects added --
+ Cody Ponce, RHP
More »
San Diego Padres (2)
18) Esteury Ruiz, 2B
25) Buddy Reed, OF
-- Non-Top 30 Prospects added --
+ Jorge Oña, OF
More »
San Francisco Giants (4)
16) Sandro Fabian, OF
20) Franklin Labour, OF
22) Ricardo Genoves, C
28) Garrett Williams, LHP
More »
Seattle Mariners (2)
24) Dom Thompson-Williams, OF
28) Ljay Newsome, RHP
More »
St. Louis Cardinals (4)
+ 4) Elehuris Montero, 3B
+ 13) Jake Woodford, RHP
24) Conner Capel, OF
30) Max Schrock, 2B/3B
-- Non-Top 30 Prospects added --
+ Alvaro Seijas, RHP
More »
Tampa Bay Rays (6)
+ 3) Vidal Brujan, 2B/SS
+ 7) Ronaldo Hernandez, C
12) Moises Gomez, OF
+ 17) Jake Cronenworth, SS/RHP
+ 19) Lucius Fox, SS
+ 25) Kevin Padlo, 3B
27) Resly Linares, LHP
More »
Texas Rangers (5)
+ 5) Leody Taveras, OF
+ 10) Sherten Apostel, 3B/1B
+ 11) Anderson Tejeda, SS
+ 16) Tyler Phillips, RHP
30) Eli White, SS/OF
-- Non-Top 30 Prospects added --
+ Kyle Cody, RHP
+ Demarcus Evans, RHP
More »
Toronto Blue Jays (1)
+ 30) Thomas Hatch, RHP
-- Non-Top 30 Prospects added --
+ Santiago Espinal, 2B
More »
Washington Nationals (7)
13) Sterling Sharp, RHP
+ 15) Ben Braymer, LHP
21) Steven Fuentes, RHP
22) Malvin Pena, RHP
25) Gilbert Lara, SS/3B
27) Telmito Agustin, OF
28) Jhonatan German, RHP
More »