Roy Foundation Wiffle tourney raises record amount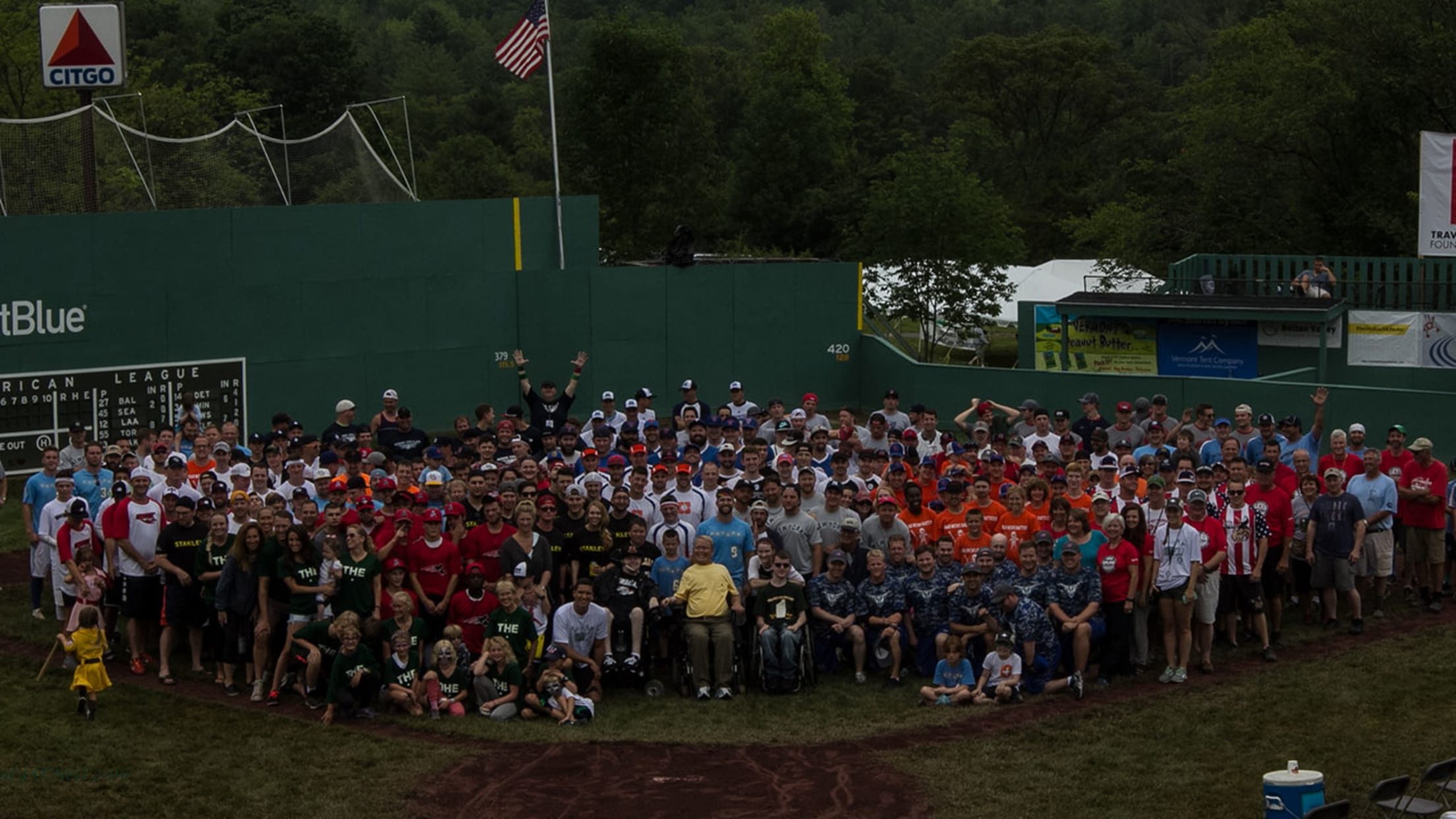 More than 1,500 people gathered this weekend at The Travis Roy Foundation annual Wiffle ball tournament. (Jane O'Neil/Travis Roy Foundation)
ESSEX, Vt. -- Before he lost the use of his limbs, before he ever came to Little Fenway, before he helped turn this tiny mountain town into Wiffle ball Heaven, Travis Roy was a hockey player. So it's fitting he evokes a sticks-and-skates metaphor as he addresses a crowd from
ESSEX, Vt. -- Before he lost the use of his limbs, before he ever came to Little Fenway, before he helped turn this tiny mountain town into Wiffle ball Heaven, Travis Roy was a hockey player. So it's fitting he evokes a sticks-and-skates metaphor as he addresses a crowd from the Little Fenway pitcher's mound.
More than 1,500 people gathered this weekend at the Green Mountains facility, notable for its unique architectural nods to baseball history, to play baseball in its most accessible form. But they're here because of Roy's story, and that starts on the ice.
"I remember being a 6-year old boy shooting pucks in my backyard with big dreams," Roy said. "I just hoped one day I could play college hockey. It was such a dream for me."
Roy fulfilled that dream, to unfortunate results. Roy took the ice for Boston University, the defending national champions, as a freshman in 1995. Eleven seconds into his first shift, the blonde-haired 20-year-old lunged into the boards looking for a check. He never got up.
Travis Roy Foundation Tournament
Roy still lives as a quadriplegic, 21 years after fracturing his fourth and fifth vertebrae that night. Two years later he began the Travis Roy Foundation to raise money for spinal cord injury research. Since 2001, the organization and Little Fenway Park have been linked, the annual summer Wiffle ball tournament here serving as its main fundraiser.
The Travis Roy Foundation has grown with the Little Fenway facility over the years. Now, a Little Wrigley Field, complete with brick ivy and all, brings a north side flavor to Vermont. Teams also play on a replica of the "Field of Dreams," from the iconic 1989 movie.
The novelty of the fields has helped grow the Roy Foundation's fundraising each year. The three-day tournament raised a record $604,000 this year. The foundation has raised more than $4 million dollars and provides quadriplegics with necessary equipment, which can be very expensive.
"I don't know how we keep doing it," Roy told the crowd from his wheelchair, holding back tears. He has regained partial use of his right arm, but despite that remains paralyzed below the neck.
"Because of you!" came a call from the gathered crowd.
"You'd think I'd be prepared for this by now, but it hits me every year," Roy said. "There is stuff that goes on behind the scenes that wears me down. That wears all of us down. The families have to do the work. Some of the realities of this, people don't want to think about. I want it to come to an end. Hopefully for us, if not us, the next generation. We are playing a part. We are fueling the hope. We're creating the energy that some day will create that change."
Will Reeve, son of former actor and spinal cord injury philanthropist Christopher Reeve, also gave a rousing speech from the Little Fenway pitcher's mound. He championed the support the Wiffle ball tournament gives to the quadriplegic community.
"Even if you're that closely impacted by paralysis, you never really know what someone like my father was going through," said Reeve. "You can help all you want, you can stay as involved as possible but you'll never fully understand.
"By being here you are answering the call. We like to talk about standing up for those who can't, that's what you're doing by being here."
After that, the action on the field shifted back to Wiffle ball. Still every pitch, every swing, came with a hint of hockey on the mind.
"I feel like, as an organization, we've been shooting pucks as a six year old for a couple of years now," Roy said. "But were climbing the ranks. The research is moving from mice to clinical trials. Some day we're going to line up for a face off and we're going to finish that shift."