Q&A: Shaw reflects on eventful year on, off field
3rd baseman gives updates on daughter, talks holiday traditions and more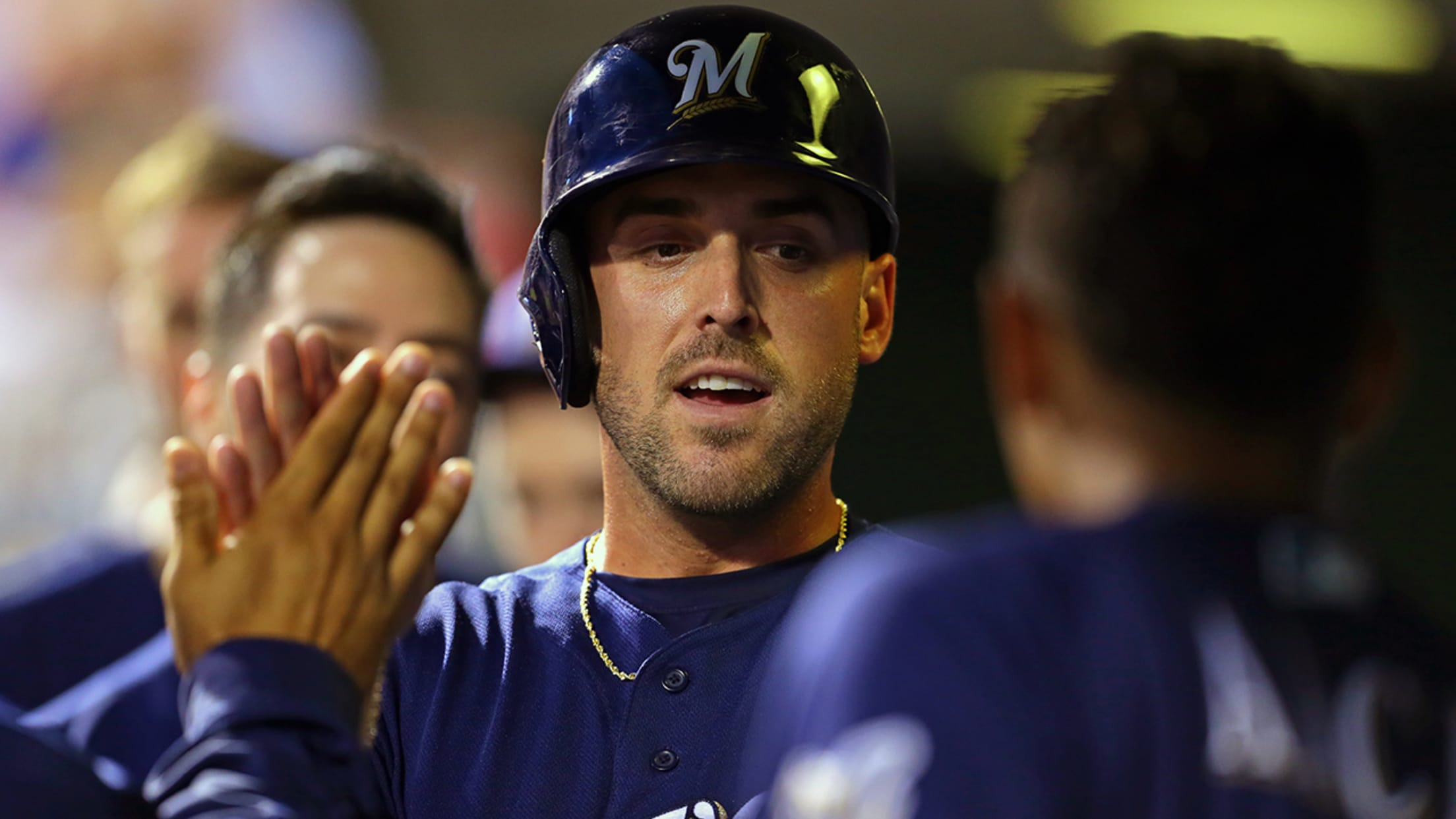 MILWAUKEE -- No Brewers player had more packed into 2017 than third baseman Travis Shaw, who navigated challenges on and off the field in what became the best year of his life. Shaw was still adjusting to the idea of playing for the Brewers, who acquired him in a trade
MILWAUKEE -- No Brewers player had more packed into 2017 than third baseman Travis Shaw, who navigated challenges on and off the field in what became the best year of his life.
Shaw was still adjusting to the idea of playing for the Brewers, who acquired him in a trade with the Red Sox during the 2016 Winter Meetings, when he and his wife, Lindy, learned that their unborn child had a congenital heart defect that would require immediate surgery when she was born in June. Baby Ryann had two procedures at Children's Hospital of Wisconsin and lived there for the remainder of the baseball season, with Dad by her side the whole way.
On the field, Shaw had a career year, winning Brewers MVP honors while tying Eric Thames for the team lead with 31 home runs. Shaw checked in with MLB.com this month to recap his whirlwind year.
MLB.com: Fans were so taken by your family's story. Can you update us on how your daughter is doing?
Shaw: Ryann is doing really well. She's been home since the second week of October and making a lot of progress. It started on twice-a-week doctor visits, and now it's down to maybe once every 2-3 weeks. It's really nice to be out of the hospital and get to spend some time with her.
Her long-term prognosis is the same as it's always been. She'll have another surgery in a couple of years; we're not really sure exactly of the timetable. But as of right now, she really hasn't had too many setbacks since she got out of the hospital. It's as normal as the situation can be right now.

MLB.com: "Home" this winter is Milwaukee, right?
Shaw: Yeah, I rented a house up here because there are too many doctor visits this offseason to think about going anywhere else. It didn't feel like the right decision to try to find a doctor down in Florida when I have so much trust in all of the doctors there at Children's Hospital.
I have to say, the city of Milwaukee has been great to us through all of this. I've had multiple people reach out with letters, and even a couple of emails where somehow they have reached me that way. There's just been a ton of stories and a ton of people telling us they are praying for Ryann and her well-being. It tells you about the kind of people who are up around here. They genuinely care. It's more than looking for wins and losses -- they've shown that they truly care about what I've gone through this year.
MLB.com: The Brewers have always extended the offer for players to stay over the winter and use the athletic training facilities and batting cages at Miller Park. I think you are one of the first players to take them up on that.
Shaw: Josh [Seligman], our strength coach, is working me out four times a week, a couple of hours per day. We've been getting after it pretty good now for a couple of months. I took about three weeks off before getting back at the end of October, and we've been doing running and lifting. I'll be getting into baseball activities pretty soon here. Before you know it, I'll be leaving for Arizona.
MLB.com: OK, a couple of holiday questions: What was Christmas like in the Shaw household when you were a kid?
Shaw: Absolute pandemonium on Christmas Day. I have a younger sister and a younger brother, and my brother was nine years younger than me, so that joy of Christmas Day with kids running down the stairs first thing in the morning, that lasted a lot longer in my family. It was always my favorite holiday. My mom splurged on us to no end.
Our only real tradition was that we would always get to open up one present on Christmas Eve. It was always a puzzle to decide which one. Was it the big box or the small box? We always had fun with that.

MLB.com: What is the best gift you've ever given?
Shaw: Honestly, I've been thinking about this and I can't think of anything that stands out. I haven't really splurged yet. Here in the next year or two, I'd like to make a pretty sizable gift to make a difference in someone's life. I don't know what it is yet, but I'm going to spend the next year or so thinking about it.
MLB.com: Where is your family Christmas this year?
Shaw: Here. Everyone is coming up to Milwaukee because Ryann has a couple of appointments right around the holiday, so my whole family is coming up here. I'm hoping it's a white Christmas. I haven't had one of those in years. I grew up in southern Ohio, and there wasn't a ton of snow there, and then I moved to Florida a year and a half ago. Hopefully this Christmas, there will be a ton of snow on the ground.
MLB.com: What is your favorite Christmas movie?
Shaw: "Rudolph the Red-Nosed Reindeer," the original animated one. That one was the best.
MLB.com: Favorite Christmas song?
Shaw: "Silent Night" or "Carol of the Bells."
MLB.com: Least favorite Christmas song?
Shaw: "Jingle Bells" gets so annoying after a while. I can't.
MLB.com: When the holidays come and pass, what will you reflect on about 2017?
Shaw: There's a lot. I've been doing that a lot since we brought Ryann home, about everything that has gone on over the last 6-7 months. I think about where I was at Christmastime last year, and so much has changed on and off the field. I kind of got a perspective about what's really important. It opened my eyes up a little bit about what "tough" really is. Slumps are nothing compared to what I went through this year.
All in all, it's been a very good year.