Blue Jays can't get out of early hole against Sox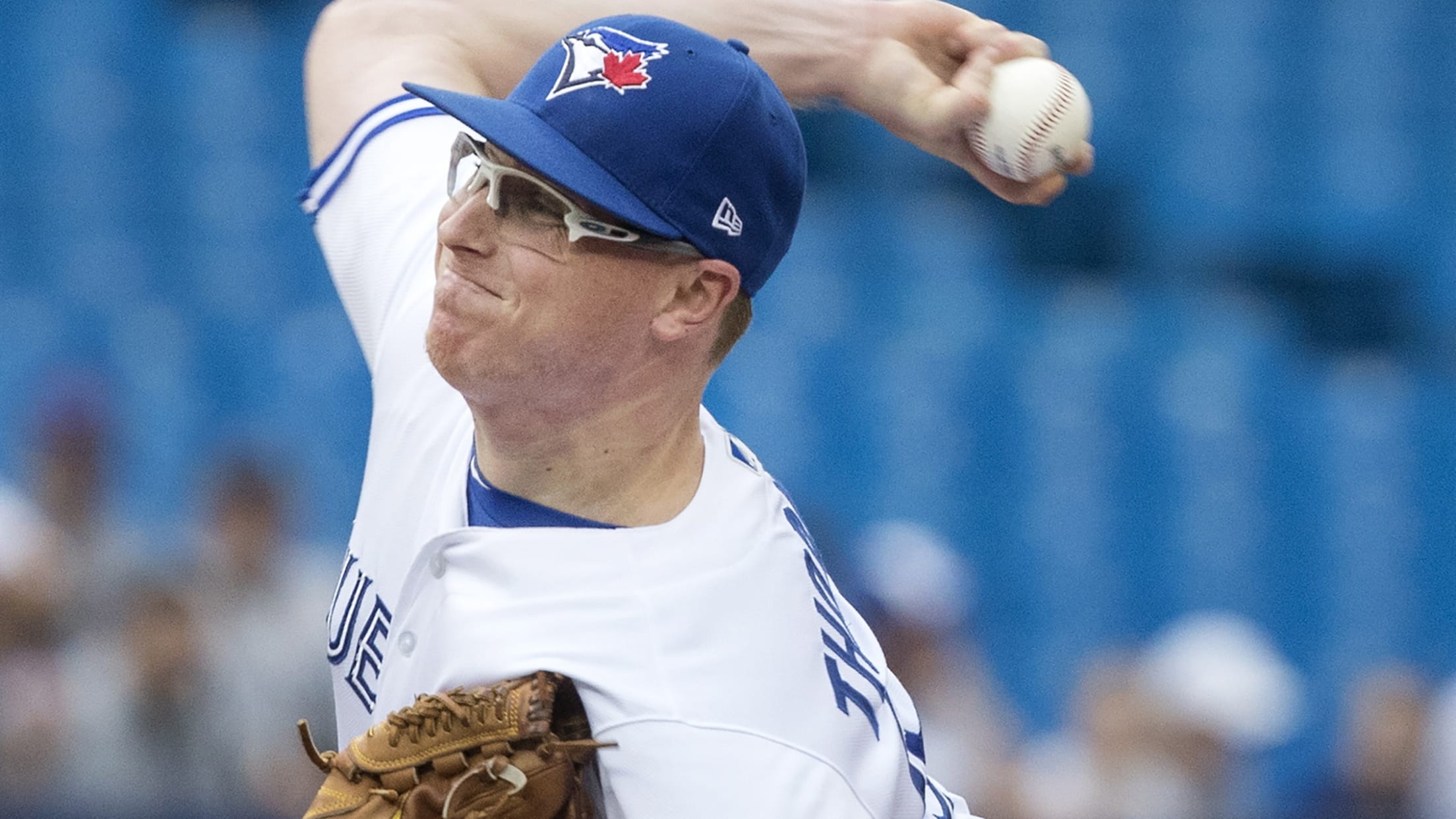 TORONTO -- The Blue Jays' rotation has been a consistent source of query this season. Toronto has faced injury woes, temporary and long-term setbacks, and occasional poor performances, forcing the squad to delve deeper into the bullpen than it might often like. Tuesday's 10-6 series-opening loss to the Red Sox
TORONTO -- The Blue Jays' rotation has been a consistent source of query this season.
Toronto has faced injury woes, temporary and long-term setbacks, and occasional poor performances, forcing the squad to delve deeper into the bullpen than it might often like. Tuesday's 10-6 series-opening loss to the Red Sox at Rogers Centre was an example of the latter.
Trent Thornton took the hill for the home team and found himself on the sidelines early for his second straight outing. That pair followed two quality starts in what has become a seesaw season for him. The 25-year-old right-hander lasted 2 2/3 innings against the Red Sox, allowing seven runs on 11 hits with one walk and one strikeout.
"Consistency's been the biggest part, and for me it's been up and down, up and down," Thornton said. "I'm trying to be more consistent. I feel like my routine and everything I've been doing is where it needs to be for the most part.
"It just comes down to execution and that's been the one thing for me. I'll be great some days and some days I won't. I need to find a little happy medium there and continue to build off that."
Shortstop Freddy Galvis suggested to Thornton that he might have been tipping pitches, which is a battle the young hurler fought earlier this season and will dive deeper into with pitching coach Pete Walker on Wednesday, but he made no excuses for his performance.
"Tonight it just came down to executing pitches," Thornton said. "When you leave balls over the plate, they're going to get hit at the big league level -- anywhere, really. But if I make my pitches when I need to and where I need to, I think it's a completely different story."
The questions that followed Thornton's outing don't only pertain to him. With multiple early exits from the Blue Jays' starters over the weekend and Toronto's bullpen unsurprisingly shorthanded, Sean Reid-Foley -- Wednesday's scheduled starter -- became the next in line to take the mound on Tuesday, leaving an open spot in the rotation for the second game of the series.
"He was really good, and he's facing a good lineup," Blue Jays manager Charlie Montoyo said of Reid-Foley. "He gave us a chance, kept us in the game. Then for tomorrow, probably [Jacob] Waguespack is going to pitch, and so of course we've got to make a move."
Reid-Foley provided an answer on Tuesday, however, and couldn't have been better in his first career appearance against the reigning World Series champs. He stranded both runners he inherited with a quick out to end the third and remained perfect for his final three frames, sitting Boston's lineup down in order.
"I knew it was a possibility, so I was out there [in the bullpen]," Reid-Foley said. "You never want your fellow starter to do poorly, and I was pretty optimistic that I didn't think I was going to throw today. It was a tough one for Thornton.
"I tried to do the best I could to give our team a chance to win, and it sucks that I had to throw today because [of] obviously the outcome for Thornton. I feel bad for him because he's been pitching well all year, and it is what it is."
The 23-year-old right-hander was recalled from Triple-A Buffalo on June 23, and has impressed in his short time back, allowing two runs over 10 2/3 total innings with nine strikeouts, earning a continued stay and presumably deserving of another shot at the rotation.
"[He had] the ability to use all of his pitches again," said catcher Danny Jansen, who came a triple shy of the cycle in the matchup. "Sean was awesome four days ago, did the same thing -- attacked, worked quickly, got ahead and used all of his pitches. It was good to see him do it again."
Added Thornton, "Foley came out and he shoved. That was awesome and good to see."
Toronto's offense came alive in the ninth inning, scoring three in the frame to double its run total, but it wasn't enough to spark a full comeback in the first game of the set.