Tale of the Tape: Bauer vs. Porcello
Right-handers square off in Game 1 of ALDS at Progressive Field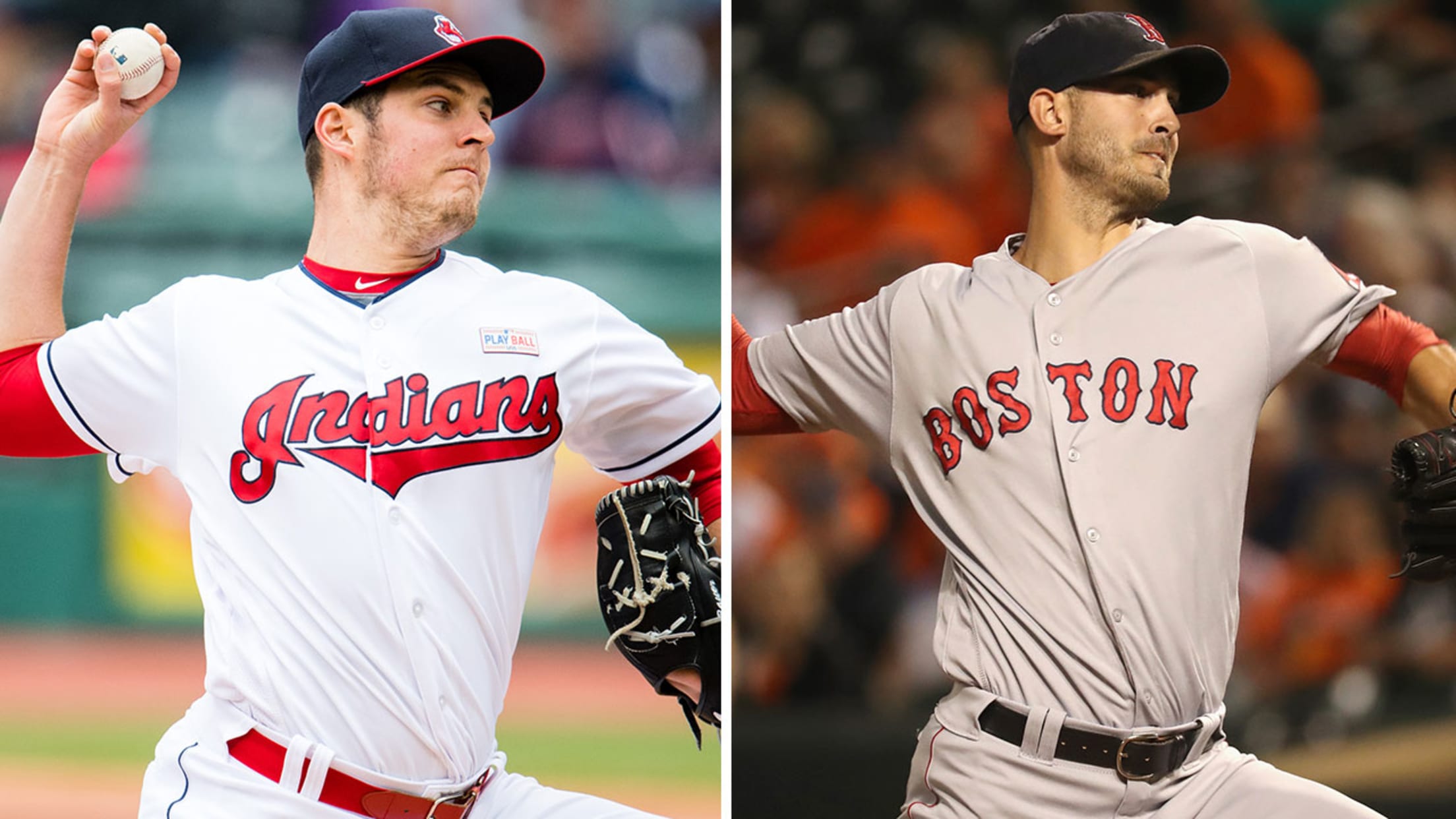 Trevor Bauer (left) and Rick Porcello get the call in Game 1 on Thursday. (Getty)
The Indians host the Red Sox in Game 1 of the American League Division Series on Thursday (8 p.m. ET, TBS) with two blossoming right-handed pitchers taking the mound at Progressive Field.The Indians hand the ball to 25-year-old Trevor Bauer for his first career postseason appearance. The Red Sox send
The Indians host the Red Sox in Game 1 of the American League Division Series on Thursday (8 p.m. ET, TBS) with two blossoming right-handed pitchers taking the mound at Progressive Field.
The Indians hand the ball to 25-year-old Trevor Bauer for his first career postseason appearance. The Red Sox send Rick Porcello to the hill searching for his first postseason victory.
:: ALDS: Red Sox vs. Indians coverage ::
Season stats
Bauer: 12-8, 4.26 ERA, 190 IP, 168 K
Porcello: 22-4, 3.15 ERA, 223 IP, 189 K
Trevor Bauer, Indians
Against the Red Sox
2016: 2 G (1 GS), 0-1, 9.00 ERA
Career: 3 G (2 GS), 0-2, 12.91 ERA
Loves to face: Xander Bogaerts, 1-for-6, RBI, 0 XBH, 2 K
Hates to face: David Ortiz, 4-for-5, 2 2B, HR, 3 RBIs
Game breakdown
Why he'll win: Bauer has arguably pitched his best season in the Majors to date. He set career highs in wins and innings pitched while permitting the fewest walks per nine innings of his career (3.32).
Pitcher beware: In Bauer's two career starts against Boston, he allowed a combined nine runs in 6 2/3 innings. He struck out just one batter in those two starts and surrendered 14 hits.
Bottom line: In Bauer's final start of the season, he held the Royals to three runs in six innings with nine strikeouts in a 6-3 victory. The Indians could use the young right-hander to replicate that outing against the most prolific offense in the Majors.
Rick Porcello, Red Sox
Against the Indians
2016: 1 GS, 1-0, 3.18 ERA
Career: 22 GS, 10-4, 3.35 ERA
Loves to face: Francisco Lindor, 1-for-7, 0 XBH, K
Hates to face: Carlos Santana, 12-for-41, 2 2B, 3 HR, 4 RBIs, 5 BB
Game breakdown
Why he'll win: Porcello is a strong candidate to win his first AL Cy Young Award. He tied Justin Verlander and Chris Sale for the AL lead in fWAR at 5.2 and won the most games among all MLB starters in 2016. He's second in the AL in FIP (3.40), fifth in ERA and fourth in innings pitched. It's been a career year for the 27-year-old.
Pitcher beware: Porcello will need to pick and choose his spots while navigating through the Indians' lineup. Santana, Mike Napoli and Jason Kipnis are a combined 28-for-90 (.311) with 10 extra-base hits (including four home runs) and 12 RBIs off Porcello in their careers.
Bottom line: Porcello has the upper hand when it comes to postseason experience. His most recent playoff start came in Game 4 of the AL Championship Series against the Rangers in 2011, when he allowed two earned runs over 6 2/3 innings. In eight postseason games (two starts), the righty is 0-2 with a 4.41 ERA.