2020 vision: Predicting Twins' Opening Day look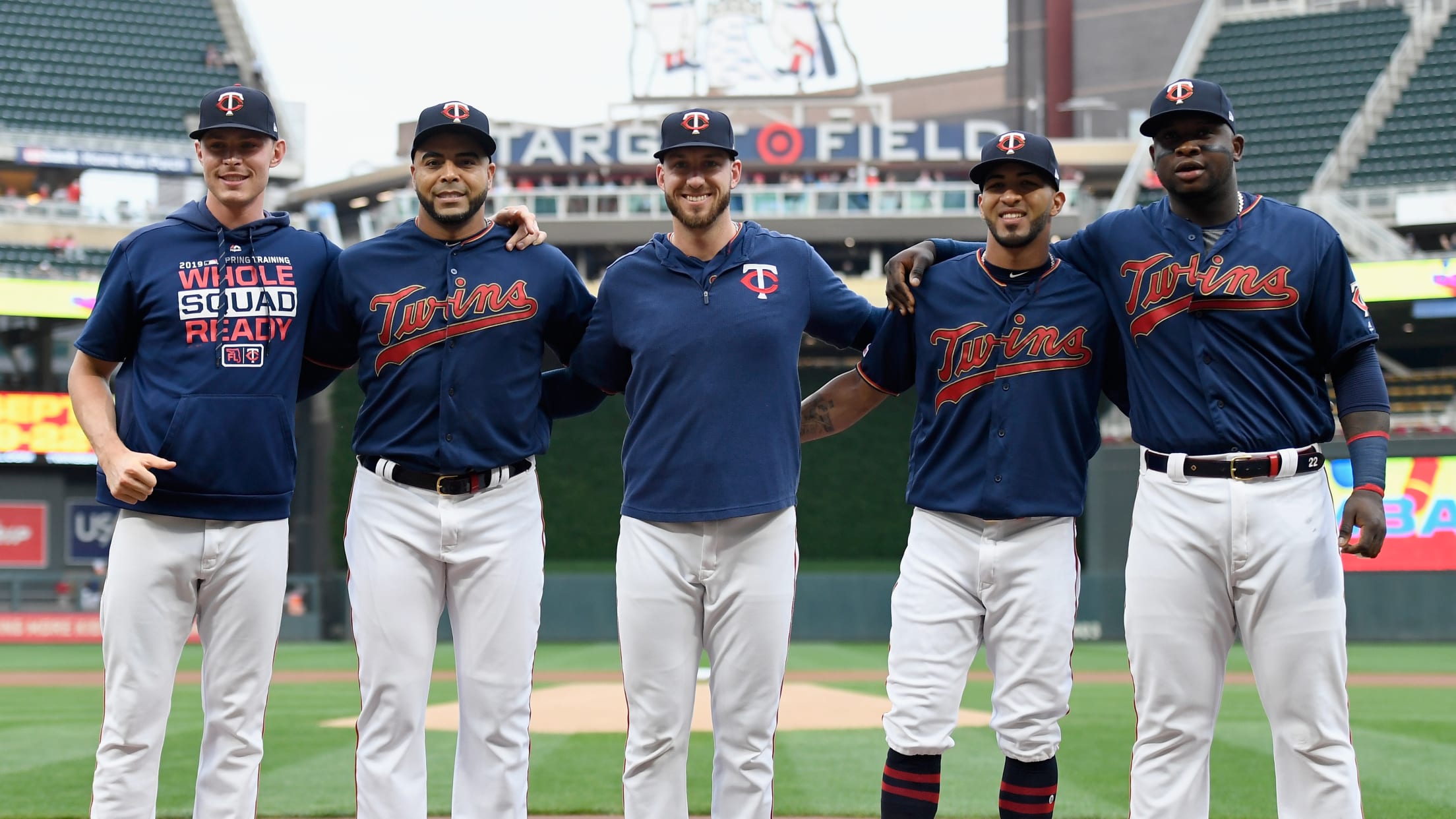 FORT MYERS, Fla. -- The first full-squad workout on Monday at the CenturyLink Sports Complex officially brought the whole gang (sans Fernando Romero, for now) back together at the Twins' spring camp. Five and a half weeks from now, 26 of these men will head west to Oakland as Minnesota's
FORT MYERS, Fla. -- The first full-squad workout on Monday at the CenturyLink Sports Complex officially brought the whole gang (sans Fernando Romero, for now) back together at the Twins' spring camp. Five and a half weeks from now, 26 of these men will head west to Oakland as Minnesota's 2020 Opening Day roster.
There only appear to be three significant competitions at this time: the 13th position player role, the fifth rotation slot and the final bullpen arm. That's barring injury, of course, as "unforeseen circumstances" and "Spring Training" often go hand-in-hand much more frequently than teams would prefer.
• Forecasting all 30 teams: Lineups, rotations, closers
Let's still take the opportunity to predict how those three competitions could be resolved as part of our Opening Day roster projection for Spring Training.
Catcher: Mitch Garver, Alex Avila
No real mystery here. There's no question that Garver will be the Twins' starting catcher following a breakout 2019, during which he led the Major Leagues by hitting 30 of his 31 homers as a catcher and posted the highest slugging percentage (.630) for any backstop in club history. Avila and his .795 OPS against righties last season will slot in as the left-handed half of the platoon.
It remains to be seen how much of the workload Garver will bear behind the plate. Despite the slugger's historic numbers in 2019, manager Rocco Baldelli made it evident in his first season as skipper that proper rest and recovery were a priority. Garver said at TwinsFest that he hopes to catch 100 games this year. This projection also includes Willians Astudillo as a third catcher to further ease the workload (see the "utility" section below).
First base: Miguel Sanó
When the Twins were courting Josh Donaldson in free agency during the offseason, Sanó backchanneled a video to the "Bringer of Rain," telling the former American League Most Valuable Player Award winner that he would move across the diamond to first base only for Donaldson. Well, that's exactly what happened. If Sanó's natural athleticism can help him become even an average defender at first base, his 40-homer power should play just fine.
Marwin Gonzalez is likely the primary backup here, while Astudillo and Garver could also make some occasional starts.
Second base: Luis Arraez
The Twins valued Arraez's bat so much last year that they had the 22-year-old rookie learn to play left field on the fly to keep his superior bat control and contact ability in the lineup more frequently. With Jonathan Schoop having departed for Detroit, Arraez is the unquestioned starter at second base and will have every opportunity to build on his .334 batting average from last season.
Shortstop: Jorge Polanco
Polanco was the workhorse of the roster last season, appearing in a team-high 153 games as he locked down the shortstop position in the face of mounting injuries all around the infield and outfield. Perhaps Baldelli will be able to spell Polanco somewhat more often this season with Ehire Adrianza and other options at shortstop. That could help Polanco stay fresher for a possible playoff run. Last season, his .882 OPS in the first half dropped off to .788 following the All-Star break.
Third base: Josh Donaldson
Forget about the bombas for a second: Donaldson will also provide a much-needed defensive boost to the Twins' infield as he slots in as the club's regular at the hot corner. The 34-year-old was worth 8 outs above average last season, per Statcast, ranking him third among Major League third basemen behind only Gold Glove Award winners Nolan Arenado (17) and Matt Chapman (14). Without Donaldson, the Twins were worth an even 0 OOA at third base last season -- and a whopping minus-14 as an infield, ranked 26th in the Majors.
Utility: Marwin Gonzalez, Ehire Adrianza, Willians Astudillo
Versatility is the name of the game on the Twins' 26-man roster. Gonzalez's super-utility capabilities are well established, and though he mostly played corner infield and corner outfield for the Twins last season, he can also offer some flexibility up the middle in a pinch. Adrianza can back up all four infield positions and even flex out to the corner outfield in rare circumstances.
The 13th position player competition will likely come down to Astudillo against a true fourth outfielder -- Jake Cave or LaMonte Wade Jr. If Byron Buxton hits any setbacks in his recovery this spring, Cave likely has a leg up. Otherwise, the appeal of Astudillo is that any game not caught by Garver or Avila in March and April is likely to the Twins' benefit come September and October, at the end of a grueling season. It also helps that Astudillo can back up the corner infield and outfield.
Designated hitter: Nelson Cruz
This is the biggest no-brainer on the roster, after the Twins exercised Cruz's $12 million option for 2020. The ageless Cruz (he turns 40 in July) led the Twins with 41 homers and a career-best 1.031 OPS in 2019 as he posted his sixth straight season with 37 or more roundtrippers -- even after rupturing a tendon in his left wrist in August.
Outfield: Max Kepler, Byron Buxton, Eddie Rosario
All of this means that the Twins could be fine carrying only three true outfielders on their roster, since Gonzalez is perfectly serviceable as a de facto fourth option and Kepler can slide over as the backup center fielder if needed. When healthy, Rosario, Buxton and Kepler will be the outfield alignment far more often than not.
Starting pitchers: José Berríos, Jake Odorizzi, Kenta Maeda, Homer Bailey, Jhoulys Chacín
Who will win the fifth rotation spot out of camp? It was originally characterized as a free-for-all pitch-off between Devin Smeltzer, Lewis Thorpe and Randy Dobnak before the Twins also threw Chacín into the fray on a Minor League deal. Seeing as how games haven't started yet, there are essentially no results with which to make this projection at this point, making it somewhat of a shot in the dark.
With that in mind, let's slot Chacín into that fifth spot for now, since Smeltzer, Thorpe and Dobnak all have remaining Minor League options, and giving Chacín a shot in the rotation would allow for the Twins to keep as much potential starting depth in the organization as possible until the returns of Michael Pineda from suspension and Rich Hill from offseason elbow surgery. Keep an eye on this race throughout the spring.
Relievers: Tyler Clippard, Tyler Duffey, Zack Littell, Trevor May, Taylor Rogers, Sergio Romo, Matt Wisler, Devin Smeltzer
Barring injury, it's difficult to imagine any of the first six being left off the roster due to their success down the stretch last season. Wisler is likely primed for one of the two remaining spots due to his strong slider and -- perhaps more significantly -- lack of remaining Minor League options.
The Twins could go in a few different directions for that final bullpen spot, but given Baldelli's penchant for preserving his higher-leverage arms when the Twins were trailing in games last season, it could make sense for that spot to go to a stretched-out flex option. Let's slot in Smeltzer for the time being due to his being left-handed and how well he pitched despite lack of consistency in his routine and usage last season.
Dobnak and Sean Poppen could also be in consideration. If the Twins would be comfortable going without a long reliever (say, choosing to use Littell as a multiple-inning option at times instead), Fernando Romero and Cody Stashak should also factor into this competition.