Escobar's defensive lapse doesn't worry Twins
Shortstop charged with three errors in last two games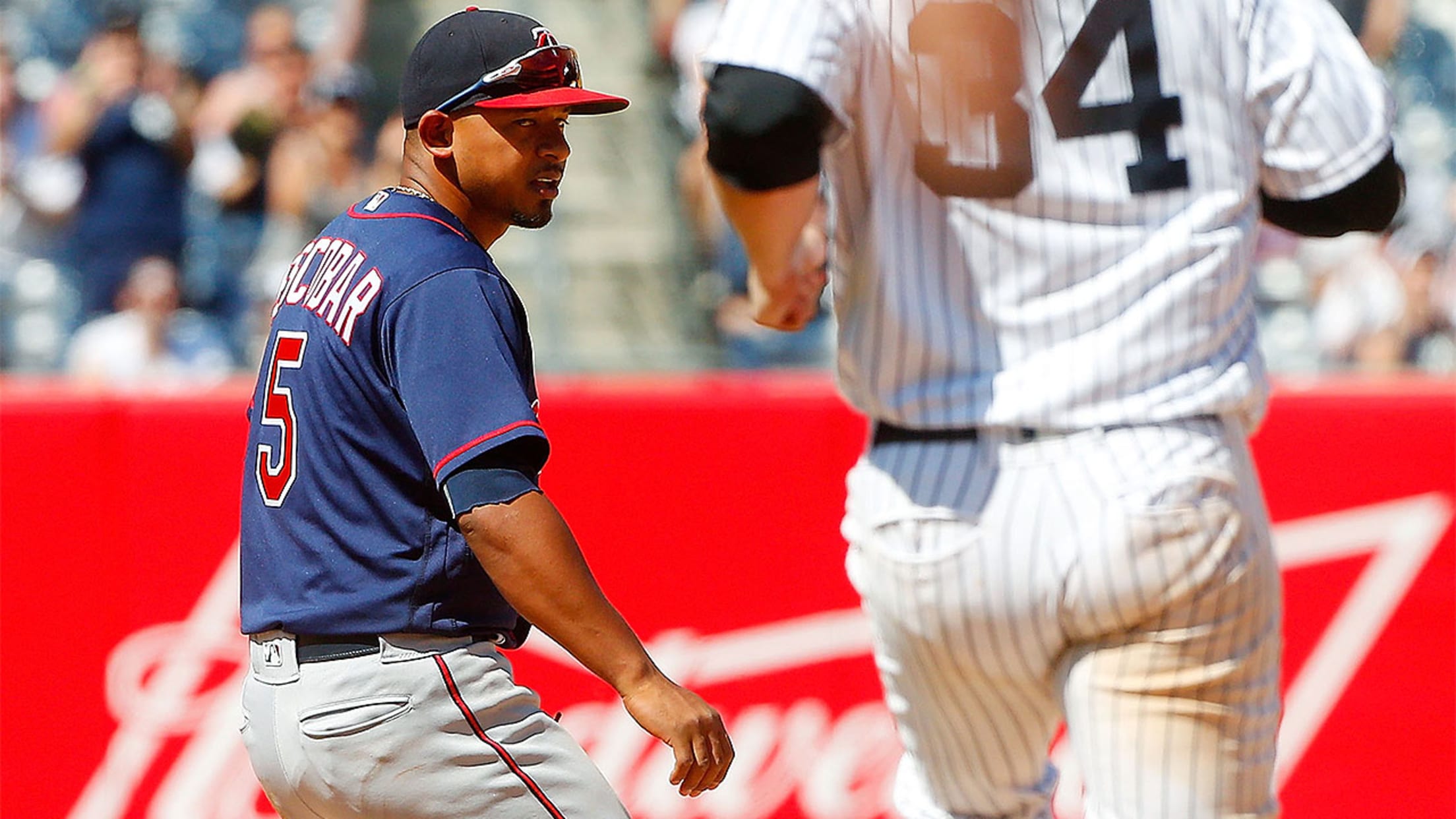 Eduardo Escobar committed a fielding error in the eighth inning Saturday that allowed the go-ahead run to score. (Getty Images)
NEW YORK -- Mistakes happen. But unfortunately for the Twins' defense, those mistakes are magnified in close games.Shortstop Eduardo Escobar has had a particularly rough stretch over the last two games. He has committed three fielding errors this series, including a decisive boot on a ground ball in the eighth
NEW YORK -- Mistakes happen. But unfortunately for the Twins' defense, those mistakes are magnified in close games.
Shortstop Eduardo Escobar has had a particularly rough stretch over the last two games. He has committed three fielding errors this series, including a decisive boot on a ground ball in the eighth inning of Minnesota's 2-1 loss to the Yankees on Saturday afternoon at Yankee Stadium that allowed the go-ahead run to score.
With runners on first and third and nobody out in a tie game, reliever Ryan Pressly struck out Mark Teixeira in a 10-pitch at-bat and induced what appeared to be an inning-ending double-play grounder to short.
However, Escobar couldn't field the ball cleanly on a short hop, allowing Starlin Castro to reach and bringing home Aaron Hicks from third, giving the Yankees the lead for good.
"It was hit hard," Escobar said through an interpreter. "At that point, there's not much you can do other than throw your glove at it. That's not an excuse, but it was hit pretty hard."
He had already misplayed a grounder off the bat of Teixeira in the sixth inning, giving Escobar his second two-error game of the season, following a similar performance on April 9 in Kansas City.
After having committed only five errors all season, including a 36-game stretch with only one error, he has added three in two days. Escobar maintained that the recent string of errors wouldn't affect his confidence and that he would rather use the disappointment as an opportunity to learn from his mistakes moving forward.
The Twins still remain firm in their vote of confidence for their Opening Day shortstop, even in light of Eduardo Nunez's hot hitting and their willingness to move Miguel Sano back to the infield.
"I've always liked that he's been fairly steady," Twins manager Paul Molitor said. "He's got a very accurate throwing arm and his hands are, most of the time, reliable. He's made a couple of plays that have cost us recently, but the numbers are still respectable as far as percentage and those types of things. Just had a couple of rough days."
Baseball is a game of averages -- deviations from the mean such as this recent error-prone stretch are to be expected, and in the long run, Escobar, a career .977 fielder across six seasons, should be fine. (For reference, Derek Jeter's career fielding percentage was .976.)
As emphasized by Molitor and Twins general manager Terry Ryan, the Twins are much more worried about their inconsistent offense at the moment -- if Minnesota could have mustered more than three hits Saturday, then maybe Escobar's errors wouldn't have been as pivotal.
Unfortunately for the Twins shortstop, he was caught in the wrong situation. Luckily, his teammates already seem ready to move on.
"Errors are going to happen," said pitcher Ervin Santana, who took a no-decision Saturday after five-plus innings of one-run ball. "He's fine."
Do-Hyoung Park is a reporter for MLB.com based in Minneapolis.