Inbox: How will Twins' OD roster take shape?
Twins reporter Do-Hyoung Park fields questions from fans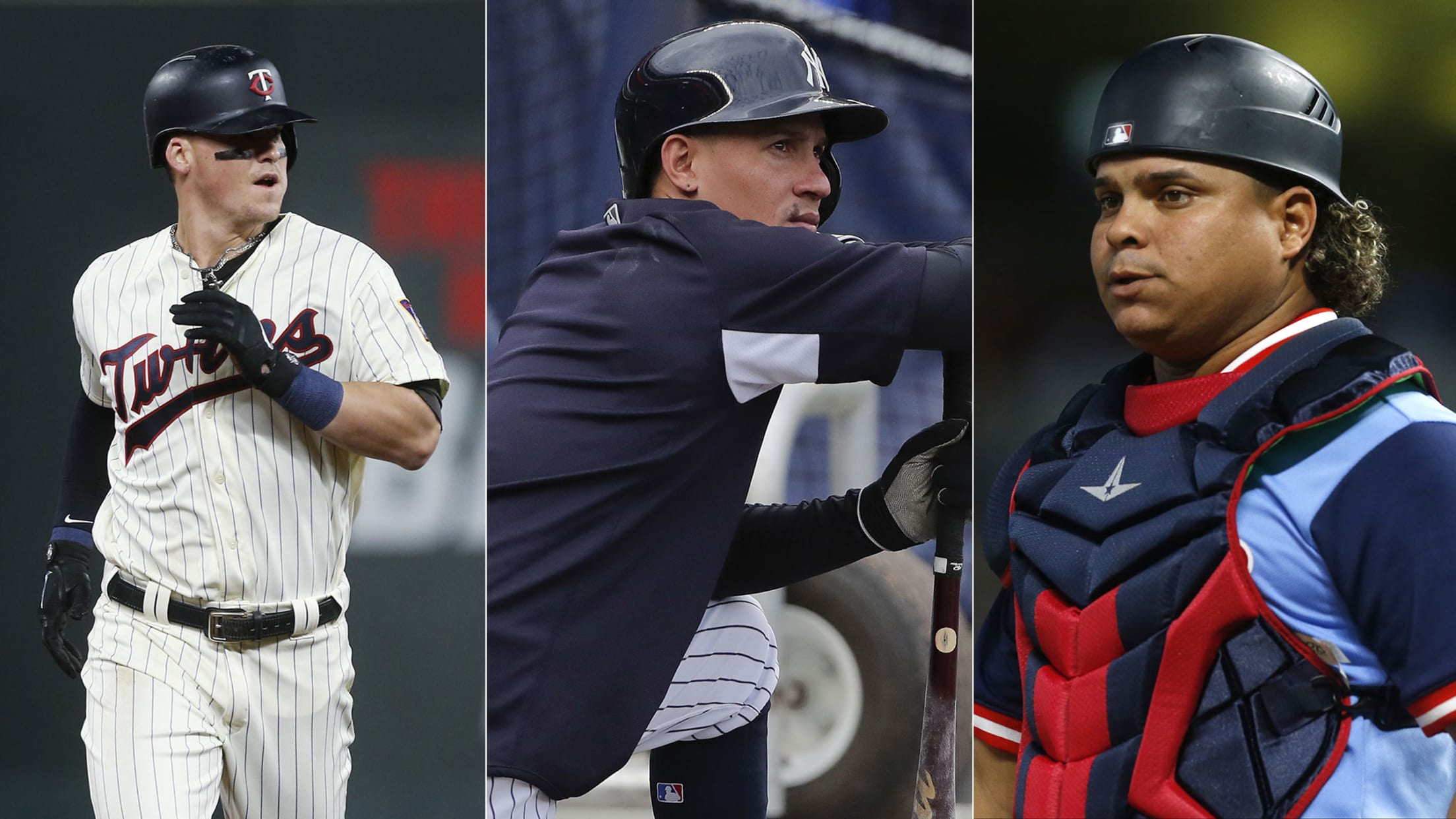 BEMIDJI, Minn. -- Greetings from the fourth and final day of the Twins Winter Caravan! The forecast in Bemidji calls for a high temperature of -8 and a low of -24, so I'm getting out with haste after the Twins held their evening event here. Eddie Rosario and Jose Berrios
BEMIDJI, Minn. -- Greetings from the fourth and final day of the Twins Winter Caravan! The forecast in Bemidji calls for a high temperature of -8 and a low of -24, so I'm getting out with haste after the Twins held their evening event here. Eddie Rosario and Jose Berrios will get back to the warmth of Florida and Puerto Rico soon enough after TwinsFest this weekend.
Let's get going on a lightly frosted edition of the Twins Inbox.
Torreyes isn't a lock for the 25 man roster? Baseball is supposed to be fun(ny) and Astudillo would make highlight reels at least weekly. What skills does he lack to be a Super utility guy? Isn't there more of an upside to Mejia compared to Martin Perez?

— YeliR-HsoJ Root (@RootYelir) January 23, 2019
It's still too early to make any presumptions about the roster, as we're still three weeks out from the start of Spring Training and more than two months away from Opening Day. A lot can change -- signings, injuries -- between now and then. Because of that, Twins leadership has been targeting TwinsFest as around the time when they're planning to start having deeper conversations about roster and positional considerations. (Rocco Baldelli hasn't even met the whole roster yet.)
:: Submit a question to the Twins Inbox ::
With that said, I'd think that at the moment, Ronald Torreyes (and Willians Astudillo) aren't locks for the Opening Day 25-man roster -- though, again, it's too early to tell, and things are fluid during the regular season, too. Since the Twins need to dedicate a roster spot to Nelson Cruz, that leaves either three or four bench roles (depending on how many pitchers the team will carry). Three of those will likely go to Jake Cave, Mitch Garver and Ehire Adrianza. How the first-base depth chart plays out should have some effect on a possible fourth bench spot.
Yes, baseball should be fun(ny) in an ideal world, but the primary goal of a Major League team is to win games. If Astudillo makes the roster, it will be because he earns it on the field. Keep in mind: Adrianza (and Christopher Austin) are out of Minor League options. Torreyes and Astudillo aren't.
As for your question about Martin Perez and Adalberto Mejia, pitching depth is of the utmost importance in a season in which the Twins hope to contend. Mejia has upside, but injuries happen over the course of a season, and adding an experienced starter in Perez who is familiar to general manager Thad Levine certainly can't hurt the Twins. And it's not a particularly high-risk move. Don't worry -- Mejia and other young pitchers will get their chances throughout the season. Injuries and other unforeseen circumstances happen, and it's best to be prepared.
Has season ticket holder sales increased since the hiring of Rocco? What are you hearing on Twins fans thoughts about Rocco?

— Doug Doescher (@DsrdDoescher) January 22, 2019
This leg of the Twins Winter Caravan has served as an introductory tour of sorts for the new Twins manager for communities across the state, and he's received an extremely warm welcome at every stop.
Baldelli, of course, is stepping in for Minnesota hero Paul Molitor, and his message has been simple: He has a deep respect for the legacies and accomplishments of those who came before him, and what he can do is be himself, stay true to the ideals that have guided him as a player and coach and learn a lot during his first year in a managerial role. It's a message that has resonated well with fans in each city.
Fans in the Twin Cities area, too, will have a chance to meet Baldelli for themselves at TwinsFest this weekend.
With Tyler Austin out of options, what are his chances of making the club ? Is he going to get a look in the OF this spring to make himself a more viable reserve ? Would love to see his bat come north

— Doug Munson (@TwinsWild16) January 22, 2019
I'm also going to preface this response with my "it's still too early for any real roster speculation" note from above. The organization will likely explore lots of creative defensive options, especially with the bench being pressed for defensive flexibility in the wake of the Cruz signing. Austin in the outfield would certainly make sense based on his experience: During his Minor League career, Austin played in the outfield (327 games) much more than he did at first base (168 games).
As a whole, first base is a position that looks to lack depth on this roster, while the outfield is pretty crowded. Aside from four capable outfield regulars, even Cruz could fill an outfield position in a real pinch. (That's not to mention Zack Granite and LaMonte Wade, who are both on the 40-man roster.) Cron, Austin, Miguel Sano and Garver could be first-base options, but Sano is the regular third baseman and Garver should see significant time behind the plate.
The first-base question will certainly be interesting, more so because Austin is out of options. Chief baseball officer Derek Falvey has said that he's not ruling anything out, including trying out Max Kepler or even Cave, among other options, at first. Check in again on this once things have had a chance to play out a bit in Spring Training.
Really, Is it wishfull thinking to expect the Twins to sign Machado and trade for Realmuto?

— Mr.Consistency (@rebonilla55) January 22, 2019
I would say so.
A big addition might make a little more sense if the Twins were more sure of the performance they can expect from Byron Buxton and Sano in 2019 and beyond. But there's still some uncertainty in that, and several key pieces of this team are set to enter free agency prior to the '20 season. Adding Machado would sacrifice a huge chunk of Minnesota's payroll flexibility moving forward. The Twins aren't a big-market team, and their best path to building contenders is through value and homegrown talent.
A similar argument applies in the case of a trade for J.T. Realmuto. The Marlins catcher will command an enormous package of prospects, and especially with Jason Castro, Garver and Astudillo around in the Twins' organization for 2019, sacrificing a lot of future talent for one piece that might be a part of a contender wouldn't make much sense.
For the third time, do you think the twins will get another bat

— Minorleague68 (@MinorMicah) January 22, 2019
I don't think the Twins will add another Major League bat; there's just no room. Minnesota already has a clear, cost-effective starter at every position in the field and a full set of bench options for 2019.