Twins aren't ready to panic after 5-game skid
Molitor says club needs to stay positive despite worst start in franchise history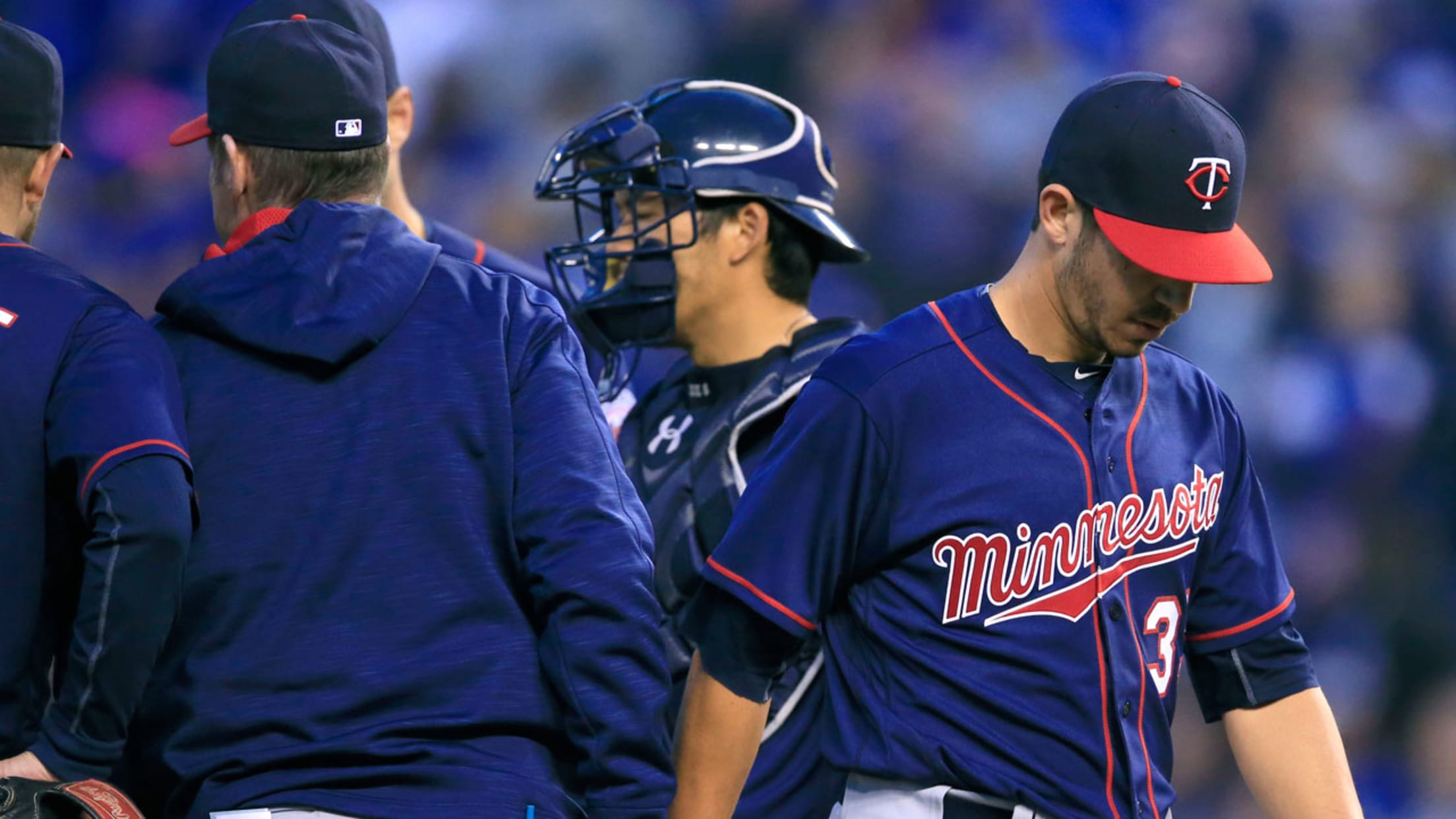 Twins starter Tommy Milone went 4 2/3 innings against the Royals, giving up back-to-back homers in the fourth. (AP)
KANSAS CITY -- After being one of the biggest surprises in baseball last year, winning 83 games and narrowly missing out on their first postseason berth since 2010, expectations were higher for the Twins in 2016.But this season has started with a thud, and it got even worse on Saturday
KANSAS CITY -- After being one of the biggest surprises in baseball last year, winning 83 games and narrowly missing out on their first postseason berth since 2010, expectations were higher for the Twins in 2016.
But this season has started with a thud, and it got even worse on Saturday night, as a 7-0 loss to the Royals dropped the Twins to 0-5 for the first time since the franchise moved to Minnesota in 1961. They had previously started 0-4 in 1969, '81 and 2012, but had never opened a season with five consecutive losses.
"The first four [games] were competitive and tonight everything kind of went the way it did," manager Paul Molitor said. "We were having trouble getting going offensively again and we made some mistakes defensively to open the floodgates. So it's disappointing we didn't play in a more competitive game."
Twins second baseman Brian Dozier, the leader in the clubhouse, said there's no reason to panic yet, as they started 1-6 last year and were able to bounce back. And this season, the Twins played in four close games until their shutout loss on Saturday, while they were outscored by 16 runs through their first five games in 2015.
"I don't want to bring up last year like it's the same thing because it's a big difference to me," Dozier said. "We were in every ballgame until today. We found ways to lose the first games late, and we can't keep doing that. But the good thing is no one is panicking. Obviously, we're down a little bit, but no one is panicking."
It was a combination of all the Twins' early-season issues on Saturday, as they made several defensive miscues and went 0-for-5 with runners in scoring position. They're hitting .079 (3-for-38) with runners in those situations this season, which is a big difference from last year when they hit .280 to prop up an offense that had the third-lowest on-base percentage in the Majors.
Twins starter Tommy Milone, who broke the club's three-game losing streak to open last year with a win over the White Sox, lasted 4 2/3 innings against the Royals, giving up back-to-back homers in the fourth, and the lefty wasn't helped by two errors from shortstop Eduardo Escobar in the fifth.
"We're trying," Milone said. "Obviously it didn't happen today, but I think we have to keep plugging away. We know what kind of team we are and what we're capable of. We're just not playing like it right now."
It doesn't get any easier on Sunday, as the Twins face Kansas City's No. 1 starter Edinson Volquez, while Ricky Nolasco, who had a 5.64 ERA over the last two years, starts for Minnesota.
"We just have to figure out a way to keep coming back the next day," Molitor said. "So we have to stay positive things will turn around."