Arcia seeing on-field results of offseason work
Twins outfielder trying to earn a roster spot following disappointing 2015 season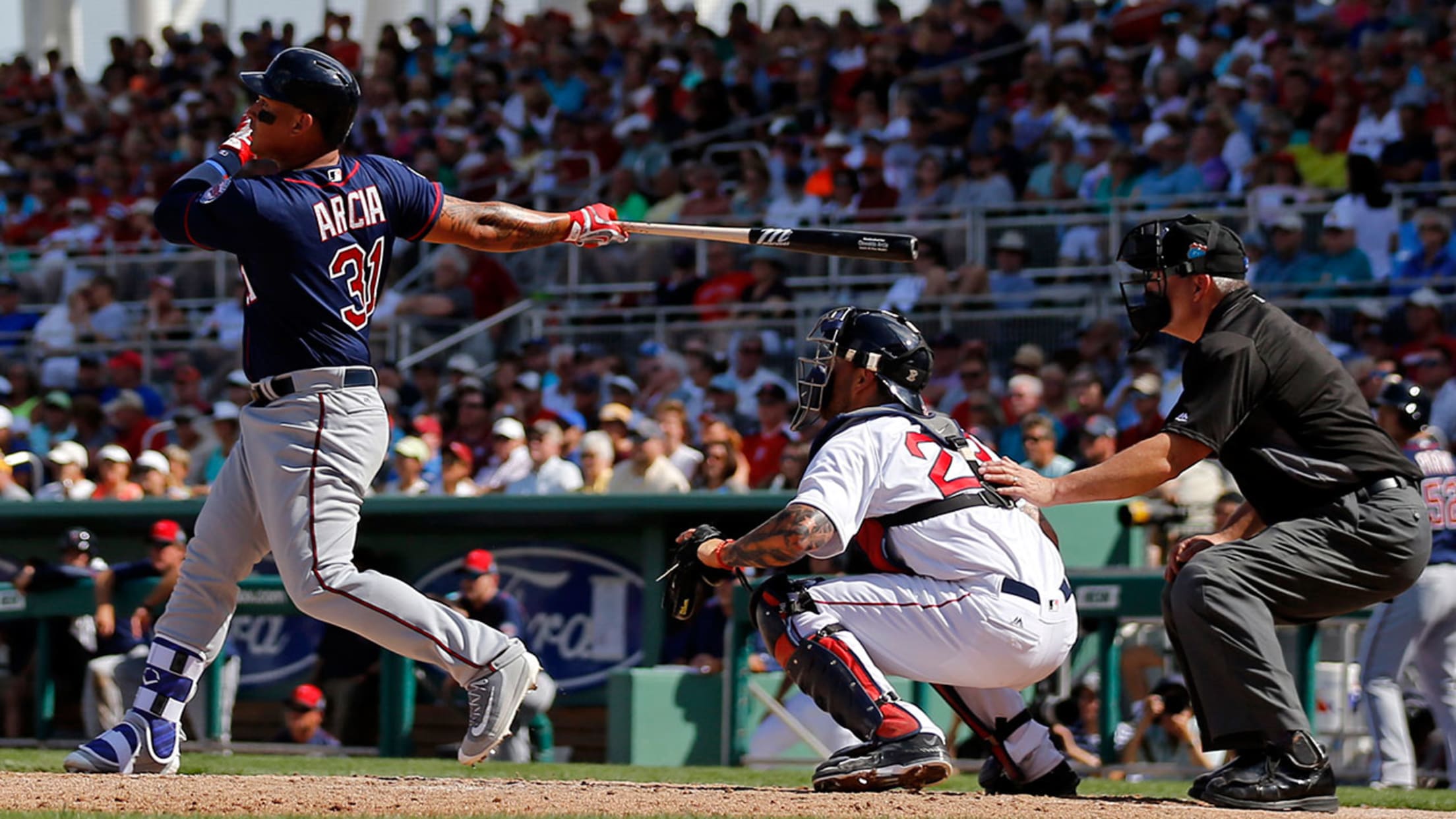 "I want to prove to people I can play in the big leagues," Oswaldo Arcia said. (AP)
FORT MYERS, Fla. -- After a forgettable 2015 season that saw him play in 19 games in the Majors after reaching the 20-homer plateau the year before as a 23-year-old, Oswaldo Arcia dedicated himself to getting in better shape over the offseason, and the results are showing this spring.Arcia, a
FORT MYERS, Fla. -- After a forgettable 2015 season that saw him play in 19 games in the Majors after reaching the 20-homer plateau the year before as a 23-year-old, Oswaldo Arcia dedicated himself to getting in better shape over the offseason, and the results are showing this spring.
Arcia, a Venezuela native, spent all but three days of the offseason at the Twins' Spring Training complex, changing everything from his diet to his workout routine. He's in noticeably better shape, and it's been apparent both in the outfield and on the bases.
• Spring Training:Schedule | Tickets | Gear
"I wanted to get stronger, do some agility work, get my diet right and eat better," Arcia said through translator Carlos Font. "I was just working hard to get ready. I feel the difference. I feel faster in the outfield and can get to balls faster. My legs don't hurt anymore. I feel great."
Twins general manager Terry Ryan was pleased to see Arcia take the offseason seriously, as it's an important spring for Arcia, who is out of Minor League options. Arcia is essentially competing for a spot as the club's fourth outfielder along with non-roster veterans such as Carlos Quentin and Ryan Sweeney.
"There's a lot of urgency right now because he had a very difficult year last year," Ryan said. "What we saw the previous year in 2014, it's hard to imagine he'd struggle like that. I don't quite get why. But he took the winter to get ready this spring and I think it's shown. He's better in the field and he's in better shape. There's no doubt."
Arcia showed off his immense power potential in 2014, becoming the fifth player in franchise history to hit 20 homers in a season before turning 24, joining a list that includes Twins greats such as Harmon Killebrew, Gary Gaetti, Kent Hrbek and current hitting coach Tom Brunansky. But Arcia couldn't build on that in 2015 despite starting the year as the club's Opening Day left fielder.
He hit .276/.338/.379 with two homers in 19 games before going on the disabled list with a hip flexor strain in early May. But after getting healthy, the Twins opted to keep him at Triple-A Rochester after the emergence of rookie Eddie Rosario and the fact that Arcia went 0-for-11 during his rehab assignment.
Arcia was expected to be back up after a short stay in the Minors, but it never materialized, as he battled inconsistency, hitting .199/.257/.372 with 12 homers in 79 games at Rochester. Arcia admitted the lengthy Minor League stay hurt his psyche, but that he tried not to let it get him too down.
"It was tough but I kept working hard, and that was the main thing," Arcia said. "I had some bad stretches, but I also had a good stretch."
That good stretch came in July, when he hit eight homers and three doubles in 13 games from July 1-16, but it wasn't enough to warrant a callup. Another telling number was Arcia also struck out 16 times in 49 at-bats over that same stretch. So the Twins have been working with Arcia to create more consistent contact and to be more patient, and Twins manager Paul Molitor has been encouraged by the results.
"A lot of his offensive woes have been pitch recognition and keeping the ball in the zone, especially when he gets overaggressive," Molitor said. "Any signs of more patience and a better plan are progress, so we're pleased to see him try to work on those things."
Arcia put all of his tools on display in a game against the Orioles this spring, drawing three walks, stealing a base and making a running catch in right-center field. It was a welcome sign from Arcia, who also had three hits against the Red Sox on Friday, including two to the opposite field, and a sliding catch in right.
"He has more of an understanding that he doesn't need to hit it over the fence all the time," Molitor said. "It's showed up in his defense, which has been better. And baserunning, he's taking it more seriously. And I know he's worked hard with Tom on everything with his swing, from his balance to his finish. It's always a work in progress with his hands."
Arcia believes that hard work will pay off this season with a bounce-back year, but he knows he still has to go out and prove it, starting with earning a spot on the Opening Day roster.
"I want to prove to people I can play in the big leagues," Arcia said. "I'm not a Triple-A player. I'm a big leaguer, and I want to show that to people."