Wednesday's top prospect performers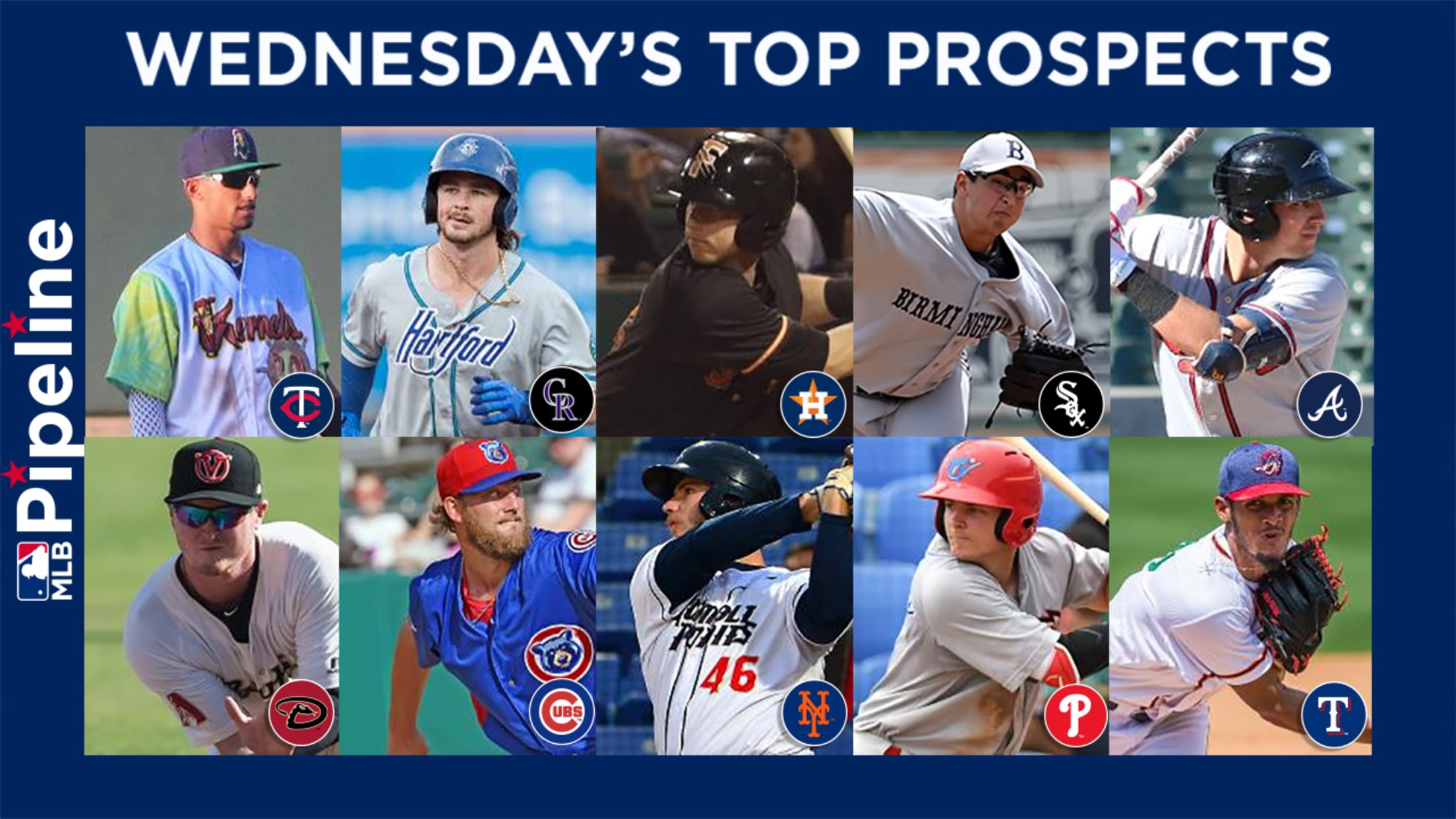 Here's MLB Pipeline's roundup of the top prospect performances in the Minor Leagues on Wednesday.:: Complete prospect coverage ::A plethora of Twins top prospects, highlighted by Royce Lewis and Jose Miranda, helped lead Class A Cedar Rapids to a 15-4 win over Wisconsin.Lewis, baseball's No. 19 overall prospect and the
Here's MLB Pipeline's roundup of the top prospect performances in the Minor Leagues on Wednesday.
:: Complete prospect coverage ::
A plethora of Twins top prospects, highlighted by Royce Lewis and Jose Miranda, helped lead Class A Cedar Rapids to a 15-4 win over Wisconsin.
Lewis, baseball's No. 19 overall prospect and the Twins' No. 1, went 2-for-4 with two RBIs and a pair of stolen bases, while Miranda (Twins' No. 28) went 3-for-5 with two doubles, a homer and six RBIs.
Additionally, Akil Baddoo (No. 11) and Jacob Pearson (No. 24) also homered.
Lewis, who boosted his average to .312 with the performance, extended his hitting streak to five games and has four hits over his past nine at-bats after back-to-back multi-hit games. The 18-year-old has also driven in 10 runs over the past five games, including at least one in each contest.
Miranda is hitting just .232 on the season, but perhaps the big game was the start of a breakout performance, as he collected a trio of extra-base hits and set a career high for RBIs. The second baseman had RBI doubles in the first and fourth innings and then capped his day with a grand slam in the eighth.
MILB Video - Title: Watch: Lewis doubles home two - Url: http://www.milb.com/r/video?content_id=2098134983
Other top prospect performances from Wednesday's action:
• No. 11 overall prospect Brendan Rodgers (Rockies' No. 1) hit his 11th homer of the season as part of a three-hit night for Double-A Hartford. Rodgers, who finished 3-for-4, also doubled and is hitting .286 through 50 games.
MILB Video - Title: Watch: Rodgers reaches the seats - Url: http://www.milb.com/r/video?content_id=2101609983
• No. 15 overall prospect Kyle Tucker (Astros' No. 2) needed just two innings to turn in the third two-homer game of his career. Tucker hit a solo blast in the first and then added a two-run shot in the second as part of a 2-for-5 night with Triple-A Fresno. Tucker has seven homers this season and is hitting .279 through 48 games.
• No. 67 overall prospect Dane Dunning (White Sox No. 6) matched his season high with seven strong innings and set a season high with nine strikeouts as he picked up his third win with Double-A Birmingham. Dunning, who threw 69 of his 100 pitches for strikes, didn't issue a walk and gave up one run on five hits.
• No. 74 overall prospect Austin Riley (Braves' No. 8) hit his 10th homer of the season and fourth in 22 games since joining Triple-A Gwinnett. Riley hit a three-run blast that highlighted the Stripers' seven-run second inning and later added a single to finish 2-for-5.
MILB Video - Title: Watch: Riley cracks three-run homer - Url: http://www.milb.com/r/video?content_id=2101768783
• No. 83 overall prospect Pavin Smith (D-backs' No. 2) drove in the first run of the game with a solo blast, his fourth, for Class A Advanced Visalia. Smith, a first-round pick from the 2017 Draft, finished 2-for-4 in what was just his fifth multhit game of the season.
MILB Video - Title: Watch: Smith goes yard - Url: http://www.milb.com/r/video?content_id=2102361983
• Braves No. 30 prospect Huascar Ynoa put together his first scoreless start of the season for Class A Rome. Ynoa had surrendered nine earned runs over his past two starts, but bounced back with six solid innings and a career-high nine strikeouts. The right-hander walked one and gave up four hits.
• Cubs No. 27 prospect Trevor Clifton extended his scoreless streak to 10 frames with his second straight scoreless start for Double-A Tennessee. The 23-year-old right-hander yielded three hits and struck out five over six innings. Clifton, who has 46 strikeouts compared to 20 walks this season, threw 57 of his 87 pitches for strikes but was stuck with a no-decision.
• Mets No. 4 prospect Peter Alonso continued his strong season with his fifth three-hit game for Double-A Binghamton. Alonso came through with a big two-run single in the 11th to helped lead the Rumble Ponies to a win. The 23-year-old finished 3-for-6 and is hitting .339 through 51 games.
• Phillies No. 4 prospect Mickey Moniak extended his hitting streak to six games with a 3-for-5 performance for Class A Advanced Clearwater. Moniak got off to a slow start this season and has boosted his average from .219 to .243 during the streak. Not only does the 20-year-old have a hit in six straight games, but he has multiple hits in three straight games.
• Phillies prospects also had good nights on the mound as JoJo Romero (No. 6) and Cole Irvin (No. 23) combined to throw 16 2/3 innings of one-run ball. Romero, pitching for Double-A Reading, gave up one run on five hits over eight innings. Meanwhile, Irvin threw 8 2/3 scoreless frames for Triple-A Lehigh Valley.
• Jonathan Hernandez (Rangers' No. 13 prospect) has been lights out for Class A Advanced and he continued the trend in a win over Buies Creek. The right-hander, who hasn't allowed a run in 15 innings, posted his third straight double-digit strikeout game as he fanned 11 over eight innings of two run ball. Hernandez surrendered one walk and has given up two runs on nine hits with 32 strikeouts over his past three starts (20 innings).
• Tigers No. 29 prospectSpencer Turnbull bounced back from a rough outing to post his third scoreless start of the season with Double-A Erie. After giving up seven runs in 3 2/3 innings in his last start, Turnbull cruised through 5 2/3 innings against Binghamton. The right-hander threw 64 of his 98 pitches for strikes, yielded five hits, walked two and struck out seven.
MILB Video - Title: Watch: Turnbull's 7th strikeout - Url: http://www.milb.com/r/video?content_id=2103097583
• Yankees No. 17 prospectBilly McKinney went deep for the second time in as many days for Triple-A Scranton/Wilkes-Barre. The 23-year-old hit a solo shot in the second inning of what turned into a 3-for-4 night. After going through a rough patch where he picked up just one hit in six games (22 at-bats), McKinney appears to have found his rhythm, going 5-for-8 over the past two games.
MILB Video - Title: Watch: McKinney belts solo shot - Url: http://www.milb.com/r/video?content_id=2103095583