Duffey not assuming rotation spot is guaranteed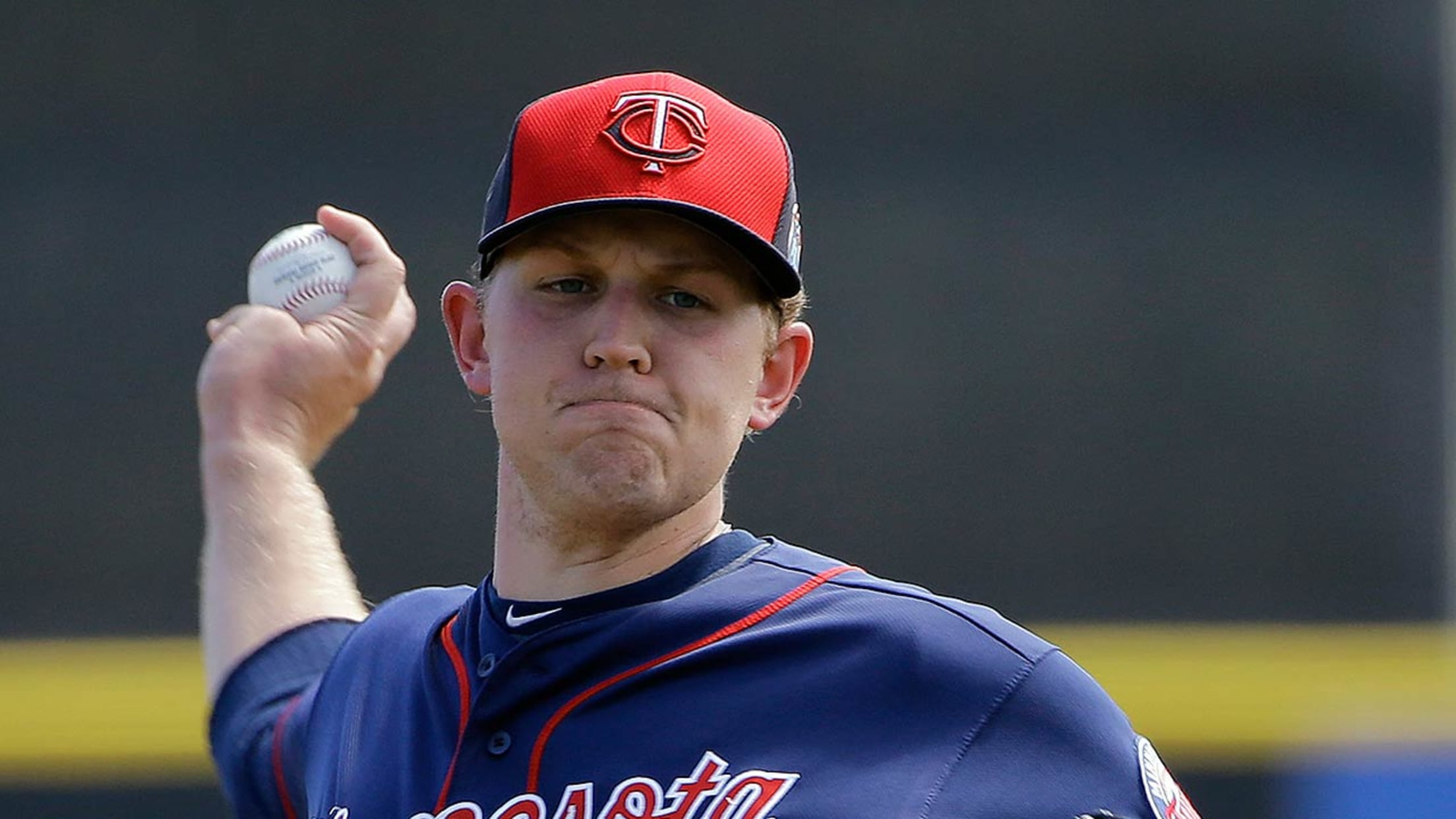 Incorporating a changeup could be a reason for Tyler Duffey's spring struggles until Friday. (AP)
FORT MYERS, Fla. -- Twins manager Paul Molitor said early in camp that right-hander Tyler Duffey was penciled into the rotation, and it would take something significant for him not to be one the club's five starters.Duffey struggled through his first two outings with a 10.38 ERA, but looked sharper
FORT MYERS, Fla. -- Twins manager Paul Molitor said early in camp that right-hander Tyler Duffey was penciled into the rotation, and it would take something significant for him not to be one the club's five starters.
Duffey struggled through his first two outings with a 10.38 ERA, but looked sharper in an 8-6 win over the Red Sox on Friday despite a rocky first inning. The right-hander allowed one run on five hits over four innings with two strikeouts. His spot in the rotation still isn't guaranteed, even after right-hander Jose Berrios was assigned to Minor League camp earlier Friday, but Duffey said he's been approaching it that way anyway.
"It's there for the taking, but it's not mine. And I'm not acting that way, either," Duffey said. "I think it's something where if you let it go to your head, then you don't take it as seriously. So I've been out there trying to battle and pitch my game. Getting ground balls when I need them and keep it rolling from last year. Hopefully, if I can do that, it'll solidify a spot, but we got a few weeks left."
Before the game, assistant general manager Rob Antony said the Twins weren't too worried about Duffey's early struggles, as he's been working on incorporating a changeup to go along with his fastball and curveball.
"Coming in, Paul talked about how he didn't see him not being in the rotation based on what he did last year, and I think a lot of that was a matter of penciling him and anticipating it was his job to lose. But he still could lose that job," Antony said. "What he's done is he's thrown a lot of changeups, and I think some of that is because he got that vote of confidence at the beginning."
Duffey said he threw changeups about 10-15 percent of the time against the Red Sox, and used it to strike out Hanley Ramirez looking to get out of a jam in the first. Duffey, though, said he'd likely still be working on that pitch even if he didn't have a leg up on a spot in the rotation over veterans Tommy Milone and Ricky Nolasco.
"I think so," Duffey said. "I've always been told it's a pitch I need. I can't just be a two-pitch pitcher as a starter. It's something that can really help me a lot. It's been good for me."
Nolasco also pitched Friday in a Minor League game in front of GM Terry Ryan, striking out six over five innings, allowing two runs (one earned) on two hits, including a homer against Triple-A Pawtucket. Milone gets the nod on Saturday against the Pirates in Bradenton, Fla., and he has a 2.00 ERA in nine innings this spring.
"We haven't finalized anything," Molitor said. "I was glad to see Tyler pick it up a little bit after that first inning. But he hasn't had a particularly good spring to this point. There's not a lot to that, because I've seen what he's capable of doing. But I was glad to see him make progress today. But we're not at the point where we need to announce anything. And I heard Ricky had a pretty good day over there, too."
Worth noting
• After being held out of action since March 10 with left wrist tenderness, Danny Santana returned to the lineup against the Red Sox on Friday. He started in center field and went 0-for-4 with two strikeouts and is hitting .111 this spring.
• Center fielder Byron Buxton, who was scratched from Wednesday's game with flu-like symptoms, was able to return to workouts on Friday, but he wasn't quite ready to play in a Grapefruit League game. He's expected to return on Saturday against the Pirates.