Chatwood's 7 K's, Arenado's jack power Rox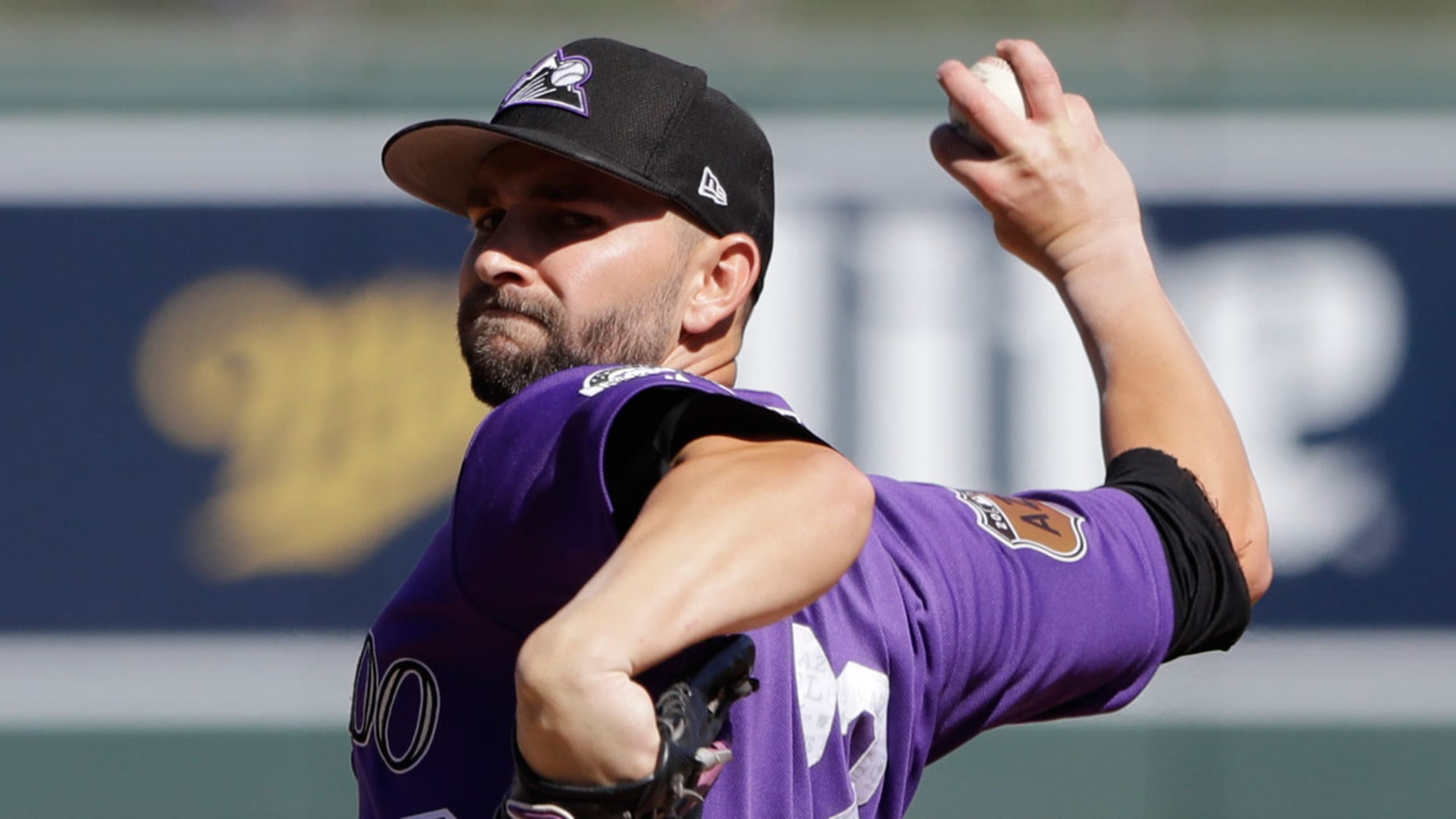 Rockies starter Tyler Chatwood looked season-ready as he logged six dominant innings with seven strikeouts. (AP)
PEORIA, Ariz. -- Nolan Arenado hit his second home run of the Cactus League season and Mark Reynolds added his first as the Rockies went on to a 4-1 win over a Padres split squad on Sunday.Rockies starter Tyler Chatwood looked season-ready as he logged six dominant innings with seven
PEORIA, Ariz. -- Nolan Arenado hit his second home run of the Cactus League season and Mark Reynolds added his first as the Rockies went on to a 4-1 win over a Padres split squad on Sunday.
Rockies starter Tyler Chatwood looked season-ready as he logged six dominant innings with seven strikeouts. After a pair of extra-base hits led to a run in the first, Chatwood buckled down and allowed only two more hits in his final five frames. He was efficient and in command, throwing 98 pitches, 61 for strikes.
"I felt like I got better as I went, and I still felt strong at the end," said Chatwood, who is scheduled for his final spring start on Friday and is in line to start the regular season's third game, at Milwaukee on April 5. "I was locating fastballs early, and I had a good cutter-curveball combination today."
The Rockies jumped to an early lead with a two-out double from Carlos Gonzalez followed by a two-run homer from Arenado in the first inning. They proceeded to load the bases with two walks and a single to short from Stephen Cardullo before knocking Padres starter Jarred Cosart from the game, leaving it to Kyle McGrath to secure the third out with a strikeout.
Cosart didn't help his chances at winning one of the remaining two spots in the Padres' rotation with his abbreviated outing. He threw 31 pitches (18 for strikes) in two-thirds of an inning, leaving after five straight men reached base on three hits and two walks.
"I got real fastball happy and made some mistake," Cosart said of his approach through the first five batters. "The whole philosophy of pitching is not throwing same pitches in the same spot, and I tried to throw three fastballs away to Carlos Gonzalez, one of the best hitters in the game. Percentages-wise, executing three perfect fastballs away is really tough to do, and I missed on the third one."
The Padres gave chase early on, staging their own two-own two-out rally in the first with back-to-back doubles from William Myers and Yangervis Solarte. Myers was the only Padre with multiple hits on the day, adding an eighth inning single for a 2-for-3 days with a walk.
"He looks fantastic," bench coach Mark McGwire said of Myers after managing the split squad game. "Just carry it on for the six months that we play."
Reynolds, celebrating the announcement that he officially made the Rockies as a non-roster invitee, powered his first home run of the spring -- a solo shot in the third inning. Reynolds will start at first base, the position he held with the club last year before re-signing as a utility player. Ian Desmond will miss the early part of the season with a broken left hand.
"We informed [Reynolds] late last night that he had made the team," manager Bud Black said. "[General manager] Jeff [Bridich], the coaches and I felt good about that. Even going back to when he signed, he wanted to be a Rockie. And things have worked out."
Stephen Cardullo added an RBI double to center to cap the scoring in the eighth.
Up next for Rockies: Lefty Kyle Freeland, closing in on a spot in the starting rotation, will start against the Rangers at 2:05 p.m. MST on Monday at Surprise Stadium. Freeland is scheduled for 90 pitches. Lefty Harrison Musgrave, a rotation candidate who appears to have an inside shot at being carried in the bullpen to start the season, is scheduled to pitch 2-3 innings. Also, righty closer Greg Holland will perform the first of his back-to-back games, while lefties Mike Dunn and Jake McGee, and righties Scott Oberg and Jairo Diaz will do their work on the back fields at Salt River Fields.
Up next for Padres: Minor League right-hander Matt Magill will start for the Padres on Monday when they take on the Mariners live on MLB.TV at 1:10 p.m. PT. Jered Weaver will make his scheduled start in a Minor League game on the back fields in Peoria so the Padres can control his pitch count. Carter Capps is expected to throw an inning against Seattle in his first Cactus League game since undergoing Tommy John surgery on March 8, 2016.
Watch every out-of-market regular-season game live on MLB.TV.