Thornburg's rehab encouraging to Red Sox
Right-handed reliever recovering from thoracic outlet syndrome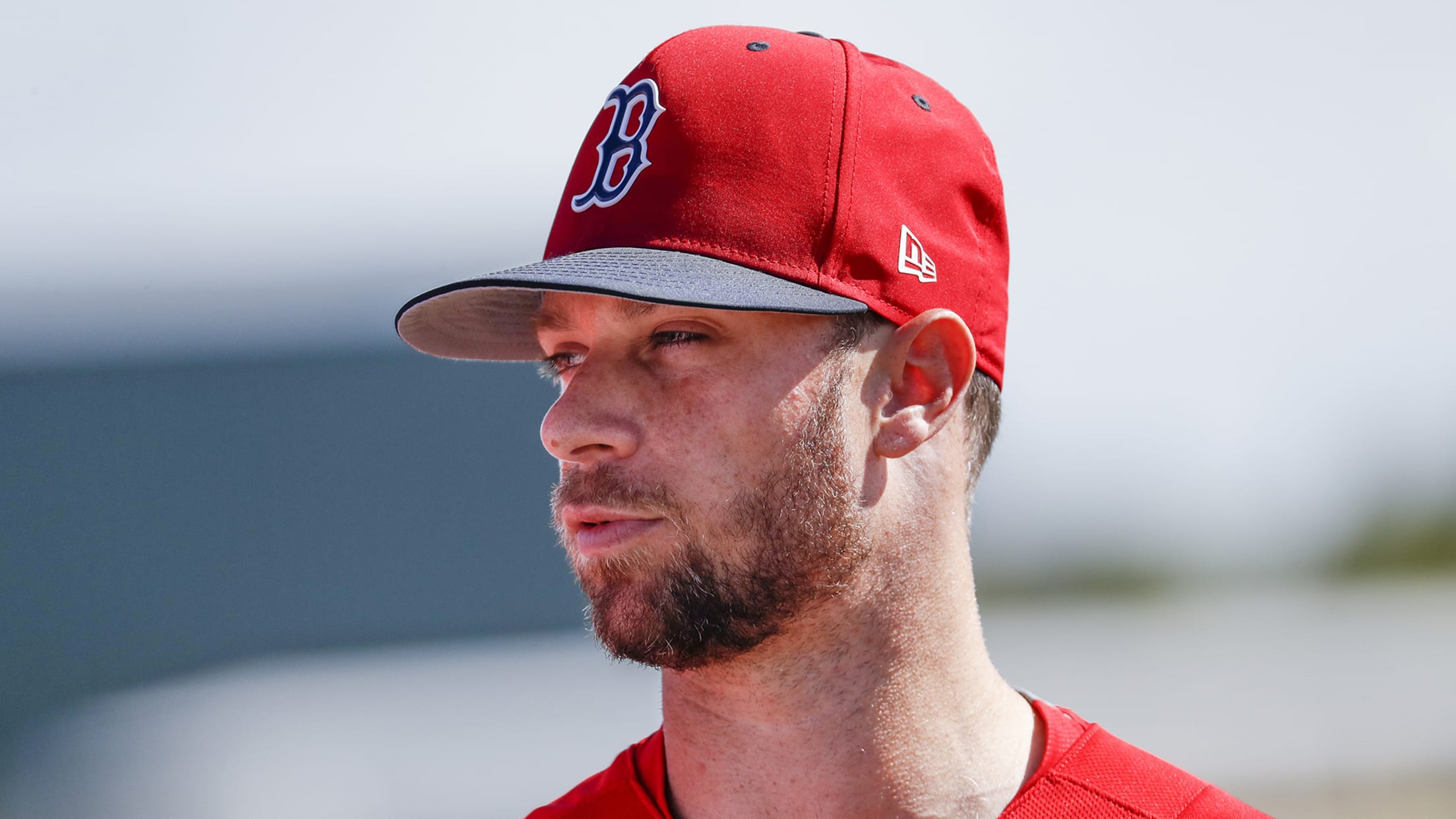 Boston Red Sox pitcher Tyler Thornburg stands on the sidelines during drills at spring training baseball practice, Tuesday, Feb. 20, 2018, in Fort Myers, Fla. (AP Photo/John Minchillo) (John Minchillo/AP)
ARLINGTON -- Encouragement continues to abound regarding the comeback of Red Sox reliever Tyler Thornburg. The righty turned in his third straight solid performance for Triple-A Pawtucket on Saturday night, striking out one and throwing a 13-pitch scoreless inning."Good, everybody is happy with his performance," Red Sox manager Alex Cora
ARLINGTON -- Encouragement continues to abound regarding the comeback of Red Sox reliever Tyler Thornburg. The righty turned in his third straight solid performance for Triple-A Pawtucket on Saturday night, striking out one and throwing a 13-pitch scoreless inning.
"Good, everybody is happy with his performance," Red Sox manager Alex Cora said. "He hit 97 [mph], so that's great. Then the next step, we're going to make a decision if he's going to stay with them or if he's going to go to Portland."
If Thornburg switches to Double-A Portland, it would be for logistical reasons so he can stay close to the Red Sox's medical staff when Pawtucket is on the road.
Thornburg underwent a procedure to repair thoracic outlet syndrome in his right shoulder on June 16, 2017, and he didn't throw a pitch in the Major Leagues last season.
Here's Tyler Thornburg using his curveball for another strikeout in his third rehab outing. pic.twitter.com/bc0ziOIgkn

— PawSox (@PawSox) May 6, 2018
When Thornburg was last healthy, he was one of the best setup relievers in the Majors, posting a 2.15 ERA and striking out 90 batters over 67 innings for the Brewers in 2016.
Cora admits that it's hard to contain his own enthusiasm when it comes to thinking about what Thornburg could mean to the bullpen if he stays on his current path.
"I don't want to be unfair with him. I think we've been very patient with him. He's been very patient," Cora said. "The way he's throwing the ball, I get excited because I know how good he was with the Brewers. He's another guy that can help us out in the bullpen. We do have a great bullpen. We do feel that way. You add a pitcher like him, healthy, it's going to be important for us. I don't want to rush him, and obviously the medical department."
Thornburg started his 30-day rehab assignment on April 30. It's possible he could join the Red Sox before the clock expires, though Cora is careful not to set a timetable.
"No, like I said before, there's a few hurdles that he has to go by," Cora said. "Back-to-back games, coming in with situations with runners on, but we're very happy with where he's at. Our concern, and it wasn't a concern, but it was just that he didn't have that breaking ball in Fort Myers [Fla.], and it seems with the competition obviously being better, he has to pitch, and he needs to use all his pitches. His secondary pitches have been phenomenal in two out of the three outings."
Kelly on fire
Remember when Joe Kelly gave up four hits and four runs in just one-third on an inning in Boston's meltdown on Opening Day against the Rays? Kelly has turned that into a distant memory.
The setup man hasn't allowed a run in his 13 outings since then, while walking just one and striking out 15.
"I do feel that mixing up his pitches is helping him out instead of just throwing fastball after fastball after fastball," Cora said. "Now as a hitter, it's not an easy at-bat. You can throw 98 up in the zone, 97 down and away, he's got the changeup, the breaking ball. It's not a comfortable at-bat.
"Last year as everybody knows, not too many swing and misses. The feedback was for how hard he threw, it was a comfortable at-bat. It doesn't seem that way anymore. It seems like also he's pitching with an edge. I don't know if it's the whole thing that happened against New York, but you see him on the mound and the tempo is different."
Cora: Baserunning needs to improve
Under former manager John Farrell, the Red Sox were encouraged to be aggressive on the bases and force the opponent into mistakes.
Cora's belief is that outs are precious, particularly with Boston's potent lineup. The Red Sox had run into 15 outs on the basepaths entering Sunday's game, tied for most in the Majors.
"It's in the DNA, yeah. It's been preached in this organization for a while, to be aggressive," Cora said. "Like I said, it's gonna take a while for us to get used to it -- me to them and them to me. But that's something, organizationally, we have to do a better job. Those outs are valuable, especially with the guys that are at the plate. Sometimes being cautious is better than being aggressive. We have to be responsible. There are 27 [outs]."