Pushed by Reed, White still the 1B front-runner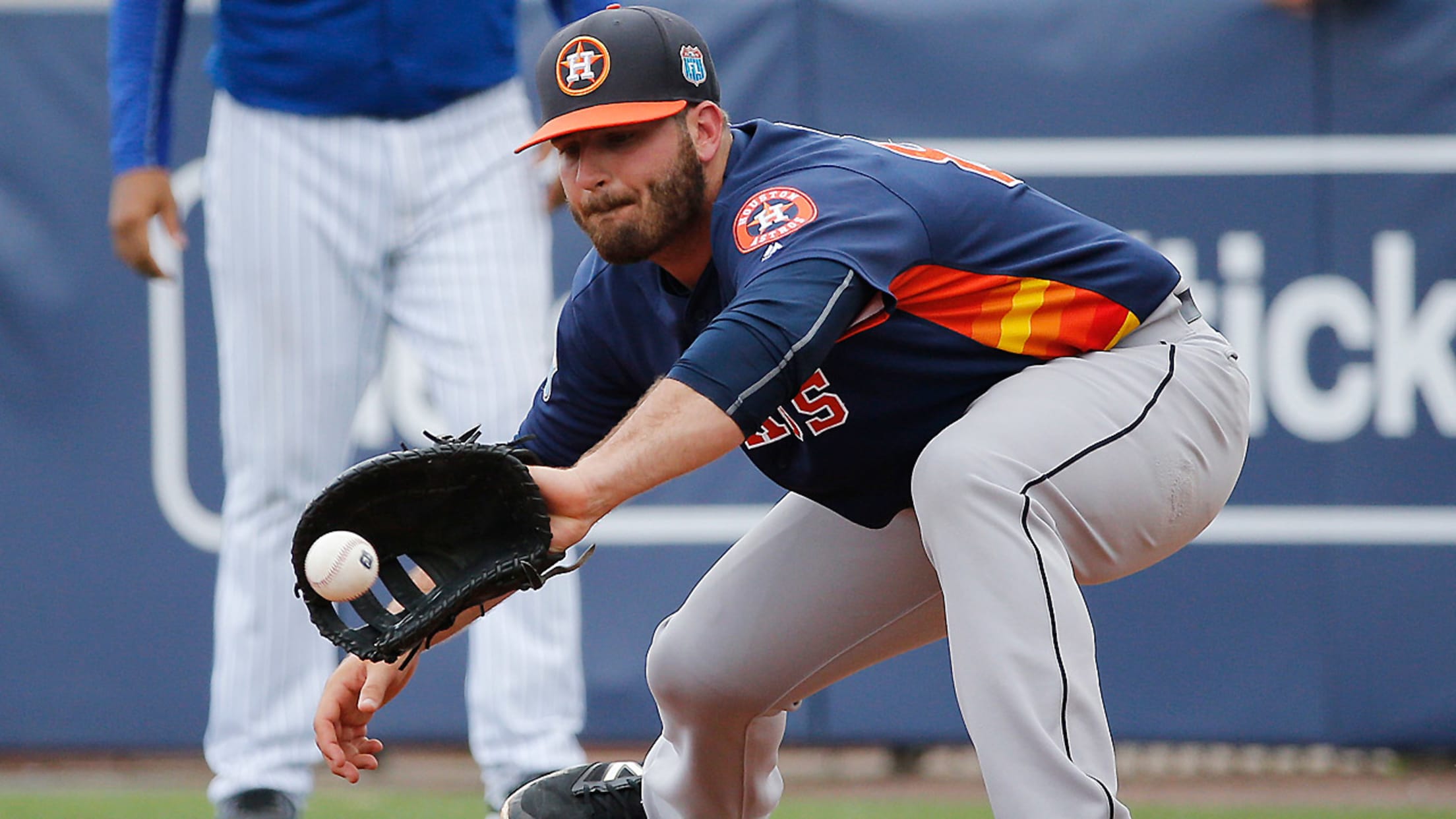 Tyler White went 1-for-3 with a double, a run scored and a walk against the Mets on Thursday. (AP)
PORT ST. LUCIE, Fla. -- Conventional wisdom says Astros first-base prospect A.J. Reed will start the season with the Triple-A Fresno Grizzlies despite his 3-for-4 performance in Thursday's 8-5 win over the Mets, which included a bizarre inside-the-park home run.Reed, the Astros' No. 2 prospect and the top first-base prospect
PORT ST. LUCIE, Fla. -- Conventional wisdom says Astros first-base prospect A.J. Reed will start the season with the Triple-A Fresno Grizzlies despite his 3-for-4 performance in Thursday's 8-5 win over the Mets, which included a bizarre inside-the-park home run.
Reed, the Astros' No. 2 prospect and the top first-base prospect in baseball, is hitting .275 and impressing manager A.J. Hinch, but he has yet to play above Double-A. It's 25-year-old hitting machine Tyler White that continues to set the tone in the first-base competition. He went 1-for-3, including a double against Matt Harvey, with a walk to raise his batting average to .368 with a week remaining before camp breaks.
• Astros Spring Training information
"It's what he does," Hinch said of White. "Hitters get hits, and he finds a way to be involved in everything we're doing right now."
The Astros aren't foreshadowing what they're thinking in terms of the starter at first base, though it's clear White is the front-runner.
"He's hit his whole life, not just spring," Astros general manager Jeff Luhnow said prior to Thursday's game. "This is not something new. He hit in college, he hit in every single level in the Minor Leagues. I'm not the least bit surprised he's hitting here. I'm glad he's doing it, and he certainly has put himself in a good spot to make this team."
When asked about Jon Singleton, who's hitting just .133 this spring with a pair of homers, Hinch said: "He's going to stand at first base tomorrow and keep competing to try to make our team."
Meanwhile, Reed continues to impress. He hit a rocket to the base of the wall in center field in the first inning Thursday and kept running after Mets center fielder Yoenis Cespedes raised his hands because he thought the ball was lodged under the wall. The umpire deemed it playable, and Reed was already exchanging high-fives in the dugout by that time.
"I was just hoping that it got over his head," Reed said. "I was a little out in front. I didn't think, especially with the wind, I got it good enough to get out. Double is all I'm thinking right there."
Reed doubled to right in the third against Harvey, walked in the fourth and doubled in the seventh against Antonio Bastardo. He struck out in the ninth against lefty Jerry Blevins.
"He swung the bat very well," Hinch said. "I've been happy with his at-bats. He's very calm in the batter's box. You wouldn't know this is his first big league camp. Obviously, he's very confident at the plate and is coming off a great season in the Minors. He's looked as comfortable as we could have imagined in the batter's box against some good pitchers the last couple of days. It continues to be a good learning curve for him."