UCSB eliminates No. 3 seed Miami from CWS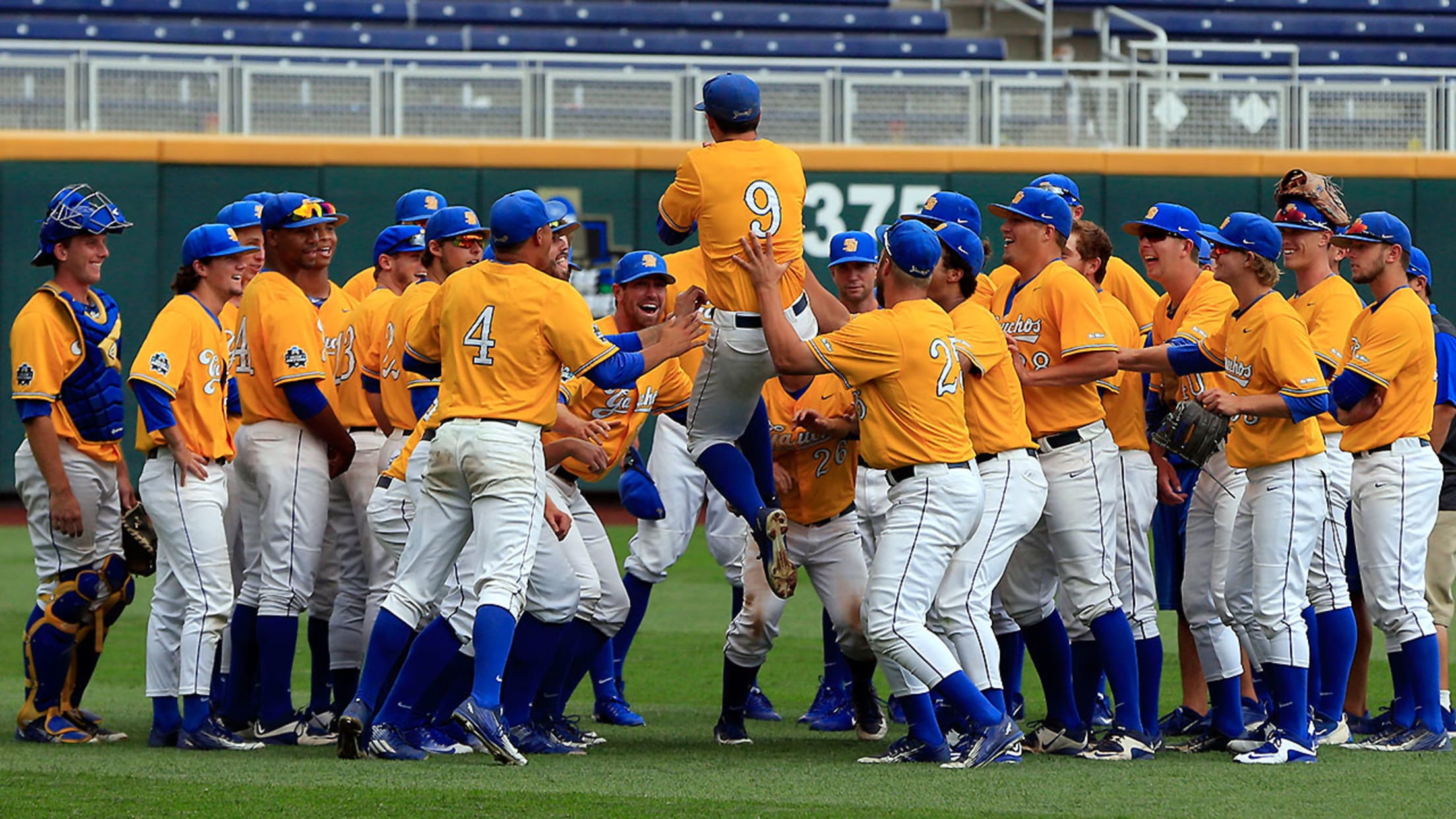 JJ Muno (No. 9) leads the celebration after the Gauchos defeated the Hurricanes to advance.
The College World Series continued with drama on Monday with a pair of unlikely upsets. Here's a look at how some of the country's top Division I teams -- and how some of the top picks in the 2016 MLB Draft -- fared on college baseball's biggest stage in Omaha,
The College World Series continued with drama on Monday with a pair of unlikely upsets. Here's a look at how some of the country's top Division I teams -- and how some of the top picks in the 2016 MLB Draft -- fared on college baseball's biggest stage in Omaha, Neb.
Game 1: UC Santa Barbara 5, Miami 3
UC Santa Barbara junior Ryan Cumberland hit a pinch-hit two-run single as part of a four-run sixth inning to help the Gauchos stave off elimination and ride past the No. 3 seed Hurricanes for a 5-3 victory.
It was the first College World Series win in the school's history.
The Santa Barbara offense was fueled in part by a 62-minute rain delay during the bottom half of the sixth with the two clubs deadlocked in a 1-1 tie. Miami head coach Jim Morris sent junior starter Danny Garcia, an unsigned 15th-round selection of the Mariners, back to the mound even though Garcia had thrown 5 1/3 innings prior to the delay.
UCSB redshirt sophomore JJ Muno promptly smacked a double to deep right field to put runners on the corners, and Garcia was pulled for freshman Frankie Bartow, who intentionally walked sophomore Dempsey Grover. Cumberland followed with his clutch base hit.
"We were kind of tense the first [couple of innings] until the rain delay," said Muno, who went 2-for-4. "We came [back] out ready and fired up to go."
The Gauchos added two runs on consecutive safety squeeze plays to take a commanding four-run lead.
"We just kept it to having fun," Muno said of the Gauchos' approach. "We know ... we can play with any of these teams here. We're not a fluke. We didn't get here just off luck. We're a good team and we can hang with these guys, and we just need to get back to having fun and being loose."
Miami first-team All-American Zack Collins, the unsigned No. 10 overall pick of the White Sox, rebounded after a two-strikeout night on Saturday. Collins blasted a solo home run in the first inning on Monday to put the Hurricanes on the board, added an RBI single in the eighth and walked twice.
Garcia struggled with his command early, allowing five baserunners in the first two innings, but went on to retire the next nine hitters.
Miami's position-playing draftees struggled to find hits all afternoon. Jacob Heyward, brother of Cubs outfielder Jason and 18th-round pick of the Giants, went 1-for-4. Willie Abreu (sixth round, Rockies), Brandon Lopez (10th, Twins) and Johnny Ruiz (28th, Astros) went a combined 1-for-11.
Gauchos' junior Andrew Calica, drafted in the 11th round by the Indians, did not record a hit in four at-bats.
Game 2: Oklahoma State 1, Arizona 0
Oklahoma State was once again methodical, with a second straight 1-0 victory to remain unbeaten in Omaha and advance to within one win from the championship series. Their back-to-back one-run shutouts are the first in the history of the College World Series.
Tyler Buffett -- selected in the seventh round by the Astros last week -- turned in a masterful, three-hit performance over eight scoreless innings, adding six strikeouts and two walks after waiting out a two-hour, 21-minute delay before first pitch.
Oklahoma State has given up just five earned runs (six total) over their seven tournament games thus far.
"We've known we can do it all year," Buffett said. "When we come in here, [pitching coach] Rob [Walton] tells us our job is to put up zeros, so as far as we're concerned, the last two nights we've done our job."
The Cowboys were once again quiet on offense, held to just five hits against Arizona ace Bobby Dalbec, who was taken with the 118th overall pick (fourth round) by the Red Sox. Dalbec -- who, like Buffett, remains unsigned -- also went eight innings and allowed the one earned run, on back-to-back base hits to lead off the fourth inning. He finished with 12 strikeouts.
"He's a good pitcher, so I knew I was going to have to keep a good mentality, keep making pitches," Buffett said. "So as long as I kept thinking, you know, 'I've got to win this pitch, win this pitch, make it one pitch at a time,' it was going to come out to that."
Defense was also on display, most notably in the first inning, when OSU center fielder Ryan Sluder made a diving catch at the warning track to rob leadoff hitter Cody Ramer of a likely triple.
"I thought the game was won by their defense," Arizona head coach Jay Johnson said. "That play on Cody's ball in the first inning ... that's as good as it gets."
The Wildcats were shut out in Omaha for the first time since 1970.
What's next
Tuesday
No. 1 Florida is trying to become the first top-seeded team since 1999 to capture the College World Series title, but the Gators must do so from the loser's bracket following their 2-1 defeat to Coastal Carolina on Saturday. The Gators take on No. 5 Texas Tech on Tuesday in an elimination game at 5 p.m. ET that pits these programs against each other for the first time. The Red Raiders are coming off a crushing 5-3 loss to TCU in a game they led by one run heading to the ninth inning. Florida and Texas Tech are the only national seeds remaining in the tournament.
TCU and Coastal Carolina meet in the finale at 9 p.m. ET, when the Horned Frogs will try to keep their improbable momentum rolling with a roster that has no Draft picks. In fact, Chanticleers shortstop Michael Paez and third baseman Zach Remillard are the only players in this game who heard their name called last week. If the Horned Frogs are able to build an offensive edge early, they could remain unbeaten. TCU is 35-2 when scoring at least six runs and 38-2 when leading after five innings. However, Coastal Carolina hasn't lost back-to-back games since May 1, against Georgia Tech.
Wednesday
UCSB will meet Arizona in the elimination bracket on Wednesday at 7 p.m. ET; the winner will take on Oklahoma State on Friday at 3 p.m. ET.