6 under-the-radar arms to know for 2020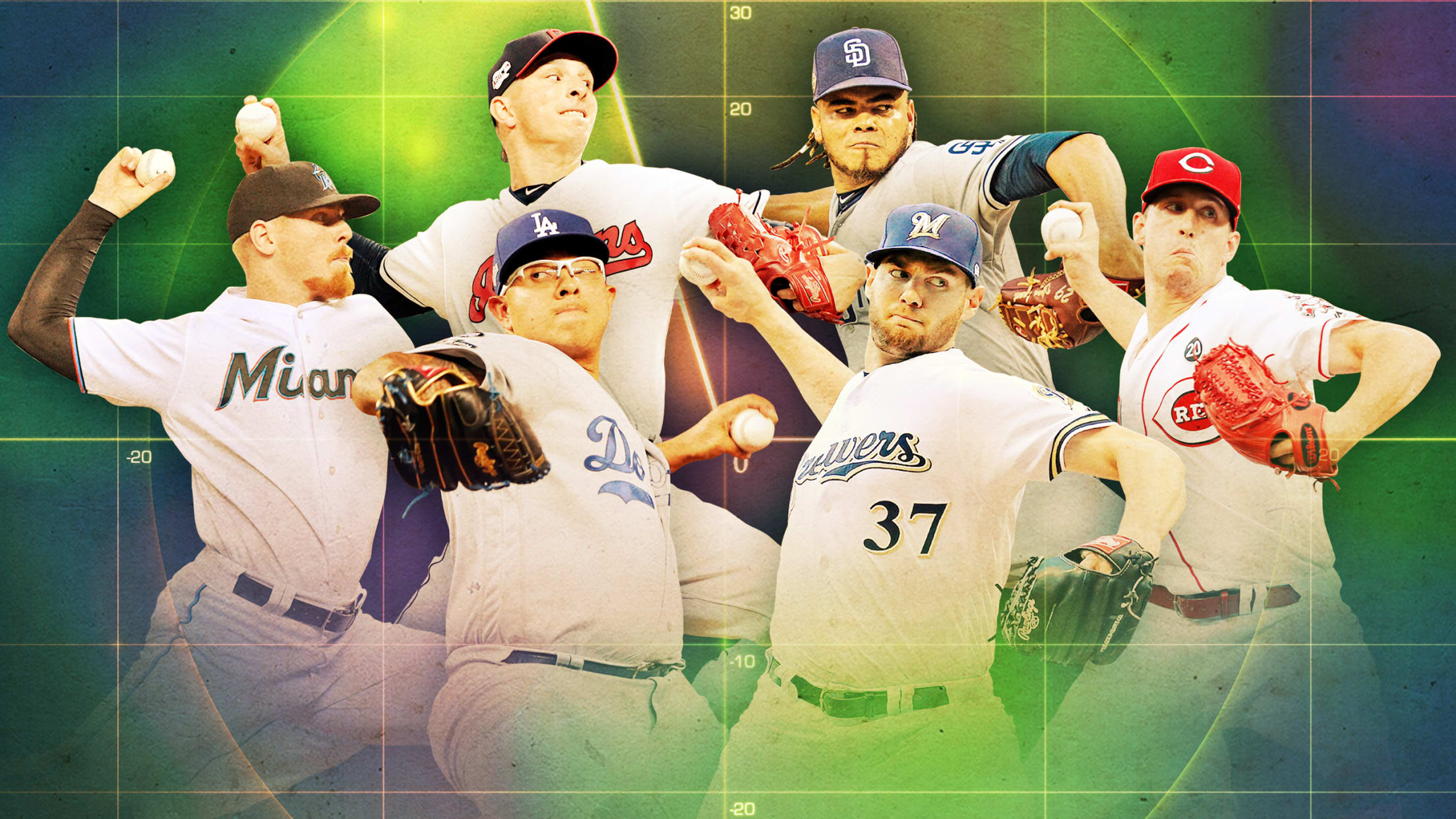 Consider this season the most extreme example of "all hands on deck" you can imagine, especially on the pitching side. Though teams only have to get through 60 games -- that's 540 innings, plus extras -- pitchers have gone through a longer layoff and a more abbreviated ramp-up than they've
Consider this season the most extreme example of "all hands on deck" you can imagine, especially on the pitching side. Though teams only have to get through 60 games -- that's 540 innings, plus extras -- pitchers have gone through a longer layoff and a more abbreviated ramp-up than they've ever done before, and given that many starters may not be ready to go seven innings right now, we're likely to see all sorts of interesting pitching strategies. (Expect the opener, tandem starters, etc. etc.)
What that means is that while you can still anticipate top performance from the names you know -- the Scherzers, the deGroms, etc., of the world -- the teams that succeed are going to need to find some value from other places to make those 540 innings the best they can. Here's six lesser-known pitchers we like a lot for the 2020 season.
Adrian Houser, Brewers
Maybe it won't just be "The Josh Hader trade" forever. Houser was also acquired from the Astros in the 2015 deal that sent Mike Fiers and Carlos Gómez south, and he made a brief two-game cameo for the Brewers at the end of that season, but then he missed most of 2016-17 with Tommy John surgery. Once he was healthy, most of his 2018 was spent in the Minors.
Back in the big league mix in 2019, it took a while for him to find a role, spending most of the first month in Triple-A, then bouncing back and forth between middle relief, long relief and finally becoming a four-to-five-inning starter over the final two months. All told, he had a 3.72 ERA in 111 1/3 innings. His velocity is OK. His spin isn't impressive. So what's making him stand out here?
Part of it, we'll admit, is simply the eyeball test. Just look at the variety of high-quality stuff he showed striking out 10 Rangers in six innings last August:
Adrian Houser's 10Ks in 16 Seconds. pic.twitter.com/poiedYTnOi

— Rob Friedman (@PitchingNinja) August 11, 2019
Part of it is that after he moved into the rotation full-time last July, he posted a 3.28 ERA in a dozen starts, allowing a mere .286 OBP against. Part of it is because his two fastballs -- the relatively straight four-seamer and the two-seamer with more movement -- showed up as elite last year. There were 111 pitchers to throw at least 1,000 fastballs, and the results on his were ninth-best ... on a list where Jack Flaherty is first, and Gerrit Cole, Walker Buehler and Mike Clevinger make top-10 appearances.
Finally, part of it is that he showed a rare ability to miss bats and get ground balls. Last year, 130 pitchers tossed 100 innings. Of those, 36 had a strikeout rate of 25% or higher. Of those, only four also had a ground-ball rate of 50% or higher:
• Adrian Houser
• Stephen Strasburg
• Sonny Gray
• Luis Castillo
Those are good names, right? He has nothing like their track record, and he hasn't done it over a full season. Then again, 2020 isn't really a full season. The stuff is all there.
Lucas Sims, Reds
Sims was a first-round pick of his hometown Braves back in 2012 -- one pick ahead of Marcus Stroman -- but across parts of three seasons with Atlanta and Cincinnati, he's hardly lived up to that promise, posting a 5.49 ERA in 47 games (only 14 starts). Even just last season, he had a 4.56 ERA as a Triple-A starter, and a 4.60 ERA as a Reds swingman, and he's expected to be more of a "piggyback" arm in 2020. So what's the appeal here?
Well, like so many other things in 2020 baseball, it starts with this: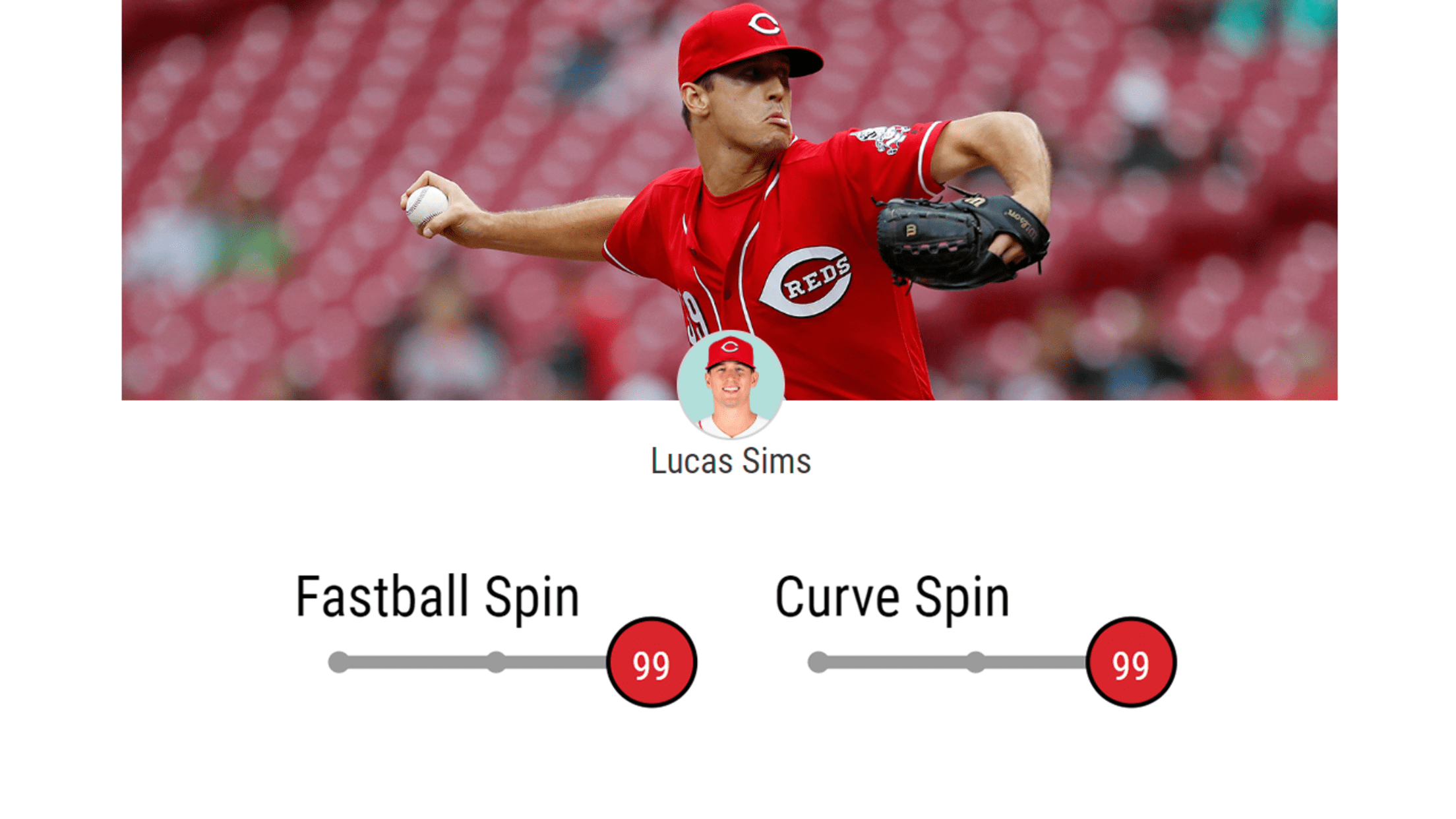 Sims has truly elite fastball spin. He has truly elite curveball spin. None of that, by itself, makes a pitcher successful, as Sims' relatively unimpressive track record should show, but it's the raw material everyone wants. It's like having the ability to throw 100 mph -- it doesn't guarantee you're good, but it's a better starting point than topping out at 87.
"This offseason, we took some of that data and talked about 'all right, how can we utilize it more?'" Sims told the Cincinnati Enquirer back in March.
That's a good fit on the suddenly heavily analytical Reds, and for the first time, Sims is expected to be a full-time reliever. That's a big deal, because we've already seen the difference in performance based on his role.
As a starter, Sims' fastball averaged 91.9. As a reliever, it was 93.1. As a starter, he has a 19% strikeout rate. As a reliever? 29%. Those are career numbers; in 2019, he had a 6.48 ERA as a starter and a 3.42 ERA as a reliever. He might not be No. 1 starter the Braves dreamed on all those years ago, but he's still only 26, and the stuff is still appealing.
Jeff Brigham, Marlins
Brigham only throws two pitches, but there's something to like about each one. His fastball averages 96.6 mph, putting it in the 93rd percentile of velocity. And the slider, well, it looks like this:
Brigham gets 17.9 inches of horizontal break on his slider, which, when compared to other sliders at similar velocities, is a full 10 inches above average. If you're wondering how that rates, it's elite.
Most slider horizontal break above average, 2019
+15.1 inches above average -- Chaz Roe, Rays
+10.6 inches -- Sonny Gray, Reds
+10.4 inches -- Kyle Crick, Pirates
+10.0 inches -- Jeff Brigham, Marlins
+9.9 inches -- Adam Ottavino, Yankees
+8.8 inches -- Yu Darvish, Cubs
Roe and Ottavino live on their sliders. Gray and Darvish are above-average starters. You want to be on this list. It's not just about movement, either; there were 184 pitchers who threw at least 250 sliders last year, and the outcomes on Brigham's were third-best, just behind Liam Hendriks and Justin Verlander.
Now, like Sims, Brigham hasn't yet transformed that raw skill into above-average production, but it's also worth nothing that 2019 was his first as a full-time reliever -- he'd been almost exclusively a starter to that point. The problem, however, is despite the fastball velocity, it still got pounded -- batters slugged .684 on it -- and while you can get by as a two-pitch reliever, it's incredibly difficult to do so as a one-pitch guy.
Brigham missed much of the original spring with a biceps issue, but he's been back on the mound in Summer Camp, reportedly impressing.
James Karinchak, Indians
There's so much more to scouting than simply looking at the outcome numbers. "You can't scout the stat line," the thought goes, because the quality of competition, age, and environment are so inconsistent.
Now, all that said: Karinchak faced 147 batters at four levels last year. He struck out 82 hitters. That's over 21 strikeouts per nine. That's a 55% strikeout rate. That is, of course, insane. There's not a lot of mystery about how he does it here, either. He throws a 97 mph fastball, up. He throws a breaking ball almost entirely vertically. There's no side to side here. There's "here are two good pitches, try to hit them," which is very reminiscent of Tampa Bay relief monster Nick Anderson.
James Karinchak's curve ball placement is hilarious. Straight up and down. pic.twitter.com/NJ0YdzaIQa

— Mike Petriello (@mike_petriello) September 20, 2019
Karinchak got into a few late-season games for Cleveland last year, and while he didn't qualify for the leaderboards, the pitch movement numbers he showed were astounding. The fastball gets 3.4 inches more rise than average at that velocity, almost identical to Anderson (3.6 inches) and a top-five number. The curveball gets 6.4 inches more drop than average, which would be a top-15 number. This is how baseball works these days -- fastballs high, breaking pitches low, ideally confusing the batter as to which is which.
The issue here is command, because over his Minor League career, Karinchak walked 5.5 per nine. That's too many. If he can bring that down even a little, his stuff could make him a star.
Julio Urías, Dodgers
We'll admit it's odd to consider Urías "under the radar," because he's entering his fifth season with the Dodgers, and it wasn't that long ago that he was considered a Top 5 prospect across all of baseball. But he's yet to throw even 80 innings in a season, mostly because of a serious shoulder injury that cost him most of 2017 and '18 and a suspension in '19. He's also bounced back and forth between the rotation and the bullpen, filling whatever need the Dodgers had at the time.
That changes in 2020, where for the first time, he's expected to be a regular starter, and he's still only 23 years old. If you look at the Statcast rankings on his Baseball Savant page from last year, what you'll see is a ton of red -- where red means "excellent."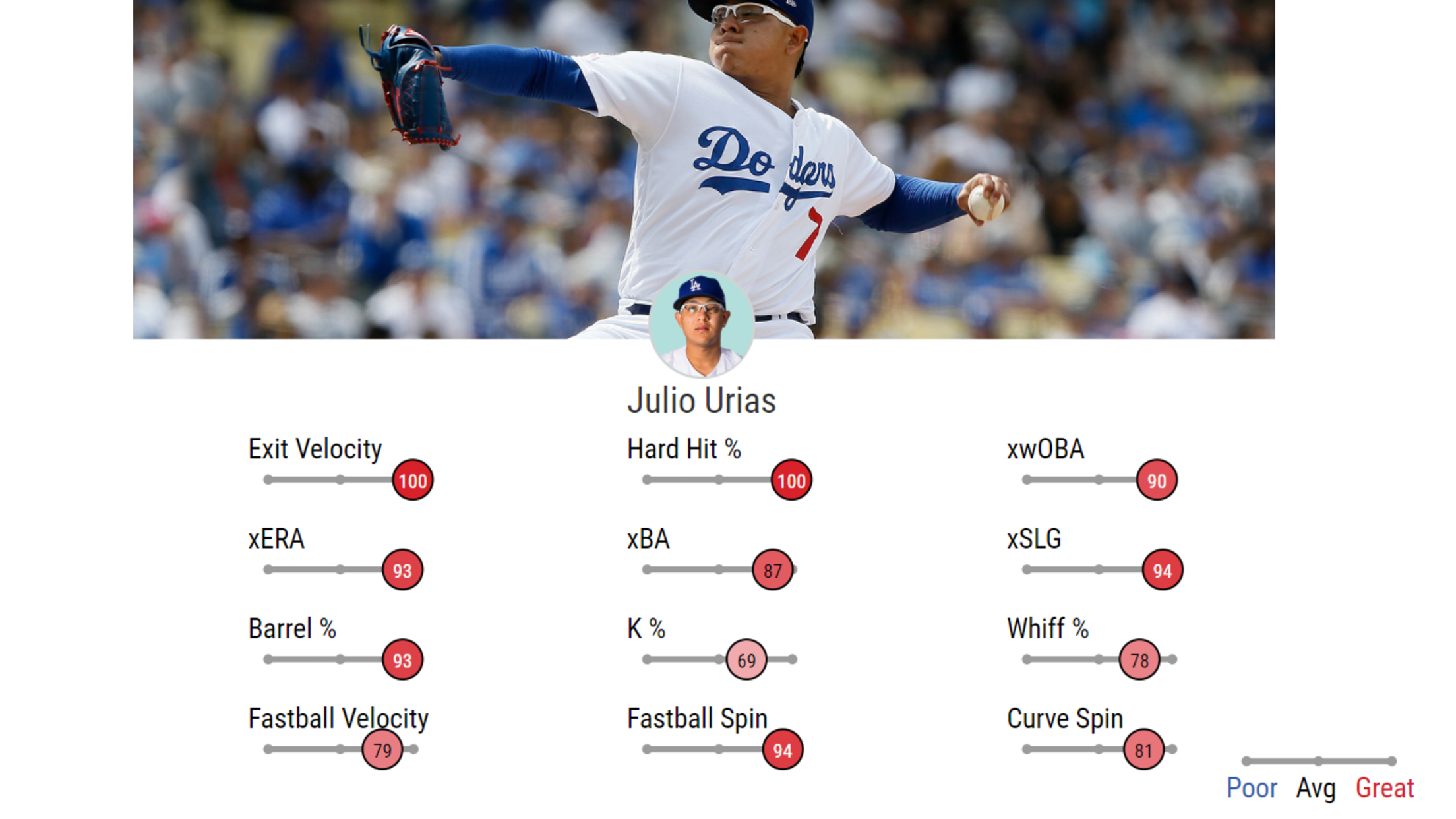 Take special note of that "100%" for hard-hit -- what that's saying is that in 2019, among 242 qualified pitchers, Urias' hard-hit rate of 24.9% was the best in baseball. No one did a better job of avoiding hard contact than he did.
Dinelson Lamet, Padres
Three years ago, Lamet burst on the scene -- somewhat -- by whiffing 139 batters in 114 1/3 innings. There were, and are, some serious concerns about platoon splits and lack of a third pitch, but the fastball and slider looked legit. It was an impressive rookie season. And then he was gone; Lamet underwent Tommy John surgery just after Opening Day in 2018, and didn't return to the Majors until last July.
Post-injury, he hardly missed a beat. Of 204 pitchers who tossed 70 innings last year, his 33.6% strikeout rate was 11th-best, and if you eliminate relievers, the only starters ahead of him were named Cole, Chris Sale, Verlander, Max Scherzer and Clevinger -- i.e., the best of the best.
It's not hard to see why, combining 98 mph heat with a biting slider:
But here's the better news: He improved against lefties. In 2017, he had a massive platoon split, getting pounded for an .867 OPS against lefty batters, while holding righties to a fantastic .537. In his 2019 comeback, he was still good against righties, yet brought down that lefty OPS to .744.
How? There's evidence, now, that he's trying to turn his one slider into two different pitches, which may be why the data shows that he threw his curveball 30% of the time against lefties in 2019 after barely doing it at all in 2017. (It was good, too: just three hits allowed.) You can get by as a two-pitch pitcher -- see Rich Hill -- but it's difficult to do. We know Lamet has two outstanding pitches. We know he can be good enough just doing that, and he reportedly has "no limits" this year, in terms of his elbow. If the new breaking-ball mix really can help him keep lefties in check, he won't be "under the radar" for very long.