Lefty Peralta impresses Price early in camp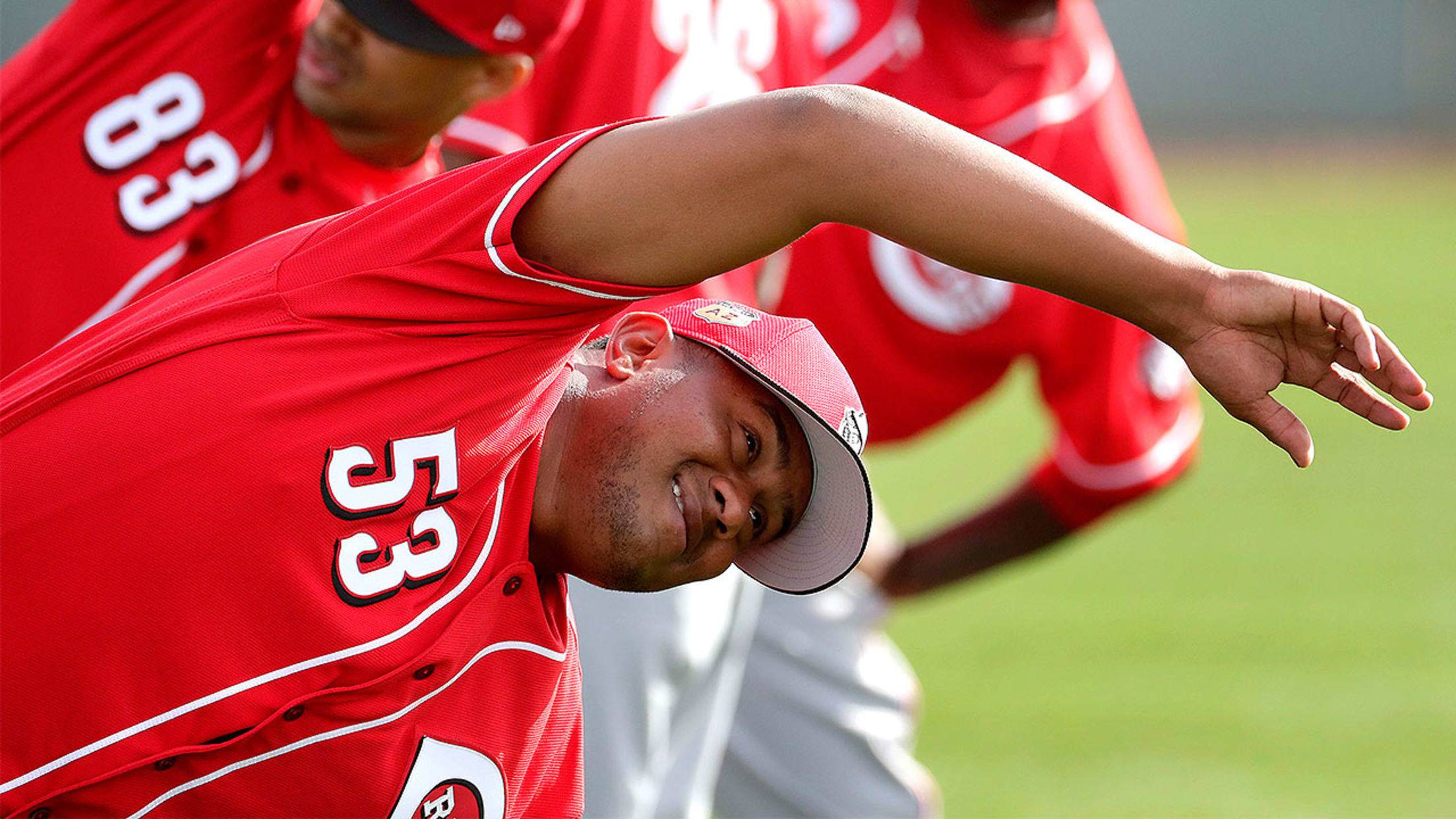 Wandy Peralta (53) made 10 appearances last year in his MLB debut and could challenge for a spot in the Reds' 2017 bullpen. (AP)
GOODYEAR, Ariz. -- A game has yet to be played, but Reds lefty reliever Wandy Peralta hasn't wasted his chances to impress during the early portion of Spring Training. Peralta has stood out during bullpen sessions and again on Tuesday, when he faced some Reds hitters."I don't know if there
GOODYEAR, Ariz. -- A game has yet to be played, but Reds lefty reliever Wandy Peralta hasn't wasted his chances to impress during the early portion of Spring Training. Peralta has stood out during bullpen sessions and again on Tuesday, when he faced some Reds hitters.
"I don't know if there is anyone who has impressed me more than Wandy Peralta, as far as his bullpen quality, his pitch quality," Reds manager Bryan Price said on Wednesday morning. "[He has] a really good changeup and a slider that's impressed me as being better this year. The command and sharpness has been better."
Peralta, 25, had a 2.33 ERA, 1.16 WHIP and 5.9 strikeouts per nine innings over 37 appearances last season for Triple-A Louisville. That came after a promotion from Double-A Pensacola, where he had a 3.06 ERA, 1.13 WHIP and 10.2 strikeouts per nine innings.
That success did not carry over to the big leagues, where Peralta had an 8.59 ERA in 10 games. In 7 1/3 innings, he allowed 11 hits with seven walks and five strikeouts. After the season, he was instructed to work on his fastball and slider delivery to go with his strong changeup.
"Everything has to be the same, so I've been working on my mechanics in order to repeat the same delivery every time and get very good extension with the slider as I do with my fastball," Peralta said via interpreter Julio Morillo. "I feel really good because I've been working hard in the offseason, and the things they told me had to be better, they are working right now in Spring Training."
Price is interested in having a second left-handed reliever besides Tony Cingrani, especially a situational lefty.
"I would, because Tony isn't really a prototype matchup lefty because he's primarily a fastball pitcher," Price said. "Tony is good against lefties, but he's good against righties, too. On the days that we don't have him, it would be a really nice thing to be able to match up a left-hander against some of the better left-handers in our division and in the National League."