Nationals unveil stadium upgrades
Changes include improved Wi-Fi service, a dugout luxury club and a custom version of the MLB.com Ballpark App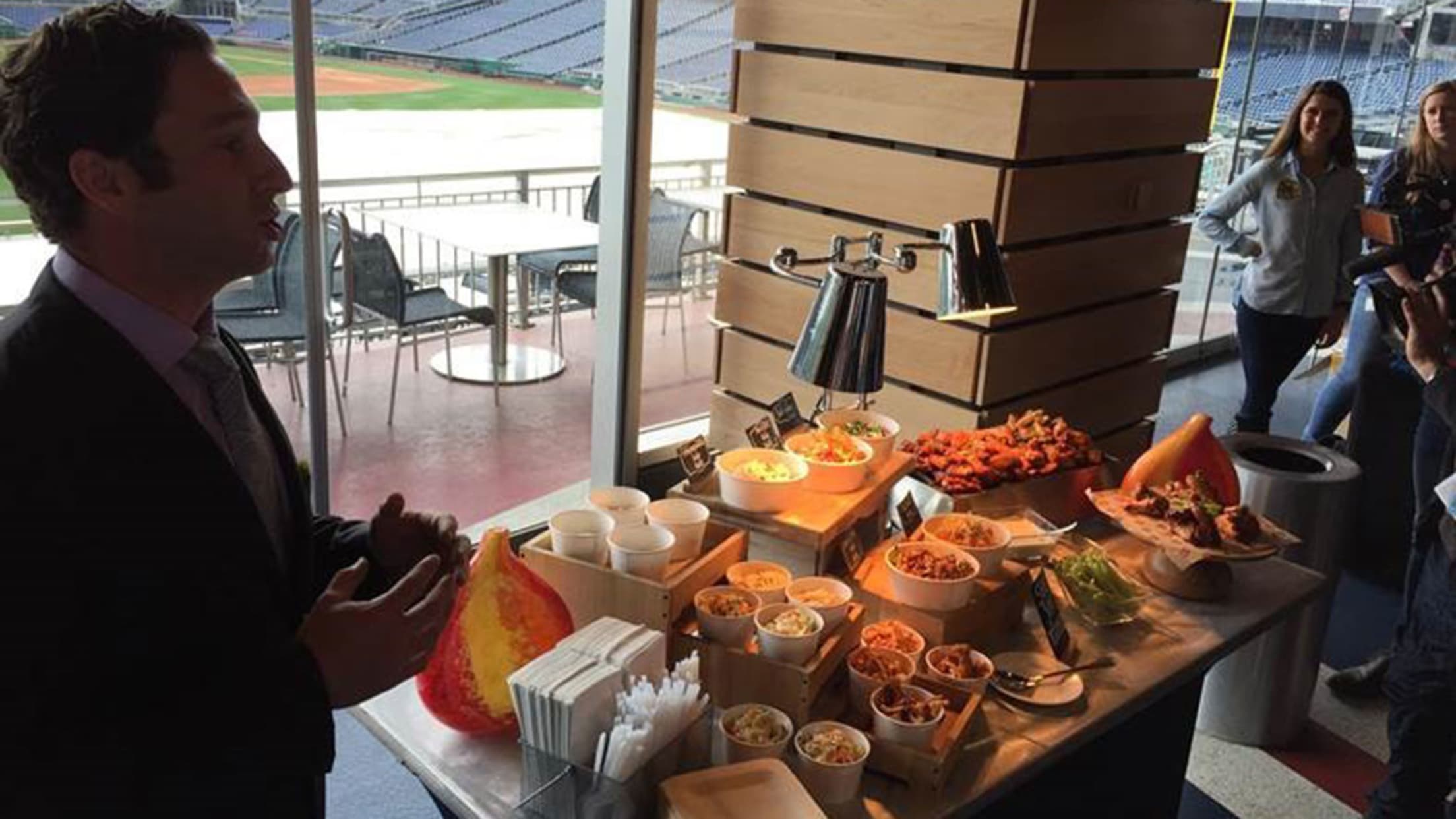 Nationals vice president of ballpark operations Jonathan Stahl shows off some of the new food items available at Nationals Park for the 2017 season. (Oliver Macklin/MLB.com)
WASHINGTON -- The Washington Nationals hosted their annual ballpark media tour at Nationals Park on Tuesday to unveil the club's stadium improvements, marketing efforts and new concession items that will enhance the fan experience for the 2017 season.During the tour, the Nationals announced they collaborated with Major League Baseball to
WASHINGTON -- The Washington Nationals hosted their annual ballpark media tour at Nationals Park on Tuesday to unveil the club's stadium improvements, marketing efforts and new concession items that will enhance the fan experience for the 2017 season.
During the tour, the Nationals announced they collaborated with Major League Baseball to launch the MLB.com Ballpark App, which allows fans to purchase and manage tickets, order food and beverages, and get information about the park straight from their phones.
"This will be the Nationals' customized version," Nationals executive director of strategy Mike Carney said. "There are aspects of the Ballpark App that you can only find at Nationals Park that no other team is offering."
The team revealed it nearly doubled its number of wireless Internet access points at the stadium to create better coverage and faster browsing speeds.
"We heard our customers and wanted to make sure that the Wi-Fi was improved," Carney said.
New for Opening Day, the team has added the MGM National Harbor Dugout Club next to the home dugout. The state-of-the-art area incorporates eight luxury seats, televisions, a private restroom, a personal attendant and a stocked refrigerator into the viewing experience.

The seats are not open to the public and instead will be operated by MGM, which is in the process of working with the team to prepare an all-inclusive menu influenced by the restaurants located at National Harbor.
"These are really an amazing club experience built sunken into the ground here along the first-base line," chief revenue and marketing officer Valerie Camillo said. "This is going to be the only place in the park where you can sample some of the fare that's available at MGM National Harbor."
The Nationals partnered with local distilleries from Washington, D.C., Maryland and Virginia, in addition to Devil's Backbone Brewing Company, which will have its own lodge in the upper deck down the left-field line. The Nats and Devil's Backbone teamed up to concoct the "Earned Run Ale," the club's flagship craft brew, which will be available on tap in the Left Field Lodge and at other select stands throughout the yard.

In an effort to devise better shopping opportunities for fans, the club introduced an expanded collection of team merchandise on sale in the Main Team Store. The additions to the team store includes: more substantial sections for customization, kids' and women's styles, and '47 Brand products.
"We are always looking to find ways to evolve and improve Nationals Park and to partner with marquee brands to find exciting ways to leverage the park for different and unique experiences," Camillo said.