Cook curious about coaching in retirement
After retiring following the 2002 season, desire to play in Sweden led to a passion for managing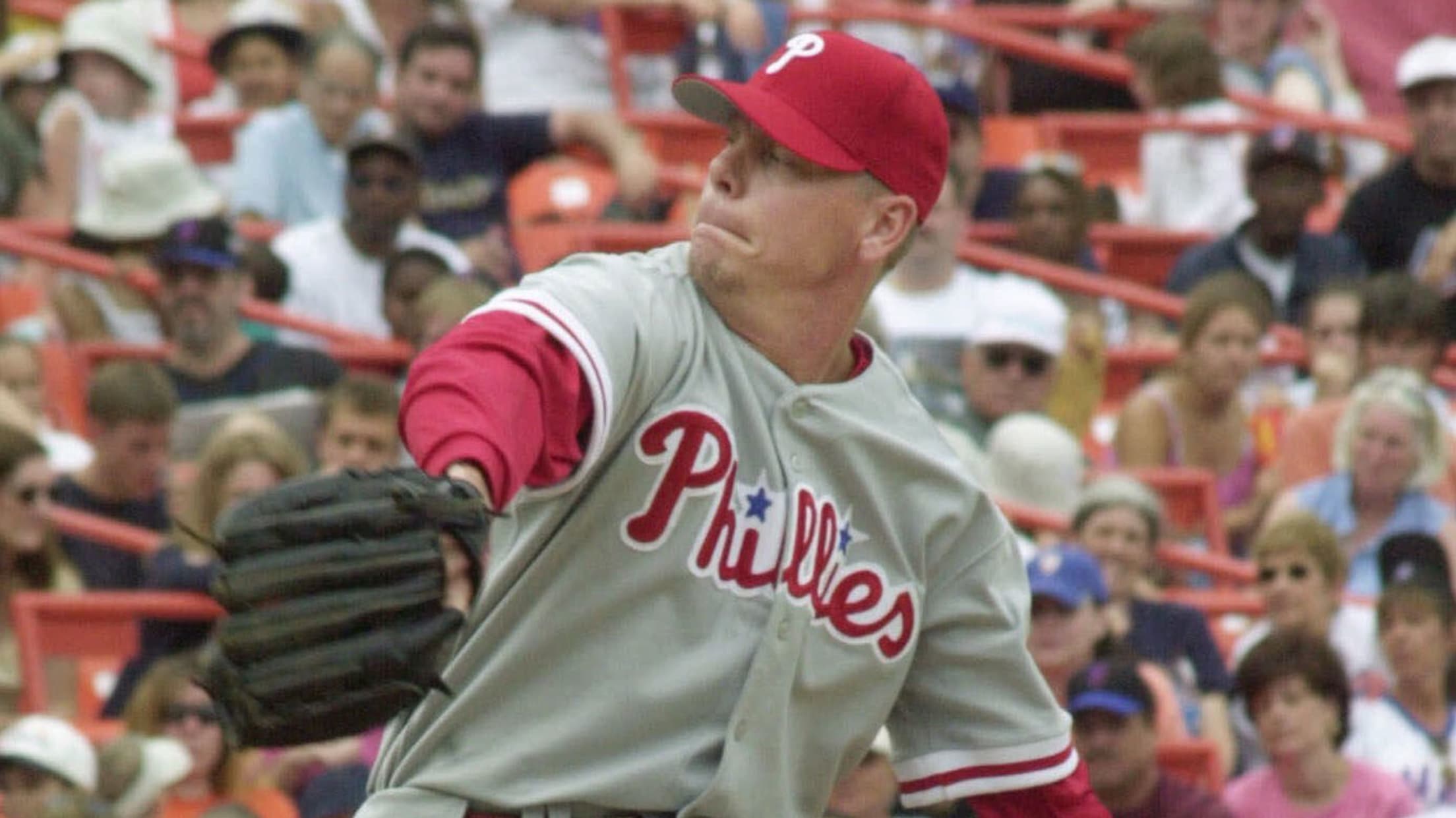 Following a 15-year big league career that included two stints with the Phillies, left-hander Dennis Cook retired at the end of the 2002 season. His shoulder was shot, but he still had the itch to play.So Cook contacted the Swedish National Team to see if they needed an outfielder ahead
Following a 15-year big league career that included two stints with the Phillies, left-hander Dennis Cook retired at the end of the 2002 season. His shoulder was shot, but he still had the itch to play.
So Cook contacted the Swedish National Team to see if they needed an outfielder ahead of their World Baseball Classic qualifier. And then he ended up managing the team instead and stayed on the job through three European Championship tournaments.
More proof that baseball really is a funny game. . .
"I was in the process of trying to get a Swedish passport to go over there and play, but I ran out of time," the two-time All-Southwest Conference outfielder at the University of Texas, explained. "So the Federation asked if I'd be interested in coming over and managing the team. I told them, 'Heck, yeah.'"
Cook was eligible to play for that country because his mother is 100 percent Swedish; her grandparents migrated to the United States. As it turned out, he was good at managing even though he'd never done it before.
"Well, I managed for pretty much 12 years when I sat in the bullpen [after being converted to from starter to reliever]," Cook said with a laugh. "It was wonderful. I really loved doing that, controlling the game. And I learned a ton over there with. You think you know everything about it, but sitting in the dugout and making those decisions, it's tough. I gained a whole lot of respect for the guys I played for after doing that."
It didn't take long for Cook, now 54, to make an impression after being traded from the Giants to the Phillies. In his third start after the deal, he beat out a slow roller by diving headlong into first base. The Veterans Stadium crowd loved it. Manager Nick Leyva and the coaching staff, meanwhile, blanched at the risk their new pitcher was taking.
"I prided myself on being a baseball player," Cook said. "Not just a pitcher. Not just a hitter. But a baseball player. That's the way I played since I was 8 years old, and I didn't see any reason to stop playing that way."
Cook's arrival two weeks earlier -- on June 18, 1989 -- turned out to be a consequential day in Phillies history. After a Father's Day game against the Mets, with his team already 18 games under .500, general manager Lee Thomas announced two deals.
First, the Phillies closer Steve Bedrosian, a year-and-a-half removed from winning the National League Cy Young Award, to the Giants for Cook, third baseman Charlie Hayes and lefty Terry Mulholland. Philadelphia also sent two-time All-Star second baseman Juan Samuel, who had been converted to center field that season, to the Mets for Lenny Dykstra and Roger McDowell. When the Phils went to the World Series four years later, Dykstra sparked the team from the leadoff spot, finishing second in the NL MVP Award balloting, and Mulholland's 3.25 ERA was best among the starters.
Cook was gone by then, having been traded to the Dodgers for catcher Darrin Fletcher in September 1990. But it was Philadelphia where he first got the chance to establish himself after making just six starts over two seasons with San Francisco.
"I mean, listen, I cried when I got traded," Cook said. "Because the team you're drafted by, you always want to stay with that team forever. You think that's the way it's supposed to be. But the longer you're around it, the more you understand that it's a business. And I'm thankful every day for the opportunity I got in Philly."
Getting to know Larry Bowa, currently Pete Mackanin's bench coach, was another plus.
"He's a baseball guy," Cook said. "Larry Bowa is the kind of guy, for me, if he had a beef with you, he would tell you straight up he's got a beef with you. Then, once he said it, it was gone. I respect that. He wants to win. He takes pride in people who work hard. I tell everybody that. People who work, he's going to invest his time in them. And I love that about him."
The business of baseball eventually also took Cook to the Indians, White Sox, Rangers, Marlins, Mets and Angels. He ended up making 82 appearances (26 starts) for the Phillies, more than with any other club except New York. Days before the 2001 Deadline the Mets traded him back to the Phils, along with Turk Wendell, for Adam Walker and Bruce Chen.
In 19 games the rest of that season, Cook had a 5.59 ERA. He doesn't want to make excuses, but his pregnant wife, Tammy, had lost their unborn child.
"Tough time to come back," he said. "We had just lost a son. It was really, really, really tough. I feel terrible that I wasn't able to be as good as I wanted to be. But my mind was elsewhere."
The Cooks, who had triplets -- Asher Cade, Dawson and Makenzie -- three years earlier, live in Austin, Texas. All the kids are now in college. Dennis helped coach the two boys for three years at Lake Travis High School.
Cook also ended up serving as pitching coach for the Germany and as a consultant for Italy at the WBC qualifier in Mexico in March 2016. He's looking into the possibility of coaching at the collegiate level, has an offer to manage in Italy that would start next spring and would be keenly interested if there was an opening with a Major League organization. To that end, Cook has had some conversations with the Rangers.
"Oh, man, I'd love to get back into pro ball," he said. "But getting back in is kind of tough. It would just have to be the right situation. But I'd love to try to get back in."
Maybe if Cook had been able to get a Swedish passport 15 years ago, he never would have found out how much he enjoyed that part of the game. Yes, baseball is a funny game.
For more information, check out the alumni site.
Paul Hagen, a reporter for MLB.com, won the J. G. Taylor Spink Award in 2013 for a lifetime of excellence in baseball writing.