Freak-Out Factor: Which injury looms largest?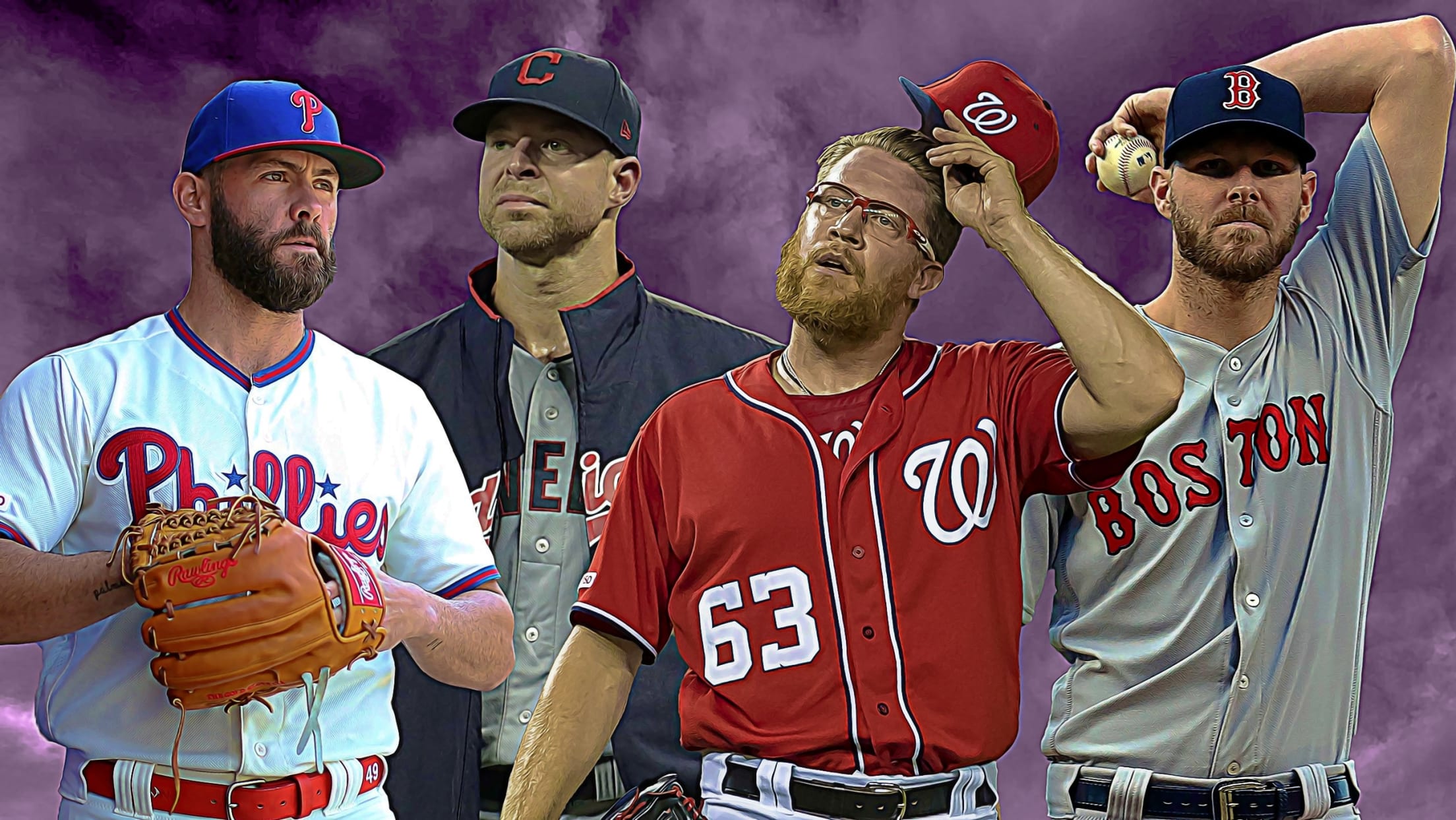 Plenty of issues cause angst among baseball fans over the course of the long season, and it can be hard to separate the casual concerns from the more damning dilemmas. That's why we have the Freak-Out Factor (FOF), our patented, trusted scale of 1 (stay calm) to 10 (PANIC!) that
Plenty of issues cause angst among baseball fans over the course of the long season, and it can be hard to separate the casual concerns from the more damning dilemmas.
That's why we have the Freak-Out Factor (FOF), our patented, trusted scale of 1 (stay calm) to 10 (PANIC!) that lets you know how to properly assess the issue at hand.
Here are the latest FOF figures:
"Sean Doolittle is a mess (and hurt)!"
FOF: 7.36, for Doolittle's ERA after the All-Star break
For much of the year, the Nationals' bullpen was sort of a one-legged dog. And now that leg is broken.
Sean Doolittle was seen as the only source of stability on this relief squad, and that's why he's made seven multi-inning appearances this year. Did all that use and pressure get the best of him? Doolittle blew a three-run lead in a wild loss to the Brewers on Saturday night before the Nats put him on the injured list Sunday with right knee tendinitis. It's a troubling turn of events for a team that has struggled all year to get traction in the late innings.
That said, even with Roenis Elias (hamstring) out of the picture most of the past three weeks, Washington has gotten strong returns from its other Trade Deadline acquisitions, Daniel Hudson (one earned run in 8 1/3 innings) and Hunter Strickland (one earned run in seven innings). Plus, the Nats, who have an edge in that tangled NL Wild Card picture, are likely getting Max Scherzer back in the rotation this week. So it's not all bad. And in the Year of the Bad Bullpen, at least the Nats are far from alone in their problem spot.
"Chris Sale is visiting Dr. James Andrews!" (UPDATED)
FOF: 15, for how many millions of dollars Sale's salary increases by in 2020
When "second opinion" and "Dr. Andrews" are involved in the same sentence, it is capable of breaking the Freak-Out Factor scale. Especially with a pitcher of this magnitude. But it seems the Sox dodged a big one here, with Sale being told on Monday by Dr. Andrews that he will not need Tommy John surgery on his left elbow.
Still, the fact that Chris Sale missed time in the second half last season with a shoulder issue and then pitched deep into October (and the general state of the free-agent market for 30-something pitchers with high mileage) had a lot of rival executives in the industry questioning Boston's five-year, $145 million extension with Sale. That pact doesn't begin until 2020, and it will double Sale's salary at a time when his value could begin to trend downward anyway, regardless of injury.
If Sale's left elbow proves to be balky moving forward, that's double trouble for a Red Sox team whose farm system is much thinner now than it was a few years back and whose overall payroll picture is cumbersome.
"Fernando Tatis Jr. is injured ... again!"
FOF: 7.5, for Tatis' projected WAR had he played the entirety of 2019
Fernando Tatis Jr.'s rousing rookie season -- in which he was legitimately vying with the Mets' Pete Alonso for the NL Rookie of the Year Award -- appears to be over, thanks to a stress reaction in his lower back. The Padres are only on the furthest fringes of NL Wild Card contention, so it's not as if this is a big deal from a competitive standpoint, but we're talking about one of the most exciting players in the game, a player whose talent stands out even amid an incredible infusion of youthful energy in the sport at large.
And beyond this back injury itself, there is the bigger-picture concern presented by the fact that in the last year-plus, Tatis has suffered three injuries of significance -- a thumb fracture that prematurely ended his 2018 season at the Double-A level, a hamstring injury that cost him about a month and a half of his rookie year, and now this. The fine line between "unlucky" and "injury prone" has always been difficult to decipher, and we're not going to be able to decide here which side of that line the 20-year-old is on. But as with the 24-year-old Carlos Correa, who has been limited to fewer than 300 games over the past three years because of a variety of injury issues, you hope the injury bug doesn't prevent Tatis from reaching his MVP ceiling.
"The Astros' division lead has shrunk!"
FOF: .460, for the combined winning percentage of Houston's remaining opponents
It was an 11-game lead at the conclusion of play on Aug. 10. It's down to 7 1/2 after the second-place A's took three of four in Oakland over the weekend. The A's have been one of the hottest teams in baseball over the last few weeks, and they've been getting consistently good performance from a revised rotation in that span. The Astros, meanwhile, have dealt with an iffy bullpen (join the club) and a Gerrit Cole hamstring injury of late. Could Oakland keep chipping away at this thing down the stretch?
Nah. While the A's still have a four-game series in Houston on Sept. 9-12 that gives them the opportunity to inflict head-on damage, that's one of the scant remaining series in which Houston faces a genuine contender. They've got three against the Rays at the end of August and two against the Brewers in early September, and that's it.
Apropos of nothing and everything, FanGraphs is still giving the Astros a 30.6% chance of winning ... the World Series! By my math, that's almost a 1-in-3 shot in a sport known to typically be a total crapshoot in the playoffs. By comparison, the A's are given just a 34.4% chance of even reaching the playoffs.
"Corey Kluber left Sunday's rehab start after just one inning!"
FOF: 8, or how many game innings Kluber has pitched since May 1
According to reporters at Corey Kluber's third rehab start for Triple-A Columbus, his fastball topped out at 89 mph in the first inning before he was yanked for precautionary reasons with left abdominal tightness. Kluber was scheduled for an MRI on Monday.
When the Indians dealt Trevor Bauer last month in an effort to ignite their offense with the right-handed thump of Yasiel Puig and Franmil Reyes, three X-factors in the equation were what they could potentially get from the returns of Kluber (fractured forearm), Danny Salazar (shoulder surgery) and Carlos Carrasco (leukemia) down the stretch.
Carrasco could be a bullpen option by year's end, but Salazar's lone big league start lasted four innings before he complained of a groin issue, and he's not expected back. So any setback involving Kluber is pretty alarming for a club fighting tooth and nail with the Twins for the division. The Indians have gotten unexpected impact from 24-year-olds Zach Plesac and Aaron Civale this season but will have to be careful not to overtax their arms down the stretch. Without knowing much about the severity of the injury at this point, we'll stop short of a full-on freak-out, but a fully operational Klubot was/is a pretty big piece of the Tribe's blueprint.
"The Phillies lost Jake Arrieta and David Robertson to surgery!"
FOF: 9.36, or Zach Eflin's ERA since the start of July
Bryce Harper left Sunday's game with dehydration, and Phillies fans are all probably feeling a little dry in the mouth right now. Losing two straight to the Padres over the weekend was a big bummer for a club that had been riding an upswing of momentum, with new hitting coach Charlie Manuel allegedly fixing the entire offense overnight.
That's how it's been for the Phillies all year. The good times just don't seem to have any tangible staying power, and a mess of injuries and ineffectiveness has hounded the pitching staff. David Robertson was the big-ticket bullpen acquisition but made just seven appearances before requiring Tommy John surgery. Jake Arrieta was supposed to be a linchpin of the rotation, but a bone spur in his right elbow helps explain his command woes. The Phillies' starting cast was so thin that Arrieta tried to pitch through the pain longer than is generally advised.
The Phillies' plans for a postseason push this year always felt a little house of cardsy, because their organizational depth was suspect and it's hard to buy your way to a pennant in today's game. Though Aaron Nola is back to his 2018 self, Zach Eflin's return to the rotation Saturday didn't allay any concerns there. FanGraphs is giving the Phils just a 10.1% chance of reaching October, but if the offense can carry the freight as it did in that sweep of the Cubs last week, maybe the Phillies can get hot when it matters most. C'mon, Charlie! Do your thing!
"That Little League kid's weird batting stance is bad for the game!"
FOF: 0.0, or Eddie Gaedel's career Wins Above Replacement mark
Most people just laughed at Deivis Ordonez's "crouching tiger, hidden strike zone" routine in the Little League World Series. Yasiel Puig went so far as to imitate it.
But because Twitter is Twitter, there were some folks vocally (or at least textually) opposed to the approach, criticizing the kid for poor sportsmanship in an event that is supposed to showcase sports at their most virtuous ... or something.
The bottom line: Baseball players have long been employing all manner of creative concepts to try to gain even the tiniest of edges between the lines. Is the Venezuelan kid's crouch any more devious than the hidden-ball trick (which, for the record, the Division III Trine University softball team employed to advance to the College World Series). Is it any more deceptive than a quick pitch? Is it any more gimmicky than Zack Greinke's (incredibly effective) eephus?
It's not like it actually alters the construct of the zone. In the video that went viral, the unflappable opposing pitcher threw a called strike that sailed parallel to Ordonez's dome, and the game and life itself went on as scheduled. (It didn't work for Puig, either, come to think of it.)