Which team needs the World Series the most?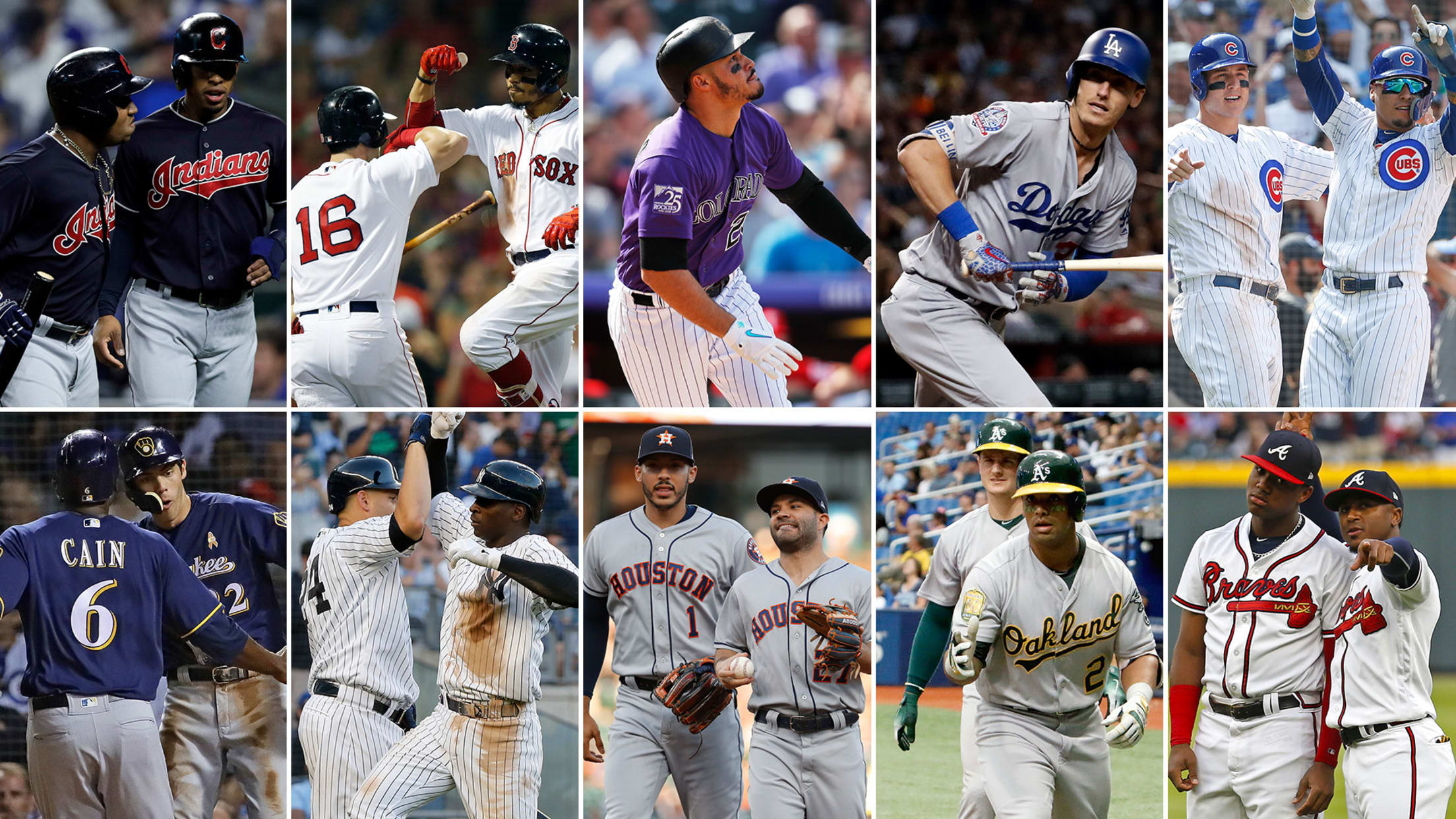 At the risk of blowing your mind with the kind of insight and expertise that can only be accrued by spending countless hours embedded in clubhouses and dugouts, examining the motivations of baseball's most prominent players and the machinations of its brightest minds, I'm going to tell you something I've
At the risk of blowing your mind with the kind of insight and expertise that can only be accrued by spending countless hours embedded in clubhouses and dugouts, examining the motivations of baseball's most prominent players and the machinations of its brightest minds, I'm going to tell you something I've learned in my 15 years covering this wonderful game:
Every team wants to win the World Series.
• Watch all games for free this weekend on MLB.TV
But once you've properly digested that penetrating pronouncement, consider the possibility that not all World Series wins are created equal. When you introduce factors like organizational championship droughts or expiring contracts or farm system strength, you see that this October opportunity, while special for all involved, is more urgent in some places than it is in others.
• Tiebreaker scenarios explained
That's why I like to put together this annual October Urgency Index. This is a (subjective) rank of all the remaining clubs in contention in terms of the importance that they win it all here in 2018, from most to least urgent.
1. Indians
They have the longest active championship drought in the game (70 years), so start there. But there's also just the matter of how quickly windows of opportunity evolve in this sport, especially for clubs in markets like Cleveland.
The Indians did a great job at midseason of shoring up their bullpen with controllable assets (Brad Hand and Adam Cimber) to offset the potential pain of losing Cody Allen and Andrew Miller in free agency. But there will still be work to do in the 'pen and in the outfield (Michael Brantley is nearing free agency, as well), and that work will have to be done as the arbitration cases of Francisco Lindor and Trevor Bauer take up a greater percentage of the allotted payroll. And Josh Donaldson is a rental. The Indians will still be built to win next year, especially in what again figures to be a weak American League Central. But whether they'll be quite as World Series caliber as they are today remains to be seen.
2. Red Sox
They've won the most games in franchise history. When you set that kind of precedent -- in Boston, no less -- anything short of a World Series championship will be viewed, rightly or wrongly, as abject failure, even though the Sox have won it all three times this century.
On top of that, the Red Sox have the highest payroll in the game, blowing past the luxury tax threshold (and paying plenty of penalties) with a core of young talent getting exponentially more expensive each year and a farm system that has lost a lot of impact talent in trades and graduations. So this behemoth of a ballclub needs to seize the moment.
3. Rockies
It's taken, oh, the entire existence of this franchise, but the Rockies have finally put together a viable homegrown rotation that can conceivably keep them in the running for several years to come. That's half the battle in Colorado, and the system here is solid.
That said, Nolan Arenado's post-2019 free agency hangs over this club in a big way. Rockies fans know how fleeting these postseason opportunities can be (this would be the first time in franchise history that the Rox have made the playoffs in consecutive years, and they were bounced from the National League Wild Card Game a year ago), so there's a little more pressure here (even if there's actually less air pressure in Denver's elevation, but you didn't come here for a science lesson, did ya?).
4. Dodgers
Dave Roberts is in the final year of his contract, which creates an air of uncertainty around a Dodgers team that has enjoyed enviable, sustained success in the Guggenheim Baseball Management era, but has continually fallen short of its ultimate goal of ending a World Series title drought that has reached 30 years. How that ownership group would respond to an early exit this October is an open question.
Still, the Dodgers have a knack for churning out quality players from a well-balanced system, they got under the luxury tax threshold this year to help alleviate some long-term financial concerns, and they have one of the shrewdest front offices in the sport. So this doesn't feel like the last rodeo, or anything close to it.
5. Cubs
The 2016 World Series champs no longer have that 108-year-old monkey on their back (or goat on their back, as it were), and they've got a terrific young core of position players. But that doesn't mean there's no urgency here, because given the age of principal rotation figures like Jonathan Lester and Cole Hamels, the difficulty of piecing together a quality pitching staff in the open market (Yu Darvish and Tyler Chatwood haven't exactly panned out this year) and the compromised state of the farm system means nothing comes easy.
The 2016 run was billed by some to be the start of a potential dynasty, and this October will go a long way toward determining if that's still possible. Also note that this is the penultimate year of manager Joe Maddon's contract.
6. Brewers
Lorenzo Cain and Christian Yelich -- the offseason additions who helped close the gap after last year's agonizingly close miss -- are both going to be around a while (though Cain is a 32-year-old with a lot of value residing in his speed and athleticism, so it's hard to say when his value may begin to erode). Same goes for bullpen linchpins Jeremy Jeffress and Josh Hader and multiple other important pieces.
It will be interesting to see how the Brew Crew handles the pending free agencies of some additions from the last year, including Giovany Gonzalez and Wade Miley in the rotation, but the pressure on Milwaukee is more in the historical realm than anything tangibly connected to roster construction. This is just the fifth postseason berth in franchise history, and the Brewers have never won it all.
7. Yankees
Obviously, you'd take the rival Red Sox's standing and seeding over the Yankees' position right now, but the Yanks have the better long-term prospects -- literally and figuratively. They're under the luxury tax threshold going into the offseason, their farm system is still one of the deepest in the game, Aaron Judge and Giancarlo Stanton are locked in for their prime years, and Miguel Andujar and Gleyber Torres are just getting started. The challenges are in the starting staff (J.A. Happ, Carsten Sabathia and Lance Lynn are free agents, and Sonny Gray looks like an obvious trade candidate), but the Yankees aren't going away.
The counter to all of the above, of course, is that they are the New York Yankees, of whom much is always expected. So that kicks them up a couple notches on the urgency scale.
8. Astros
While it would be impressive and meaningful to become the first back-to-back World Series champions since the Yankees' dynasty wrapped in 2000, the Astros can fall short of that goal and still feel reasonably confident in their ability to get back to the World Series stage in 2019. They've already rewarded Jose Altuve for his patience and performance with a long-term deal, they've got Justin Verlander under wraps for another year, George Springer for another two, Carlos Correa is just entering arbitration, Alex Bregman is a year away from arbitration and a system fronted by Kyle Tucker and Forrest Whitley is solid.
The pending free agencies of Dallas Keuchel, Charlie Morton and Marwin Gonzalez, among others, are hurdles to clear, but won't shut the Astros' window. And no matter what happens with this current core, well, Houston will always have 2017.
9. A's
It's always hard to assess the A's in the long term, because their stadium situation does not allow them to truly put together "five-year plans" or anything like that. And all the surgeries this year create a multitude of questions for the pitching staff's future.
But while the risk is there that this Oakland club would be cast into the lot of others as "good enough to get there but not to advance," the A's, for the most part, can just enjoy this awesome -- and unexpected -- moment. When you enter the year with the lowest payroll in the game and somehow make it to the postseason -- something no team had done in at least 30 years -- you're money (ironically enough). The A's can play loose and pressure-free in this tournament because little is expected of them. And come to think of it, that might be their most dangerous quality.
10. Braves
Not that the Braves are going to rattle off 14 straight division titles again -- there's a pretty good chance nobody does that. But this sure feels like the beginning of something.
Atlanta vaulted to the top of the NL East ahead of schedule, and with so much of the future fortunes revolving around two guys in the 21-and-under crowd (Ronald Acuna Jr. and Ozzie Albies) and a veteran cornerstone locked up through 2021 (Freddie Freeman) and their farm system absolutely teeming with talent, the Braves are going to remain a force to be reckoned with regardless of what happens this October.