Harrelson having a ball as proud grandfather
White Sox announcer, who will retire after '18, is close with his grandchildren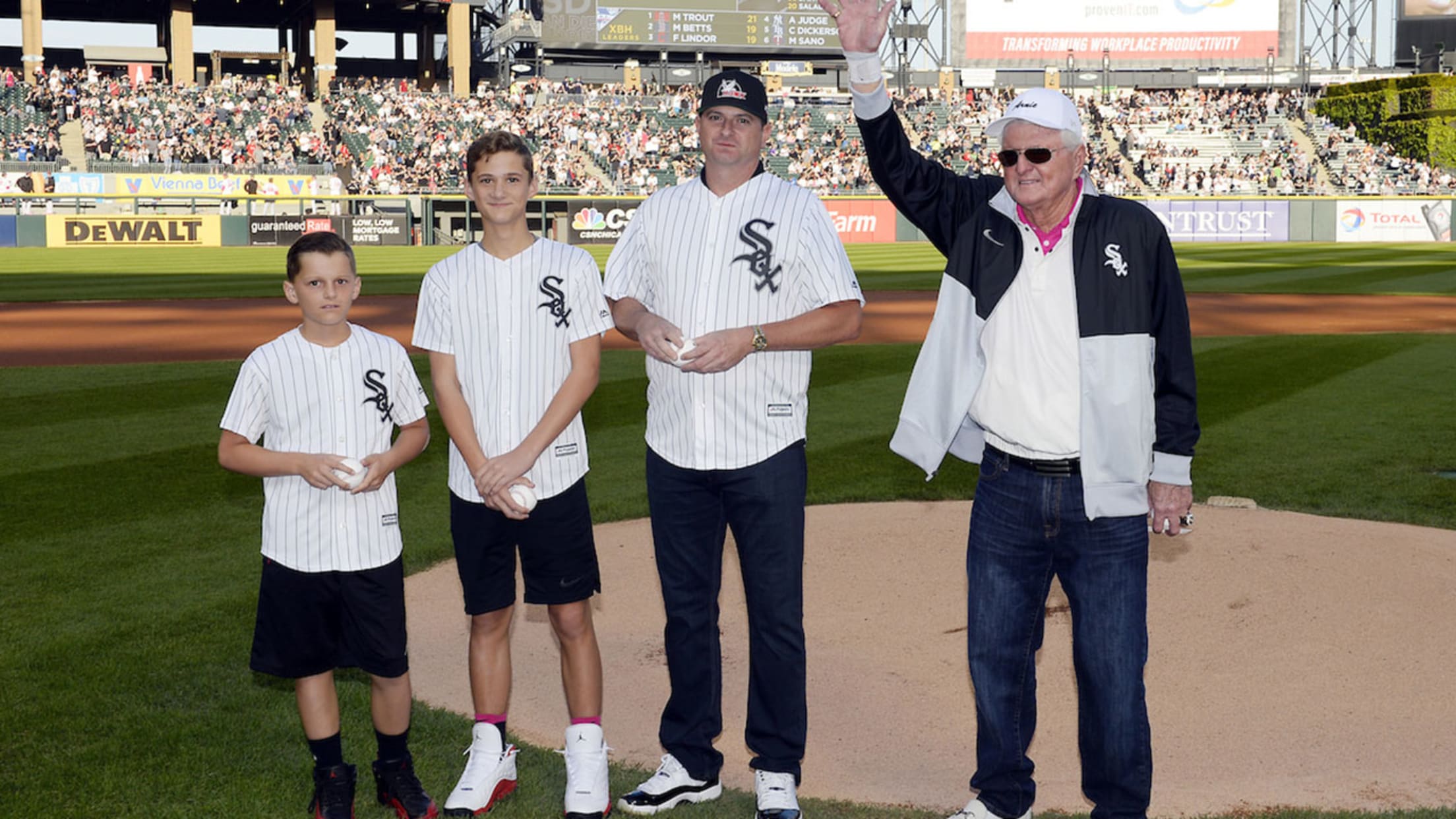 White Sox announcer Hawk Harrelson (right) stands next to his son Casey and grandsons Nico and Alexander (left). (White Sox)
CHICAGO -- When it comes to White Sox baseball, Ken 'Hawk' Harrelson doesn't try to hide where his strong and vocal allegiance lies.But the colorful and iconic television play-by-play announcer, who will be cutting his 2018 broadcast work to primarily Sunday home games in what will be his 34th and
CHICAGO -- When it comes to White Sox baseball, Ken 'Hawk' Harrelson doesn't try to hide where his strong and vocal allegiance lies.
But the colorful and iconic television play-by-play announcer, who will be cutting his 2018 broadcast work to primarily Sunday home games in what will be his 34th and final season in the booth with the team, has found another baseball source bringing him greater excitement than the White Sox.
It's an understandable preference for the 75-year-old Harrelson, considering the baseball in question involves his grandsons, Nico and Alexander.
:: Father's Day 2017 ::
"Oh sure it's fun," said the proud grandfather. "I get more excited when they come to the plate then when [Avisail Garcia] comes to the plate."
Garcia ranks as a near-certain American League All-Star in '17, and a player Harrelson believes could become one of the best acquisitions in general manager Rick Hahn's tenure. Those facts provide a little context as to how important family is to Harrelson.
For 10 years, he drove the two hours back and forth from Granger, Ind., to Chicago for home broadcasts before he reduced his workload to road games and a handful of selected home contests in '16. The goal was to spend more time with his grandkids, who not only are at an age where they are enjoying sports, but they are excelling at them.
"They both like basketball. They both go to basketball camp," Harrelson said. "I'm going to go up there and watch them some on the off-days. But you see Alexander on the court. Watch the game start and three minutes later you know who is the best player on the court.
"He's 10 now. Last year, he was nine, they came down for Christmas and my friend has this sports bar and grill. He's got a pool table and golf simulators and a regulation basket for foul shots. He made 15 in a row. Guys on the [Orlando] Magic don't make 15 in a row. He'll shoot jump shots right-handed and left-handed. It's fun watching."
When Nico and Alexander are playing baseball and Harrelson is on the road, he'll talk with his daughter, Krista, three or four times per day for updates. He also received video of Nico's first out-of-the-park home run.
"We've always been a big video family and we've got video of our daughter when she was a competitive diver, [Harrelson's son] Casey when he was playing football and baseball," Harrelson said. "So, we've got a lot of documentation so to speak of Krista and Casey's youth. We also have Nico and Alexander's. It's great."
His third grandson, Hank, recently turned 4. Harrelson recounted a story of watching him swim "like a fish" in the pool during the White Sox trip to St. Petersburg, going eight or 10 feet, coming up for air and then going back down for another eight or 10 feet.
Occasionally the older grandkids will ask Hawk a question about the White Sox. But he pointed out that Alexander, who loves Steph Curry, will sit and watch basketball for hours on his iPad.
His grandkids, his kids and his wife, Aris, give Hawk reason to depart the game he has loved for parts of seven decades.
"No question about it," Harrelson said. "It's the biggest reason."