Petricka rejoins Sox 'pen after lengthy rehab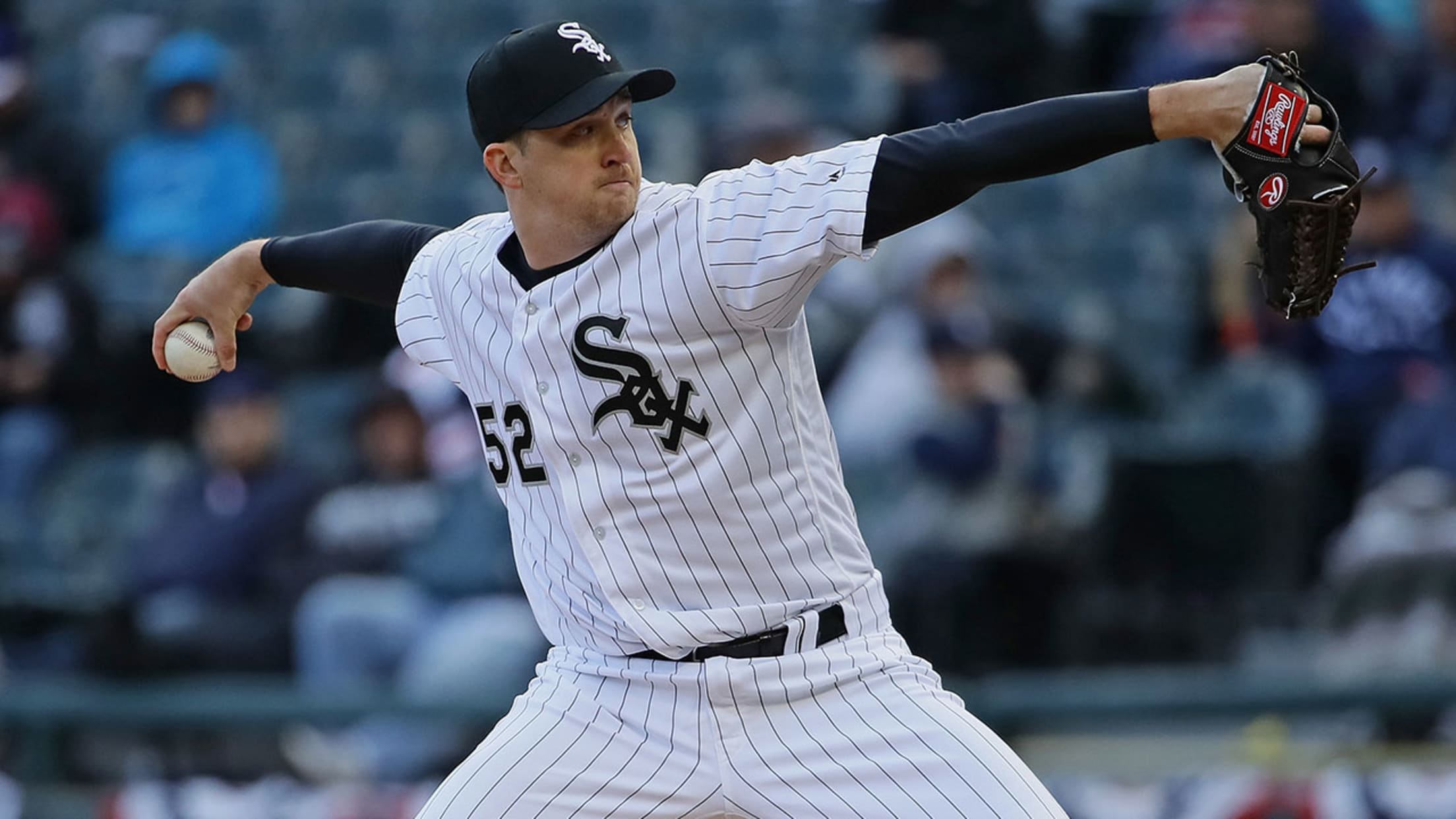 Jake Petricka threw one scoreless inning of work in '17 before he was sidelined by a lat strain. (Getty)
CLEVELAND -- Jake Petricka returned from his rehab assignment and rejoined the White Sox bullpen Friday, after going through what he said felt like 1 1/2 years of injury rehab.The right-hander missed all but nine games in 2016 due to right hip surgery and had just one scoreless appearance this
CLEVELAND -- Jake Petricka returned from his rehab assignment and rejoined the White Sox bullpen Friday, after going through what he said felt like 1 1/2 years of injury rehab.
The right-hander missed all but nine games in 2016 due to right hip surgery and had just one scoreless appearance this season before being sidelined by a right lat strain. He worked the eighth inning during a 7-3 loss to the Indians at Progressive Field, allowing four straight hits to start the frame and three runs overall.
"That's the biggest thing, back to a normal routine," Petricka said prior to the game. "[Rehabbing] is not what we are paid to do so I want to get back out there and play.
"It was a lot of me pushing, and them saying, 'Don't be dumb.' I think we did it right and we are good to go."
Petricka made three relief appearances for Triple-A Charlotte on a rehab assignment from June 2-7, allowing two earned runs over four innings pitched. He takes the place of Brad Goldberg, who was optioned to Charlotte following Thursday's loss to the Rays.
"Very challenging on the mental side and obviously the physical side," said Petricka of his last two seasons. "The hip one was a ticking time bomb from my days playing hockey. The lat, that was one they kind of say it was like a hamstring.
"You run to first 400 times and the 401st you get a little pull. It made it tough, but we made it through so just another learning experience. I feel as good as ever, as strong as we can be. Now we are here for the long haul."
Shields stays on the rehab path
White Sox manager Rick Renteria indicated James Shields' next start would be with Charlotte as part of his injury rehab assignment. Shields has struck out eight and has not issued a walk over nine innings pitched in two starts for the Knights as he works his way back from a right lat strain.
"Right now we have him scheduled to make one more rehab start before he throws with us," Renteria said. "He did well the last time. We want to get him up a few more pitches, and we'll proceed from there."
Renteria makes his point
Television cameras caught a demonstrative and fiery Renteria instructing his team in the dugout during the fifth inning of Thursday's loss to the Rays. The team was down, 6-0, at the time but lost, 7-5. Renteria didn't expound much on what his speech entailed when asked Friday.
"Told them to keep playing the game. Pretty much it. Just play the game," Renteria said. "Just give them some encouragement. Keep going.
"It really wasn't anything big," said a smiling Renteria. "Wasn't a big deal. Just giving them some encouragement. Keep playing."
Renteria is not a big team meeting person, unless there's a purpose behind the conversation.
"It's like a dog that's always barking. At some point you just start to ignore it," Renteria said. "You have to have a good feel, a sense of time for when it is you're supposed to speak to people. I don't think that's necessarily limited to the game of baseball.
"Anybody in any walk of life, in anything they do, at some point in time you have to have a conversation with the group or individual. You have to have a feel and a sense of time when you're going to do it."