Bulldog, Big Foot eager for Players' Weekend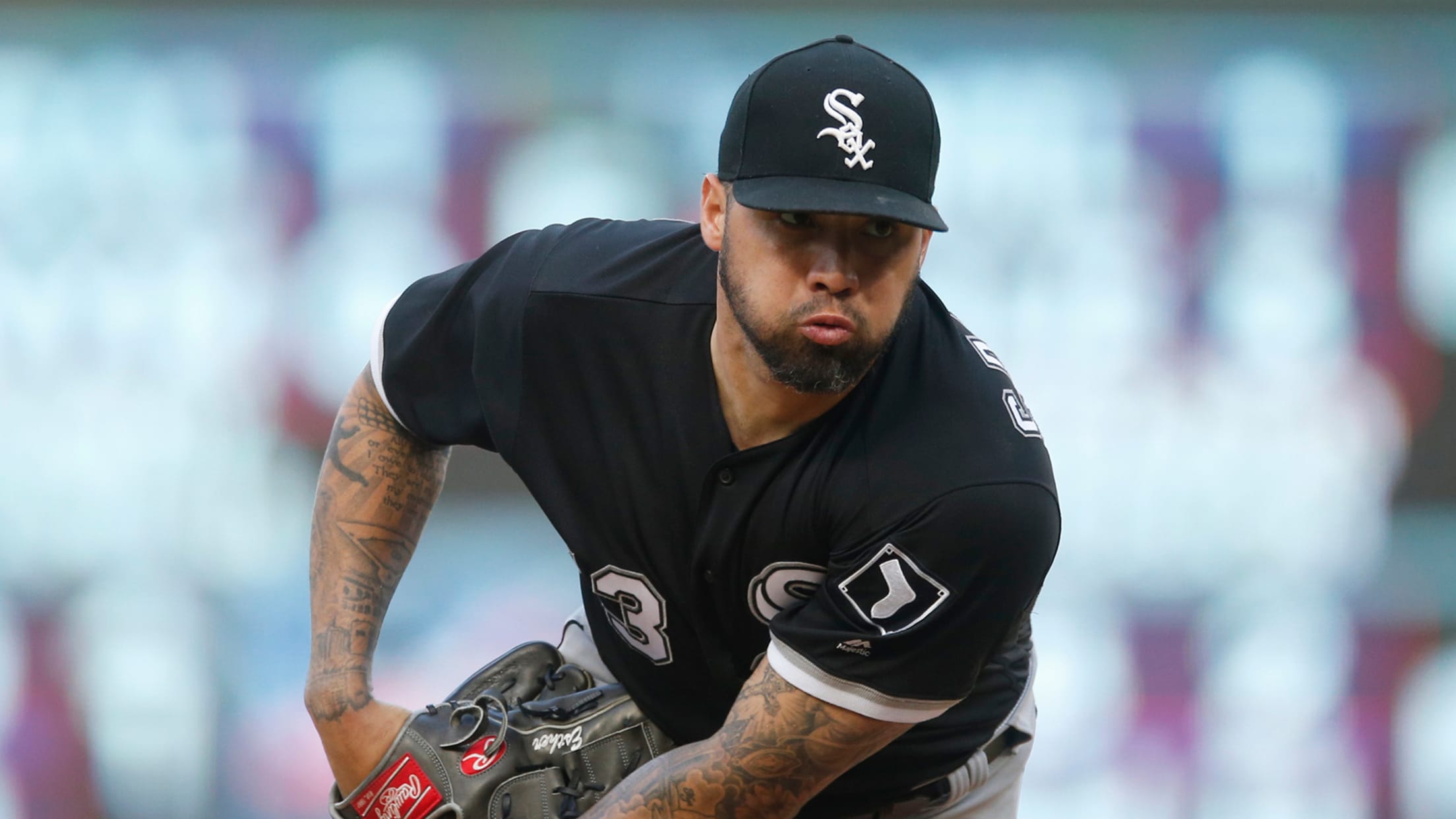 CHICAGO -- If Hector Santiago had his druthers, Swiss Army Knife would have been the name on the back of his jersey for Players' Weekend from Aug. 24 to Aug. 26.That nickname was given to the southpaw by former White Sox manager Robin Ventura, representing the pitching versatility Santiago provides
CHICAGO -- If Hector Santiago had his druthers, Swiss Army Knife would have been the name on the back of his jersey for Players' Weekend from Aug. 24 to Aug. 26.
That nickname was given to the southpaw by former White Sox manager Robin Ventura, representing the pitching versatility Santiago provides to a staff. That choice was rejected, so Santiago went with Bulldog, a nickname given to him by now third-base coach Joe McEwing while Santiago played for McEwing in the Minors.
:: Players' Weekend presented by Valspar Stain ::
"It was supposed to be 'Bulldog' last year and they put 'Bulldoze,'" said a smiling Santiago, who almost went with Chameleon.
The list of White Sox Players' Weekend nicknames shows two Avis for Chicago, in right fielder Avisail Garcia and left-handed reliever Luis Avilan. But there are few slightly deeper stories behind some of the uncommon nicknames.
Big Foot, as an example, was given to Lucas Giolito by his teammate, Tim Anderson.
"Earlier this season, April/May, I was knocking a lot of stuff over being clumsy, and TA started calling me Big Foot," Giolito said. "I was going to go with Gio because that's what everyone calls me.
"But I was kind of thinking I wish I could find something with a little more personality, a little funnier. TA called me Big Foot and I said, 'Hey, let's go with that.'"
• Shop for Players Weekend gear
• 2018 Players Weekend nicknames
• Best nickname for every team
• All you need to know about Players Weekend
Reliever Thyago Vieira opted for Negs, a nickname he had in Brazil. Nate Jones went with Nate's Nation, the collective name for all his family and friends who help the right-hander and his wife, Lacy, with charitable endeavors in the offseason.
"It kind of works for the Players' Weekend, too," Jones said. "It's not just me and my name on the jersey, it's Nate's Nation that's part of me getting here, too."
White Sox get a special Draft appearance
Matt Klug, the White Sox 38th round pick in the 2018 MLB Draft, never will play for the organization. But in visiting Guaranteed Rate Field on Friday, he already feels like part of the family.
"Definitely," Klug said. "Everyone's been saying, 'Anything we can do, just let us know.' They've really welcomed us back there."
Klug, who will be studying business at the University of North Georgia, lost his mother in November 2016 after a 16-year bout with COPD and emphysema. In November 2017, he lost his father after a seven-year battle with cancer. Klug's best childhood friend passed away in November 2015 from an undiscovered brain tumor.
After losing his mother in 2016 and father a year later, Matt Klug continued to keep a positive attitude on and off the field.

Today we welcomed our 38th round selection in the 2018 #MLBDraft — @MattKlug33! You continue to be an inspiration to us all. pic.twitter.com/iQi4ArATn1

— Chicago White Sox (@whitesox) August 11, 2018
He was truly honored and even speechless when the White Sox drafted him. On Friday, Klug mingled with players, coaches and front office personnel, as well as throwing out one of the ceremonial first pitches. Jose Abreu was the first player Klug got to meet.
"It was super cool," Klug said. "I'm looking up. He's just like a skyscraper.
"The highlight was going back in the clubhouse and meeting a lot of the guys and seeing their pregame routines and getting to talk to them and seeing how they get ready for their game. They're just hanging out like normal dudes."
Klug's life definitely has changed since being drafted, after he was recommended by scout Kevin Burrell to Nick Hostetler, the White Sox director of amateur scouting.
"We've just gotten so many calls and texts. The support has been really crazy," Klug said. "I already had a new outlook on life when my parents passed away, but seeing these big-time players and scouts taking a little story like mine and blowing it up for me, it's just been really cool."
Third to first
• Nicky Delmonico moved to the leadoff spot and Yoan Moncada dropped to eighth in Friday's lineup.
"Trying to give [Moncada] a break, push him back a little bit," White Sox manager Rick Renteria said. "Still need him to be in there, we need him to get his at-bats.
"We're going to give him a little breath as opposed to just sitting him and not playing him. Have him watch other guys go about their business. He's been working hard. Moncy will be back, he'll be back in that slot."
• Jones continues to play catch in working his way back from a right pronator muscle strain that has sidelined him since June 12. He got back to 90 feet on Friday.
• The White Sox Senior RBI team defeated Arizona Friday to win the World Series. Jeffrey Massey (.600) and Michael Bolton (.556) finished second and fifth in average during the tournament, while Kendal Ewell tied for first with nine RBIs.