Jones takes full blame after shaking off Avila
With 0-2 count on Santana, White Sox lefty throws slider, not fastball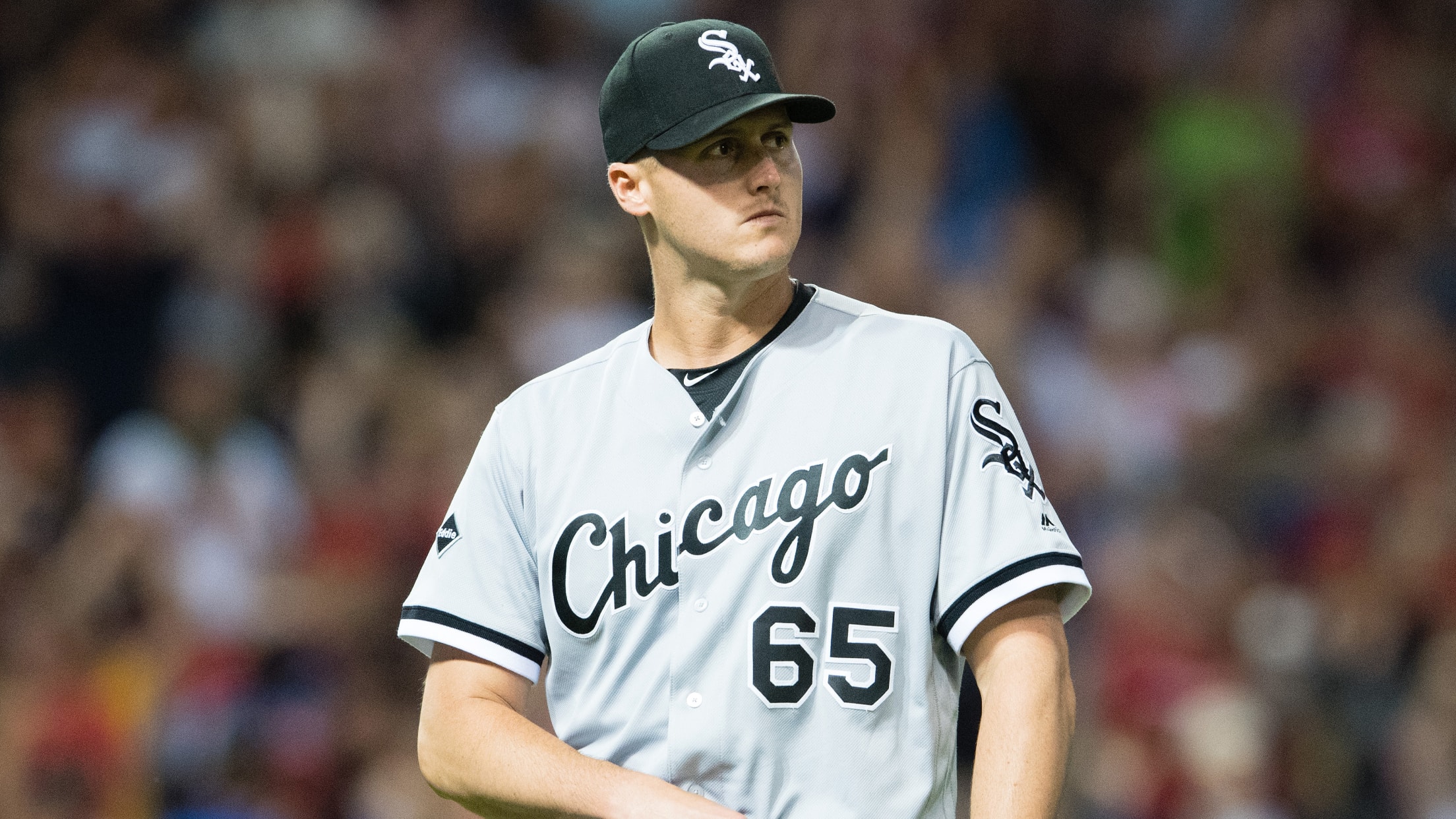 "I shook to that pitch. ... I just didn't execute that pitch," Nate Jones said of the game-winning homer. (Jason Miller/Getty Images)
CLEVELAND -- The 0-2 pitch from Nate Jones to Carlos Santana leading off the bottom of the ninth Friday night at Progressive Field was supposed to be a fastball up.At least, that call was the first one from White Sox catcher Alex Avila. But Jones had another idea."I shook to
CLEVELAND -- The 0-2 pitch from Nate Jones to Carlos Santana leading off the bottom of the ninth Friday night at Progressive Field was supposed to be a fastball up.
At least, that call was the first one from White Sox catcher Alex Avila. But Jones had another idea.
"I shook to that pitch. So the game was 100 percent on me. I just didn't execute that pitch," said Jones, whose third straight slider to Santana caught too much of the plate and resulted in the designated hitter's walk-off homer and Chicago's 3-2 loss.
"He did what he was supposed to do with it when you leave it over the middle," Jones added. "I was trying to backfoot a slider. Just left it over the middle. I just wanted that one down and in and it didn't happen."
Santana's blast to center (422 feet, per Statcast™) marked his third career walk-off homer against the White Sox. He also has victimized Ramon Troncoso and Dylan Axelrod.
This bit of excitement came after the White Sox rallied in the top of the ninth to tie the game off closer Cody Allen on back-to-back doubles from Brett Lawrie and Avisail Garcia. It was a momentum burst the struggling White Sox needed after taking their last series against the Tigers, and it was especially important with four teams bunched atop the American League Central.
But the tide turned quickly in Cleveland's favor.
"Yeah he made two really good pitches and the last one was not a very good pitch," Avila said. "Just not a good 0-2 pitch. You have [to bury it]. If you are going to go back [to a] breaking ball, you have to make sure it's down."
"To win this one would have kept us rolling like we did winning the series at home from Detroit," Jones said. "It's huge. Every game is huge."