Get to know Pirates shortstop Cole Tucker
Are Tucker and Hollywood star Vanessa Hudgens an item?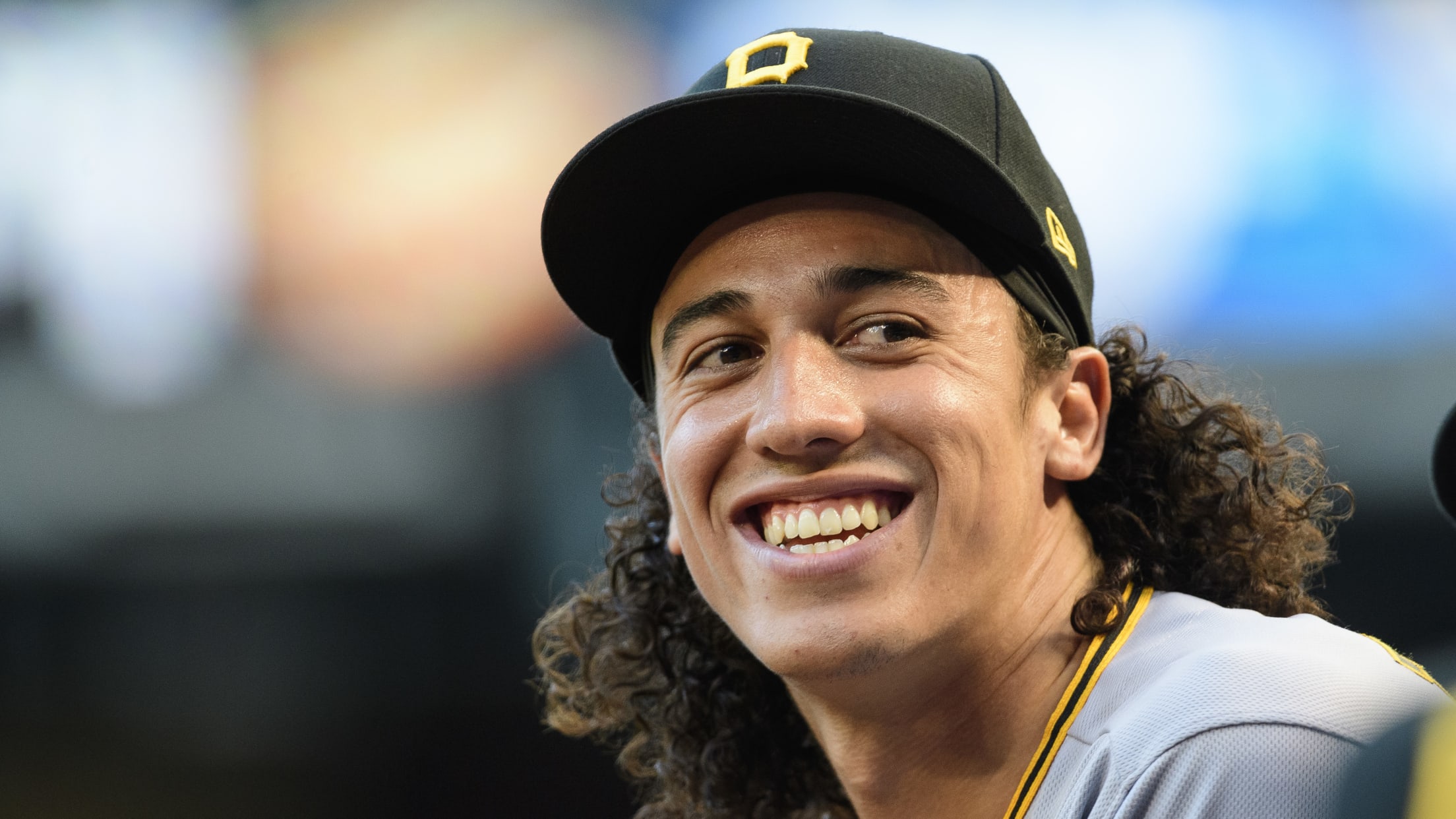 When you woke up today and went to check out some Major League news, you probably expected to see some Hot Stove action, some trade rumors, maybe even a few extremely early 2021 previews. You may not have expected to see Pirates shortstop and outfielder Cole Tucker paired up with
When you woke up today and went to check out some Major League news, you probably expected to see some Hot Stove action, some trade rumors, maybe even a few extremely early 2021 previews. You may not have expected to see Pirates shortstop and outfielder Cole Tucker paired up with Hollywood actress and "High School Musical" star Vanessa Hudgens. But that's just what we've been gifted. It's a Thanksgiving miracle.
As reported by E! News, the pair were seen at the restaurant Pace in Laurel Canyon, with an eyewitness saying, "They had a romantic dinner outside under the stars." The same night, Hudgens uploaded a photo to Instagram with the caption, "date night," though didn't specifically say she was on a date with Tucker.
Want to know more about baseball's newest celebrity crush? Here are six things you should know:
1. Tucker was drafted in the first round of the 2014 Draft
Coming off the team's first postseason appearance since 1992, the Pirates were looking to snag their shortstop of the future when they selected the switch-hitting high schooler 24th overall in the Draft. Ranked as the second-best high schooler in the Draft that year, Tucker has struggled to make an impact at the big league level so far, but is still only entering his age-24 season.
Still, with the very next pick, the Athletics selected third baseman Matt Chapman, who's won two Gold Gloves and made an All-Star Game appearance, and has been the second-best selection that year as ranked by WAR.
We have signed our first round draft selection (24th overall) SS Cole Tucker (@cotuck) #MLBDraft pic.twitter.com/zpTgPcPAlc

— Pirates (@Pirates) June 12, 2014
2. He homered in his first MLB game
Tucker's not known for his power. Instead, he's primarily known for his glove, his speed and, well, his long flowing locks:
The flow. The smile. Cole Tucker just stole our hearts. pic.twitter.com/KpHJjsskGH

— Cut4 (@Cut4) April 23, 2019
But when he made his debut in 2019, he made it a memorable one. Coming up to bat in the fifth inning, Tucker blasted future teammate Derek Holland's offering over the center-field fence for his first big league hit. He was the first Pirates player to accomplish the feat in his MLB debut since Starling Marte did it seven years earlier.
Even better, Tucker's parents were in the stands after rushing to make the journey to Pittsburgh when Tucker was called up the night before. So, Tucker flashed an "I love you," sign to his parents as he rounded the bases.
"That's always been our thing whenever something cool happens or you're saying hello or goodbye, we throw that," Tucker said. "So to be able to do that in PNC Park was pretty dope."
"I might never do that again in my life," Tucker added. "But to say that I did that -- and for my family to be here to see that, and to introduce myself to the city and this club in that fashion -- is, like, storybook."
3. He may not be a shortstop any longer
With the emergence of Kevin Newman at shortstop, the Pirates got creative this season and started playing the athletic Tucker in the outfield. It was the first time Tucker had ever played there as a professional, but he gave the Pirates plenty of reason to be excited with this amazing catch at the wall before the season even started:
👀 @cotuck's a natural. pic.twitter.com/d6iHT1t2v9

— Pirates (@Pirates) July 21, 2020
Unfortunately, a concussion ended Tucker's season in late September and though he showed flashes, he still finished the year with a -6 DRS in center field.
Now the question is where he'll play next season. Though he played only a handful of innings in the infield, the team still believes Tucker's best position is back in the infield.
4. Tucker is good friends with Cody Bellinger
Growing up in Scottsdale, Ariz., meant that Tucker saw plenty of 2019 NL MVP Award winner and 2020 World Series champion Cody Bellinger. They faced each often growing up before becoming teammates on the same scout team in high school and later became offseason workout partners.
Their friendship was put to the test last season when the two played each other in the Newlybros game. Check the video out below or click here if the video doesn't appear:
5. He may not be the only MLB player in the family
Tucker's younger brother, Carson, is another first-round pick shortstop, getting picked by the Indians in this summer's Draft. When it comes to bragging rights, Carson even has the edge, as he was selected 23rd overall compared to Cole's 24th overall pick (and just check out that painting hanging in the Tucker living room!)
We have signed our 1st round selection, infielder Carson Tucker.

Welcome to #OurTribe, @DookieTucker29! 👊 pic.twitter.com/kXLsjeP8AS

— Cleveland Indians (@Indians) June 27, 2020
Cole is probably not too jealous, though. Before the Draft, he told MLB.com's Adam Berry, "For the first time in a long time, I'm a baseball fan. Like, Carson Tucker's my favorite player and I'm rooting for him and pulling for him and following his every move," Cole said in a phone interview. "I'm just trying to be as much a part of the process as I can and putting my big-brother hat on and also putting my baseball-player hat on, just because I have a lot of experience with the process."
Cole's other brother, Quinn, is a concert photographer and filmmaker.
6. Hanging out with Vanessa Hudgens was fated to be
Listen, I'm not going to speculate on what exactly the relationship between Tucker and Hudgens is. But the fact is, Tucker has long been a fan of "High School Musical," and he's made a lot of decisions that seem to have led up to this moment.
Those flowing locks we've referenced above? Yeah, you can thank the movie for that. As Tucker told The Athletic last season, he begged his parents to let him watch the premiere of the movie on the Disney Channel back in January 2006 and he found himself drawn to the character of Chad Danforth played by actor Corbin Bleu.
"I thought that Corbin Bleu was the coolest person on Earth, and he had hair just like I do now — the long, ringlet curls," Tucker said. "When I was in fourth grade, I was like, 'Man, I am going to grow out my hair. I'm going to look like Corbin Bleu and it's going to be the coolest thing ever.' I did it and I'm still doing it. I sound like such a nerd right now, but that's really what happened. It kind of became my thing."
And then, six years later, Tucker tweeted this, which, well, if that's not destiny, I don't know what is:
In search of: A girl who's down to watch High School Musical with me and scratch my back.

— Cole Tucker (@cotuck) January 2, 2012
Michael Clair writes for MLB.com. He spends a lot of time thinking about walk-up music and believes stirrup socks are an integral part of every formal outfit.