Inbox: Will Twins look to target free agents?
Beat reporter Rhett Bollinger answers questions from fans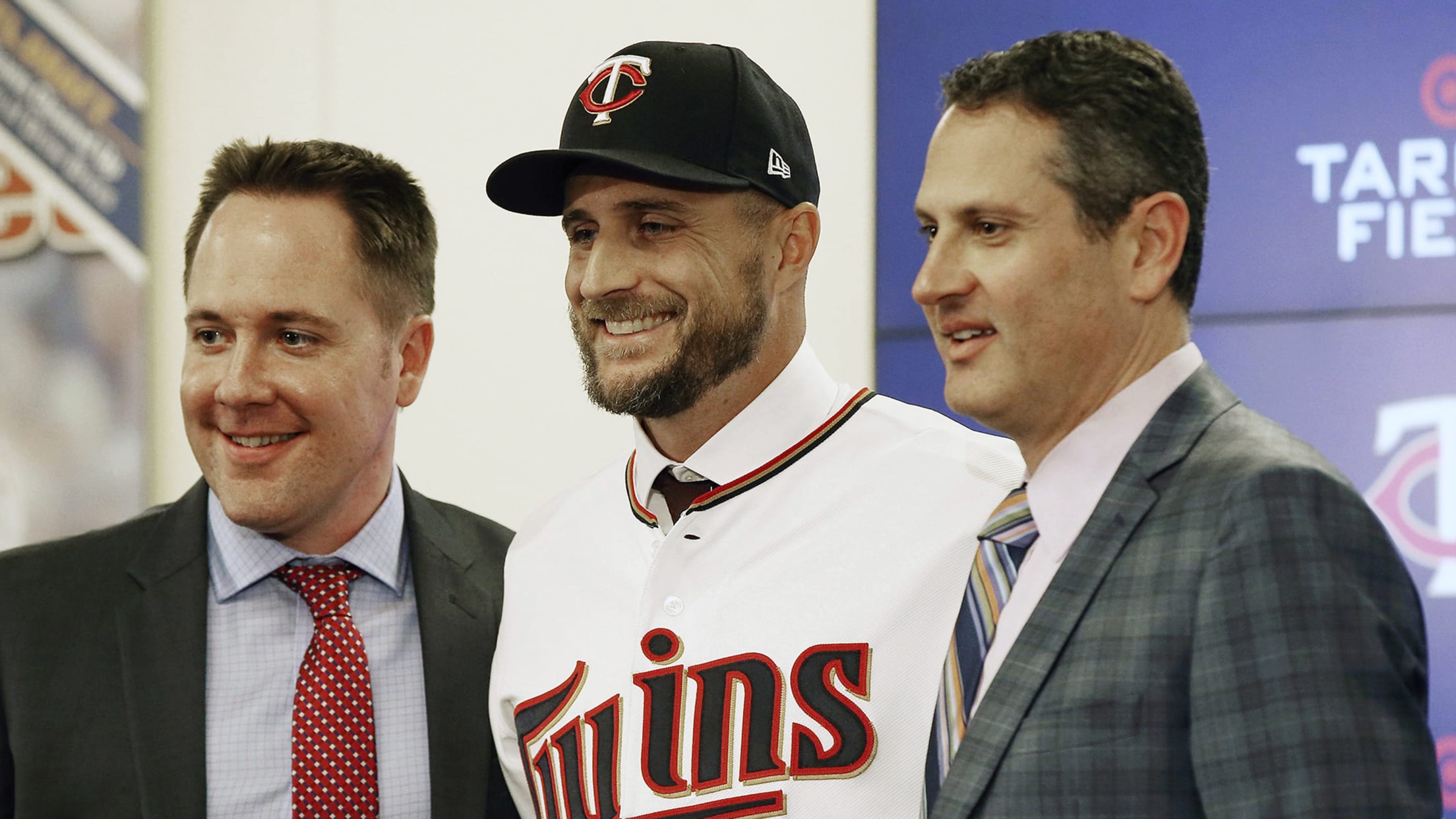 New Minnesota Twins manager Rocco Baldelli, center, poses with TwiChief Baseball Officer Derek Falvey, left, and General Manager Thad Levine, right, after the team announced the hiring of the Tampa Bay Rays assistant coach during a news conference Thursday, Oct. 25, 2018, in Minneapolis. The 37-year-old Baldelli replaces Paul Molitor, who was fired after four seasons with a 305-343 record. (AP Photo/Jim Mone) (Jim Mone/AP)
MINNEAPOLIS -- Thanksgiving is over and the Hot Stove season is sure to heat up for the Twins with only two weeks until the annual Winter Meetings in Las Vegas.Outside of hiring Rocco Baldelli as manager and filling in his coaching staff, the club hasn't done much with its roster
MINNEAPOLIS -- Thanksgiving is over and the Hot Stove season is sure to heat up for the Twins with only two weeks until the annual Winter Meetings in Las Vegas.
Outside of hiring Rocco Baldelli as manager and filling in his coaching staff, the club hasn't done much with its roster so far, so there is plenty of work to be done. With that in mind, here's this week's Inbox.
Do they sign free agents in an attempt to compete in 2019 or look towards 2020 when Kirilloff and Lewis and others will hopefully be on the team?

— Tyler Austin's Biceps (@TA_Biceps) November 26, 2018
It's the big question this offseason, as the Twins have more than $80 million coming off the books, including a combined $64.5 million after the departures of Joe Mauer, Ervin Santana, Phil Hughes, Lance Lynn and James Dozier. Of course, the club does have 10 players eligible for arbitration raises, which will cut into that total, but there is money to be spent this offseason.
• Submit a question to the Twins Inbox
The Twins, though, have enough holes that they're likely to spread it around instead of making any major signings. Marwin Gonzalez remains a top target in the infield, but there are other intriguing free-agent options in the infield such as DJ LeMahieu, Jed Lowrie and Daniel Descalso. Finding a starting pitcher remains a priority, while the bullpen needs the most work, as Minnesota is expected to sign a closer. The club has been linked to lefty starter J.A. Happ and closer Jeurys Familia in the early going, but it will check in on just about every available pitcher.
Hi Rhett, Happy holidays! Here's a question for ur next inbox: has F Romero perfected his changeup? Are the Twins still seeing him as a Starter, or are they considering making him the closer?

— Roger Hanover (@twinsfanwyoming) November 23, 2018
Fernando Romero did make improvements on his changeup during the season, but it's too early to say he's perfected it. He showed potential in his rookie year, posting a 4.69 ERA in 11 starts with 45 strikeouts and 19 walks in 55 2/3 innings.
The 23-year-old certainly has the stuff to be a big league starter with a fastball that averaged 95.4 mph to go along with his 87-mph slider and 90-mph changeup. Romero used the changeup about 12 percent of the time, but he will need to find ways to get more swings and misses next year, whether it's through pitch selection and/or pitch sequencing.
The Twins aren't ready to give up on Romero as a starter just yet, but a move to the bullpen could be in his future if he doesn't take a step forward this year.
Do the Twins see Max Kepler as a viable everyday center fielder, if they're otherwise positioned to contend but either injury or ineptitude stops Byron Buxton from being part of the picture?

— Matthew Trueblood (@MATrueblood) November 26, 2018
Max Kepler did a nice job of filling in at center in place of Byron Buxton and even rated as above average there, according to metrics such as Defensive Runs Saved and Ultimate Zone Rating, but the Twins would still like to see him in right and Buxton back in center field.
When healthy, Buxton is the game's best defensive center fielder and the Twins don't have any plans to move on from him despite a rough 2018 season that saw him sustain several injuries and struggle offensively at Triple-A and in the Majors. But if Buxton were to get injured again or be sent to the Minors, Kepler is a capable replacement in the short term. But the club doesn't see Kepler as a future everyday center fielder. Kepler also needs to continue to get better offensively, as he's yet to have that breakout year they're looking for despite having a good feel for the strike zone and solid contact rates.
How do you think the organization handles the catcher position with Castro returning plus Garver and Astudillo involved next year?

— Jon Gamble (@JGamble98) November 26, 2018
The Twins have some catching depth with Jason Castro set to return after undergoing surgery on his right knee in May, and he will be joined by Mitch Garver and Willians Astudillo.
Castro doesn't offer much offensively, but he is still regarded as a solid defender behind the plate and a good game-caller. He's likely to get the most playing time behind the plate, but Garver proved he can provide some power with a solid rookie year offensively. Garver hit .268/.335/.414 with seven homers and 19 doubles in 102 games last year, but he is still a work in progress defensively. Astudillo is the wild card, as he can play all over the diamond -- he caught 16 times in his 29 games last year. He batted .355/.371/.516 while striking out only three times and walking twice in 97 plate appearances.
Twins chief baseball officer Derek Falvey said at the GM Meetings that the club will look at what's available at catcher, but it doesn't seem to be a pressing need heading into next year.
Why did @Twins change AA minor league affiliation from Chattanooga to Pensacola? I thought Chattanooga was going well?

— Darin Bratsch (@RCWjaguarsBBguy) November 26, 2018
The Twins enjoyed their partnership with Chattanooga and loved the ballpark, but there wasn't much there in terms of practice or workout facilities for the players. The organization decided to go in a different direction and partnered with Double-A Pensacola because it felt the facilities better matched its needs.