Cubs want Contreras to halt Tribe's running game
Catcher apologizes for bat flip in 9th inning of Game 1 loss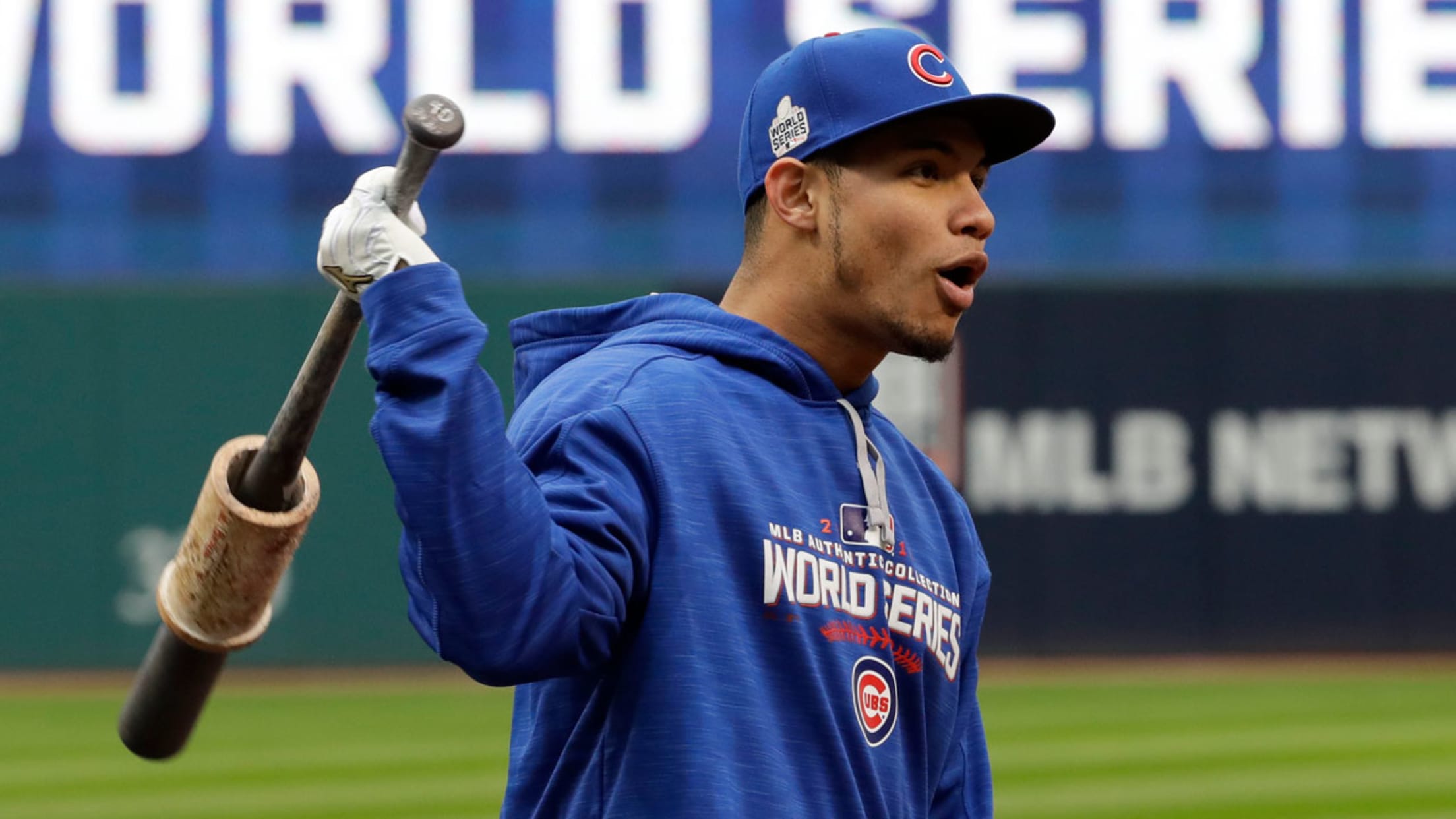 Joe Maddon wanted Willson Contreras behind the plate in Game 2 to try to stop the Indians' running game. (AP)
CLEVELAND -- Willson Contreras doubled with one out in the ninth inning on Tuesday in Game 1 of the World Series, and after making contact, he watched the ball's flight and then flipped his bat. It wasn't a good response, considering the Cubs were trailing by six runs at that
CLEVELAND -- Willson Contreras doubled with one out in the ninth inning on Tuesday in Game 1 of the World Series, and after making contact, he watched the ball's flight and then flipped his bat. It wasn't a good response, considering the Cubs were trailing by six runs at that point.
Contreras realized his mistake, and he posted an apology on Twitter after the game, saying: "I apologize to the fans from both sides I didn't meant to disrespect My Team @Cubs and The game.!! I Promise It Won't Happen Again."
Manager Joe Maddon didn't see it -- he was watching the ball.
:: Complete World Series coverage ::
"I guess we're setting a record for the most guys under 24 years of age," Maddon said. "I want to believe that a lot of our youngsters, as they gain experience, that stuff will go away."
• Shop for Cubs World Series and NL champs gear
The Cubs' Game 2 lineup featured a postseason record six players age 24 or younger. The list included Contreras, 24; Kris Bryant, 24; Kyle Schwarber, 23; Javier Báez, 23; Jorge Soler, 24; and Addison Russell, 22.
Miguel Montero had been matched up with Game 2 starter Jake Arrieta, but Maddon wanted Contreras behind the plate to try to stop the Indians' running game.
"You'll probably see a lot of Willson now," Maddon said.
Arrieta approved the switch, and it shows how far Contreras has come this season. He was promoted to the big league team in June to be mentored by Montero and David Ross. Maddon remembers first meeting the young catcher in Spring Training.
"I thought he was very energetic," Maddon said. "He's an energizer, there's no question. When you talk to him, he looks right at you. He's passionate about his job and very bright."
Mike Borzello, who works with the players on the game plan and studies the scouting reports, said Contreras has been a perfect student and not only learned what he needs to do behind the plate but developed a good relationship with his pitchers. With Ross retiring after this season, Contreras is expected to be the Cubs' No. 1 catcher in 2017.
"He's definitely the kind of guy who can handle a heavy workload behind the plate," Maddon said of Contreras.
I apologize to the fans from both sides I didn't meant to disrespect My Team @Cubs and The game.!! I Promise It Won't Happen Again.

— Willson Contreras (@WContreras40) October 26, 2016
History lesson
Maddon knows the numbers are against the Cubs after losing Game 1. He just shrugs.
"I think there's a lot of history of teams that lose the first game and don't win," Maddon said. "I don't understand that. With the Angels in 2002, we lost the first game against the Yankees [in the American League Division Series], I think the first game against the Twins [in the AL Championship Series] and the first game against the Giants [in the World Series]. I don't know why it's so significant. You have to win four out of seven. Regardless of what's been written, I've lived it. It just depends on your guys. We lost [Tuesday] because their starting pitcher was that good."
Heart to heart
Prior to Game 1, Maddon met with outfielder Jason Heyward to talk about the lineup, and the fact that the Cubs were going to try other players in an effort to get the offense going.
"He wants to be playing, there's no doubt, and I don't blame him whatsoever," Maddon said. "We had a good exchange of thoughts. He didn't leave angry. It was an open conversation. He's a very good baseball player and a big part of our future. For right now, in a small moment like this, [we're going with other players]. And if we didn't have other options, we probably wouldn't do it."
Maddon also talked to Heyward about the offseason and possibly reworking his swing.
"I know he realizes it, but that's not what he wants to talk about right now," Maddon said.
Dancing machine
During the season, a video of Kyle Schwarber dancing with his high school choir was occasionally shown at Wrigley Field, and he took it all in stride. Maddon wants to see that again on Friday.
"They have to play that [at Wrigley Field] Friday night," Maddon said. "The fans will go berserk. He probably won't start at home because there's no DH, but they'll see him in the game at some point. I think our fans really appreciate how hard he worked to get back at this moment. Not everyone would've done that.
"To accelerate his recovery as much as he did where the doctor says, 'Yeah, no problem, I have no problem with this,' that speaks to him and the training staff, and I think our fans will appreciate that."
Maddon knew after talking to Schwarber prior to Game 1 that the young slugger was ready.
""There was no doubt or hesitancy in his voice whatsoever," Maddon said. "[He said] 'I'm good, I'm good to go.'"
Schwarber has not been given medical clearance to play in the field, so as of now, he can only be used as a pinch-hitter at home.
"It's up to the doctors to say what he can or cannot do," Maddon said.