Brewers opting to stay course with Peralta
Opening Day starter takes 7th loss of season against Phillies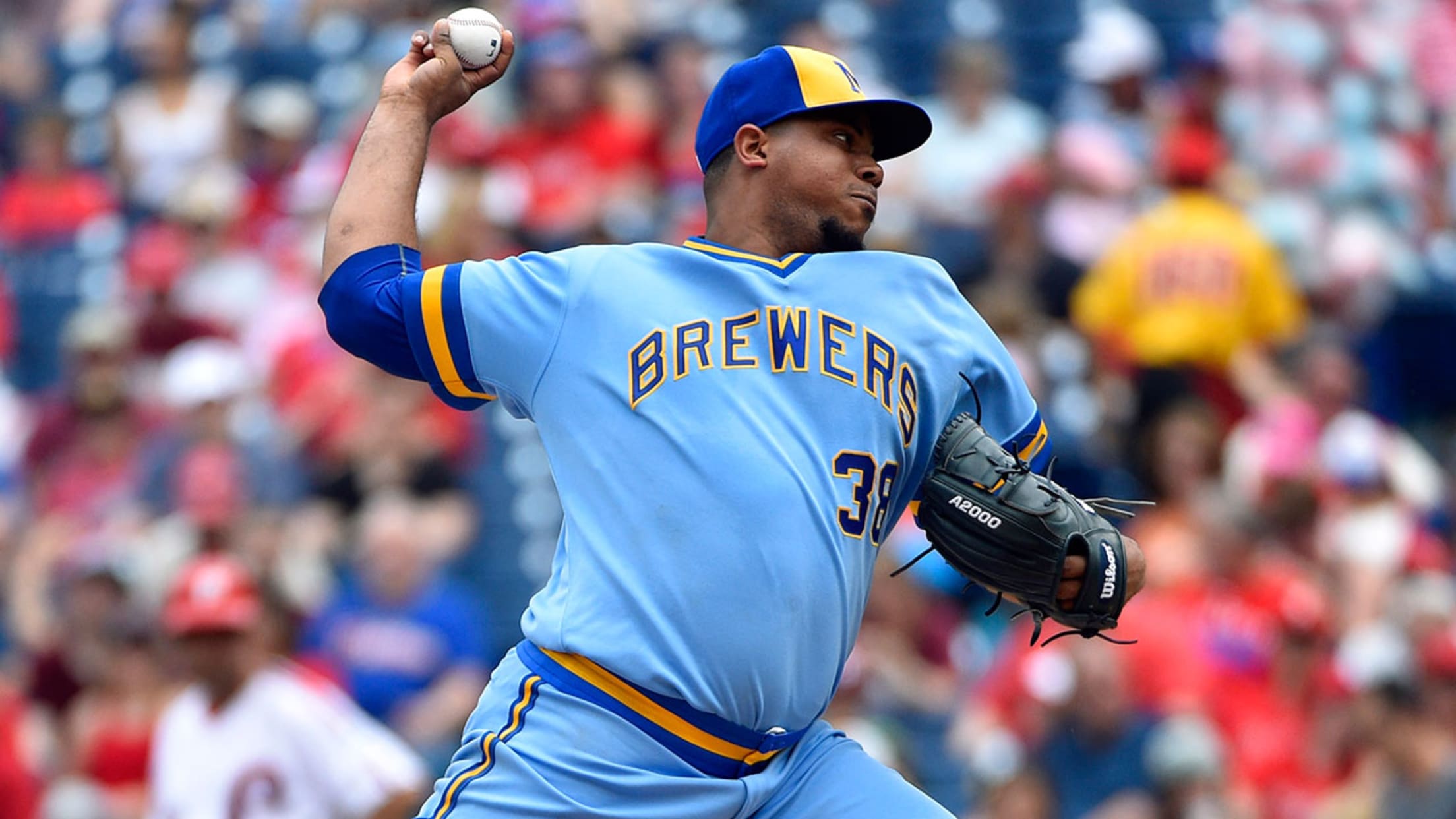 Brewers starter Wily Peralta suffered his seventh loss of the season, allowing five earned runs over 4 1/3 innings. (AP)
PHILADELPHIA -- New month, same question: What to do about the Brewers' slumping Opening Day starter?Wily Peralta was hit hard again Sunday, allowing six Phillies runs (five earned) on seven hits and two walks in 4 1/3 innings of an 8-1 loss at Citizens Bank Park. His ERA after a
PHILADELPHIA -- New month, same question: What to do about the Brewers' slumping Opening Day starter?
Wily Peralta was hit hard again Sunday, allowing six Phillies runs (five earned) on seven hits and two walks in 4 1/3 innings of an 8-1 loss at Citizens Bank Park. His ERA after a dozen starts is 6.79, worst in the Majors for a starter. Yet the Brewers plan to stay the course with Peralta, manager Craig Counsell said.
"We've got five guys; he's one of our five guys," Counsell said. "We need him. That would be my sense right now."
But the Brewers need better, Counsell said several times. Peralta concurred.
"Pretty much the same thing over and over," said Peralta, who added later, "It's time I step up and do my job."
The Brewers already sent one struggling starter to the Minor Leagues this season, optioning Taylor Jungmann after the right-hander went 0-4 with a 9.15 ERA in his first five starts. Peralta, like Jungmann, has a Minor League option left.
So what makes this situation different?
"I think we have to have alternatives," Counsell said. "We have to look what's best for everybody involved. We're trying to get something out of Wily. It's getting frustrating, there's no question. It's not good enough. But we have to consider the whole picture here, the whole picture with everybody."
When they optioned Jungmann, the Brewers were able to promote Junior Guerra to fill the vacancy, and he has done so ably. Today, Jungmann remains mired in a deep funk -- he threw 35 of 83 pitches for strikes in his latest outing Saturday -- and top prospect Jorge Lopez, who is next on the depth chart, had been inconsistent at best entering his outing on Sunday.
The Brewers will have another option in about 10 days, when Matt Garza is ready to return from the disabled list.
Peralta is also different from Jungmann in terms of track record. In 2014, Peralta went 17-11 with a 3.53 ERA, performance that Counsell & Co. believe reflects his true talent.
So far, Counsell, pitching coach Derek Johnson and general manager David Stearns have concurred that Peralta's best chance to return to that level is continuing to start games in the Major Leagues.
"Certainly, we're not getting the results that we need," Counsell said. "We need to get better results."
Is Peralta's stuff diminished from two years ago?
"I don't think it's his stuff diminishing; I think it's more location," catcher Jonathan Lucroy said. "Just being up, more than anything. For me, all of his hits today were pitches elevated in the zone. When he's down, he's as good as anybody with that running two-seamer."
Peralta expressed appreciation for the continued chances.
"Since the first day they've supported me," he said. "Since I got here, they've been supporting me. I'm not doing the job that I'm supposed to do and I don't feel good. I appreciate the confidence they're keeping in me and the support."