Molina's record start streak ends at 27 in LA
Shildt tabs Pena behind plate for opener at Dodger Stadium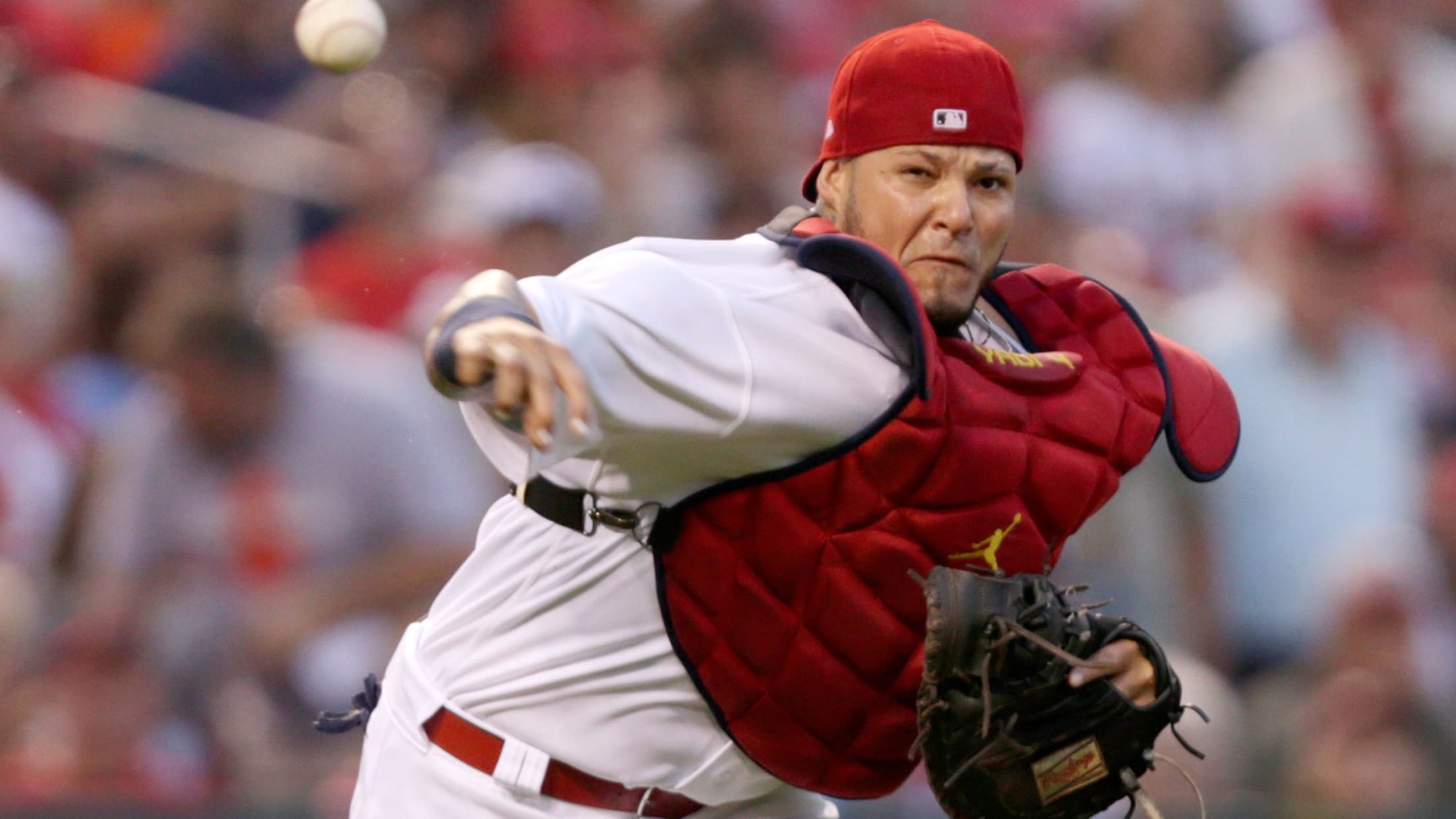 LOS ANGELES -- Yadier Molina's record start streak has come to an end.Cardinals manager Mike Shildt opted to start Francisco Pena behind the plate on Monday night at Dodger Stadium, ending Molina's streak of consecutive starts at a remarkable 27 games, an MLB record for catchers over age 35.Molina will
LOS ANGELES -- Yadier Molina's record start streak has come to an end.
Cardinals manager Mike Shildt opted to start Francisco Pena behind the plate on Monday night at Dodger Stadium, ending Molina's streak of consecutive starts at a remarkable 27 games, an MLB record for catchers over age 35.
Molina will finish two games short of the Cardinals' record for consecutive starts at catcher, which Ted Simmons set with 29 in 1979. It's also the longest streak in the Majors since Jason Kendall's 34 straight games with the Brewers in 2008.
Shildt explained the decision to sit Molina as taking advantage of an opportunity to get the veteran more rest than the usual off-day would give him.
"Just made sense," Shildt said. "We just got through playing a division rival and all the games matters obviously, but it felt like it was an opportunity after a day game, travel, gain a couple hours, give him the night off, night game tomorrow, so it's a little over where he'll be off the field."
Molina registered a .265/.306/.393 line with 12 RBIs over the course of his streak, playing all but one inning behind the plate. He averaged more than nine innings per game during that span, thanks to a pair of extra-inning games in July.
The flip side of Molina's streak is that Pena will be making his first start behind the plate in nearly a month, which Pena has joked about as him making history as well.
"I was messing around with him, telling him that we made a record together, because he had a streak going on and I had a streak going on," Pena said. "You know Yadi, he likes to be there every day and help the team. I know that he'll be cheering for me today when I'm behind the plate, but you've got to tip your cap to him. I don't know how he does it."
Molina obviously commanded enormous respect in the Cardinals organization already, but his streak and his conduct while being asked to carry an enormous workload has added even more to his mythos as a clubhouse leader.
"Your best leaders lead by example and Yadi's a tremendous leader," Shildt said. "The way he's playing, the energy he's bringing, it just speaks volumes for the guys to see that every day. The other day, he fouled a ball off his leg that I know hurt, because if he's showing any pain with the threshold of pain this guy has, you know it really hurt. And three minutes later, he's bussing down the line to beat out a passed ball to allow us to score three runs."
Injury report
Cardinals utility man Yairo Munoz, who has been out with a sprained right wrist, was in the Cardinals' clubhouse on Monday and is eligible to come off the DL on Tuesday. Per Shildt, Munoz passed every test he underwent in St. Louis after completing a two-game rehab assignment at Double-A Springfield.
Carlos Martinez (shoulder) is also expected to land in Los Angeles on Monday, but Shildt said he's still receiving feedback on when Martinez could be activated. Martinez is expected to work out of the bullpen upon his return.
Adam Wainwright (elbow) and Michael Wacha (oblique) both recently made rehab appearances, with Wainwright throwing two scoreless innings for Springfield on Sunday and Wacha allowing three earned runs in an abbreviated inning for Class A Advanced Palm Beach.
Wainwright is expected to throw again for Springfield on Wednesday, aiming for two or three innings and 35 pitches. Shildt says the organization is still determining what role Wainwright will occupy upon his return. Wacha is scheduled to pitch two or three innings for Palm Beach on Thursday.
Jack Baer is a reporter for MLB.com.