After trying year, Solarte earns Conigliaro Award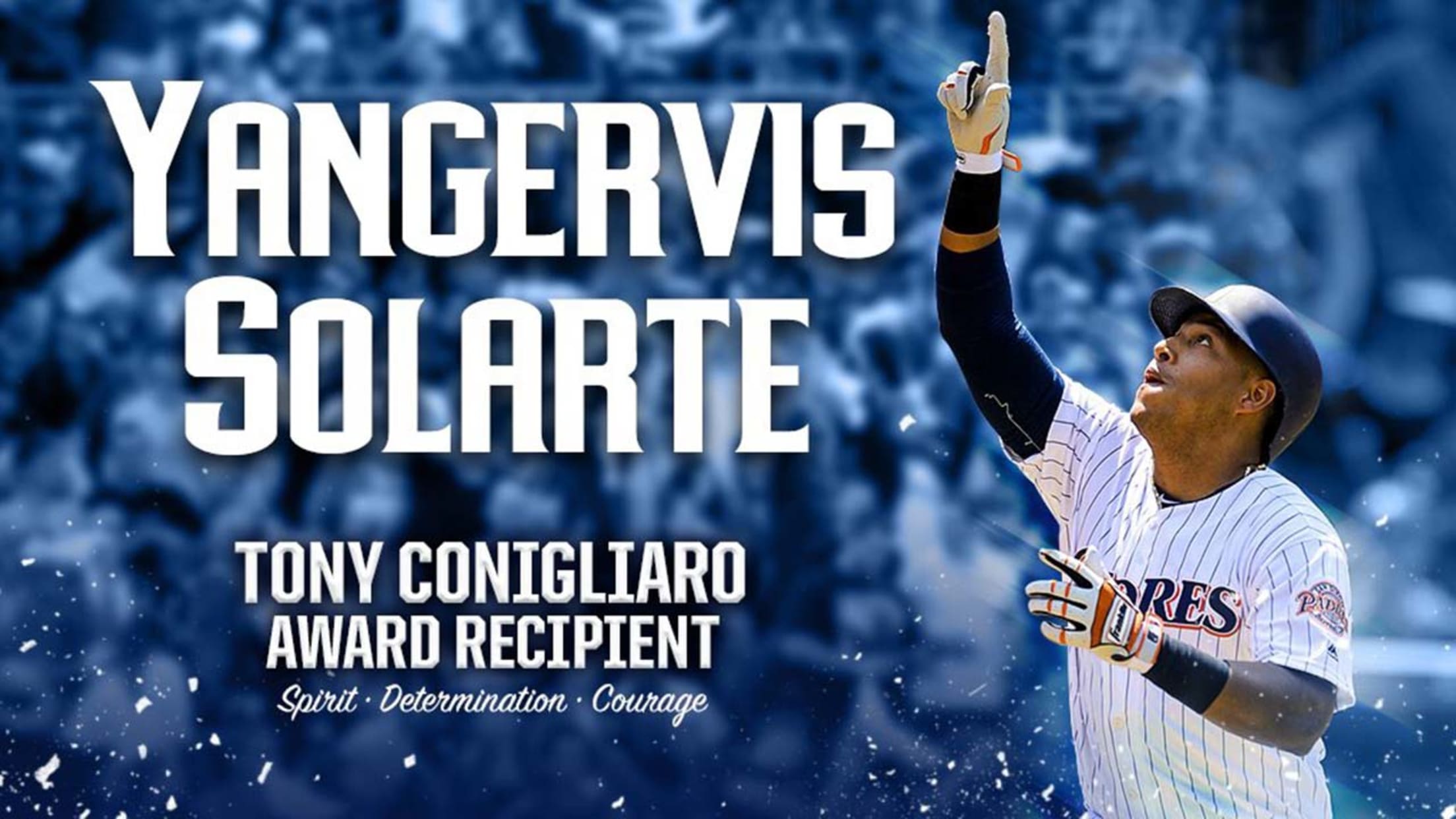 SAN DIEGO -- Padres third baseman Yangervis Solarte was selected as the 18th winner of the Tony Conigliaro Award, given annually to "the Major Leaguer who has overcome adversity through the attributes of spirit, determination and courage that were trademarks of Tony C."The Award was voted upon by a group
SAN DIEGO -- Padres third baseman Yangervis Solarte was selected as the 18th winner of the Tony Conigliaro Award, given annually to "the Major Leaguer who has overcome adversity through the attributes of spirit, determination and courage that were trademarks of Tony C."
The Award was voted upon by a group of 20 media members, executives, Red Sox officials and members of the Conigliaro family. Conigliaro, a former Red Sox outfielder, was hit in the face by a pitch in 1967, injuring his eye and ultimately shortening his career. He passed away in 1990 at the age of 45.
Solarte was nominated by the Padres after his wife, Yuliett Pimentel Solarte, died of cancer in September. Solarte had left the team to spend time at her side earlier in the year, and he returned in mid-September when her condition worsened. She passed away on Sept. 17.
"In the midst of a personally challenging year, and despite suffering the kind of loss that many of us can't fathom, Yangervis showed up to the ballpark each day and played his heart out, always supporting his teammates with a smile," Padres senior vice president of community affairs Tom Seidler said in a statement. "The spirit, determination and courage he has displayed through personal tragedy could not be more representative of what the Tony Conigliaro Award is about."
After his wife's passing, Solarte was told to take all the time he needed away from the club. Along with his three daughters, he returned to San Diego one week later.
While dealing with tragedy, Solarte posted a career year, batting .286 with 15 homers, despite missing more than a month with a hamstring injury. Upon his return, he capped a 14-game hitting streak, the longest by a Padre all season.
"What he did last year was incredibly impressive, especially when you factor in what he went through on a personal level," Padres manager Andy Green said at last week's Winter Meetings. "[He] was constantly leaving the team to deal with some very, very difficult family issues."
The Padres' organization came together for Solarte in his absence, hanging a jersey with "Yuliett" embroidered across the back. In one of the more emotional moments of the season, Adam Rosales -- who had replaced Solarte in the lineup -- homered the day after Yuliett's passing. Upon reaching home plate, he leapt onto the dish and mimicked Solarte's alligator clap -- his trademark home run celebration.