Pettitte, others to make Old-Timers' Day debuts
10th event at new Yankee Stadium takes place on Father's Day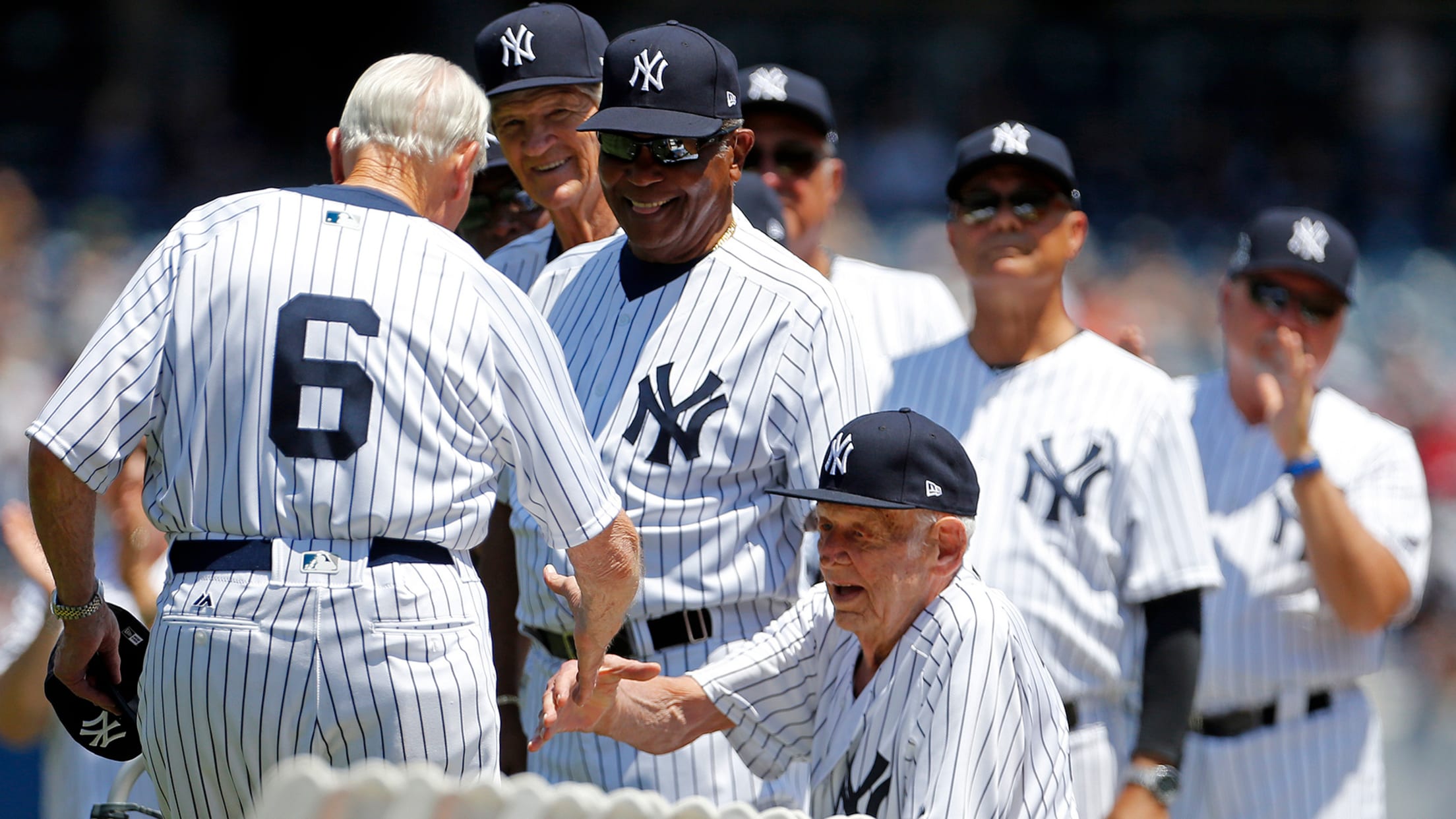 NEW YORK -- Andy Pettitte is scheduled to make his Old-Timers' Day debut next month, with the beloved left-hander and "Core Four" member headlining the list of former Yankees who will be on hand for the annual event, which will be held on June 17 at Yankee Stadium.Jason Giambi, Nick
NEW YORK -- Andy Pettitte is scheduled to make his Old-Timers' Day debut next month, with the beloved left-hander and "Core Four" member headlining the list of former Yankees who will be on hand for the annual event, which will be held on June 17 at Yankee Stadium.
Jason Giambi, Nick Swisher, Dion James and manager Aaron Boone are also scheduled to make their Old-Timers' Day debuts, joining a roster that will feature Hall of Famers Whitey Ford and Reggie Jackson, along with former Yankees and current YES Network broadcasters David Cone, John Flaherty and Paul O'Neill.
Pettitte was part of five Yankees World Series championship teams (1996, '98-2000, 2009), and ranks third in franchise history with 219 wins over 15 years in pinstripes (1995-2003, '07-10, '12-13).
Giambi was a three-time All-Star with the Yanks (2002-04), tallying 209 home runs and a .404 on-base percentage in seven seasons (2002-08) with the club. Swisher spent four seasons (2009-12) with New York, averaging 26 homers and 87 RBIs per season. James batted .302 with 12 homers and 79 RBIs over parts of four seasons as a Yankee (1992-93, '95-96).
Joining the Hall of Famers and former Yankees on the field will be the widows of five legendary Yankees: Arlene Howard, widow of Elston Howard; Helen Hunter, widow of Jim "Catfish" Hunter; Jill Martin, widow of Billy Martin; Diana Munson, widow of Thurman Munson; and Kay Murcer, widow of Bobby Murcer.
Fans are asked to be in their seats by 11:30 a.m. ET for Old-Timers' introductions with the traditional Old-Timers' game to follow. All of the pregame celebrations will be aired exclusively on YES Network. The Yanks will then host the Tampa Bay Rays at 2:05 p.m., also airing on YES. All gates will open to ticket-holding fans at 10 a.m.
Here is the full roster of former Yankees expected to attend:
Jesse Barfield, Ron Blomberg, Brian Boehringer, Boone, Jim Bouton, Scott Bradley, Dr. Bobby Brown, Homer Bush, Cone, Johnny Damon, Ron Davis, Bucky Dent, Al Downing, Brian Doyle, Mariano Duncan, Flaherty, Ford, Giambi, Ron Guidry, Charlie Hayes, Jackson, James, Jay Johnstone, Scott Kamieniecki, Don Larsen, Graeme Lloyd, Hector Lopez, Lee Mazzilli, Ramiro Mendoza, Gene Monahan (trainer), Jeff Nelson, O'Neill, Pettitte, Lou Piniella, Willie Randolph, Bobby Richardson, Mickey Rivers, Swisher, Frank Tepedino, Marcus Thames, Roy White.