VOTE NOW: 6 Yanks in Starters Election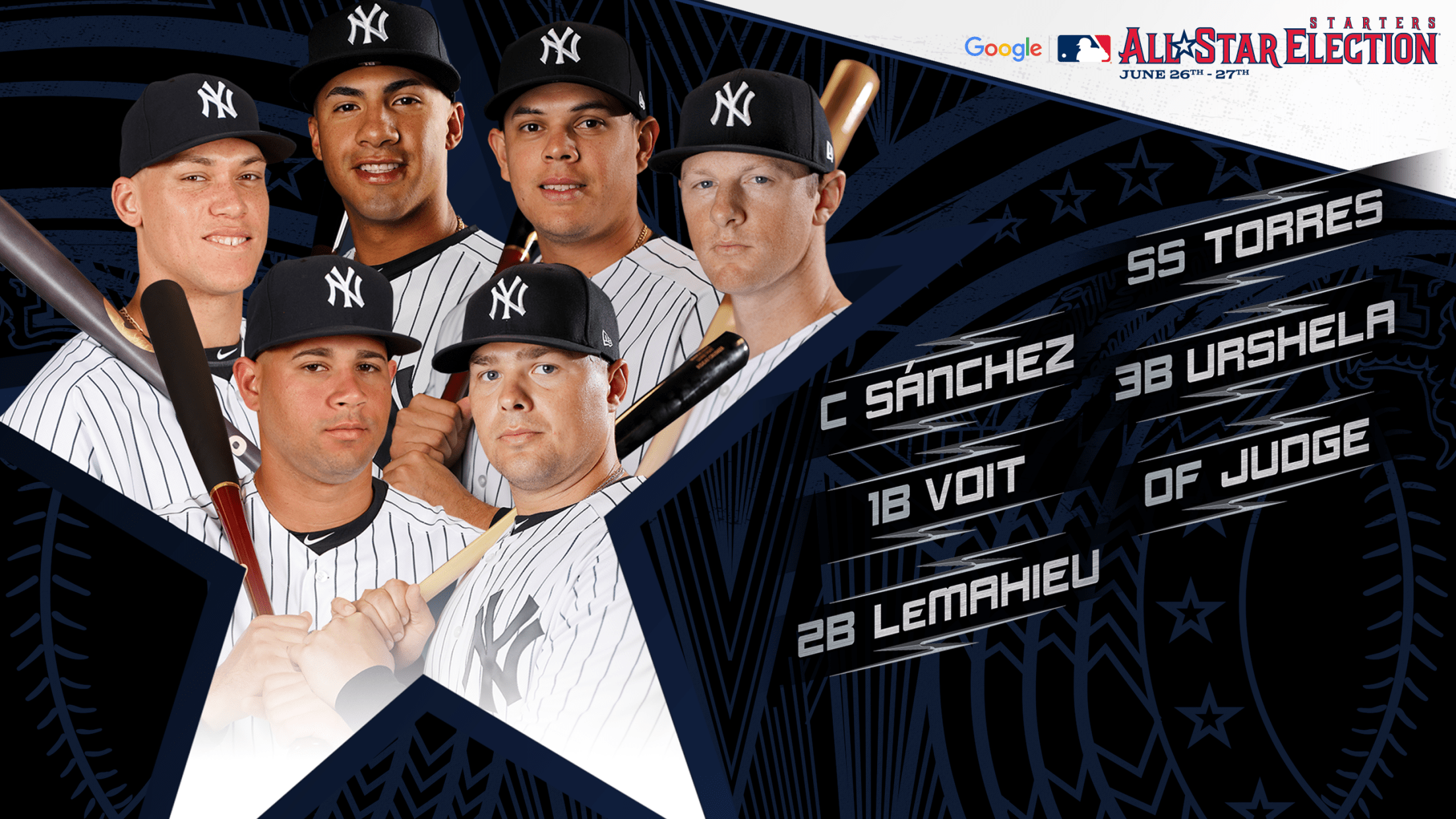 With time running out in the All-Star Starters Election, many races are still too close to call, and your votes will have a huge impact as most position battles have yet to be decided. • VOTE NOW: Google MLB All-Star Starters Election Here's a look at who's leading as of
With time running out in the All-Star Starters Election, many races are still too close to call, and your votes will have a huge impact as most position battles have yet to be decided.
• VOTE NOW: Google MLB All-Star Starters Election
Here's a look at who's leading as of 2:30 p.m. ET Thursday.
CATCHER
AL
1) Gary Sanchez (Yankees), 47.4%
2) James McCann (White Sox), 33.2%
3) Robinson Chirinos (Astros), 19.3%
FIRST BASE
AL
1) Carlos Santana (Indians), 49.3%
2) Luke Voit (Yankees), 26.0%
3) C.J. Cron (Twins), 24.7%
SECOND BASE
AL
1) DJ LeMahieu (Yankees), 38.0%
2) Tommy La Stella (Angels), 31.2%
3) Jose Altuve (Astros), 30.8%
THIRD BASE
AL
1) Alex Bregman (Astros), 48.7%
2) Hunter Dozier (Royals), 27.9%
3) Gio Urshela (Yankees), 23.5%
SHORTSTOP
AL
1) Jorge Polanco (Twins), 42.2%
2) Gleyber Torres (Yankees), 31.4%
3) Carlos Correa (Astros), 26.4%
OUTFIELD
AL
1) Mike Trout (Angels), 25.8%
2) George Springer (Astros), 15.7%
3) Michael Brantley (Astros), 10.8%
4) Aaron Judge (Yankees), 9.8%
5) Mookie Betts (Red Sox), 9.0%
6) Eddie Rosario (Twins), 8.9%
7) Joey Gallo (Rangers), 7.7%
8) Austin Meadows (Rays), 6.5%
9) Josh Reddick (Astros), 5.8%
Six Yankees will have a chance to crack the American League's starting lineup for the upcoming All-Star Game at Cleveland's Progressive Field, including finalists appearing at every infield position.
Catcher Gary Sánchez, first baseman Luke Voit, second baseman DJ LeMahieu, shortstop Gleyber Torres, third baseman Gio Urshela and outfielder Aaron Judge are among those vying to collect votes to punch their tickets for the Midsummer Classic.
The "Starters Election" features the top three vote-getters at each position (and the top nine outfielders) in each league based on vote totals from "The Primary," which ran from May 28 through 4 p.m. ET on Friday.
Sanchez (2,266,469) notched more votes than any other Yankee, and will compete against fellow AL backstops James McCann of the White Sox (1,085,254) and Robinson Chirinos of the Astros (946,823) in the next phase of voting.
At first base, Voit (1,205,706) paced the AL field as he looks for his first All-Star nod, ahead of the Indians' Carlos Santana (1,180,719) and the Twins' C.J. Cron (1,045,120). LeMahieu (1,312,490) ranked third among AL second basemen, behind Tommy La Stella of the Angels (1,713,094) and Jose Altuve of the Astros (1,629,148).
Urshela (857,474) was second among AL third basemen, behind the Astros' Alex Bregman (2,341,355) and ahead of the Royals' Hunter Dozier (746,742). At shortstop, Torres (976,163) ranked third behind the Twins' Jorge Polanco (1,450,913) and the Astros' Carlos Correa (1,115,469).
Despite not having played since April 20 due to injury, Judge (995,903) ranked seventh among the AL's outfielders. Mike Trout of the Angels (3,370,499) was the leading vote-getter there.
The 2019 All-Star Game presented by Mastercard will be played on Tuesday, July 9, at Progressive Field in Cleveland. It will be televised nationally by FOX Sports; in Canada by Rogers Sportsnet and RDS; and worldwide by partners in more than 180 countries. FOX Deportes will provide Spanish-language coverage in the United States, while ESPN Radio and ESPN Radio Deportes will provide exclusive national radio coverage. MLB Network, MLB.com and SiriusXM also will provide comprehensive All-Star Week coverage.
During the game, fans may visit MLB.com and the 30 club sites to submit their choices for the Ted Williams Most Valuable Player Award presented by Chevrolet. For more information about MLB All-Star Week and to purchase tickets, please visit AllStarGame.com and follow @MLB and @AllStarGame on social media.